Are you thinking about how to make your voice deeper or make your voice sound like a real man? You will be surprised to know that it is much more than easier than you think. We have one of the easiest ways for you to do it. A Deep Voice changer lets you change your voice into any low voice you want. There are no complex rules to follow. A few easy steps, and your voice are changed.
Suppose you are looking for a voice changer that is best at adding depth to your voice. Then read our article to get a detailed overview of different types of deeper voice changers.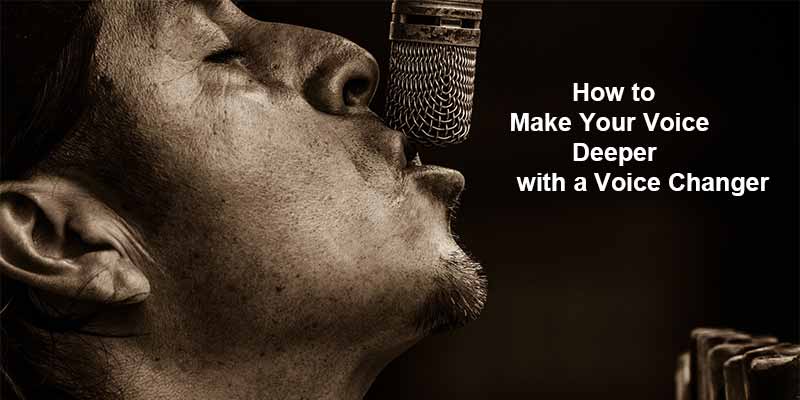 Part 1.

What is Deep Voice Changer? How it Works?

Suppose you are looking for answers to how to add depth to your voice. We have a solution to your problem. Voice Changers let you experiment with your voice in the best way possible. You can try out different effects to see how your voice looked when a particular effect was added since you cannot permanently change your voice. These voice changers fulfill such wishes. For some time, you can make your voice sound like a real man or older.

Suppose these voice changers weren't there. You had to go for million-dollar surgeries to get the voice you wanted. Even if you get it, that voice won't match what you wanted exactly. Hence, you can get the voice you wish to with these voice changers. Little changes in the settings can do wonders.
How to Make Your Desired Deep Voice in certain ways ?
To make your desired deep voice, you need to make some changes. Let's talk about some of them.
1. Use a different portion of your body to speak, such as your throat, diaphragm, or mouth and nose.
2. Keep hydrated and avoid anything that might harm your voice, such as cigarettes.
3. Attempt to imitate a voice that you enjoy.
4. Vocal training may be learned via books and videos.
5. With each breath, concentrate on increasing your airflow.
6. When speaking, keep your tongue firmly towards the floor of your mouth.
7. Throughout the day, maintain correct posture.
8. Make an effort to use your nasal voice more frequently.
These are some ways you can practice regularly to change your voice into any desired voice you want. It will take a lot of time, but the voice changer can easily do it without any delay or practice in a few minutes. Voice changers will save you from spending millions of dollars just to add a little effect that will change your voice permanently.
Or, there is another amazing way to make your voice deeper! Please read on.

Secure Download

Secure Download
Part 2.

Best Deep Voice Changer to Make Your Voice Deeper

Here is a detailed overview of some of the most famous deep voice generators.

MagicVox by UnicTool is a fantastic deep voice changer. It allows you to change the gender of your voice, add hilarious effects, and convert it to an Anime or Deep voice man.

It's a solid voice changer& soundboard for Windows and Mac, providing an average internet experience. You may even personalize your voice filter and soundboard.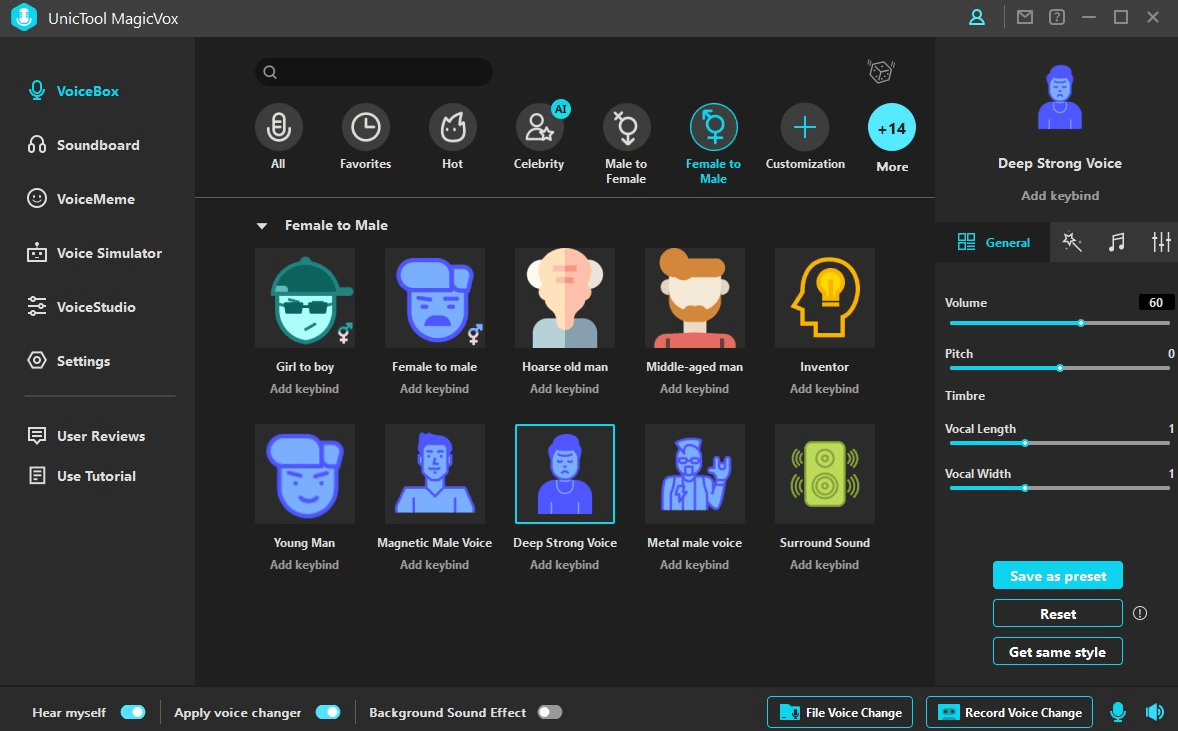 Key features:

Real-Time Transformation: It allows real-time voice modification on various platforms such as Discord, Skype, Zoom, CF, Second Life, Fortnite, CSGO, Overwatch, Twitch, and more.

Customizable Keybinds:
Easily switch between different voices with just a single click using customizable keybindings.

Wide Range of Anime Voices: It offers a wide range of anime voices, includingSpongeBob, Minions, Kermit the frog, Donald Duck and many others, in addition to female to male voice.

600+ Sound Effects: Enhance your experience with an extensive library of sound effects imitating anime character memes, environments, animals, and more.

Voice Studio Function: Customize and fine-tune your voice with the Voice Studio function for a truly personalized experience.

Voice Changing for Records and Audio Files: Not only for real-time interactions but also for recorded voice and audio files.

Different free sound effects available every day.
This is an on-the-fly voice changer. If you're searching for anything to give your voice a fresh twist, this program has all the capabilities you'd expect from a voice changer to a deep voice.
Watch this video to know more aboot MagicVox
How to Use MagicVox AI Voice Changer
Step 1 Download MagicVox: go to the web and download UnicTool MagicVox.
Step 2 Choose device: Configure your microphone and headphones as the default input and output device.

Step 3 Change voice: Click Audio settings and select "Voice Changer Virtual Audio Device" as your default input device.
Step 4 Platforms setting: Now the MagicVox app on your PC separately and select any voice. Select the same voice from keybinds, your voice will be changed.
This platform is simple, but it works great for the Discord platform. Clownfishcomes with limited voice changer features. The name Clownfish is derived from the Amphiprioninae sub-family of fishes. It is enjoyable as its background sounds, and so are its features.
Clownfish didn't have the preset Mickey Mouse voice changer, but you can use the custom voice feature to make your voice to sound like Mickey Mouse in a higher pitch.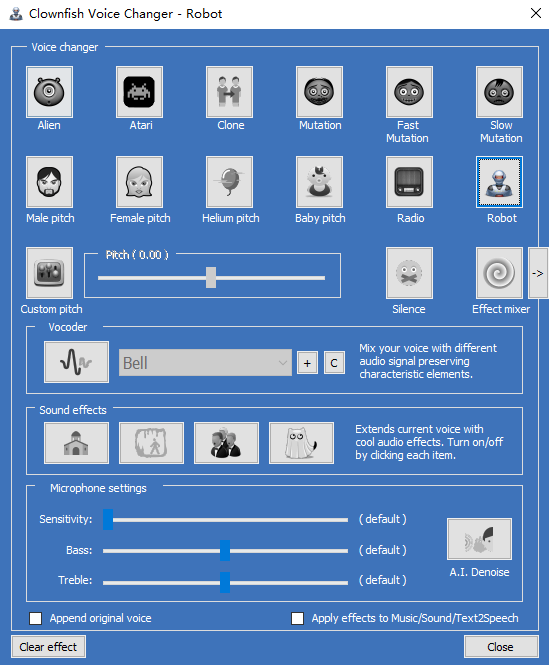 Its key features are:
It supports various music player formats provided on your Windows device.
Plugin support is by Virtual Studio Technology and has a built-in sound player.
Downloads fast, and set-up is maintained quite fast too. Clownfish supports nearly the old and new versions of the Windows OS.
You want to transform your voice into a robot, demon, deep voice man, woman, or anything else.Voicemodcan assist you with this. You may choose from various voice effects that can be utilized for both entertainment and functionality. If you want to add a baritone to your voice, this program will simplify it.
It works with all of your favorite games like Gamecaster, TikTok Live Studio, Omegle, Skype, and many more. It makes your online experiences a wonderful one. Even though Voicemod works for Discord, you can use it on other applications as well.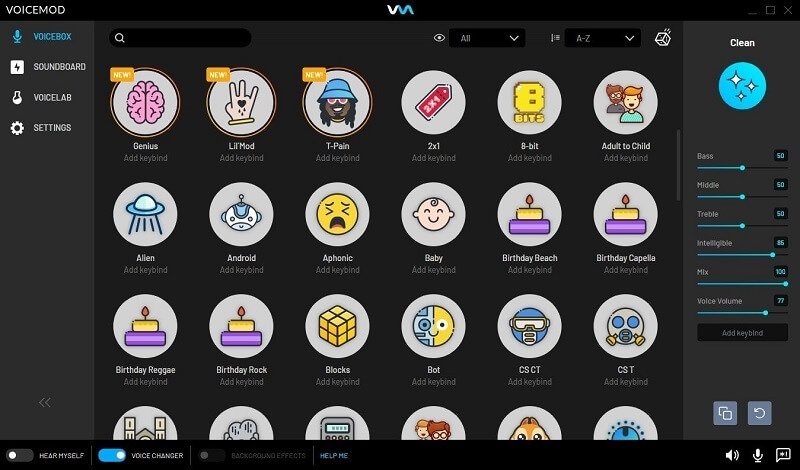 Some Key Features:
When you install Voicemod, Microphone gets automatically added as an Input Device option to Discord.
All recent games and applications are compatible with Voicemod.
Free for Windows users
Demos of live voice effects
Voicemod is an amazing alternative for anyone seeking a deep voice changer for Discord.Imagine how fun it can be when you speak in a deep man's voice, prepare for the trolling.
MorphVOX outperforms all other programs on this list because it can produce high-quality audio without taxing the CPU. The tool even mimics your speech to generate the best deep voice.
MorphVOX has excellent standard capabilities. MorphVOX now supports MP3 reading, restoring files in the same folder, improved list management, plug-in support, and multiple user support.
It's also a lot of fun to use. While communicating with your friends online, you can add background voice effect. This will better your online gaming experience. You may also enhance the whole experience by using a variety of excellent sound effects and changing the audio pitch completely.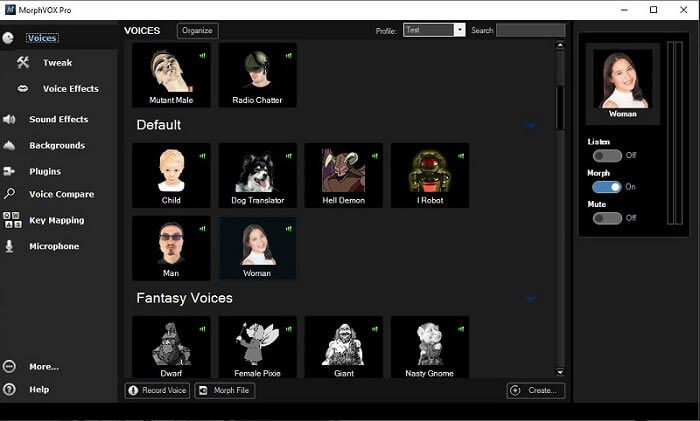 Some Key Features:
The audio effects are chosen from high-quality audio. Quality remains their first priority
It is made to optimize with online gaming platforms strictly
Uses quick keys to send sound effects
Cancels all the ultra-quiet background
Gamers are fortunate to have MorphVOX as their voice changer to deep voice. It has effects that make games more enjoyable and interesting. As a result, your gaming experience will be made more fun. It is one of the most powerful voice changers in the market today, with more capabilities.
Voicechanger.iois a free online application that allows you to apply effects to your voice and modify it. It works perfectly as a deep voice changer. You have ultimate control over how your voice sounds. You have a variety of voice-changing effects to pick from.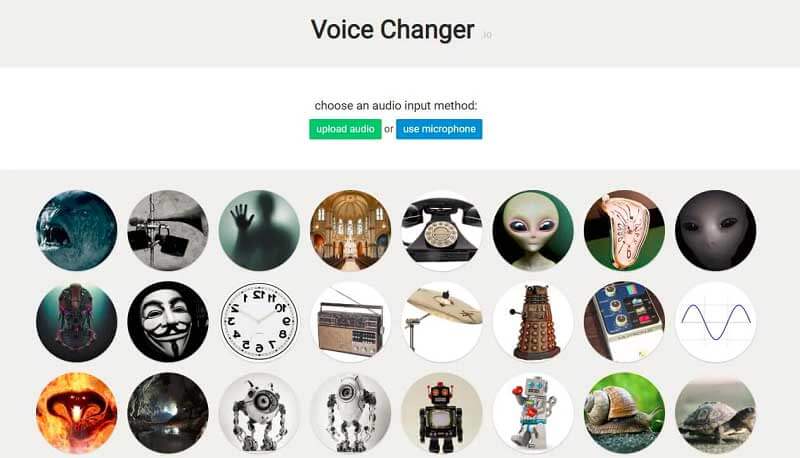 You may use a microphone to record your voice or utilize the web browser directly. If you have pre-recorded audio, just locate the file on your hard drive and submit it to the web tool. The next step is to choose a voice effect to add to the audio you've just submitted.
You get a variety of voice effects from which you can chose. Another unique feature of this deep voice generator is the ability to synthesize speech from the text input. So, you get to select from three voices, configure the voice a little bit, and then you will get the result.
Some Key Features:
Voice can be recorded in a web browser or your computer's microphone.
You can upload files from your hard drive to our online free voice changer program.
This online voice changer supports various speech effects.
You can alter or create new voices in a pre-recorded audio recording.
5. LingoJam(Online Female to Male Voice Changer)
TheLingoJam is a free deep voice changer that enables you to change the pitch of your voice to sound older. It comes with a drop-down menu that allows you to tweak the pitch of your voice recording for increased convenience.
This deep voice generator requires no program downloads and is 100% free. It's easy to use: click "record a clip" to create an audio clip that will be used to convert your voice. You can also submit voice audio of someone else to hear how they'd sound if a woman spoke to them.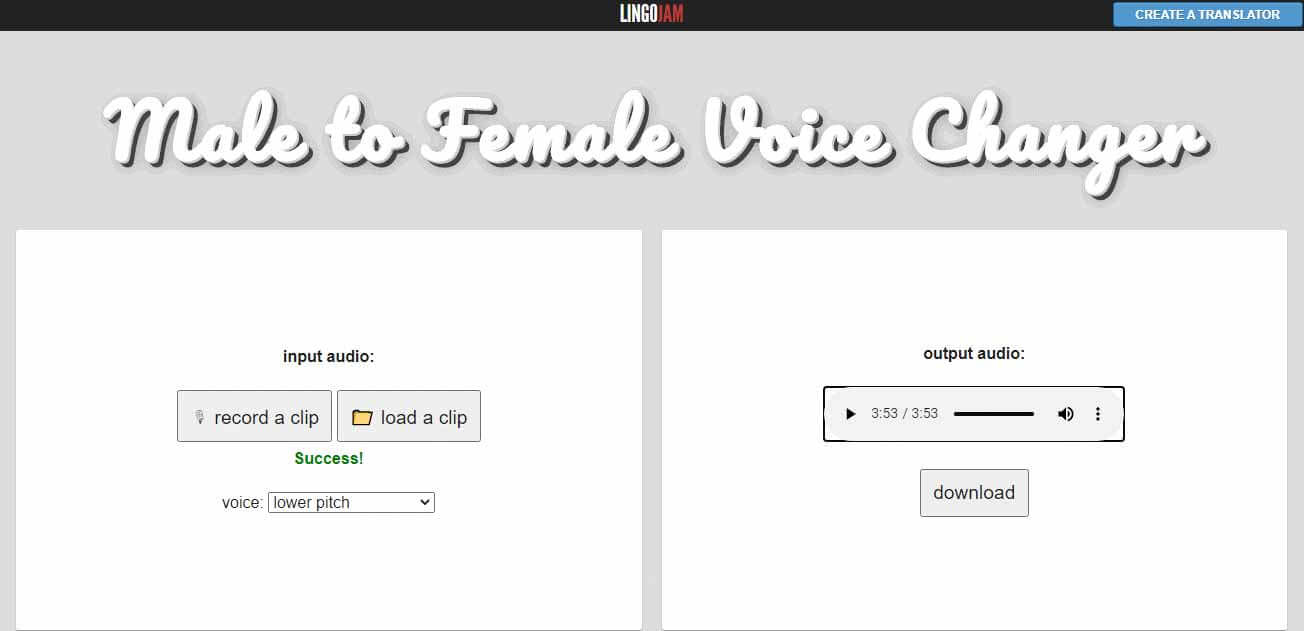 Some Key Features:
You get complete control over the pitch of your voice.
Let's you hear a preview of your sound.
Your voice can be changed in speed.
Allows for rapid volume adjustments.
It is simple to set up.
You will receive free technical assistance.
Part 3.

FAQs about Deep Voice Changer
1. What is a Deep Voice Changer?
A Deep Voice Changer is a tool that alters the pitch and tone of a person's voice, typically for entertainment purposes like gaming and content creation.
How can I use a Deep Voice Changer effectively?
Choose the right tool, adjust settings, practice matching the desired voice, and use it responsibly in various contexts.
Can Deep Voice Changers be used for serious applications?
Yes, they have practical uses like voiceovers, privacy protection, speech improvement, and language learning.
Final word
Pranking your teammates or friends with a deep voice changer is one way to make online chatting enjoyable. MagicVox is currently one of the deep voice changers available. Almost every month, MagicVox adds new features. You can have fun with your dull conversations, calls, and live streaming. Make your voice seem like a robot , a woman, or anything else scary to your buddies. Have fun deceiving them.
These deep voice changes have made games chatting like PUBG and Fortnite more enjoyable.
Thus, dowdload and use this software to change your voice into a deeper voice for free below now.