Anonymity is the primary concern of many gamers. Nowadays voice changing tools are in use by online gamers to maintain privacy. Along with gamers, hybrid work mode and remote work have obligated the use of web-based communication platforms like Discord.
Discord can be used for business, gaming, and general communication. It allows you to utilize voice changers like Voicemod to maximize privacy. It is an excellent tool with an impressively extensive list of voice filters.
This article will enlighten you about key features of Voicemod and how to use Voicemod Voice changer on Discord.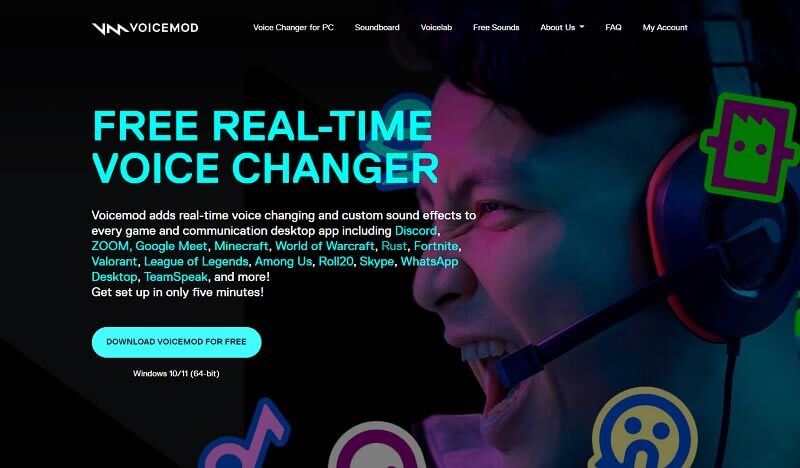 Part 1.

What is Voicemod Voice Changer?

Voicemod is real-time voice changer and soundboard software for windows gamers and content creators. It is a helpful tool for editing and creating their own sonic identity and voices. Voicemod facilitates the user to modify and transform their voice into a robot, female or a boy.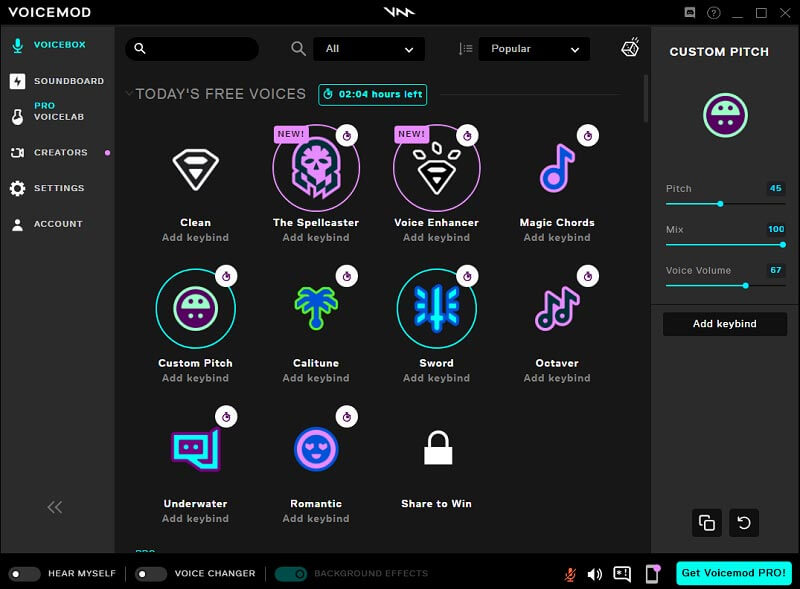 Feature Specifications
Live Voice Changer: real-time voice changing option makes the Voicemod the first choice of gamers. No pre-recording is required.
Easy Setup: it has simple interfaces that require less than 5 minutes to set up.
Extensive Library of unique Voices: voice modulator allows you to make your own voice, but it also offers pre-designed 90 different voices.
Extra Tools: create your own voice and integrate sound clips into the soundboard.
Complete Integration: Voicemod voice changer emulates directly in games or other applications.
Optimized Performance:it will not affect your character's performance in the game or application.
List of Voice effects
Voicemod voice changer features an impressive filter library that you can utilize on Discord. You can convert your voice into a rock star with lil' mod and get a holiday spirit with a voice like Crazy Clown. It offers 90+ unique voices eradicating every possibility of recognition, and takes creativity to the next level. Here are some widespread sound effects
Genius voice
Lil'Mod voice
8-Bits voice
2x1 voice
T-Pain's voice
Aphonic voice
Blocks voice
CS CT voice
Cathedral voice
Child to Adult voice
Part 2.

Is Voicemod Safe?

The large influx of posts and websites has been claiming in the past that Voicemod is a virus. However, it's not true. The rumors might have originated due to a non-official version of Voicemod voice changer along with some sketchy websites.

It has been proved that the official Voicemod tool is safe and clean. It is a simple tool for voice alteration. You can download and use it safely, not just for Discord but also for other applications. This voice modulator does not affect any file or sneakily inject itself. Hence, there is no threat to your PC or mobile from the original version. This is not the case with pirated versions available on the internet.
Part 3.

How to Use Voicemod on Discord?

Using Voicemod Voice changer on Discord might be a daunting task, but it is very simple. You just have to download it, and you are ready to play with voice. To make the process easy, let's explore the answer to how to use Voicemod on Discord.
1. Use Voicemod on Discord for PC
Voicemod Discord works smoothly with Mac operating systems and windows. Here are simple steps to use Voicemod on Discord.
Step 1:

Download Voicemod

The first step requires you to download Voicemod Voice changer on your PC. Visit the official website and click "Get Voicemod Free." You will be asked to log in to Discord, Twitter, or Google. Once you log in, the setup will start downloading in the form of an ".exe" file. And then open Voicemod and set your real microphone and headphone as your default Input and Output device.

Step 2:

Configure Voicemod with Discord

Open the discord account and go to the settings present in the screen's bottom-left corner. Then tap on the "Voice and Video" option.

Step 3:

Set Microphone

To use this voice modulator, you are supposed to change the settings. Navigate within the "Input Device" option and select the "Microphone Voicemod Virtual Audio" option.

Step 4:

Choose Voice Filters

Once the input/output is selected, you can try and select a different filter of your choice. You are provided with a large library of 90+ filters.
2. Use Voicemod on Discord for Mobile
Voicemod Voice changer is also available on mobile with certain limitations. "Voicemod clips" is a version available for both apple and android devices. The step-by-step procedure for using Voicemod on your mobile phone is as follows:
Step 1:

Download Voicemod

Open play store. Search for Voicemod clips in the search bar and download the latest version available

Step 2:

set sound effects

Open Discord and tap the "cogwheel icon." Open the "setting" page located in it, and then tap on "Voice and Video." Select Voicemod as the input device option and headset under the output device option.
Part 4.

Voicemod Voice Changer Alternative | UnicTool MagicVox

Some people fail to find a feasible answer to "how to use Voicemod on discord." So, we have come up with an applicable and easy-to-use alternative. UnicTool MagicVox is another highly functional voice modulator with huge effects. It can change your voice with numerous voice filters in real-time.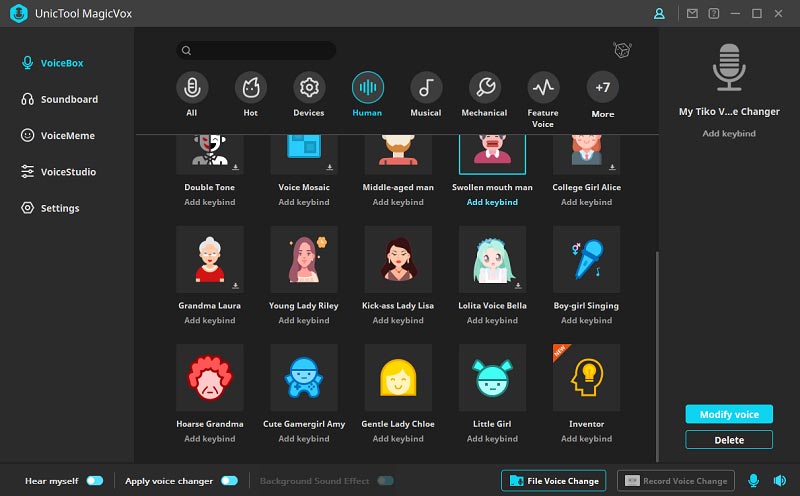 Here are some valuable features of UnicTool MagicVox, making it stand in the queue of effective Voicemod Voice changer alternatives.
Feature Specifications
Instant Voice changer: you can change your voice into different voices like funny, spooky, terrifying, and many others with one click. The addition of background sound filters makes environment change and voice changing effect more realistic.
Excellent and Vast Soundboard: UnicTool MagicVox soundboard offers 300+ sound effects making the atmosphere more enjoyable.
Voice memes: voice memes for discord manifolds the fun. You can also import your favorite voice meme.
Customize the Voice:this amazing sound modulator is easy to use and provides a wide range of sound parameters to create your dream voice.
Conclusion
Voice changing has crossed the boundaries of fun. Now it plays a significant role in Hybrid business modes, online meetings, and gaming to maintain privacy. Voicemod Voice changer is one of the favorite tools to alter the voices. Sometimes, its features fail to entertain every model.
In this case, you need an alternative to bring the game on. MagicVox is the right solution to your problem. This voice modulator also offers a wide range of amazing features to change voice in real-time.