Spongebob is a beloved cartoon character that continues to captivate audiences of all ages with its humor and entertaining episodes. Fans have expressed their love for the character by creating memes, short clips, and videos, some of which use AI SpongeBob voice generators.
If you're interested in creating your own SpongeBob AI voice , you're in luck! In this article, we've highlighted several online tools and software programs that you can use to generate SpongeBob voice on your PC for fun.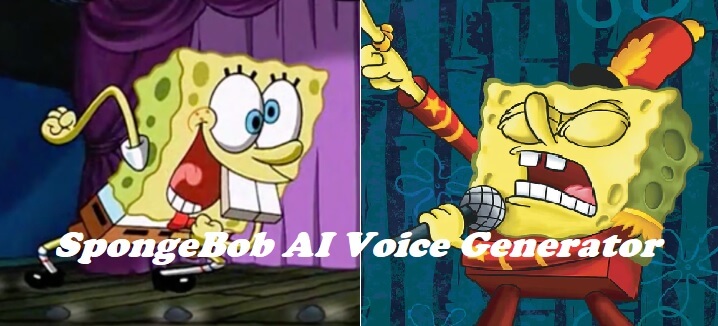 Part 1. Info of SpongeBob Voice Actor
The voice actor behind the iconic character of SpongeBob SquarePants is Tom Kenny. Born on July 13, 1962, in Syracuse, New York, Kenny has been a prominent voice actor for over three decades, lending his voice to numerous animated characters in television shows and movies.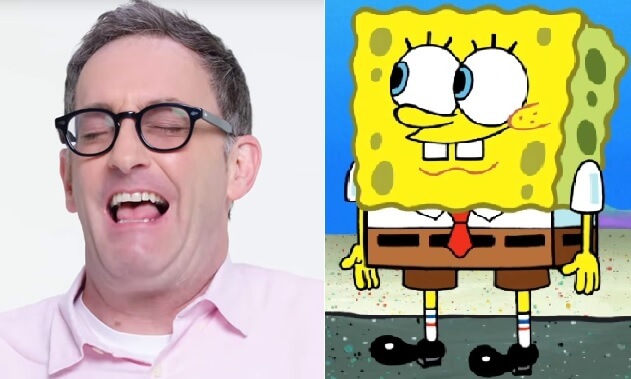 He has won several awards for his work, including four Daytime Emmy Awards for his role as SpongeBob SquarePants. In addition to voice acting, Kenny has also worked as a comedian, actor, and writer in the entertainment industry.
Don't need to hire a voice actor! You can effortlessly generate Spongebob dubbing for your YouTube and TikTok videos. Try VoxMaker online Spongebob voice generator for free:
VoxMaker
Free Voice Generator
SpongeBob
Morgan Freeman

Barack Obama

Joe Biden

Donald Trump

Cristiano Ronaldo

Kanye West

Goku

Spongebob
Trials for Free Online Text to Speech
85/100
Reached the Trial Limit?
An issue occurred while generating your audio. Please try again.
Part 2. What is SpongeBob Meme?
SpongeBob Meme is a popular internet meme featuring images or videos of characters and scenes from the animated television series SpongeBob SquarePants. The memes often feature a humorous or satirical caption that is related to the image or video. The SpongeBob Meme has become a popular form of internet humor and is often used to express a range of emotions and ideas in a lighthearted and humorous way.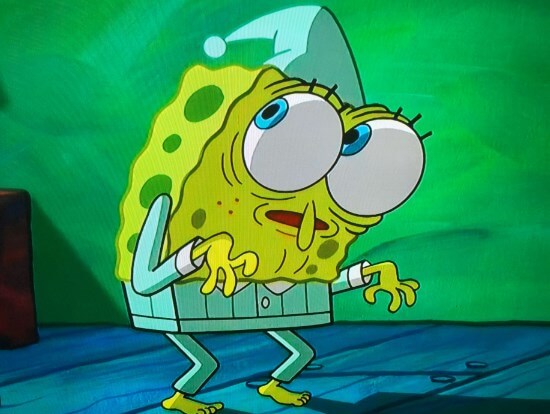 Part 3. How to Generate Spongebob AI Voice via Spongebob AI Voice Generator
VoxMaker offers numerous voiceovers and languages, even in their free version, making it an excellent option for those seeking the best SpongeBob AI voice generator tool for streaming or entertainment purposes. It has become most people's prime ai voice generator .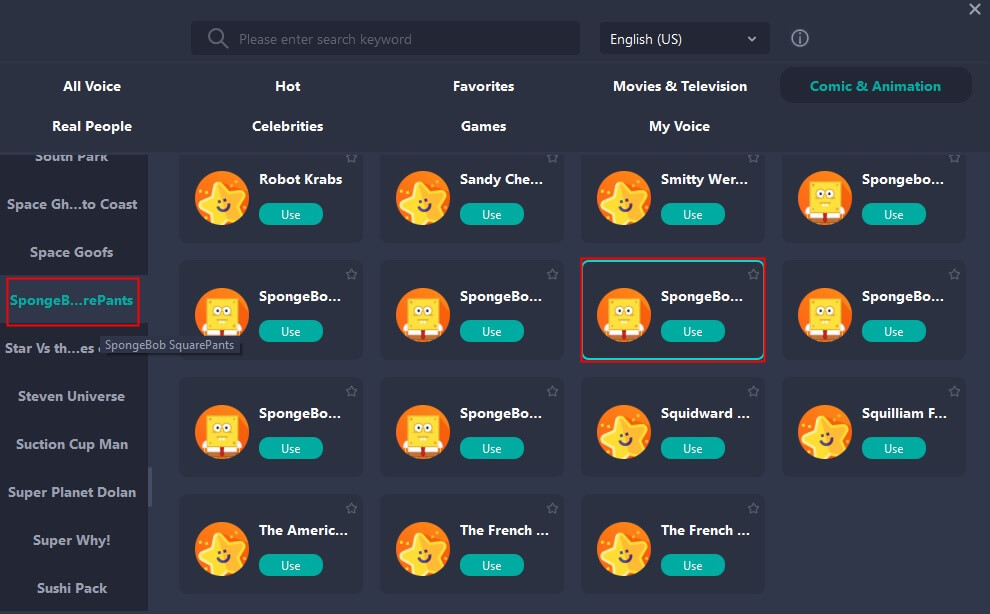 10% Coupon Code:SPECIAL111
If you don't know how to use UnicTool Coupon Code, you can read this article as your reference.
How to generate AI Spongebob Voice with Text to Speech?
Step #1: Launch the VoxMaker and go to the "Text to Speech" tab.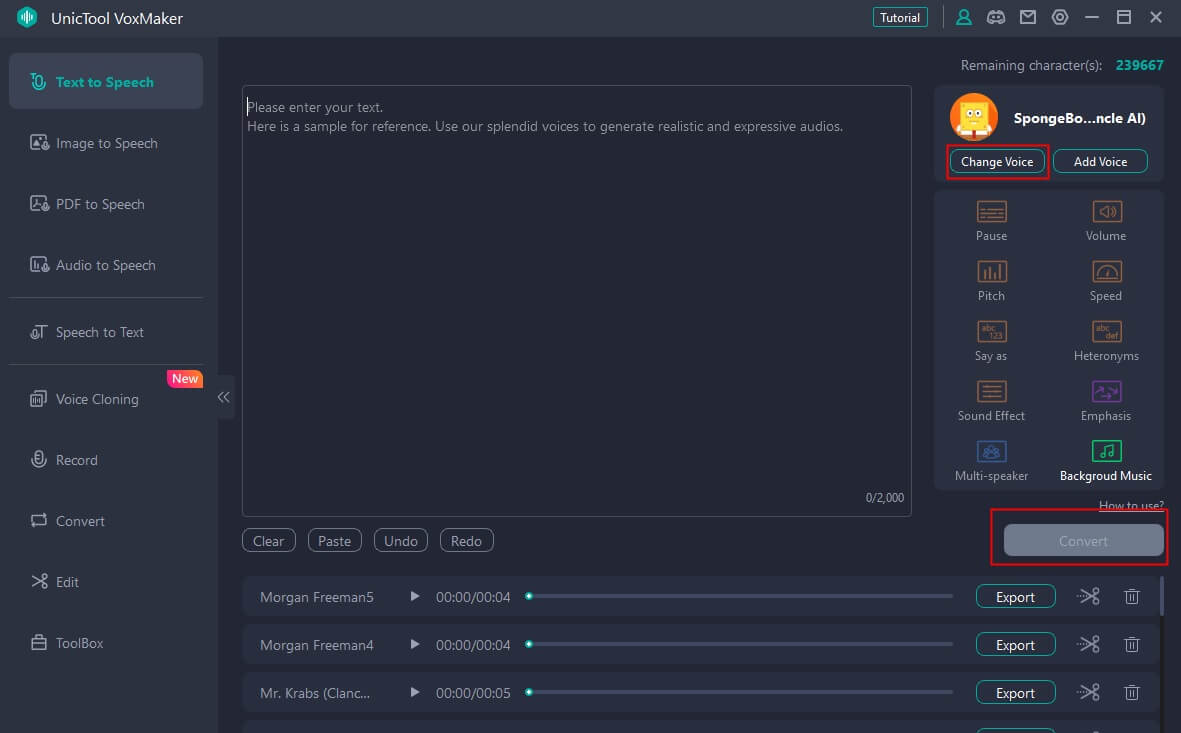 Step #2: From "Change Voice", search SpongeBob voice.
Step #3: Enter your text in the below-given section and press "Convert".
Features:
Diverse Voices: With over 3,200 additional Voices and 46 languages&accents to explore, VoxMaker offers more than just SpongeBob AI voice generation. like Cartman ; Yoda; Vegeta; Patrick Star; Plankton voices.
File Format Output: Supports popular file formats such as MP3, making it easy to save your SpongeBob voice generator output.
Voice Edit: VoxMaker editing tools allow you to trim and cut your SpongeBob AI voice generator audio files until you are fully satisfied with the results.
Powerful Voices Functions: It also allows you to make speech transcription and the conversion of images, PDFs, audio files into spoken words and convert speech into text.
All-in-one Voice Toolkit: Users can enjoy functionalities such as speech to text, image to speech, AI voice cloning, audio to speech, and as a voice recorder.
Pros
Data privacy is a top priority, ensuring that your voice generation is safe and secure.
VoxMaker voice generation tool provides the most wonderful numbers of languages& voices&accents, breaking down communication barriers worldwide.
Cons
It is a new product without well-known brand image.
One of the top-rated SpongeBob voice AI generator apps with outstanding features is Uberduck. It is an open-source program supported by a strong community and powered by advanced AI technology.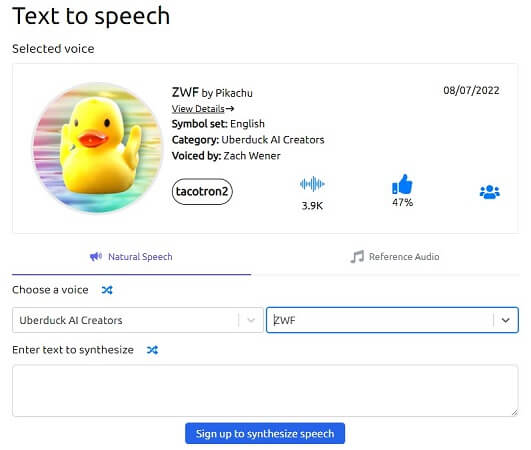 Features:
Powerful Voices Functions: It provides comprehensive AI documentation on their website for users to create fully-featured audio apps. The community also has access to this documentation.
Diverse Voices: With over 3,000 available voices like ghostface, Uberduck offers a vast selection of options to explore.
Free Voices Available: The Uberduck studio provides a wide range of royalty-free voices, but voice quality need to reconfirm and not very good.
Easy to use: The resultant generated voices can be easily customized to suit your preferences.
Pros
Being open-source, it provides reliability and is recommended by thousands of people who use it daily.
This online tool is packed with a wide range of features that make it an excellent choice for generating voices.
The open access it provides enables TTS enthusiasts not only to learn machine learning but also to create their own unique apps with its help.
Cons
Unfortunately, only premium users have access to the API which is a disappointment.
Limited voices and voice edit functions.
TopMediai offers a robust SpongeBob Text to Speech generator with both free and paid versions, providing users with a range of options for quickly converting text to speech and creating SpongeBob AI voiceovers at high speeds.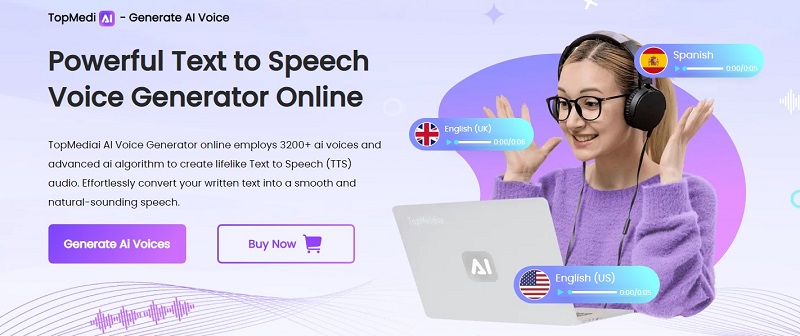 Features:
TopMediai offers a vast library of over 3200+ natural-sounding voices, including popular characters like Mickey Mouse and Goku.
Diverse Languages Available: Supports for over 60 languages, it ensures better accessibility for users worldwide.
Voice Edit : The online voice generator allows for easy editing of the generated audio, providing more flexibility for users.
Customized Voices : Users can control the speed, pitch, and volume of the generated voice for a personalized experience.
Pros
Both voice generation and speech recognition functions to choose from.
Easy to use.
Cons
Some of the advanced features of TopMediai are only available through the paid version.
Limited voices and voice edit functions.
The SpongeBob AI voice generator from 15.ai is an exceptional real-time text-to-speech converter that employs robust AI to create voices.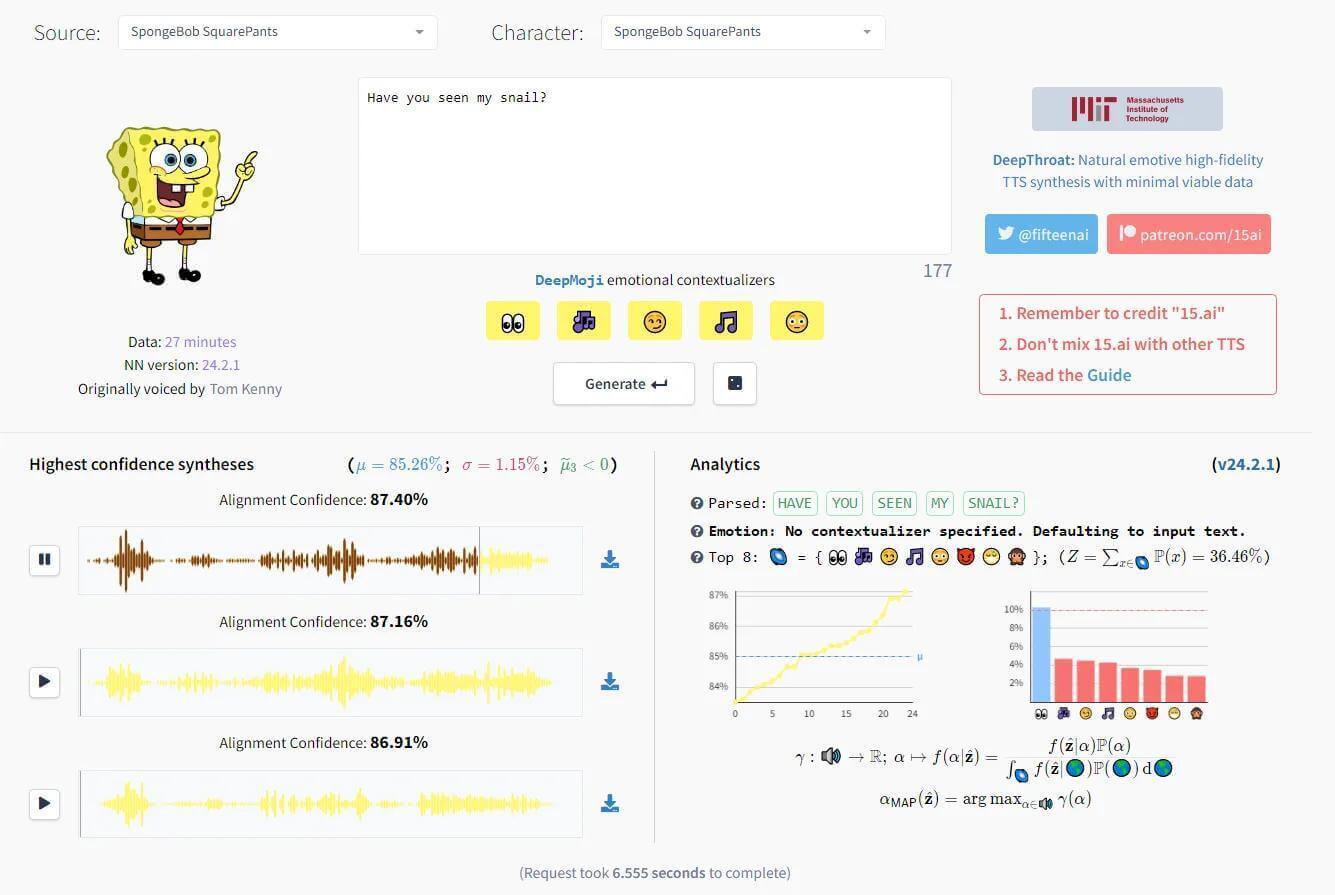 Features:
SpongeBob Voice Supported: You can generate SpongeBob voice using 15.ai without any hassle.
High-speed Processing: Experience high-speed processing for your text-to-speech requirements with 15.ai.
Pros
This web-based tool has exceptional audio synthesis algorithms that provide high-quality results.
You can use 15.ai to access free sentiment analysis models, which can further improve the accuracy of your results.
Cons
The absence of an Android or iOS app is notable.
it can not be used now.
Part 4. Also Recomended: Spongebob AI Voice Changer
If you're a fan of SpongeBob SquarePants and want to have some fun with Spongebob's voice in games or conversations, MagicVox AI is the perfect tool for you. MagicVox AI is a real-time voice-changing software that allows users to modify their voice to sound like different characters, including Spongebob.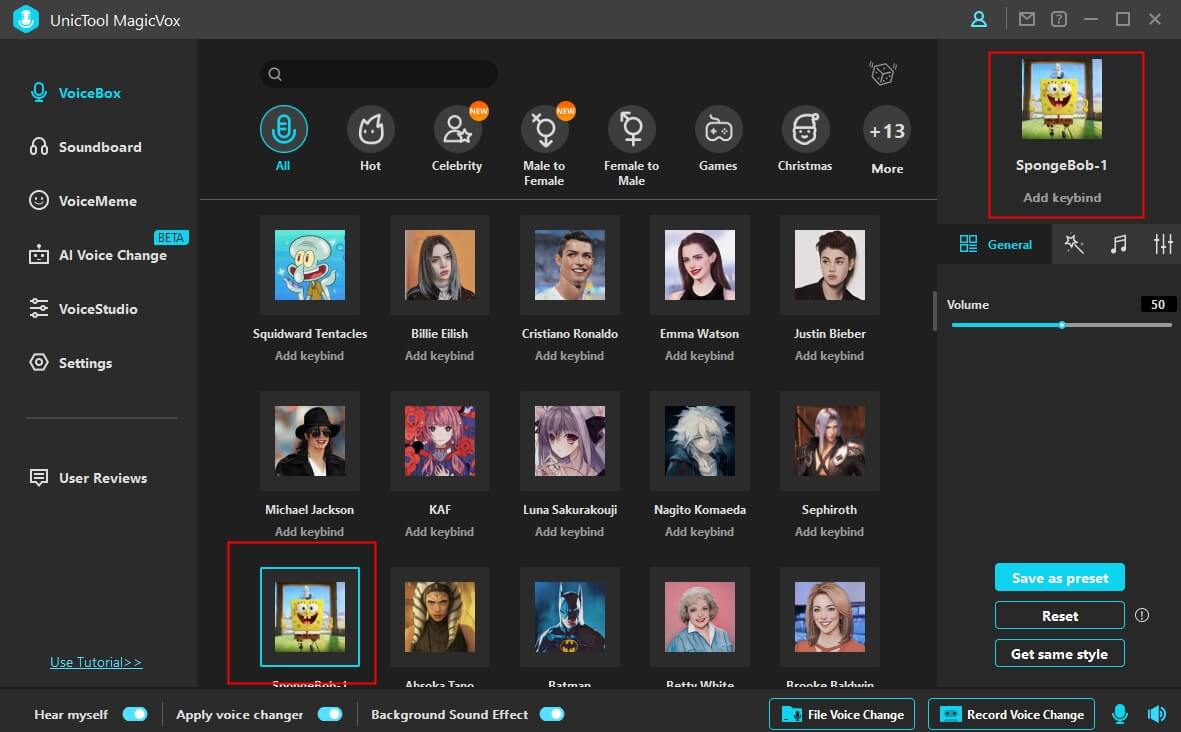 Key features:

Real-time Voice Modification: With just one click, change your voice in popular gaming platforms like Discord, VRChat, Zoom, Google Meet, Roblox, OBS, DAWs, YouTube, TikTok and more.

With over 600 voice effects, 400+ soundboard options, and 200+ voice memes, include many cartoon character voice effects.

Voice Customization: You can create personalized voice presets by adjusting various parameters to achieve unique and customized voice effects. Stand out from the crowd with your own signature voice!

Compatibility: It effortlessly integrates with popular communication and streaming platforms, allowing you to use the voice changer during voice calls, live streams, and other interactive activities.

Hotkeys and Shortcuts: MagicVox enables easy control of voice effects using customizable hotkeys and shortcuts, making it simple to switch between different voices on the fly.

It also supports file voice change and record voice change.

Secure Download

Secure Download
Watch The Video Below To Know More About MagicVox AI Voice Changer
Part 5. Comparison of 5 Spongebob AI Voice Generator & Voice Changer
Product Name
Category
Platform
Voices
Price
Review Rate
VoxMaker
Text to Speech/Voice Cloning
Windows
3200+
Free Trial
4.7
MagicVox
Real-time Voice Changer
Window+Mac
400+
Free/$8.95
4.7
Uberduck
Text to Speech
Online
4000+
$25/Clone Plan
4.4
Topmediai
Text to Speech
Online
3200+
$12.99/mon
4.7
15.ai
Text to Speech
Online
300+
Free
4.4
Part 6. FAQs about Spongebob AI Voice
1. Can I Make SpongeBob Text To Speech?
Yes, you can make SpongeBob text to speech online or on your PC using various text to speech software or websites. Some of the popular options include VoxMaker, Uberduck, TopMediai, and 15.ai, which offer SpongeBob voice generators for text to speech conversion.
2.Can I use AI voice generator SpongeBob for commercial purposes?
It depends on the terms of use of the specific AI voice generator SpongeBob you are using. Some may allow commercial use while others may prohibit it.
3. How can you have a realistic SpongeBob voice with an AI voice generator SpongeBob?
To have a realistic SpongeBob voice with an AI voice generator SpongeBob, it's important to select a voice generator that uses advanced speech synthesis technology and has a library of high-quality audio samples of the character's voice. Additionally, the AI voice generator should allow you to control the speed, pitch, and volume of the generated voice to make it sound more natural.
4. What is Spongebob AI Voice?
SpongeBob AI Voice uses AI technology to mimic SpongeBob SquarePants' iconic voice, enabling users to generate voice recordings that capture his distinct vocal style for creative projects.
5. How to Generate Spongebob AI Voice?
Step #1: Launch the VoxMaker and go to the "Text to Speech" tab.
Step #2: From "Change Voice", search SpongeBob voice.
Step #3: Enter your text in the below-given section and press "Convert".
Conclusion
Have you had a chance to explore all the amazing SpongeBob AI voice generators we have listed in this article? If not, we suggest giving them a try to see which one meets your requirements. If you're looking for our top recommendation, VoxMaker stands out as one of the best TTS software and tools available. You can download it for free to access the AI SpongeBob voice generator!
UnicTool VoxMaker
Text-to-speech dubbing in 46+ languages & 3200+ voices.
Transform your words with realistic and expressive AI voice clone.
Offers the voices of various cartoon characters, including patrick star, plankton.
Effortlessly fast & secure.