Are you looking to voiceover your YouTube or TikTok videos or other spooky content with the Ghostface AI voice? If you want it to go viral on Halloween, you're in the right place. This article recommends three of the best online, free Ghostface text to speech tools that allow you to effortlessly generate Ghostface voiceovers by simply inputting your text.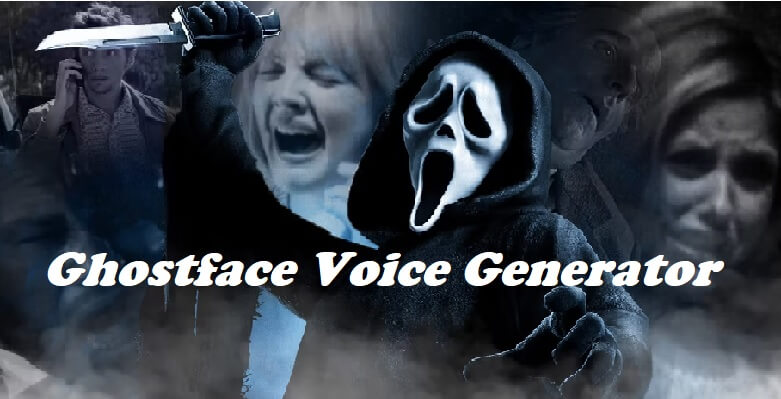 Part 1. Who is Ghostface Voice Actor?
Roger L. Jackson is an American voice actor known for his work in film, television, and video games. He was born on July 13, 1958, in Atlanta, Georgia. Jackson has provided the voice for many iconic characters in popular culture, including Ghostface in the "Scream" movie franchise, Mojo Jojo in "The Powerpuff Girls," and the announcer in the "Final Destination" film series.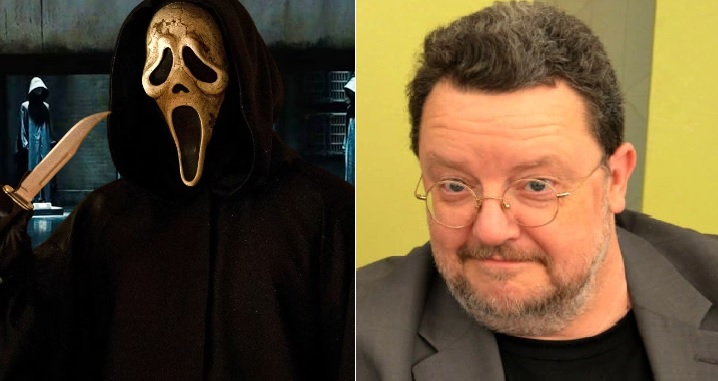 He has also lent his voice to video games such as "Starcraft II," "The Walking Dead," and "Mortal Kombat 11." Jackson has been active in the entertainment industry since the early 1990s and has become one of the most recognized and respected voice actors in the business.
Part 2. Ghostface Text to Speech Voice You can Get!
Halloween 2023 is approaching, and if you want to spook your friends with a Ghostface voice and add voiceovers to your prank videos, VoxMaker is an excellent choice for you. It is not only an AI text-to-speech tool, but also has a voice cloning function, with more than 3200 voices, you can also adjust the speaking speed, intonation and pitch. It is the best choice for video dubbing and content creation.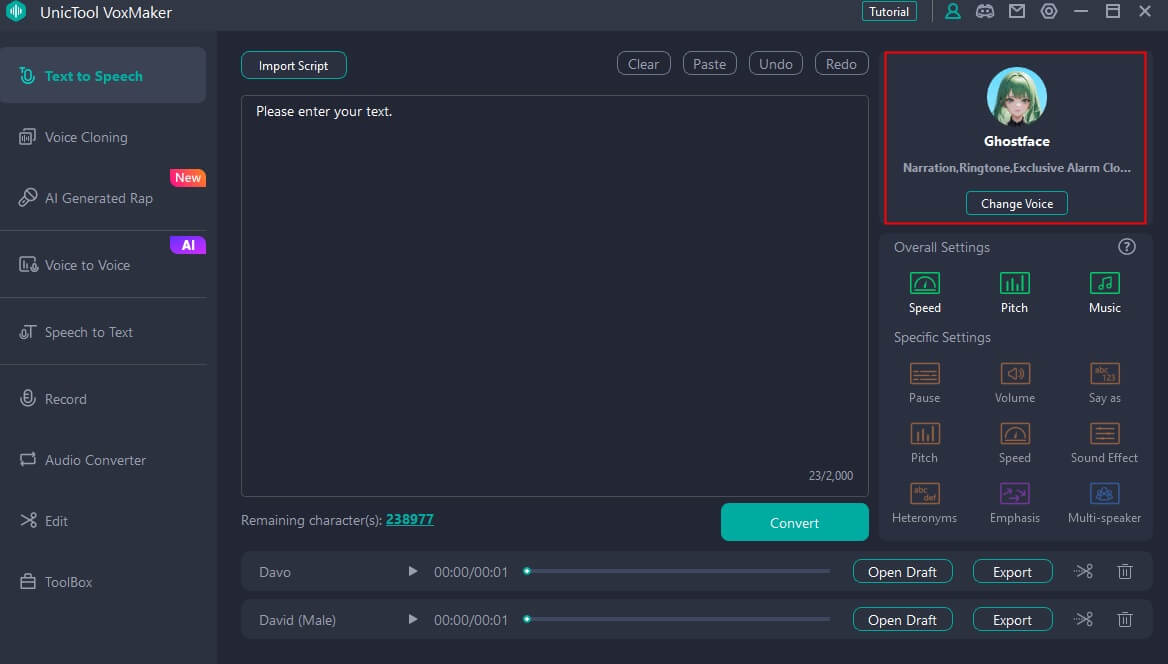 Features:
More than 3200+ voices, not only scary voices, but also many celebrity voices, such as Biden, Drake and other interesting cartoon characters, perfect for prank videos.
46+ languages ​​and accents suitable for people from different regions.
Easily trim and cut your ghostface voice text to speech audio files to perfectly match your TikTok and YouTube videos.
AI voice cloning: You can clone any voice with just 1 click.
It also offers speech-to-text, voice-to-voice conversion, and the creation of AI-generated rap songs.
Support multiple formats such as WAV and OGG.
Pros
VoxMaker has the largest number of voices compared to other text-to-speech tools.
Audio is generated swiftly with minimal waiting time.
The quality of cloned voices and generated audio is excellent.
Cons
Sometimes, a second time of generation is needed.
TopMediai text-to-speech online tool is an innovative AI-powered service that transforms text into lifelike speech, including a realistic Ghostface voice. It provides numerous voice options, supports multiple languages, and seamlessly integrates into a range of applications.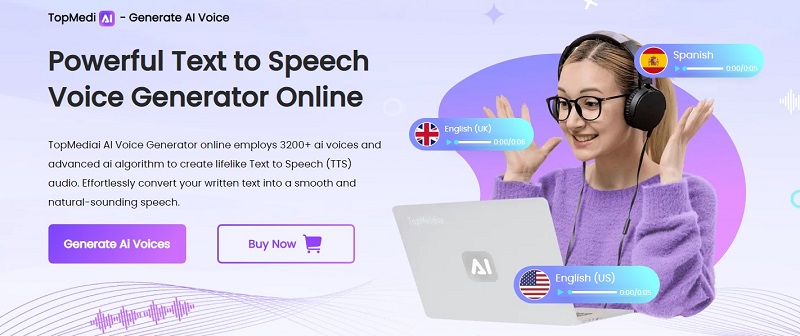 Features:
With an extensive voice library and repository of over 3,200 voices, TopMediai offers some of Ghostface text to speech voiceovers.
The platform features famous voices such as Obama, cartoon characters, Elon Musk, and many others that sound like native speakers.
Supports over 70 languages, including British Text to Speech voice generator, making it a versatile tool for users around the world.
You can easily customize your Ghostface text-to-speech or Ghostface voice changing audio files until they match perfectly .
Pros
The voice library and language options offered are vast and comprehensive.
The Ghostface voice generator is known for its fast processing speed.
Ghostface text-to-speech feature is available in various languages and dialects to cater to individual preferences.
Cons
A good internect connection required.
Balabolka utilizes the SAPI and MS's native API speech protocol to generate Ghostface voice through its text-to-speech feature. It's a great tool to create fun and engaging TikTok videos by joining the Ghostface trend. Balabolka boasts excellent articulation, high speech quality, and enhanced voice clarity for all of its voices.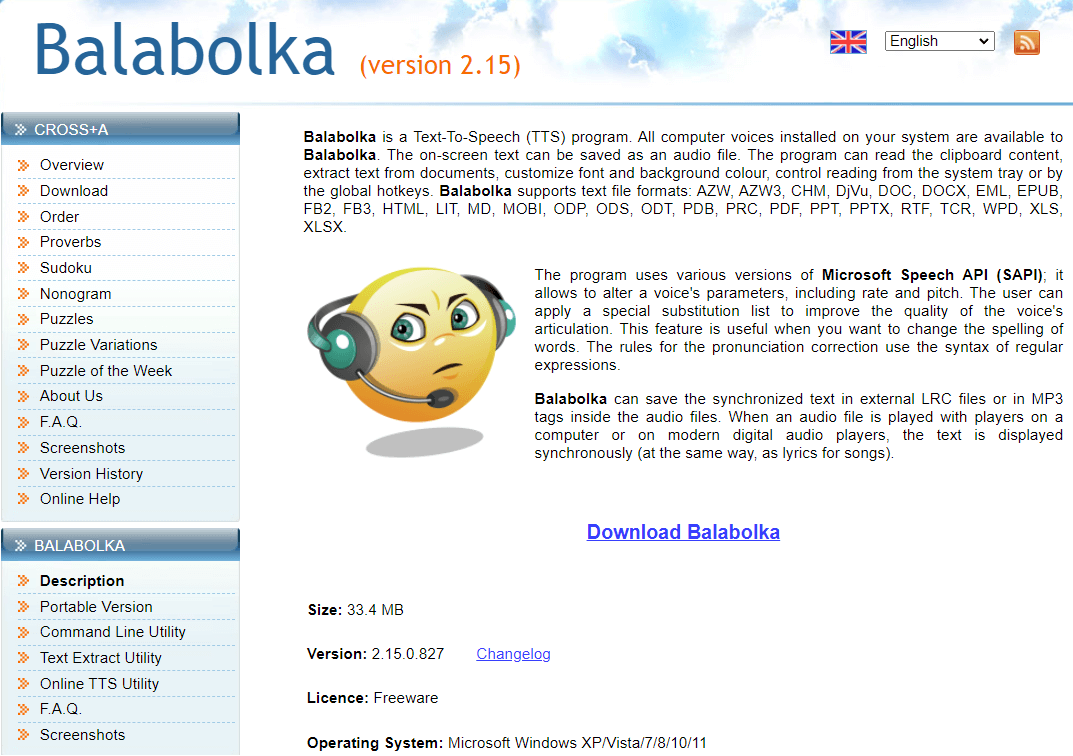 Features:
Balabolka offers a wide range of voiceover options to choose from.
You can save the voices you generate in various popular formats.
It is a lightweight text-to-speech software designed specifically for Windows users.
Balabolka integrates seamlessly with Microsoft Speech Platform.
Pros
You have the flexibility to adjust the settings of the software as per your preferences.
It provides numerous configuration options to customize your voice output.
The interface is easy to use and straightforward.
Cons
Some languages require updates to fix bugs and improve performance.
Part 3. How to Generate Ghostface Voice via Text to Speech?
Step 1: Please download the VoxMaker software first and follow the installation guide displayed on the screen.
Step 2: Choose Text to Speech and click Change Voice.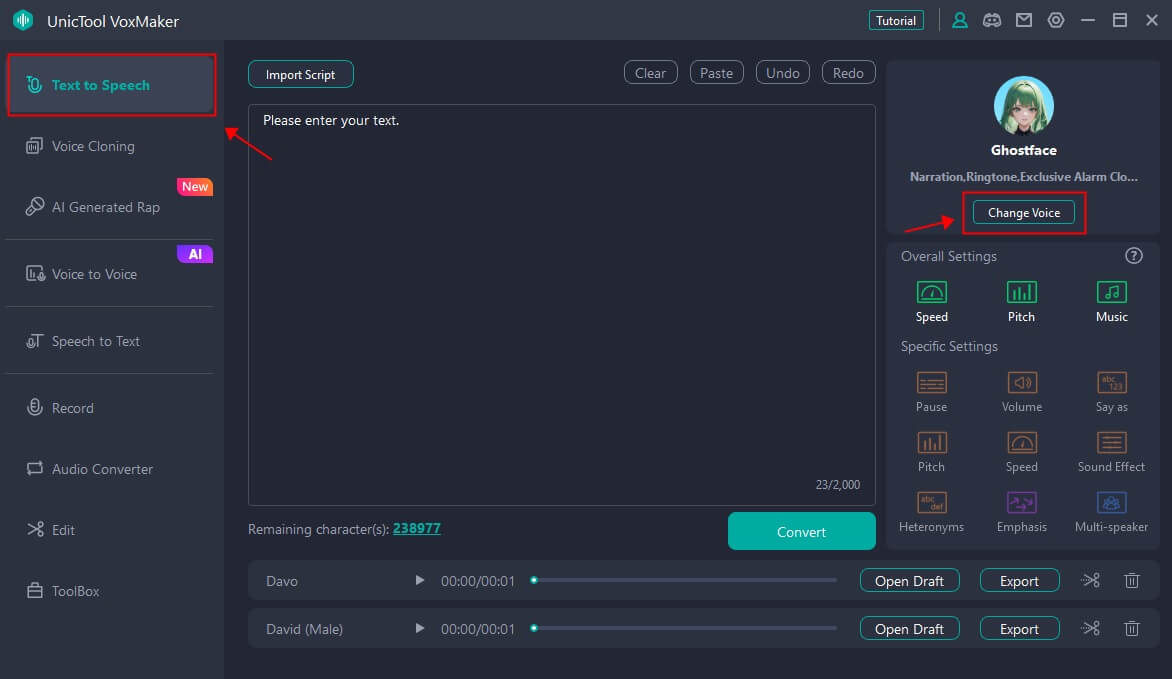 Step 3: Go to the voice selection menu, search for the Ghostface voice, and then select "Use".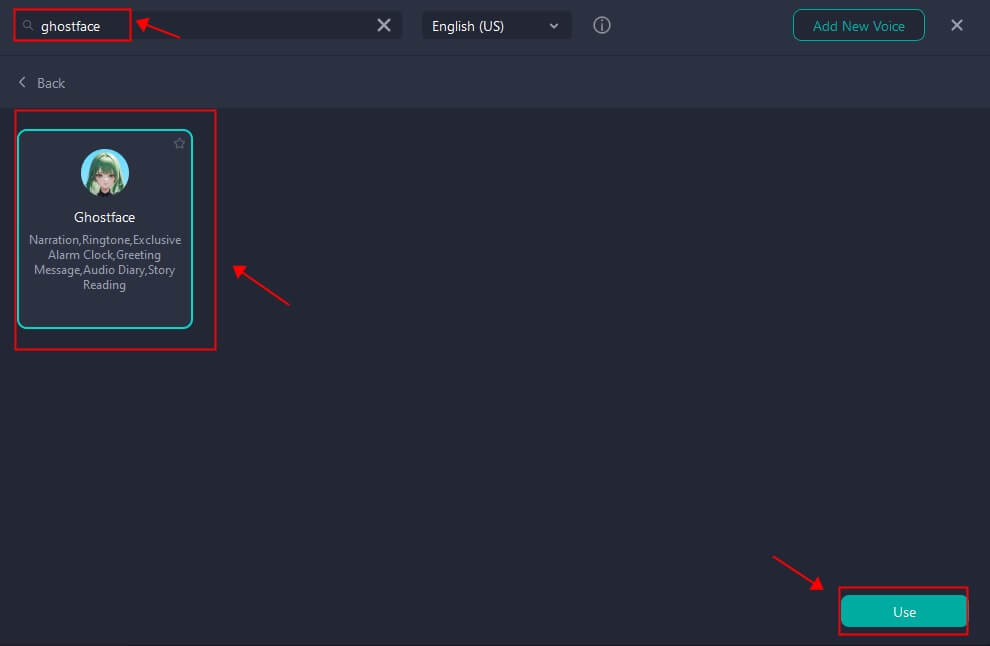 Step 4: Input the text you wish to transform into speech using the Ghostface voice, then click " Convert".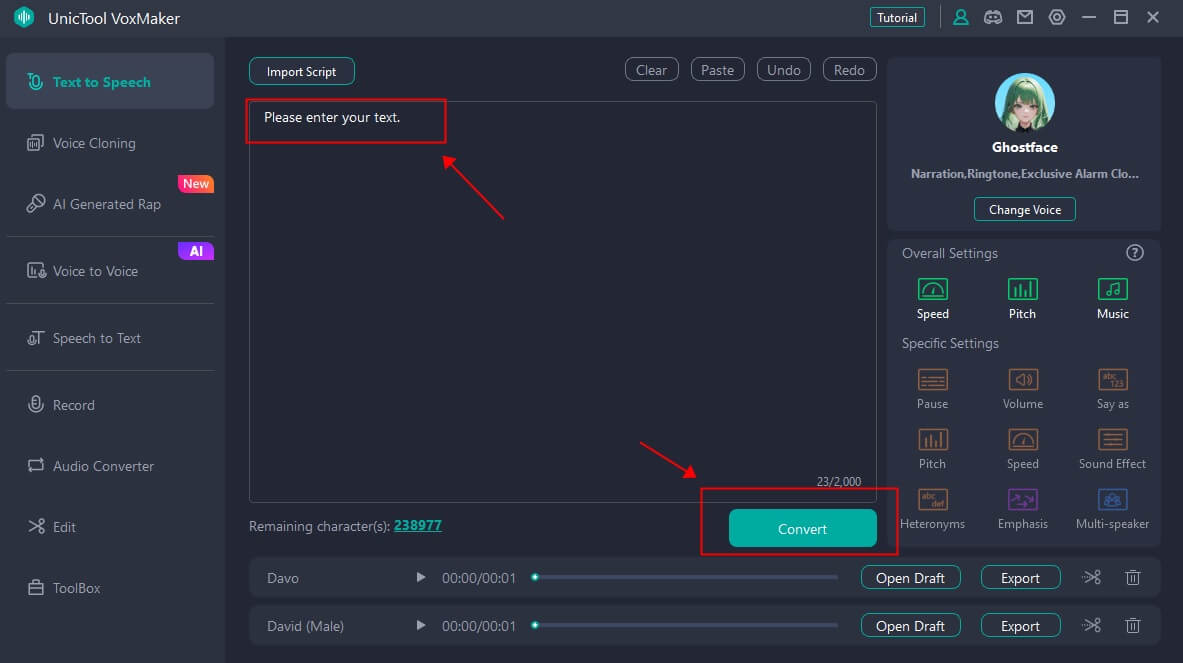 Bonus Tip: Get Real-Time Ghostface Voice Changer for Prank!
VoxMaker, being a text-to-speech generator, does not have the capability to change your voice in real-time for gaming and streaming. In such situations, you would need a real-time voice changer. Recommend the MagicVox Ghostface Voice Changer, which can instantly transform your voice with over 400 voice effects. MagicVox allows you to modify your voice while speaking, gaming, or streaming.
With MagicVox, you can effortlessly mimic the voices of celebrities like Obama or animated characters like Spongebob and Mickey Mouse.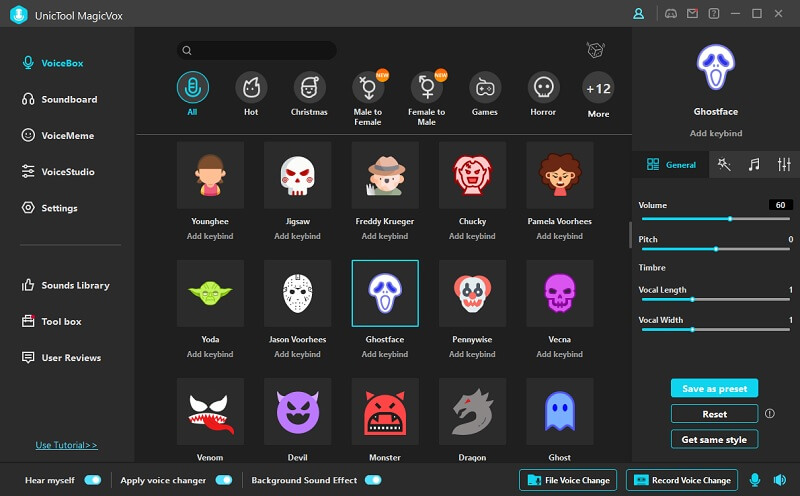 Watch this video to know more about the best Ghostface voice changer - MagicVox
Part 4. FAQs about Ghostface Text-to-Speech
1. What is Ghostface text-to-speech?
Ghostface text to speech is a feature that allows users to generate an audio file from text using a computer program that sounds like the Ghostface character from the Scream franchise. It uses voice synthesizing technology to create a realistic-sounding voice that can be used in videos or other media.
2. How Can I Use the Ghostface text to speech on TikTok?
To use the Ghostface text to speech on TikTok, you will need to first generate the audio file using a text-to-voice app or tool that offers the Ghostface voice option.
3. Can I use Ghostface text-to-speech on my mobile device?
Yes, some Ghostface tts tools are available as mobile apps that you can download on your smartphone or tablet. Examples include MagicVox and VoxMaker. However, some tools may only be available for use on desktop computers.
4. Is Ghostface Text-to-Speech free to use?
Some Ghostface voice text-to-speech tools offer a free version with limited features, while others require a paid subscription or one-time purchase. But VoxMaker offers a free plan for new users that provides 2500 characters to generate any voice for free
Conclusion
Paramount Pictures has recently revived the Scream franchise and added a unique feature by allowing users to use the Ghostface voice text to speech tool on TikTok for creating fun videos. However, if you are looking for more high-quality alternatives for text-to-speech, then VoxMaker Ghostface text-to-speech voice generator can be a great option. It offers a wide range of voice options in multiple languages that can add more fun to your content.