Barack Obama is widely recognized as a prominent and admired politician, renowned for his powerful oratory skills and captivating persona. With the advancements in technology, it is now possible to replicate his renowned speeches using an Obama AI text to speech tool.
This groundbreaking Barack Obama voice generator enables users to input their own text and have it spoken back in the distinct voice of Barack Obama's AI, complete with his characteristic tone, inflection, and rhythm.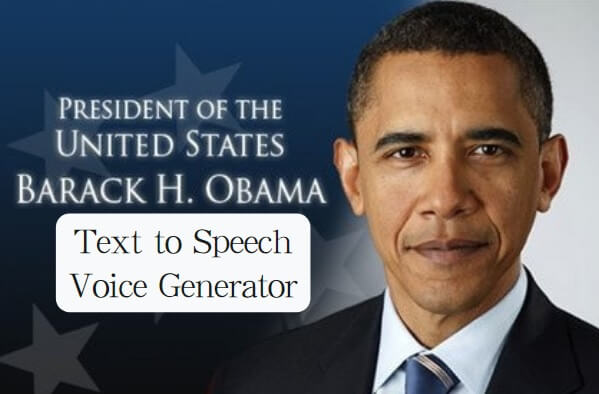 Overview:
Here is the list of tools we're going to explain in detail in this post. You can click on the Tool Name in the table to quickly jump to the corresponding product introduction section to learn more.(All product introductions in this article are authentic and can be found on the official website)
Product Name
Category
Platform
Voices
Price
Review Rate
VoxMaker
Text to Speech/Voice Cloning
Windows
3200+
Free Trial
4.8
MagicVox
Real-time Voice Changer
Window+Mac
400+
$8.95/mon
4.8
Fake You
Text to Speech
Online
75+
Free
4.3
Murf.ai
Text to Speech
App
3000+
$19/mon
4.4
Topmedai
Text to Speech
Online
300+
$12.99/mon
4.4
Part 1: Best 4 Obama Text to Speech & AI Voice Generator You Should Try
Below are four user-friendly Obama AI TTS generators that allow you to generate Barack Obama's voice.
But first of all, you can try this online obama AI voice generator, and you have 3 free trials. To access more celebrity voices, click "Try More Voices" below to download the software for free.
VoxMaker
Free Voice Generator
Barack Obama
Morgan Freeman

Barack Obama

Joe Biden

Donald Trump

Cristiano Ronaldo

Kanye West

Goku

Spongebob
Trials for Free Online Text to Speech
85/100
Reached the Trial Limit?
An issue occurred while generating your audio. Please try again.
When it comes to accuracy and versatility in generating an Obama AI voice, VoxMaker stands out as one of the top options. VoxMaker offers an extensive range of languages, allowing users to generate Obama's voice quickly and accurately in multiple languages. It also provides a variety of celebrity voices, not limited to just Obama, but also other presidents such as Joe Biden, Donald Trump, and more.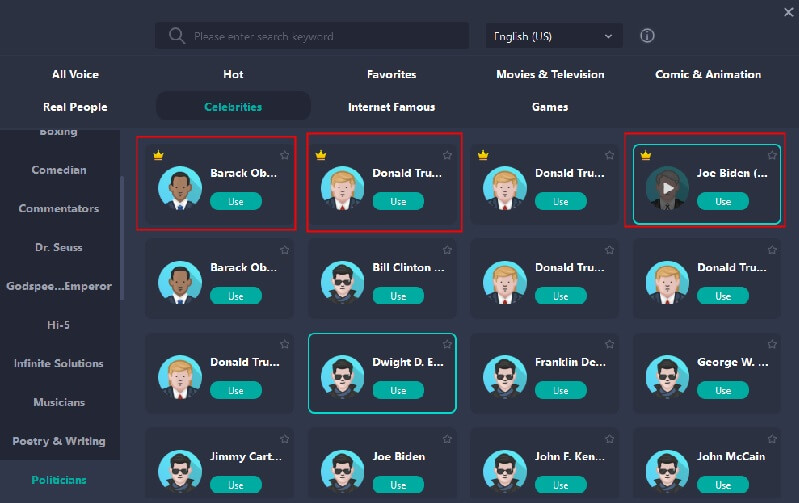 With VoxMaker Barack Obama voice generator, you can utilize the generated voice for various purposes. Whether you want to read testimonials, narrate a book, or share some jokes, VoxMaker provides the capability to do so with the distinct voice of Barack Obama.
Pros
Accuracy: The generated voice is designed to capture Obama's unique tone, inflection, and cadence, ensuring a realistic and immersive experience.
Multilingual Support: VoxMaker supports 46+ languages, allowing users to generate Obama's voice in different languages. This feature enhances the versatility of the tool, catering to a diverse user base.
Flexibility in Usage: VoxMaker lets you use the Obama AI voice generator for personal or professional audio content. Whether it's testimonials, books, or jokes, bring the engaging presence of Barack Obama's voice to your content.
Create natural-sounding voiceovers, including animating, YouTube videos, TikTok videos, e-learning content, and podcasts.
A range of features in one package, including voice-to-voice convertion, voice cloning (with lifetime usage), voice recording, editing, and more.
A collection of 3,200+ voices, including natural-sounding individuals, celebrities, cartoons, and more, offering a wide array of options beyond just the Obama voice generator.
10% Coupon Code:SPECIAL111
If you don't know how to use UnicTool Coupon Code, you can read this article as your reference.
How to Generate Obama AI voice?
Step 1: Download and install VoxMaker
Step 2: Click the right button "Change Voice"

Step 3: To find the specific voice type you desire, simply enter your preferred voice, such as "Barack Obama" in the search box located above.
Step 4: Type in or paste the text you want to generate in the provided text box and click on the "Convert" button to create the audio file.
Step 5: Download the file in your preferred format and use it as required.

UnicTool VoxMaker
Any Voice You Desire is Right Here.
An outstanding online AI voice generator, operating exclusively online, utilizes cutting-edge TTS technology and offers a selection of more than 30 unique voices. This platform allows users to create content using Barack Obama's voice or even use it for personalized and humorous voicemail greetings, adding a touch of fun and creativity to communication.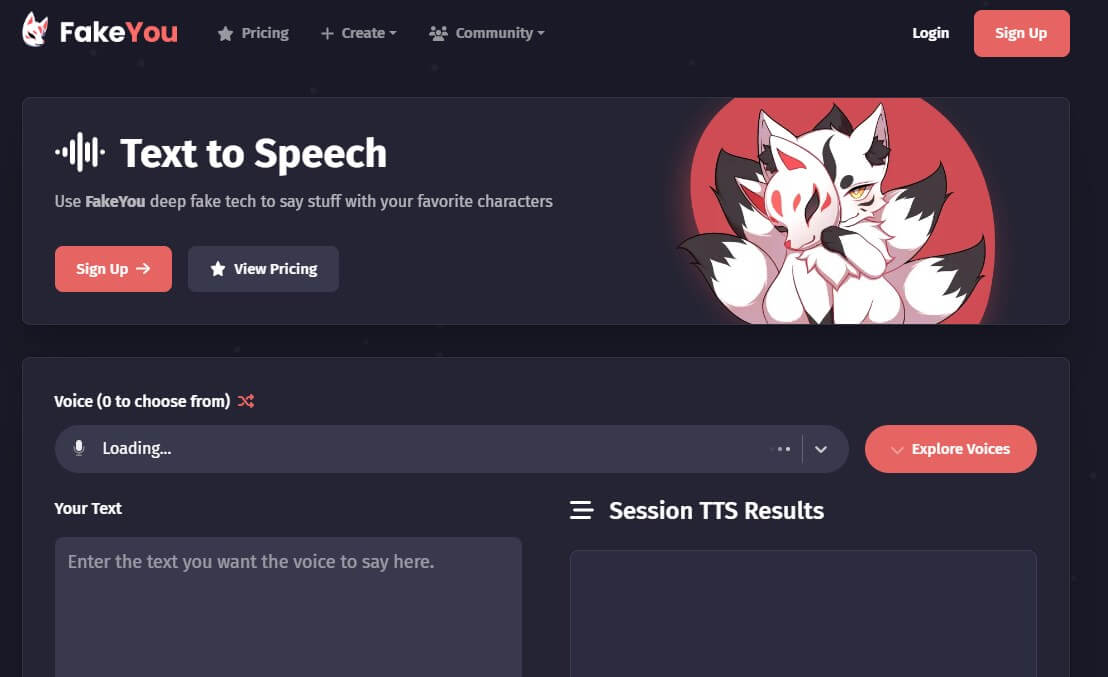 Pros
FakeYou is a user-friendly online tool that enables you to generate the Obama voice easily.
With yesFakeYou, you can clone your own voice and customize it to your preferences.
One of the advantages of yesFakeYou is that it is a web-based tool, eliminating the need to download any applications.
The FakeYou Barack Obama text-to-speech tool is completely free, thanks to the support of its users and the large community of daily users and followers.
Cons
Voice processing may stuck sometimes.
Limited voices and voice functions .
Murf.ai is an online text-to-speech tool that leverages the voice of former US President Barack Obama to audibly render any provided text. It is an excellent option for individuals looking to infuse a distinctive element into their presentations, videos, podcasts, or even for personal enjoyment such as hearing President Obama's voice narrate a beloved book or speech. The tool offers the opportunity to incorporate the iconic voice of President Obama into various creative projects and listening experiences.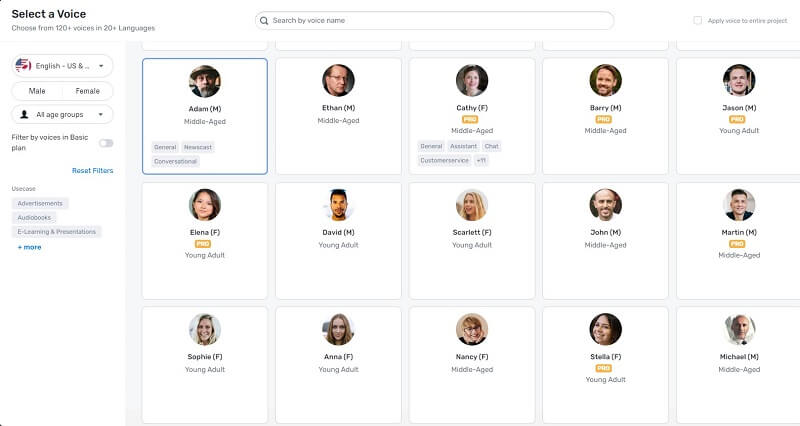 Pros
Murf.ai Obama TTS offers a distinct way to incorporate President Obama's voice into text.
The tool is user-friendly, featuring intuitive controls to adjust voice speed and pitch.
The ability to download audio files in different formats facilitates seamless integration into various projects.
Users can benefit from both text-to-speech and speech recognition functionalities.
The tool provides ample options to customize audio settings for personalized output.
Cons
offers only one voice, limiting the range of voice options available.
The audio quality may not match that of other professional text-to-speech programs.
the tool relies on an internet connection.
TopMediai is an online text-to-speech generator that enables users to transform written text into lifelike audio through a selection of diverse voice options. Among its notable features is the capability to generate audio in the voice of former President Barack Obama, offering users a distinctive and captivating experience. This feature allows users to infuse their content with the iconic voice of President Obama, enhancing the overall quality and appeal of their audio projects.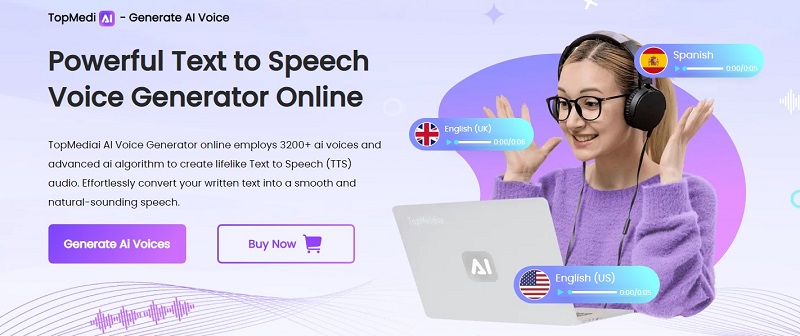 Pros
he text-to-speech generator provided by TopMediai produces audio output that is realistic and of high quality.
One of the standout features of this tool is the ability to generate audio in the voice of Barack Obama, which adds a unique and thrilling element to the user experience.
The tool is user-friendly, with customizable options that allow users to tailor the audio output according to their preferences.
TopMediai supports over 70 languages, enabling users to generate audio in multiple languages and reach a broader audience.
As an online tool, there is no need to install any software or plugins to utilize its features.
Cons
it's important to note that TopMediai does not have a PC version available, and the tool is primarily accessed through the online platform.
Part 2: Popular Barack Obama AI Voice Changer
MagicVox is a sophisticated AI voice changer software designed for both Mac and Windows operating systems. This software allows users to transform their voices to sound like Donald Trump or Joe Biden, making it an ideal choice for gamers or streamers looking to add a unique touch to their content.
With real-time voice changing capabilities, MagicVox can instantly modify the user's voice to match the selected option, offering a diverse range of sound effects to select from. This software provides an immersive and entertaining experience by enabling users to adopt the voices of prominent political figures while engaging in gaming or streaming activities.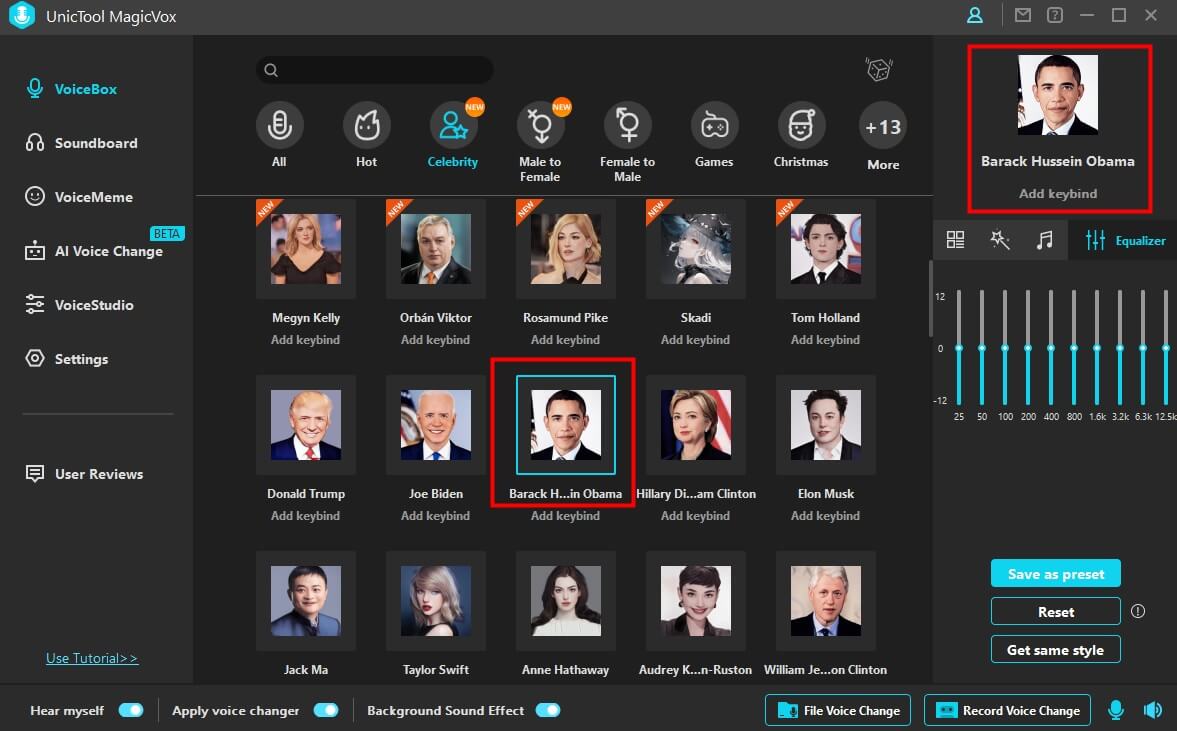 How to Use MagicVox Obama AI Voice Changer
Step 1 Download MagicVox: go to the web and download UnicTool MagicVox.

Step 2 Choose device: Configure your microphone and headphones as the default input and output device.

Step 3 Choose voice:Select your favored voice preference, such as "Donald Trump", to enhance your gaming experience.
Watch The Video Below To Know More About MagicVox Trump AI Voice Changer
Pros
MagicVox offers an expansive library of 600+ AI voice effects and 250+ voice filters, including the president AI voice.
Real-time voice alteration on popular platforms like chat, streaming, and gaming.
Users can professionally customize their microphone voice with the Voice Studio feature.
Personalization options include adjusting pitch, speed, and accent for a personalized Obama-like voice.
Keybindings enable easy control over voice filters and sound effects, minimizing disruptions.
Support audio file voice change and recording voice change.
Cons
Lack of text to speech function
Who is Obama?
Barack Obama, a member of the Democratic party, was the President of the United States from 2009 to 2017. He was born in Hawaii in 1961 and holds degrees from Columbia University and Harvard Law School. Before his presidency, Obama worked as a community organizer, civil rights attorney, and senator representing Illinois.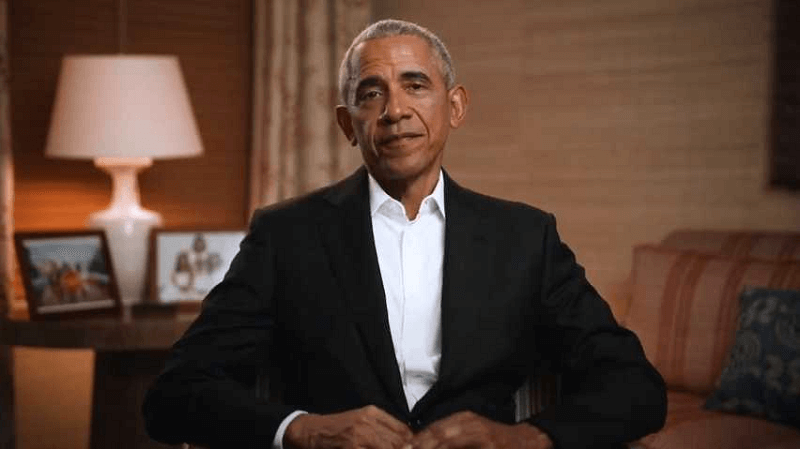 One of Obama's notable characteristics is his distinct speaking style, which combines eloquence, charisma, and the ability to establish a personal connection with his audience. His speeches are renowned for their powerful and inspiring messages that reflect his values and vision for the future. You can use a Obama voice generator to get Obama AI voice
Throughout his presidency, Obama delivered several significant speeches, including his acceptance speech for the Nobel Peace Prize in 2009 and his address announcing the death of Osama bin Laden in 2011. These speeches, among others, exemplify his ability to communicate with impact and leave a lasting impression on listeners.
Part 4: Where People Can Use Barack Obama AI Voice?
Voiceovers: Incorporate the Obama voice in movies, TV shows, animations, or video games for narration, character voices, or comedic effects.
Commercials: Create attention-grabbing commercials or promotional videos with the recognizable Obama voice.
Audiobooks and Podcasts: Enhance audiobooks, podcasts, or educational materials with a captivating and authoritative voice.
E-Learning: Develop interactive courses and learning materials that are engaging with the Obama voice as a narrator.
Conversational Bots: Use the voice in AI chatbots or conversational agents to make interactions more appealing.
YouTube Channels/Podcasts: Content creators discussing politics or social issues could employ the voice for commentary or satire.
Documentary Narration: Add authenticity and historical context to documentaries or historical projects.
Part 5: FAQs about Obama AI Voice
1. Can I use the Obama AI voice for commercial purposes?
The usage rights and restrictions of the Obama AI voice may vary depending on the specific tool or platform you are using. It is important to review the terms of service or licensing agreements provided by the tool or platform to determine if commercial use is permitted. Some tools may require obtaining explicit permission or licensing agreements for commercial usage.
2. Is the Obama AI voice an exact replica of Barack Obama's real voice?
The Obama AI voice is a synthesized replication that aims to capture the tone, inflection, and cadence of Barack Obama's voice. While efforts are made to make it as realistic as possible, it is important to note that it is an artificial creation and may not be an exact replica of his authentic voice. The quality and accuracy of the AI-generated voice can vary depending on the technology used.
3. Can I use the Obama AI voice to impersonate Barack Obama?
It is important to exercise caution and adhere to legal and ethical guidelines when using the Obama AI voice or any AI-generated voice for impersonation purposes. Impersonating someone, especially a public figure like Barack Obama, may have legal implications and can be misleading to others. It is advisable to use AI voices responsibly and consider the potential consequences of impersonation.
Conclusion
The advent of the Obama text to speech voice generator has brought about a significant transformation in the content creation sector. This AI-powered solution offers users effortless access to the Obama AI Voice, revolutionizing the way content is generated.
If you're keen on exploring this technology, VoxMaker Text to Speech is your one-stop soultion to begin your journey. It offers a user-friendly interface and provides access to the finest Obama AI voice through the Barack Obama voice generator. With these tools, you can create captivating content with ease.
UnicTool VoxMaker
Text-to-speech dubbing in 46+ languages & 3200+ voices.
Transform your words with realistic and expressive AI voice clone.
Offers the voices of various US presidents, including Trump, Biden, and Obama.
Effortlessly fast & secure.