Would you love to sound like your favorite cartoon character? Are you looking forward to the Mickey Mouse voice generator for mobile and desktop? If yes, then this detailed guide is for you according to the ranking of the text-to-speech online voice generator. Convert your voice into your favorite cartoon, whether Mickey Mouse or SpongeBob. This guide will walk you through various voice generators that can convert text-to-speech online on your mobile device or PC. These voice changers make it easier for users to have fun and sound like their favorite cartoon character.
Let's have a look at the top seven mickey mouse voice generators.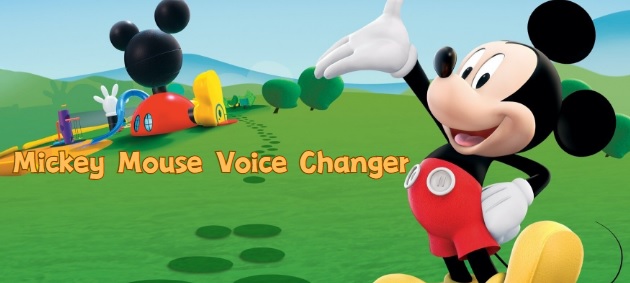 Part 1.

Top 4 Mickey Mouse Voice Generator Text to Speech Online

Here are the top 4 Mickey Mouse voice generator text to speech online platforms that you can use to get Mickey Mouse voice output anytime.
1. FakeYou.com
This text-to-speech voice generator stands among the best voice generators in 2022. The speech generated in the voice of your favorite cartoon character or famous people sounds realistic. It demonstrates the capabilities of the clone voices. Community developers build Fakeyou.com. You can choose this mickey mouse voice changer built for public use. Most stage actors have sophisticated versions of these voice changers available.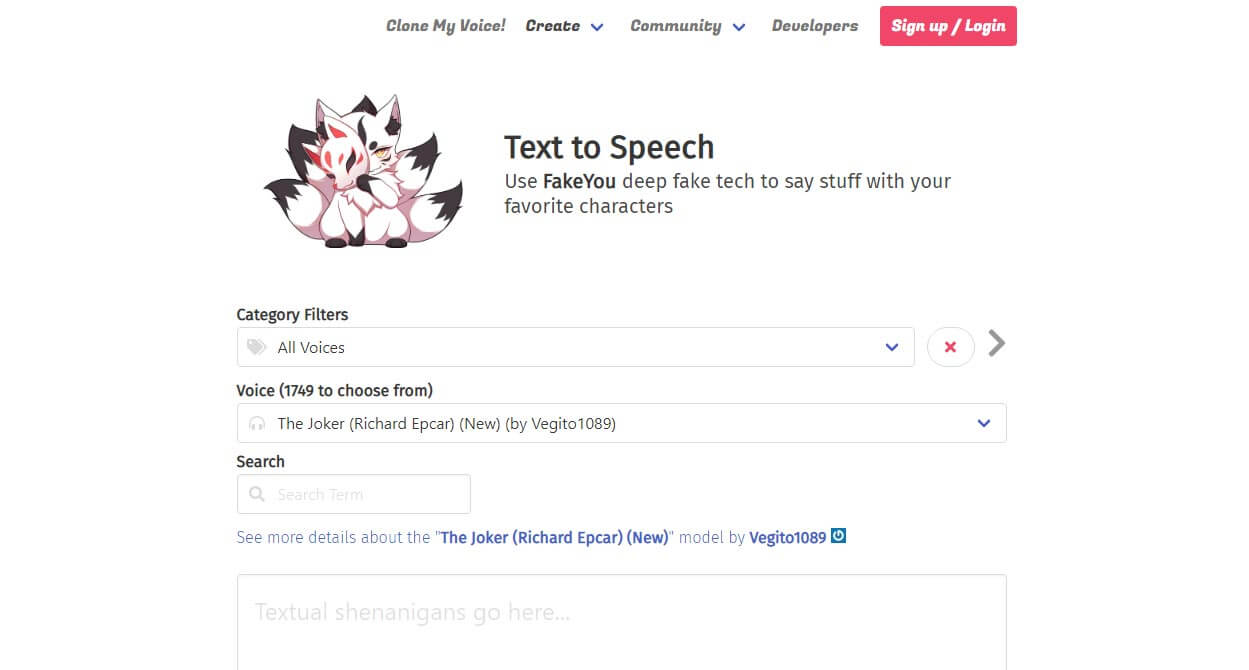 Its key features include:
The voice changer is built on a modern platform like Kubernetes and PyTorch.
It is a community development platform, so different creators or individuals develop voices.
Everything can be found here from anime voices to cartoons, robotic voices, television, to real people voices.
It is an open-source voice changer site but still ranks 1st among all the voice changers. It sounds too realistic, and users enjoy it a lot.
Get the URL for the voice generated and paste it wherever you would like.
Pricing:
It's free. However, people can become patrons by donating $5, $10, 15, or $30 per month.
User Experience
The site offers an extensive list of voices, including male and female voices with different accents and languages. Several non-human voices are available, such as robots and cartoon characters.
2. Uberduck
It is another text-to-speech online website that helps create personalized voiceovers in the characters of your choice. It customizes the voice message from the collection of more than 2,000 expressive voices. There are thousands of voices contributed by the developers' community too. These discord voices on Uderduck are available in various tones from your favorite movies to your favorite cartoon characters.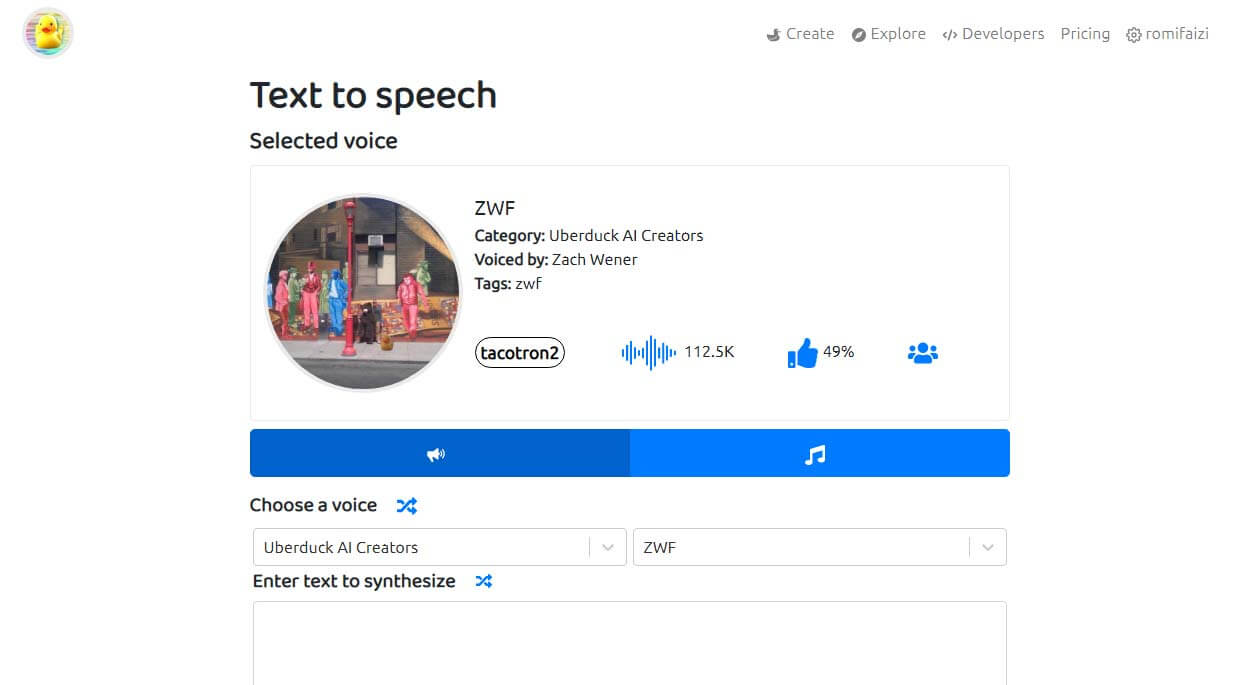 Some of its features include:
The free text to speech online generator offers more than 2000 voices, a video editor, and throttled API access.
The voice changer stands 2nd because the voices created have a low pitch and tone. The expressions created are quite good, though.
Sign up with your Google account or your email to try this voice changer for once. It is necessary to use this voice discord changer.
Sign up with your Google account or your email to try this voice changer for once. It is necessary to use this voice discord changer.
Pricing:
Pricing starts from $10 for the Create module, $25 for the Clone module, and contact the creators for Enterprise pricing.
3. Voicechanger.io
Are you looking forward to change your voice to Mickey Mouse? If yes, Voicechanger.io is the right place with the right cartoon characters to choose from. The 3rd rank is given to this free text-to-speech online for a reason. It is a hobby project from a developer where the users can directly upload the saved audio or use the microphone to speak the text. It will change into your favorite cartoon character. It is an AI-powered real-time voice changer.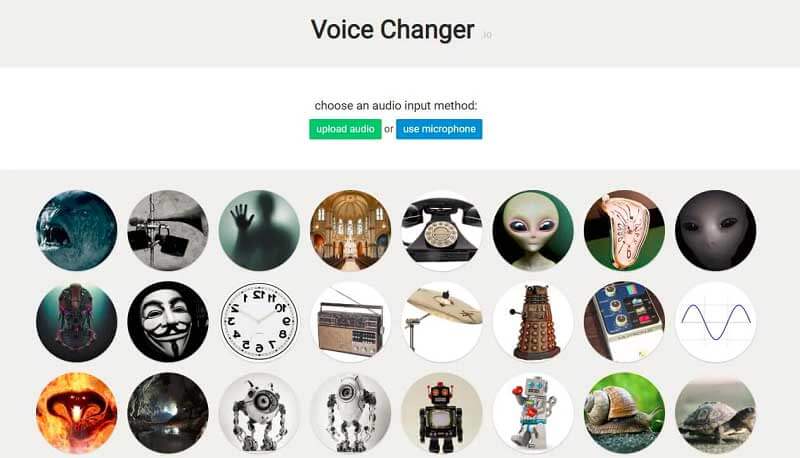 Some of its features include:
This works with platforms like Discord, Zoom, and other mobile apps.
This works with platforms like Discord, Zoom, and other mobile apps.
You can create anything from your favorite cartoon character's voice to an alien voice to the chipmunk's voice. A custom voice creation option is also available on Voice Changer.
Users can record new audio and put the effects too.
Pricing:
It is free.
4. 15.ai
It is one of the best text-to-speech voice changers you will find anywhere online. Users can use it directly online to generate the voices of their favorite cartoon characters. 15.ai is given the 4th place because it has limited character options. It is a community project, so patrons contribute their voices here. Some of its key features include: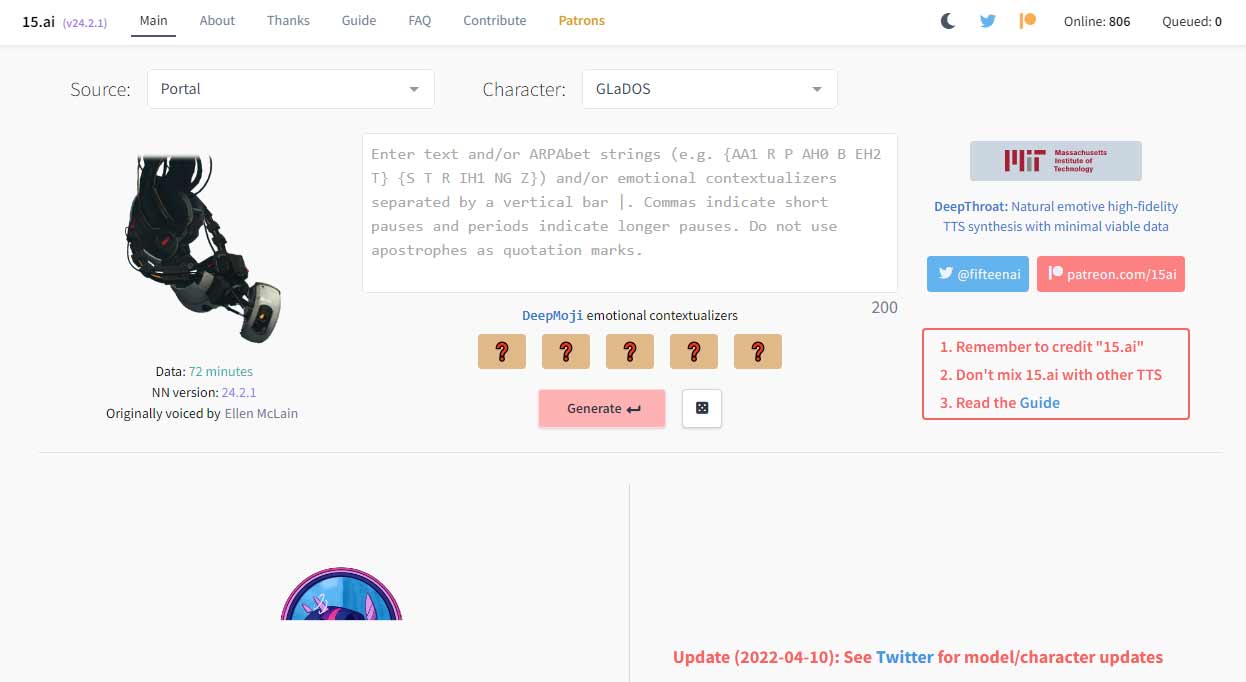 Some of its features include:
The voice output quality is quite good. It uses the DeepThroat model to synthesize the voices.
The complicated sentence structure can easily be converted from text-to-speech online.
Three variations of the same entered text are provided to the users. It is not available with any other voice changer platform.
It uses 15 seconds of audio data to clone the person's voice into their favorite cartoon character, whether Mickey Mouse or SpongeBob.
Pricing:
Being a patron's project, it is free. You can generate the voice online and check the alignment confidence in each voice.
Part 2.

Top 3 Mickey Mouse Voice Changer PC

If using an online platform to generate Mickey Mouse voice is not convenient for you, then you can use these top 3 Mickey Mouse voice changer PC tools.
1. UnicTool MagicVox
TheUnicTool MagicVox is the real-time voice changer that changes your voice to your favorite character using voice filters and effects. There are more than 200 voice effects to use on your audio. It is a live voice changer that changes the voice to cartoon characters' voices like Mickey Mouse and others, anime characters, male and female characters, ghost face characters, and much more.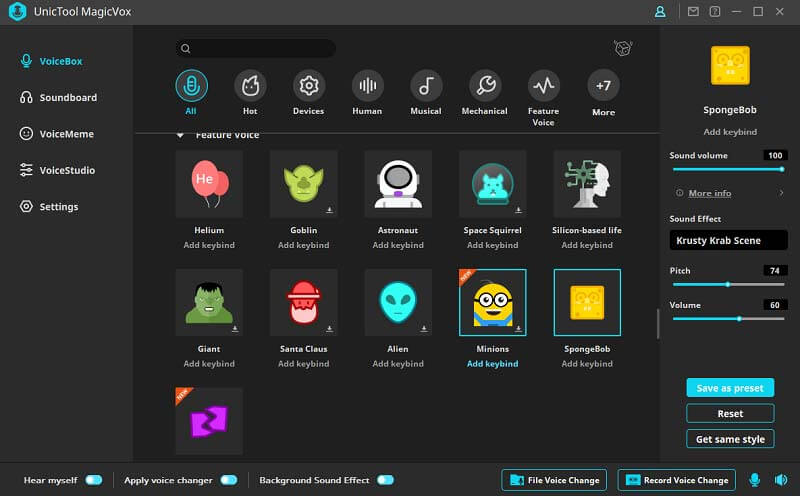 Its features include:
You can prank your friends by choosing the realistic voices of your favorite characters like Mickey mouse and choosing from varied sound effects.
Users can choose from various options provided on the dashboard. Choose the voice box to change your voice to your favorite character. There is a soundboard, voice meme, and a voice studio to change and give varied effects to your audio.
The best thing is to adjust the volume and pitch of your voice.
Apply the background sound effect to make it look realistic and cool.
It helps you change your voice on other platforms too. Curate natural voice to work on platforms like Fortnite, Zoom, Discord, etc.
The experience was great as the voice box makes the audio spoken look realistic. I have chosen Mickey Mouse's voice. Clicked on record voice change, start recording by clicking on the microphone, then voice change, and export your file to the destination folder of your choice.
2. Clownfish
This platform is simple, but it works great for the Discord platform. Clownfish comes with limited voice changer features. The name Clownfish is derived from the Amphiprioninae sub-family of fishes. It is enjoyable as its background sounds, and so are its features. This voice changer works best on Hangouts, Skype, Mumble, Discord, Steam, etc. Change the voice effects to alien, female voice, baby pitch, silence, slow mutation, or customize your voice accordingly.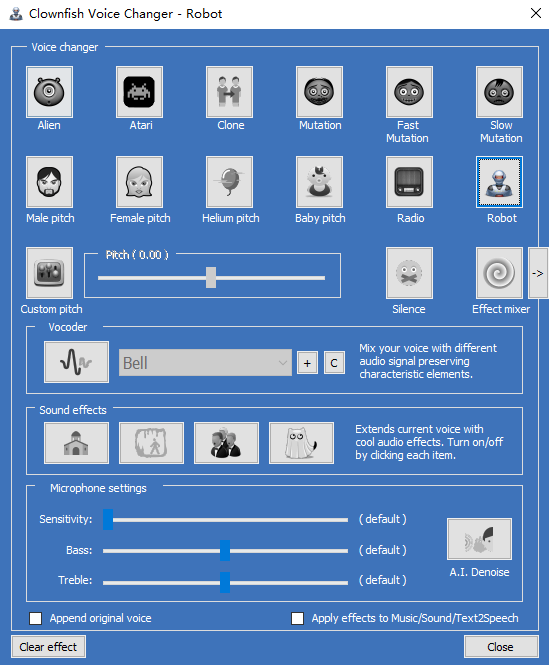 Its key features are:
It supports various music player formats provided on your Windows device.
Plugin support is by Virtual Studio Technology and has a built-in sound player.
It helps add music sources from platforms like Vimeo, YouTube, etc.
You need not get any subscription or sign in to use the Clownfish. It is freeware so click on the Download button to use this voice changer.
Downloads fast, and set-up is maintained quite fast too. Clownfish supports nearly the old and new versions of the Windows OS.
The supported operating systems for Clownfish are Windows Vista, Windows 7, 8, 8.1, 10, and 11. The experience was quite good as the set-up was easily downloaded. It has multiple plugins and has an in-built spell check. The modified voice is changed in real-time to look realistic when you listen to it.
3. Voicemod
Create awesome effects and voice makeover with this voice changer for PC. Voicemod offers a variety of voice filters that are compatible with different platforms and apps. You can change the voice and use it on Fortnite, Discord, Skype, GTA, etc. You can download the free version, but it offers limited features.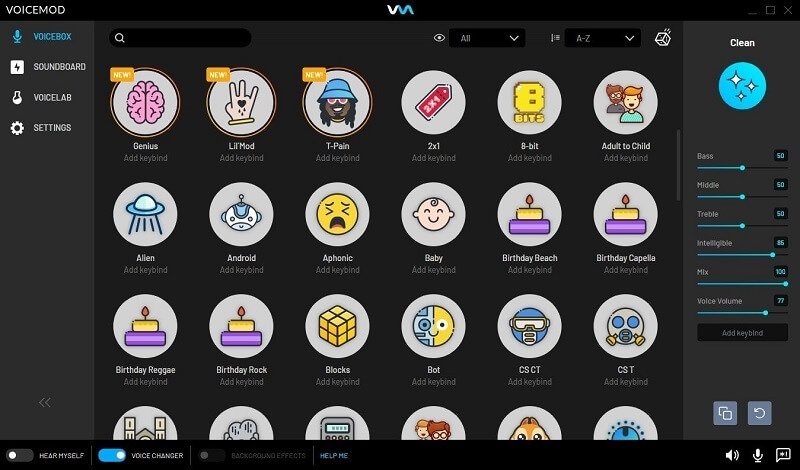 Let us see its key features:
You can change your voice for free in alien, android, baby, bot, genius, etc.
Meme voices are also available and trending. Choose the voice-changing effects from categories like movies, memes, music, games, etc.
There is a soundboard provided along with the voice changer in Voicemod. You can customize your voice with real-time effects and music to play it on any platform mentioned above.
The Voicemod supports Windows 10 and 11. It works well with the 64-bit version. After downloading the voice changer for free for Windows operating system, you can install it easily. The interface has all the voice-changing options. The audio voice recorded in real-time using the microphone sounds pretty good. I tried with a recorded voice, and sounds amazing. It's great to have crazy fun with friends while speaking with them through this voice changer.
Conclusion
The free text-to-speech voice changers for mobile and desktop devices depend on the user's requirement. If you want to use them on gaming platforms or Discord, Skype, Hangouts, etc., you need to choose accordingly. These Mickey Mouse voice changers are for fun and simple purpose too. The UnicTool MagicVox is excellent to use on professional and gaming platforms.
You can check your requirements and choose the voice changer that fits your needs. Most voice changers support third-party applications and platforms too. Whether using the voice changer on your Windows device or Mac device, make sure you are using the right version.