Would you love to sound like your favorite Disney cartoon character? Are you looking forward to the Mickey Mouse voice generator for mobile and desktop? If yes, then this detailed guide is for you according to the ranking of the text-to-speech Mickey Mouse voice generator and Mickey Mouse voice changer.
Convert your voice into your favorite cartoon, whether Mickey Mouse or
SpongeBob
. This guide will walk you through various voice generators that can convert text-to-speech online on your mobile device or PC.
Let's have a look at the top 8 Mickey Mouse voice generators & voice changers .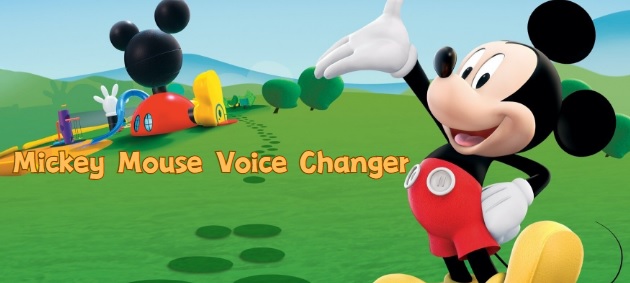 Part 1.

Top 3 Mickey Mouse Voice Changer PC

If using an online platform to generate Mickey Mouse voice is not convenient for you, then you can use these top 3 Mickey Mouse voice changer PC tools.

The MagicVox is the real-time voice changer that changes your voice to your favorite character using voice filters and effects. There are more than 200 voice effects to use on your audio.

It is a live voice changer that changes the voice to cartoon characters' voices like Mickey Mouse and others, anime characters,

male and female

characters, Ghostface characters, and much more.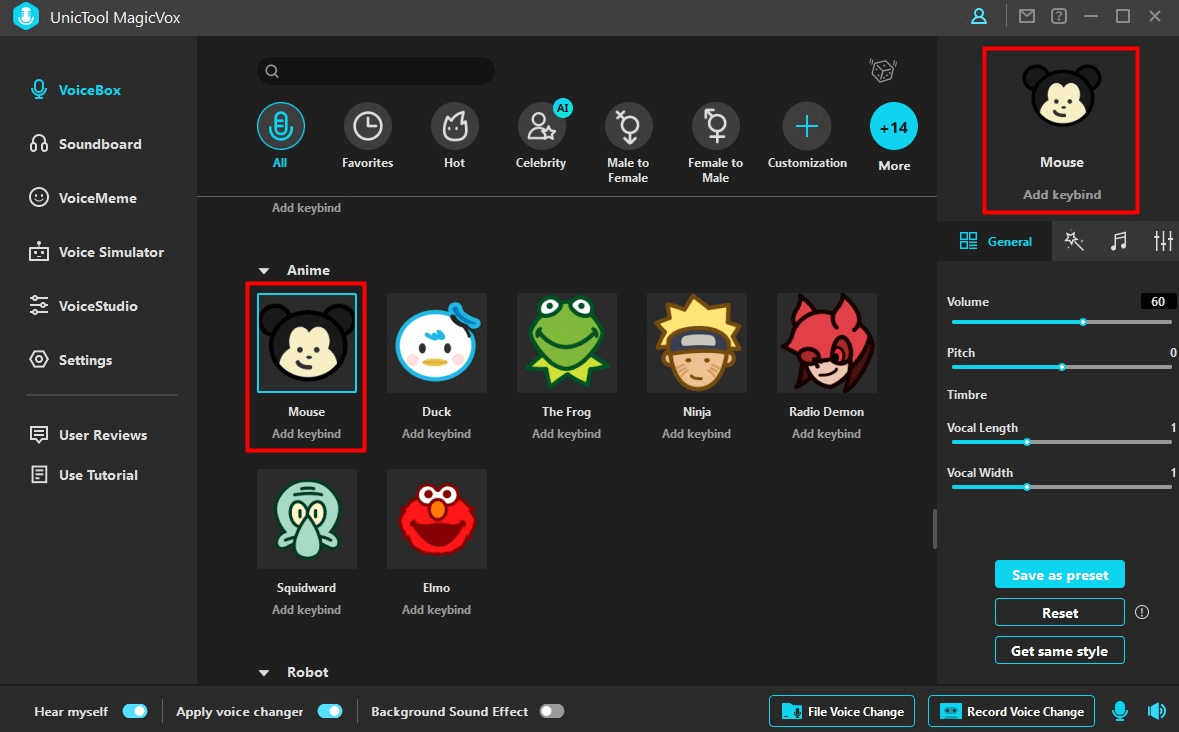 Key features:

Real-Time Transformation: It allows real-time voice modification on various platforms such as Discord, Skype, Zoom, CF, Second Life, Fortnite, CSGO, Overwatch, Twitch, and more.

Customizable Keybinds:
Easily switch between different voices with just a single click using customizable keybindings.

Wide Range of Anime Voices: It offers a wide range of anime voices, including SpongeBob, Minions, Kermit the frog, Donald Duck and many others, in addition to Mickey Mouse voice.

600+ Sound Effects: Enhance your experience with an extensive library of sound effects imitating anime character memes, environments, animals, and more.

Voice Studio Function: Customize and fine-tune your voice with the Voice Studio function for a truly personalized experience.

Voice Changing for Records and Audio Files: Not only for real-time interactions but also for recorded voice and audio files.

Supports sound emulation for games, live streaming, chatting, online classes, and various other applications.

Different free sound effects available every day.
Watch this video to know more aboot MagicVox
How to Use Mickey Mouse AI Voice Changer
Step 1 Download MagicVox: go to the web and download UnicTool MagicVox.
Step 2 Choose device: Configure your microphone and headphones as the default input and output device.

Step 3 Change voice: Click Audio settings and select "Voice Changer Virtual Audio Device" as your default input device.
Step 4 Platforms setting: Now the MagicVox app on your PC separately and select any voice. Select the same voice from keybinds, your voice will be changed.
This platform is simple, but it works great for the Discord platform. Clownfishcomes with limited voice changer features. The name Clownfish is derived from the Amphiprioninae sub-family of fishes. It is enjoyable as its background sounds, and so are its features.
Clownfish didn't have the preset Mickey Mouse voice changer, but you can use the custom voice feature to make your voice to sound like Mickey Mouse in a higher pitch.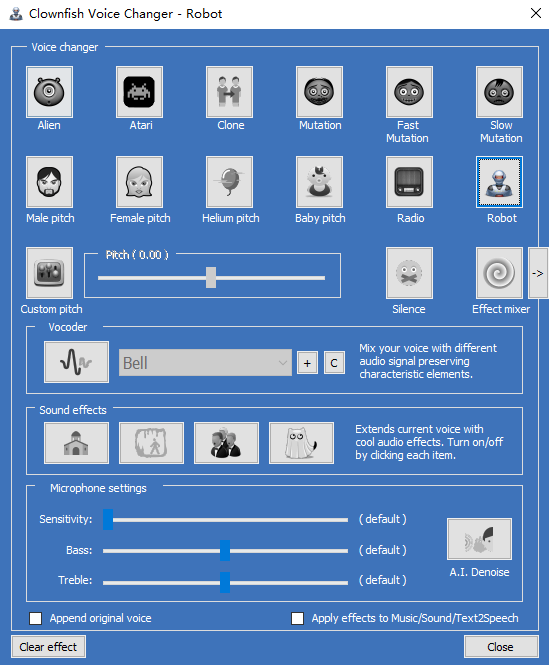 Its key features are:
It supports various music player formats provided on your Windows device.
Plugin support is by Virtual Studio Technology and has a built-in sound player.
Downloads fast, and set-up is maintained quite fast too. Clownfish supports nearly the old and new versions of the Windows OS.
The supported operating systems for Clownfish are Windows Vista, Windows 7, 8, 8.1, 10, and 11. The experience was quite good as the set-up was easily downloaded. It has multiple plugins and has an in-built spell check. The modified voice is changed in real-time to look realistic when you listen to it.
Create awesome effects and voice makeover with this voice changer for PC. Voicemod offers a variety of voice filters that are compatible with different platforms and apps. You can change the voice and use it on Fortnite, Discord, Skype, GTA, etc. You can download the free version, but it offers limited features.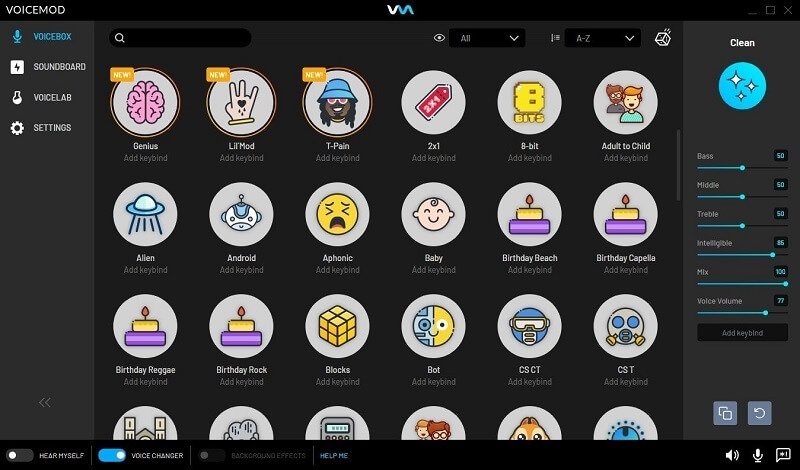 Let us see its key features:
You can change your voice for free in alien, android, baby, bot, genius, etc.
Meme voices are also available and trending. Choose the voice-changing effects from categories like movies, memes, music, games, etc.
There is a soundboard provided along with the voice changer in Voicemod. You can customize your voice with real-time effects and music to play it on any platform mentioned above.
The Voicemod supports Windows 10 and 11. It works well with the 64-bit version. After downloading the voice changer for free for Windows operating system, you can install it easily. The interface has all the voice-changing options.
Part 2.

Top 5 Mickey Mouse Text to Speech Voice Generator Online

Here are the top 5 Mickey Mouse text to speech voice generator online platforms that you can use to get Mickey Mouse voice output anytime.

VoxMaker is an AI-driven text-to-speech tool that offers a wide range of lifelike character voices, including well-known ones such as Mickey Mouse. It delivers a user-friendly interface, making it effortless for users to create and employ these voices for a variety of applications.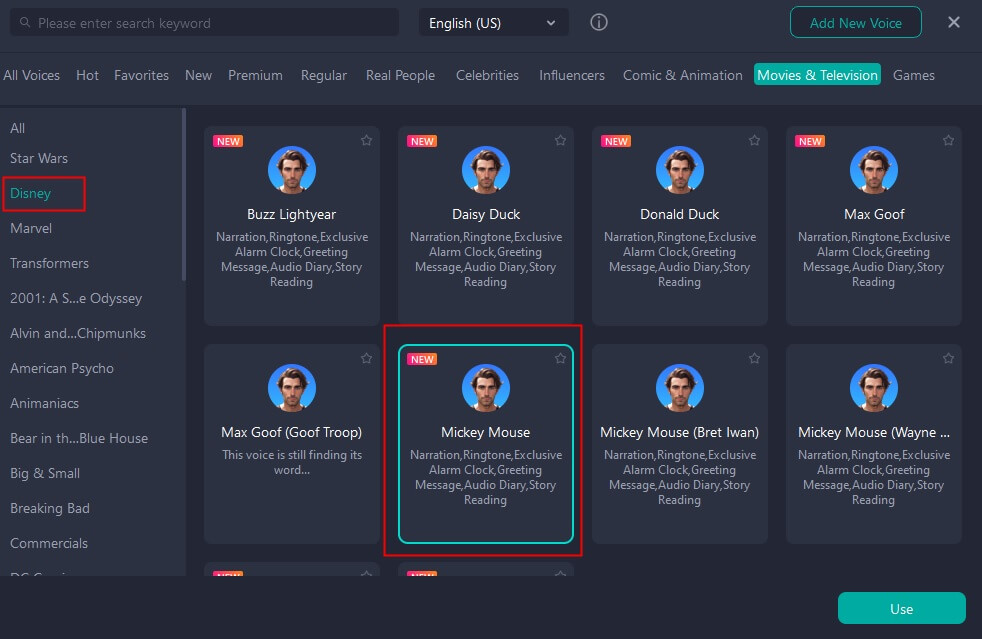 Key features:

VoxMaker provides 3200+ voices, covering celebrities, rappers, politicians to cartoon characters, and categorizes the voices of various anime characters according to different series, including the famous Dragon Ball and Disney anime series.

Multilingual Support: With support for more than 70 languages, users can generate AI voices in different languages, making it suitable for a global audience.

Voice Customization: Tailor the generated speech to your preferences by adjusting speech speed, pitch, and pronunciation.

All-in-one Voice Toolkit: Users can enjoy functionalities such as AI voice cloning, AI-generated rap, speech to text, image to speech, audio to speech, and as a voice recorder..

30-Days Money back guarantee
How to Generate Mickey Mouse Voice via TTS?
Step 1: Download and install VoxMaker
Step 2: Navigate to the "Text-to-Speech" option in the left sidebar, then pick the "Goku" voice that suits your preference.

Step 3: Click on "Convert" , and then you can export the speech into different formats.

Listen to the mickey mouse voice demo made by VoxMaker

TTS Price:

| Plan | Price | Equity information |
| --- | --- | --- |
| 1-Month-Plan | $14.95 | 3200 voices & 46+ languages and 250,000 characters for TTS |
| 1-Year-Plan | $39.95 | 3200 voices & 46+ languages and 800,000 characters for TTS |

This Mickey text-to-speech voice generator stands among the best voice generators in 2022. The speech generated in the voice of your favorite cartoon character or famous people sounds realistic.

It demonstrates the capabilities of the clone voices. Community developers build Fakeyou.com. You can choose this mickey mouse voice changer built for public use.

Key Features

The voice changer is built on a modern platform like Kubernetes and PyTorch.
It is a community development platform, so different creators or individuals develop voices.
Everything can be found here from anime voices to cartoons, robotic voices, television, to real people voices.
It is an open-source voice changer site but still ranks 1st among all the voice changers. It sounds too realistic, and users enjoy it a lot.

Pricing:

It's free. However, people can become patrons by donating $5, $10, 15, or $30 per month.

User Experience

The site offers an extensive list of voices, including male and female voices with different accents and languages. Several non-human voices are available, such as robots and cartoon characters.

It is another Mickey text-to-speech online website that helps create personalized voiceovers in the characters of your choice. It customizes the voice message from the collection of more than 2,000 expressive voices.

There are thousands of voices contributed by the developers' community too. These discord voices on Uderduck are available in various tones from your favorite movies to your favorite cartoon characters.

Some of its features include:

The free text to speech online generator offers more than 2000 voices, a video editor, and throttled API access.
The voice changer stands 2nd because the voices created have a low pitch and tone. The expressions created are quite good, though.
Sign up with your Google account or your email to try this voice changer for once. It is necessary to use this voice discord changer.

Pricing:

Pricing starts from $10 for the Create module, $25 for the Clone module, and contact the creators for Enterprise pricing.

Are you looking forward to change your voice to Mickey Mouse? If yes, Voicechanger.io is the right place with the right cartoon characters to choose from. The 3rd rank is given to this free text-to-speech online for a reason.It will change into your favorite cartoon character. It is an AI-powered real-time voice changer.

Key Features

You can create anything from your favorite cartoon character's voice to an alien voice to the chipmunk's voice. A custom voice creation option is also available on Voice Changer.
Users can record new audio and put the effects too.

Pricing:

It is free.

It is one of the best text-to-speech voice changers you will find anywhere online. Users can use it directly online to generate the voices of their favorite cartoon characters.15.ai is given the 4th place because it has limited character options. It is a community project, so patrons contribute their voices here. Some of its key features include:

Some of its features include:

The voice output quality is quite good. It uses the DeepThroat model to synthesize the voices.
The complicated sentence structure can easily be converted from text-to-speech online.
Three variations of the same entered text are provided to the users. It is not available with any other voice changer platform.
It uses 15 seconds of audio data to clone the person's voice into their favorite cartoon character, whether Mickey Mouse or SpongeBob.

Pricing:

Being a patron's project, it is free. You can generate the voice online and check the alignment confidence in each voice.

Part 3.

Learn More about Mickey Mouse

1. The Origins of Mickey Mouse and the Iconic Voice

Mickey Mouse, undoubtedly one of the most beloved anthropomorphic characters to ever grace the screens, has seen changes in his voice portrayal over the years. Initially, it was Walt Disney himself who provided Mickey's distinctive high-pitched tone, winning the hearts of audiences everywhere.

However, in 1946, Disney decided to step away from voicing Mickey, passing the torch to Jimmy MacDonald, who brought his own unique flair to the character. For the next three decades, MacDonald skillfully depicted Mickey, embodying his playful and mischievous nature. In 1977, Wayne Allwine took up the mantle and continued to voice Mickey for over thirty years until his passing in 2009.

Today, Bret Iwan carries forward the rich legacy of Mickey's voice, ensuring that the character continues to captivate new generations. Despite these transitions, Mickey Mouse remains an enduring and iconic figure cherished by people of all age groups.

2. How Old is Mickey Mouse?

Mickey Mouse made his debut on November 18, 1928, in the cartoon short film "Steamboat Willie." As of September 2023, Mickey Mouse is 94 years old. He has become an enduring and beloved character over nearly a century of entertainment history.

3. What Killed Mickey Mouse?

There are some exaggerated and fictional claims on platforms like TikTok suggesting that Mickey Mouse has met an unfortunate end, like his heart exploding or being harmed by other characters. However, it's essential to clarify that Mickey Mouse is very much alive and continues to be a beloved Disney character, appearing in various Disney projects. These reports on TikTok are not accurate and are simply part of an online trend. Mickey Mouse remains an enduring and iconic figure in Disney's history.

Conclusion

The free mickey mouse text to speech voice changers for mobile and desktop devices depend on the user's requirement. If you want to use them on gaming platforms or Discord, Skype, Hangouts, etc., you need to choose accordingly. These Mickey Mouse voice generators are for fun and simple purpose too.

The UnicTool MagicVox is excellent to use on professional and gaming platforms as well as a fascinating mickey mouse voice changer. Download it for free now!