Fortnite is a very popular game like PUBG, and thousands of boys and girls are fans of it. There is a popular trend among gamers to hide their identity or pretend to be the opposite gender while gaming. The reasons can be personal, or they might want to make it more fun during play. Therefore, a lot of Fortnite voice changers have been in the industry to facilitate the gamers.
We have listed different voice changers for Fortnite that you can try out for changing voice into a girl, a child or a mommy voice, applying sound effects, or using a voice soundboard. We will also discuss how to change voice with the Fortnite voice changer for PC. So let's get into it.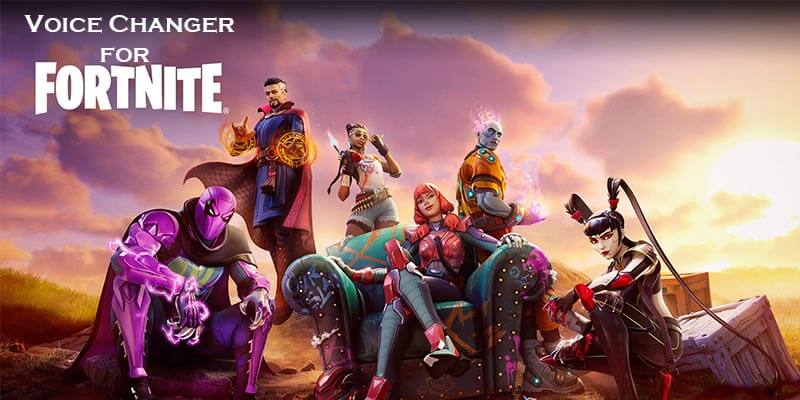 Part 1.

Top 3 Voice Changers for Fortnite
1. UnicTool MagicVox
UnicTool MagicVox Voice Changer is an all-in-one voice changer. It lets you transition your voice in real-time while using different software and platform. For instance, you can use it as a girl voice changer, male to female voice changer, and more.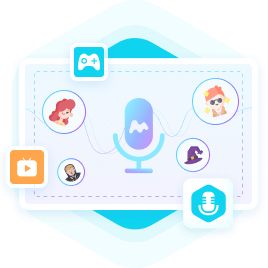 A Real-Time Voice Changer
Integration with Fortnite, Apex Legends, OW, etc.
User-friendly interface
Keyboard shortcuts voice changing
Change your voice to anyone, including Robot, Ghost, Machine, etc.
Change the pitch, tempo, and tone of your recording
Add effects like echo, distortion, and reverse
The MagicVox Voice Changer experience in Fortnite is very smooth. You can use the soundboard, chatting option, and change your voice in real-time without any lag. It's free to download and try MagicVox on your Windows or Mac and configure it with Fortnite and several other games and platforms.
Everything is quite a point when using the girl voice changer for Fortnite. There were almost no crashes, but a lot of voices sounded similar. Besides, everything is great!
2. Voicemod
Voicemod is a voice changer with several features paired with a user-friendly interface. It is also an all-in-one voice changer that lets you configure a microphone with games and live streaming platforms. As a result, you can change your voice and apply sound effects in real-time without having the need to record and then share.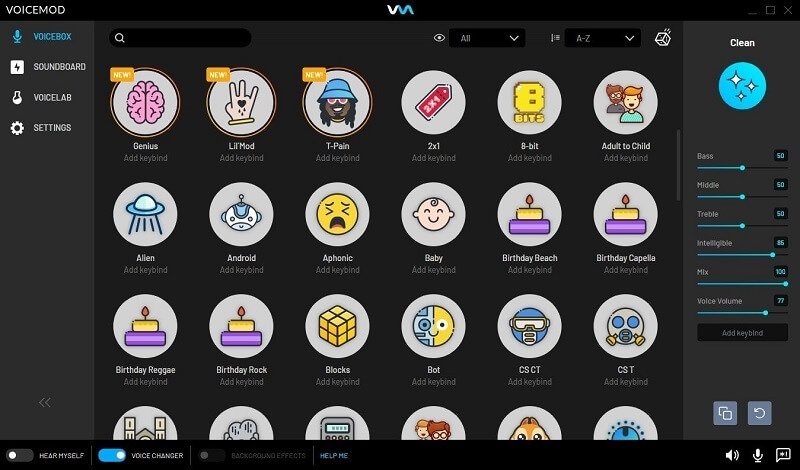 VoiceMod claims to be the best voice changer for Fortnite having 60+ voices from Aliens to Cops, Baby to Robots, and many more.
The most important highlights of VoiceMod are as follows:
A real-time voice changer
Configures with different games and live streaming platforms
Several voice effects and filters
Free male to female voice changer for Fortnite PC
Soundboard and Hotkeys
Voicemod does the job quite well regarding voice changing in Fortnite. However, there are not a lot of options for you if you're looking at VoiceMod as a free voice changer. You will need to purchase the premium version for playing around with different characters and sounds in VoiceMod.
3. MorphVOX Voice Changer
MorphVOX is number 3 in our list of voice changers for Fornite. The powerful voice changer also provides you enough playroom for transitioning your voice and adding sound effects. The voice-changing features are powered by superior voice-learning technology, sound quality, and background noise cancellation.
You can configure MorphVOX with your microphone in Fortnite and get a go with this voice changer for Fortnite.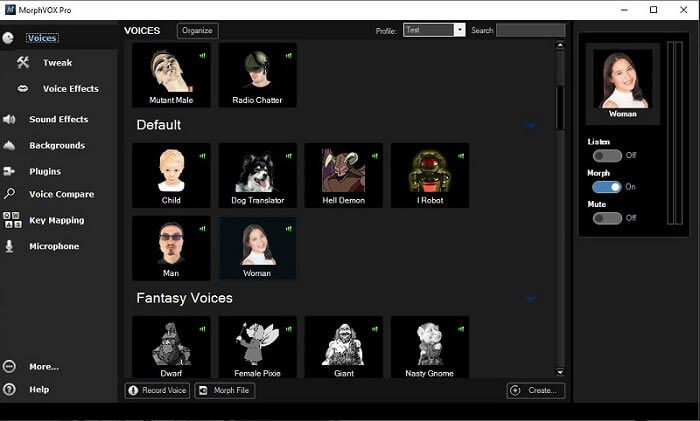 The main features of MorphVOX are as follows:
Tons of voice effects and filters to choose from
Noise cancellation and quiet background feature
Integrates well with the mainstream gaming platforms and online game streaming
MP3 reading, restoring the files, plug-in support, and a lot more features are locked in the voice changer.
Besides these three voice changers, Clownfish is a good free option for gamers, if you want to learn how to use Clownfish voice changer for Fortnite, kindly click the link to learn. If you are PS Station Player, check the Fornite voice changer for PS4, 5.
Part 2.

How to Use a Fortnite Voice Changer

Let's discuss how to change your voice with MagicVox voice changer and how you can use popular girl voice and soundboard for Fortnite.
2.1. Step by Step Guide to Change Voice on Fortnite
1

Installation

Download and install MagicVox by UnicTool on your Windows

2

Turn On MagicVox Toggle

Once installed, open the application and make sure that the MagicVox toggle at the bottom of Windows is on.

3

Open Fortnite Battle Royale

The next step is to download and install Fortnite Battle Royale if you already haven't. Once done, open the game app.

4

Change Settings

Now go to settings of Fornite and look for Audio. Click on Voice Chat > Input Device. You will see different options, and you have to select Microphone (Voice Changer Virtual Audio Device) as your input device. Once done, hit Apply.

5

Run MagicVox With Fortnite

That's it! Now when you play the game, you can instantly choose a voice from MagicVox and have fun with other players.
2.2. Popular Girl Voice Soundboard for Fornite
Trick your teammates in the lobby and in the game with girl voice and other custom meme soundboard. How to do it?
MagicVox Soundboard for Fortnite lets you play around and have fun while playing. Once you have connected the soundboard with Fornite, it's pretty straightforward to use it. Here is how to use the soundboard as a girl voice changer for Fortnite.
1

Installation

The first step is to download and installation of MagicVox by UnicTool.

2

Select Input and Output Device

Open the app after installation and go to the settings. You will have to select the input and output devices. Add key binds against different VoiceMeme and soundboard voices/effects to get started.

Note: You must configure Fortnite with your MagicVox as discussed in 2.1. Things will work for you once you have selected MagicVox in Input Voice of Fortnite.

3

Voice Changer and Sound Effect Options

You can press different keys to change voice or sound effects and have fun while playing. You can also change the key binds by opening the MagicVox interface.
Conclusion
This article was all about voice changers for Fortnite PC and girl voice changers for Fortnite with the help of MagicVox Soundboard. All three voice changers for Fortnite have their own benefits and limitations. Out of all voice changer tools for Fortnite that we explored, MagicVox by UnicTool is the best.
With over 200 sound effects, several celebrity sounds, character voices, and voice changer features, it's your go-to voice changer for Fortnite and other platforms as well. You can download the UnicTool MagicVox from the following link: