Stormtroopers from Star Wars are the elite shock troops who wear white armor and are loyal to the Empire. They are impossible to be swayed away from the imperial cause of guarding the kingdom. You can find many stormtrooper voice changer online platforms and apps that will let you use the customized filter for changing your voice. You can use the storm trooper voice changer on your PC or mobile devices to get an authentic voice and share it online while gaming or on social media platforms.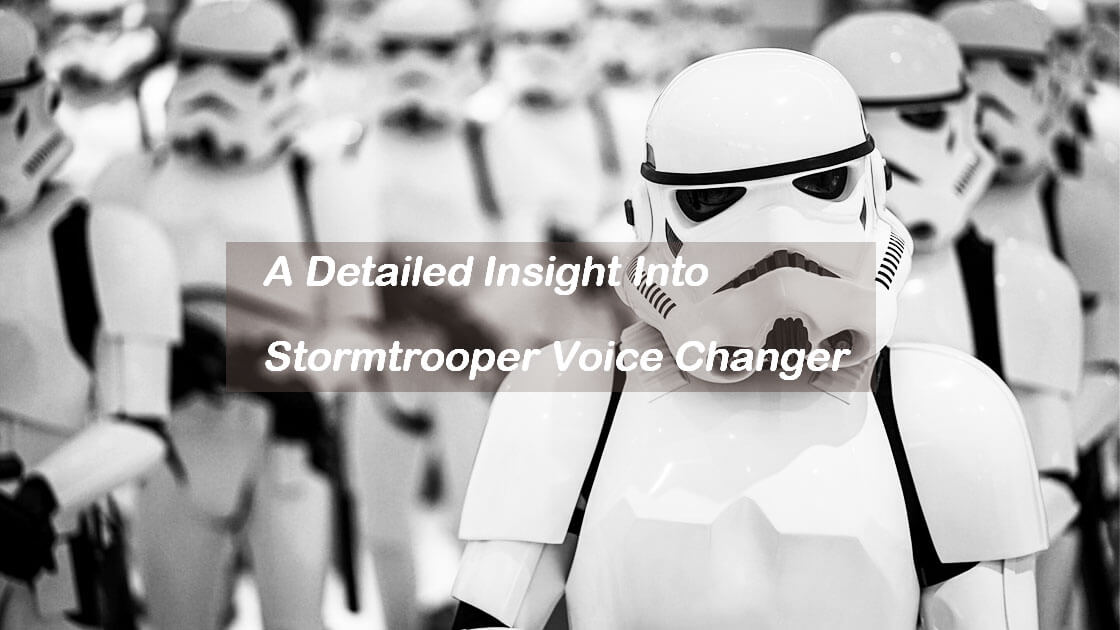 Part 1.

Stormtrooper Voice Changer for PC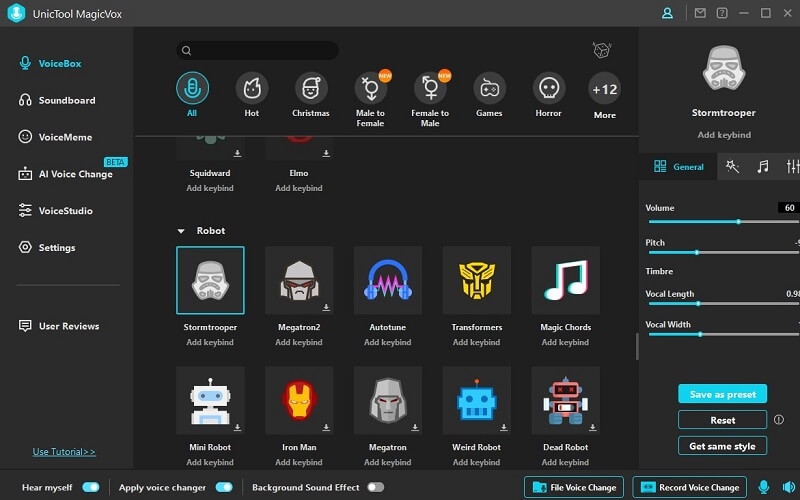 MagicVox is a unique stormtrooper voice changer available for download for your Windows and Mac devices. You can download the tool from its website and start using it immediately. The stormtrooper voice effect comes with a customized filter you can find in the downloaded software. MagicVox offers the following versatile features:
Key Features
More than 500+ voice effects to choose from alongside the customized voices, Darth Vader, Boba Fett or the Maradonian voice changer is similar to the stormtroopers voice.
Get used to changing voices through live streaming, voice chats, or gaming.
Fit for platforms like Skype, World Warcraft, Twitch, Crossfire, Discord, PUBG, etc.
It helps create clear voice effects by filtering the background voices.
Pros
It mesmerizes the gaming or live streaming atmosphere by creating more than 500 sound effects.
Posses an attractive stormtrooper-style user interface that produces a similar sound to the stormtrooper.
You can download the MagicVox files in the WAV or MP3 audio files.
While customizing the stormtroopers voice, the parameters and hotkeys provided on the dashboard will adjust.
Supports real-time voice changing.
Cons
Sometimes you need to choose an external microphone if the soundboard one doesn't work.
It is a new product, not very famous.
How to Get a Stormtrooper Voice Changer on PC
Step 1: Go to the web and download UnicTool MagicVox from UnicTool's official website. When downloaded, install it on your PC.
Step 2: Configure your microphone and headphone as the default input and output device.

Step 3: Go to the platform you want to play- Click Audio settings and select MagicVox as your default audio device.
Step 4: Now the MagicVox app on your PC separately and select any voice to sound like robot. Select the same voice from keybinds, your voice will be changed.

Step 5: You can also get a custom voice by navigating to VoiceStudio. Here, you will have to adjust the custom setting to sound like a deep Robot, like Pitch Shifter, Reverb, Tremolo, Distortion, etc., to get the voice like Stormtrooper.
It is one of the smallest fish found in the sea with attractive features, and so is this voice changer. Using the outside audio capture device or the microphone, you can produce versatile sound effects, especially customized ones like the stormtrooper. You can use this voice changer on Google Hangouts, TeamSpeak, Viber, Skype, Discord, etc. A few of its features include: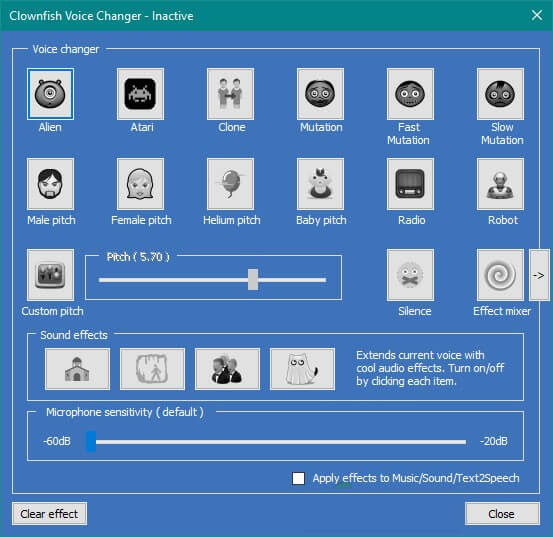 Key Features
The music player with the enhanced playlist and audio control supports various media formats.
Supports the Virtual Studio Technology to create the stated voice effects.
It produces voice effects of females, males, babies, robots, etc.
Modifies the incoming audio from the external device or the microphone.
Pros
Download this voice changer tool free from its website.
This voice changer tool is perfect for novice users.
The voice assistant converts the written text to speech.
A pre-defined sound gives you an idea of what the voice-changing effect will look like.
Cons
It just works for Windows.
It only have 14 sound effects, can't give you a good experience.
Get this voice changer to add custom effects to your voice while using it on the desktop apps like Discord, Skype, TeamSpeak, Zoom, Google Meet, Fortnite, etc. You can download it for free for your Windows 10 and 11 versions for 64-bit. Here are a few of this voice changer's features: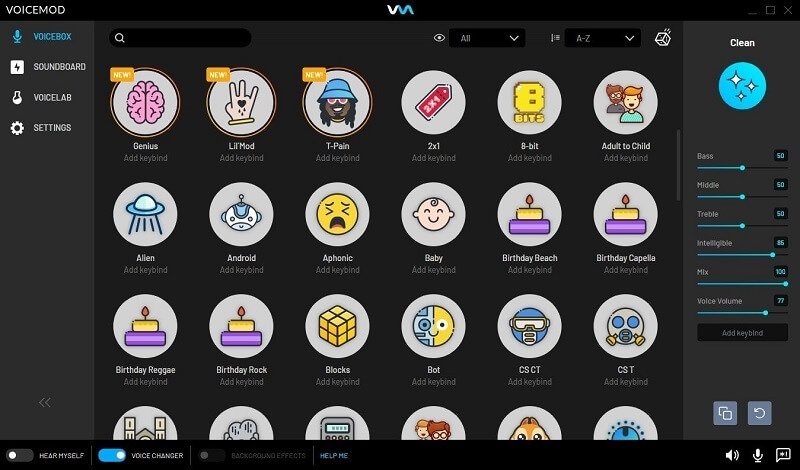 Key Features
You can create the voice avatars and voice skin for the Multiverse and Metaverse platforms, and edit them accordingly.
The customize option helps you change the stormtrooper's voice and the AI voices without hassle.
You can use varied options like a scream, female, male, ghost, etc., voices.
Use the voice changer while gaming, live chatting, or during the festive seasons.
Pros
You can customize your voice by uploading the WAV or MP3 files.
This is a voice changer for Xbox, PS4, and PS5.
Get modified voices for video streaming, chat apps, video chat apps, and meeting and online calling apps.
You can set up this voice modulator in just 5 minutes.
Cons
Some programs may not function well due to ongoing updates.
If you don't pay for the Pro version, you will not experience the full voice change effects.
Part 2.

Funny Stormtrooper Helmet Voice Changer Online

This voice changer stormtrooper helmet online has a simple interface where you can upload the audio file or use the in-built microphone to generate the speech from the text. Apart from a customized voice filter, there are a few already provided voice effects like that of aliens, snakes, soldiers, chipmunks, males, females, etc. Its features include: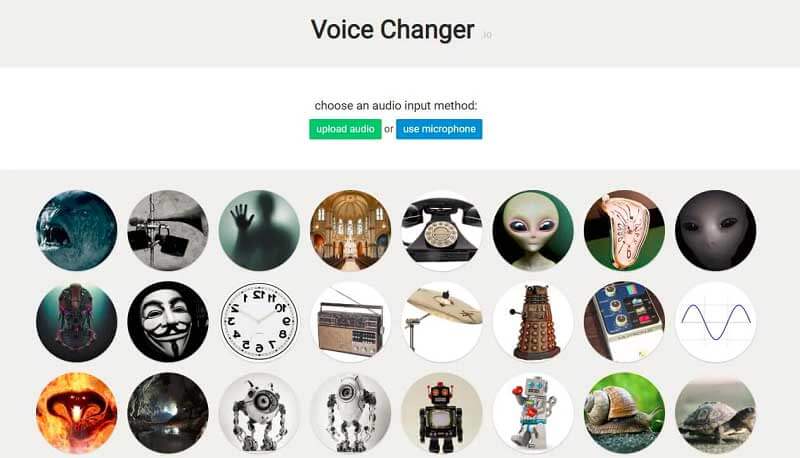 Key Features
A correct accent is required for a few voices, especially the ones concerning Star Wars characters.
The voice effects look real.
You can use this online voice changer for commercial use.
There are more than 51 voice effects, and you can change the voice using the real-time recorder.
It is a free online voice changer.
Pros
Easy to use interface.
There are lots of sound effects to choose.
You can get more into the stormtrooper's character.
Cons
Only a real-time recorder can change the voice but changing the voice during live streaming or gaming is impossible.
This is another fascinating online robotic voice changer that is simple and involves no complexities. You can upload the pre-recorded clip or record a clip in the type of sound pitch you love. There are quite a few options provided in the drop-down menu. A few of its features include:

Key Features
You can adjust the speed and the pitch of the sound on this online robotic voice generator platform.
It is free to use online voice generator website platform.
You can download the speech without the hassle by adjusting the harmonic modulations and syllable sounds.
Pros
The theme is mostly white and simple to use. It is free to download an online text-to-speech generator.
You can process any form of voice through the soundboard.
It is straightforward and offers a few great functions.
Cons
It provides an empty look and is quite clean.
There is nothing attractive about the display.
Part 3.

Clone Trooper Voice Generator App

It is a new stormtrooper voice changer app that is young for the online market. You can adjust the microphone volume and level on the soundboard to get the correct stormtrooper's voice. Its features are as under: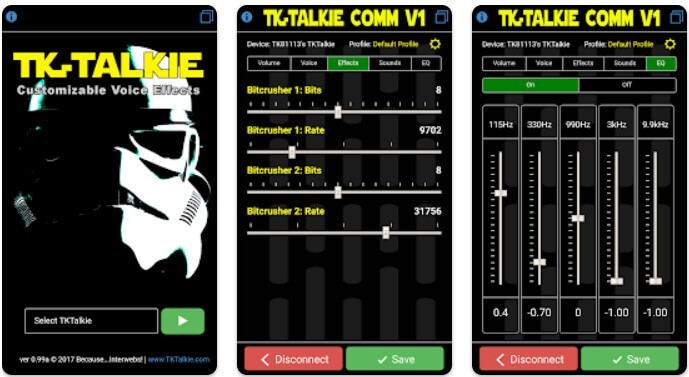 Key Features
It is entertaining, and the changed voice effects can be easily downloaded and shared.
This voice changer app allows you to switch between the profiles and modify the required settings.
Download the TKTalkie on your Android device.
Pros
You can fully adjust the sounds, volume, equalizer, and many more features.
Data security is of paramount importance for developers.
You can change the already recorded sounds also using this app.
Cons
There were quite a few bugs that may hamper the app's processing.
This voice changer lets you sound like the stormtrooper with this latest app. You can download the APK that is quite small from here. You will sound perfectly like the stormtrooper and share the changed voice effects with your friends. Use this voice emulator for the Discord platform. A few of this voice changer's features include: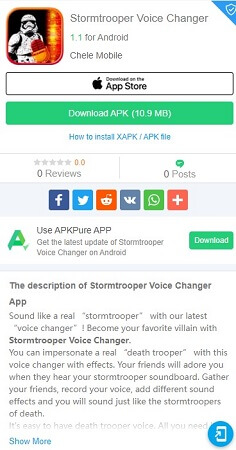 Key Features
Using this stormtrooper voice changer app, you can transform your voice and the background effects.
The changed voice can be shared on social media while chatting with friends.
It also has an MP3 sound filter and is quite the best for singing.
Pros
It is a voice modulator app for Discord, plus this is quite simple to use.
It has a unique mixer and an audio editor. The audio editor works great for users of all ages.
Cons
You cannot use this recorder in real-time.
This clone trooper voice generator app is perfect for iOS devices. It has received a good rating from the users on the Apple Store. This app is specifically designed for members of the Rebel Legions and 501st trooping events. The features of this app are: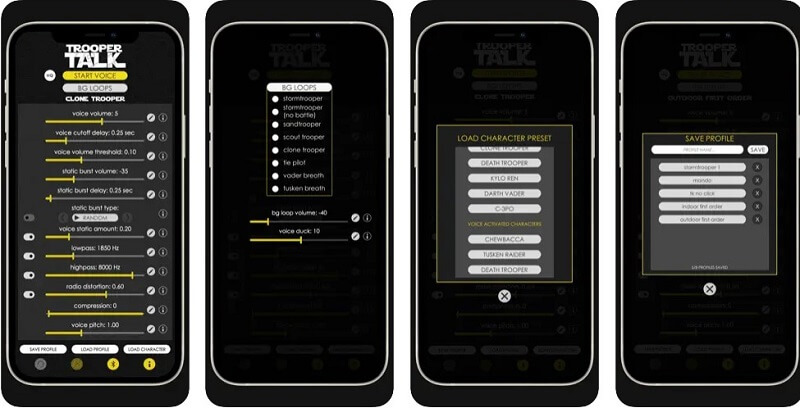 Key Features
You can use this voice changer by plugging the mic or speaker into your iPhone. It will help you amplify your voice.
It is an alternative to the expensive box voice changers like Rom/FX or iComm.
It is a perfect voice emulator for the cosplay of the stormtrooper.
Pros
The amplifier and the voice mic help adjust the users voice perfectly.
You can use the external accessories and the hardware too.
Even you can activate the deathtroopers voice for more fun and entertainment.
Cons
Most users did not find the required customer support.
The Bottom Line
The stormtrooper voice changer lets you change the authentic voice by emulating the same through the voice modulator. You can use the UnicTool MagicVox voice changer that has over 500 voice-changing effects. The voice of the stormtrooper can be customized using the required filter, and it can be shared while gaming or live streaming. The platform is best for gamers and live streamers who want to hook their audience to their episodes. You can also use these voice changers during chatting. You can entertain your friends without having to download the changed voice repeatedly.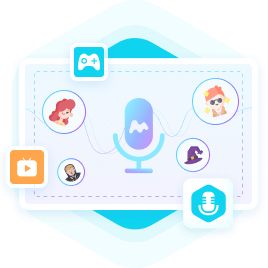 A Real-Time Voice Changer
More than 500 voice effects to choose from alongside the customized voices.
Get used to changing voices through live streaming, voice chats, or gaming.
Fit for platforms like Skype, World Warcraft, Twitch, Crossfire, Discord, PUBG, etc.
It helps create clear voice effects by filtering the background voices.