Master Chief is the most influential and important character whenever we talk about the Halo timeline. Since the launch of Halo Infinite in 2021, a lot of people have been turning to play the shooting game. But how can the Halo Infinite experience be complete without mimicking the Master Chief ai voice character?
You agree, right?
But is it worth investing hundreds of dollars in getting a Master Chief voice changer from Etsy or Amazon? Of course, it will not be a smart choice in any way. Therefore, we have listed the Master Chief AI voice generator to give you a real experience based on virtual voice changers that won't cost you a fortune.
So let's get into it.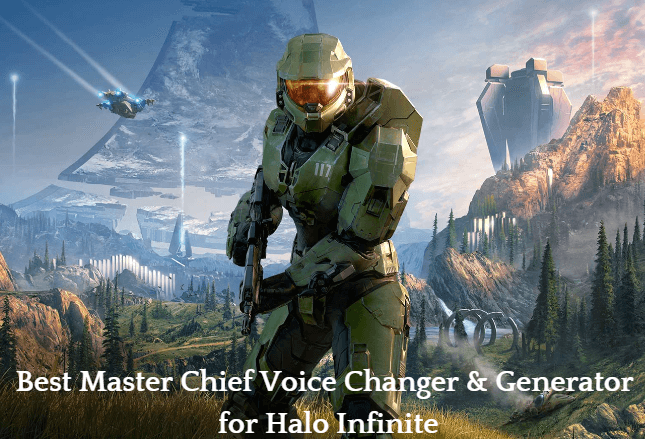 Part 1.

Best Master Chief Voice Changer for Halo Infinite

UnicTool MagicVox is undisputedly the best Master Chief AI voice generator. Whether you want to use the Master Chief ai voice while playing Halo Infinite or just want to change your voice, UnicTool has all the features that you will ask for.

The app available for PC gamers can be downloaded and installed for free. However, you can pay the price for advanced features. You can choose from the voice effects and filters, customize soundboards to play sounds on the go, get voice effects with a custom background environment and edit your voice to mimic animes or heroes, like batman voice.

Here are the features that help you get Halo Infinite's Master Chief voice mask in UnicTool: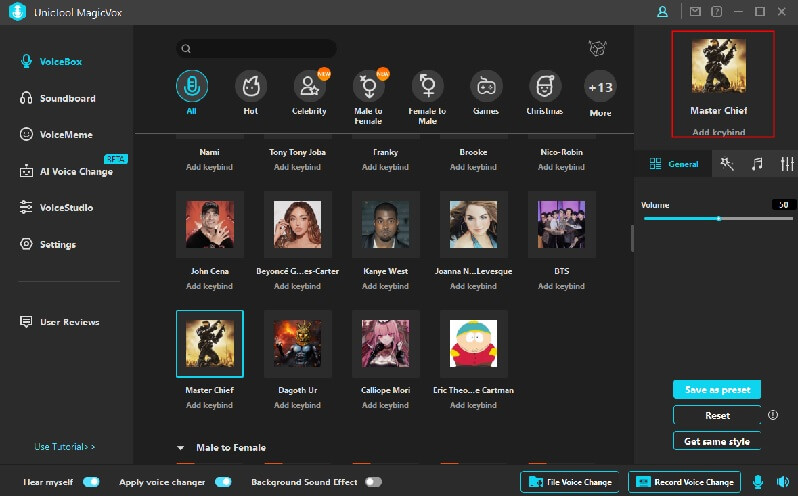 Key features:

Huge library of sound effects: Over 400+ emoticons and 300+ voice effects to choose from,including Master Chief AI voice, PUBG, Rust, Roblox.

High-Quality Sound Effects: offers high-quality sound effects, including robotic voice effects of replicating Master Chief and celebrity voices.

Customizable Settings : The software allows users to customize voice settings like pitch and tone.

Real-Time Voice Changing: It can modify the user's voice in real-time during gameplay, making the experience more immersive.

Hotkeys and Shortcuts: Take control of your voice effects with the help of customizable hotkeys and shortcuts. MagicVox ensures easy access and convenient manipulation of voice transformations, making it effortless to switch between different voices on the fly.

User-Friendly Interface: The interface is user-friendly and easy to navigate.

Multiple Voice Options: It have a range of voices to choose from, including male, female, and robotic. Even imitate the voices of celebrities such as Donald Trump and Morgan Freeman.
You will love the experience of using UnicTool MagicVox as the user-friendly interface, and easy navigation across the app just enhances the experience. You can choose a robotic voice filter and adjust to the accent of Master Chief and let the fun begin in Halo Infinite.
Voicemod has its own share of popularity as a virtual voice changer not only for Master Chief but also for other anime characters and movie heroes. The Voicemod app can be downloaded and installed on Windows devices and integrated with different platforms.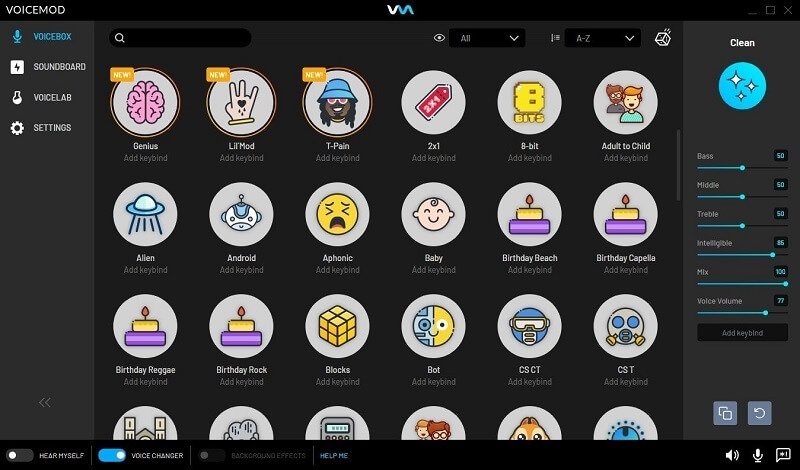 Out of several voice filters available in the software, robotic voice effects are like Master Chief soundboard. Besides, you can add voice effects to the soundboard and use hotkeys to play voices during gaming.
Key Features
The most convincing features of the Voicemod as a Halo Infinite Voice Changer are:
Real-time voice changer to enhance the gaming experience
60+ voice filters and robotic effects to sound like voice for Master Chief
Custom Soundboard for Halo Infinite to play sounds on the go
Easy to integrate with the Halo Infinite and use the voice changer
It Can be used with other games and platforms like Fornite, PUBG, Discord, etc.
To describe the overall effectiveness of Voicemod as a Master Chief voice changer, we will say it gives a decent performance and similar sound effects to replicate the Master Chief voice. However, you have also to work on the accent and tone to make it sound like a natural voice and not a voice changer. To cut it short, your effort+Voicemod = Master Chief AI voice generator.
Clownfish is yet another Master Chief voice changer that Halo lovers can use. You can use the available voice filters to mimic the Master Chief's voice with an additional effort from your side to make it realistic. Clownfish gives you much room to change your voice or even convert text to speech for more fun.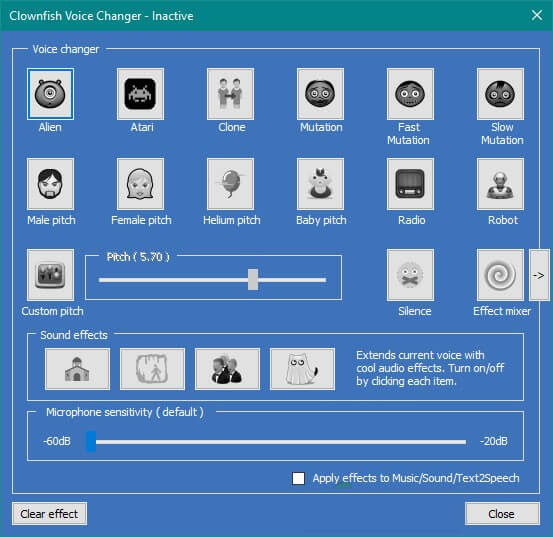 To sound like Master Chief, you will have to rely on the robotic voice filters in the app and then adopt the accent of Master Chief. It works more or less like any other voice changer and is available to Windows users. You can also install stand-alone plugins to enhance the usability of the software.
Key Features
The main features of Clownfish Voice changer are as follows:
Choose from many filters like Helium, Robot, Alien, heavy and dark pitch, etc.
No registration or sign up required to use Clownfish
Plugins enhance the software usability and let you use voice changer with different games
Use the text-to-speech assistant when communicating with friends or family.
It's a trustable Halo Infinite voice changer, but when we compare the features of Clownfish with other voice changers, a lot of limitations welcome us on the way. Not only the app has a limited number of voice filters, but the absence of a soundboard is also one of the biggest deal-breakers when looking toward Clownfish.
MorphVOX is yet another voice changer that can be used to mimic the voice of Master Chief when playing Halo Infinite. The free-to-use software has several voice changers that let you change your voice from male to female, vice versa, sound like a baby or robot, or go after the helium pitch to make your voice dark and deep.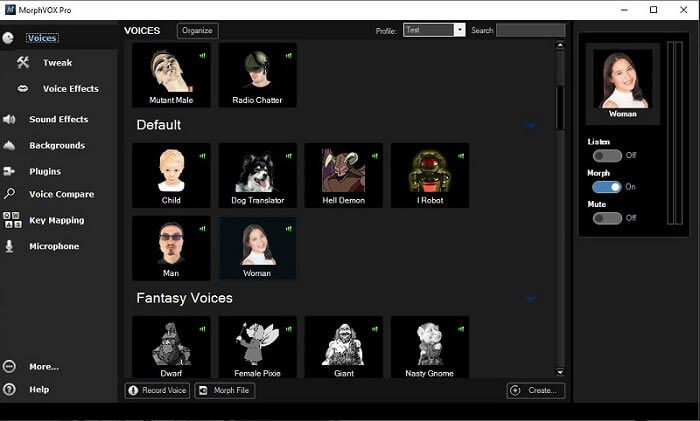 You can use MorphVOX for Halo Infinite and other games and platforms by capitalizing on the free voice changer. The main features of the MorphVOX are as follows:
Key Features
Several built-in voice effects and sound filters to mask your voice
Optimally analyzes and changes your voice to sound like one you desire
Noise cancellation and quiet background feature is also available
Free to use
You will get decent performance with MorphVOX if you want to use it as a voice changer while playing games or chatting with friends. The results might not be as impressive if we talk about the performance as a Master Chief Voice Changer. Not only do the annoying ads showing up spoil the experience, but you will need a lot of time to understand its configuration process before using it.
Finally, Voxal Voice Changer is also very popular among many people who love to play with their voices for content creation, gaming, or voice chatting. You can download the software on your Windows device and integrate it with different games to enjoy real-time voice changing. You can also create custom voice effects and filters to improve the results.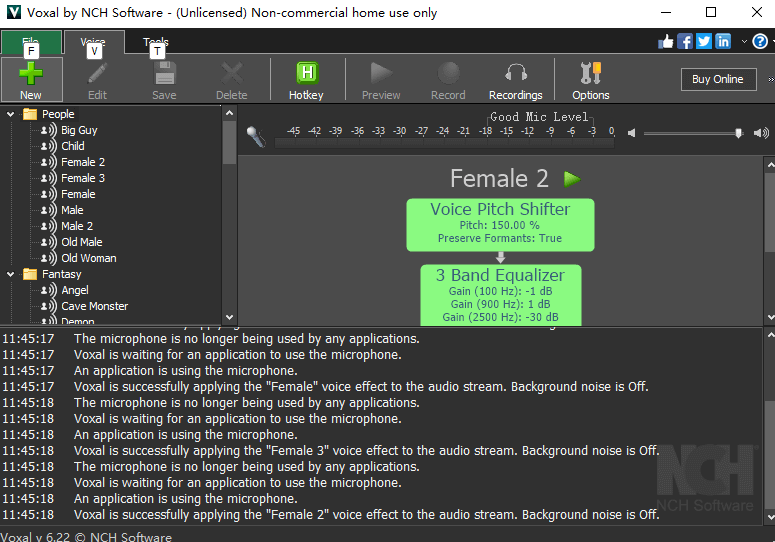 You can enjoy the following features when using Voxal for gaming or voice chatting:
Key Features
Real-time voice changing when gaming or chatting
Choose from the robotic effects to sound like Master Chief
Create your own custom voice effect to mimic Master Chief's voice in Halo Infinite
Soundboard feature to enhance the experience
Change the audio in the video recordings
You can create your own custom effect for the Master Chief voice. It's one of the best Master Chief voice changers not because of pre-available voice effects and filters. In fact, the option to create your custom voice effects is that makes it sound enticing. However, the personal effort required is higher in that case.
Part 2.

How To Get Master Chief Voice On Halo Infinite

You can use any of the Halo Master Chief voice changers to enhance your Halo Infinite gaming experience. But if you want a flawless and seamless experience, UnicTool MagicVox is the most affordable yet feature-extensive software.

Besides using the Master Chief Voice changer, you can also customize the Master Chief ai voice using the VoiceStudio feature of MagicVox. Simply customize your master voice and add it to the Halo Soundboard already available within UnicTool. All you have to do is integrate the Halo Infinite Soundboard with Halo Infinite after setting hotkeys, and you will be right there to enjoy the gaming experience.

Here is a step-by-step guide on how to get Master Chief's voice on Halo Infinite and double the game vibe:
Step By Step Tutorial
Step 1: Download and Install MagicVox

Firstly, you will need to download the UnicTool MagicVox software on your Windows device from the official website. You can go for the free trial version or pay a one-time fee of around $40 to enjoy all the app's advanced features.

Step 2: Configure Microphone and Headphones on MagicVox

Once installed, launch the application and change the default settings for input and output devices of MagicVox. Set your mic and headphones as the default input and output devices for the MagicVox

Step 3: Go To Robotic Voice Filters And Customize

After configuring the tools, now open the game 'Roblox' and navigate to settings. Set Voice changer Virtual Audio device as the default input device to change the voice.

Step 4: Change Settings In Halo Infinite

Open the Halo Infinite game and go to the settings. Open Audio> Communication and change the voice chat input device to Voice Changer Virtual Device(WDM). That's it. Now you can mimic the Master Chief while gaming!

Step 5: Enjoy a Changed Voice

Once you have completed the process by following the steps mentioned above, it is time to enjoy all features. It includes voice filters, soundboard and voice memes on Halo Infinite
Part 3.

Bonus Tip: Master Chief AI Voice Generator

Step into the boots of the iconic Master Chief from the beloved Halo franchise with VoxMaker's cutting-edge AI voice generator. Immerse yourself in the world of the Halo universe and command the battlefield with the authoritative and recognizable voice of the Spartan super-soldier.

The VoxMaker Master Chief AI Voice Generator utilizes state-of-the-art artificial intelligence and deep learning algorithms to replicate the distinct voice of Master Chief with astonishing precision. With just a few clicks, you can transform your own voice into the powerful, stoic, and heroic tone of the legendary character.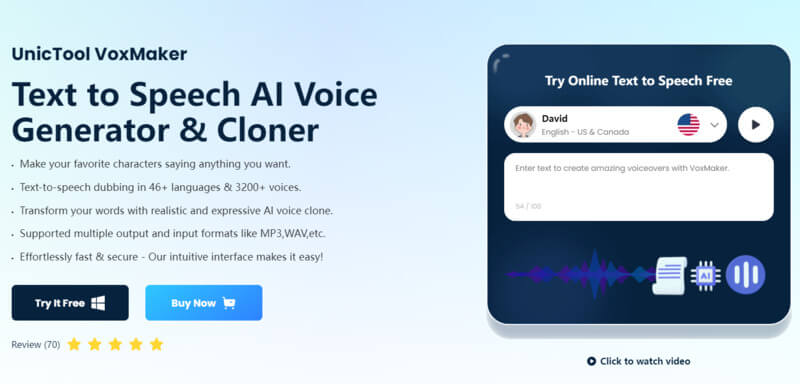 Key features:

With an expansive collection of over 3200 AI voices at your disposal, VoxMaker provides an unparalleled range of expressive and unique voiceover options for your projects. Whether you need a professional voice for a commercial or Master Chief AI voice , VoxMaker has you covered.

Customization Options
: Users can personalize their audio files by applying different skins and sound effects, allowing for greater creativity and customization.

Multi-Language Support: VoxMaker supports voice cloning in 46+ languages, catering to a diverse user base and enabling voice cloning in various linguistic contexts.

Flexible Output Formats: VoxMaker allows users to save cloned voices in multiple formats such as WAV and OGG, ensuring compatibility with various platforms and devices.

Wide range of functionalities: It serves as a versatile toolkit, encompassing a wide range of features including text-to-speech (TTS), speech-to-text conversion, video conversion, recording, and audio editing.

AI Voice Cloning: You can clone any voice with just 1 click.

Effortlessly Fast & Secure: VoxMaker's intuitive interface ensures a smooth and seamless user experience.

30-Day Money Back Guarantee: VoxMaker stands by its product and offers a 30-day money-back guarantee. If you're not satisfied with your purchase, you can request a refund within 30 days of your initial purchase, providing you with peace of mind and confidence in your investment.
Note
Operate System: Windows
Software Size: 101 MB
Using Experience: 4.8Stars
Wow, VoxMaker's Master Chief AI Voice Generator is a game-changer! As a Halo enthusiast, being able to effortlessly adopt the voice of Master Chief in my gaming videos and online interactions is an absolute thrill. The voice replication is spot-on, and it feels like I'm truly stepping into the shoes of the legendary Spartan. The convenience of just a few clicks to transform my voice is incredible, and it has taken my content creation to a whole new level.
Mac version coming soon.

VoxMaker Master Chief AI Voice Generator
Any Voice You Desire is Right Here.
Conclusion
Master Chief is a very popular character for Halo Infinite lovers, but only a few voice changers have yet targeted that audience. However, we have analyzed and listed the best software available to use as Master Chief Voice Changer to the date of writing.
Among all voice changers, UnicTool MagicVox Master Chief AI voice generator is the most powerful, whether it's the user interface or functionality. You don't have to wander around to understand the process or try hard to configure the game. It's simple and quick.