The idea of getting to talk to people from all around the world sounds nothing less than exciting. How about a free online site that allows you to do just that? Enter, Omegle! A website where users can interact with people from anywhere in this world without having to sign up. Have you met someone who uses a fake girl voice changer on Omegle to pretend a Girl?
Launched in 2009, Omegle makes itself available to everyone very easily. What's more,you can even use a fake e-girl voice changer apps on the site and interact with people in more fun ways! Keep reading further to know about the best voice changer for Omegle, which you can use easily for trolling.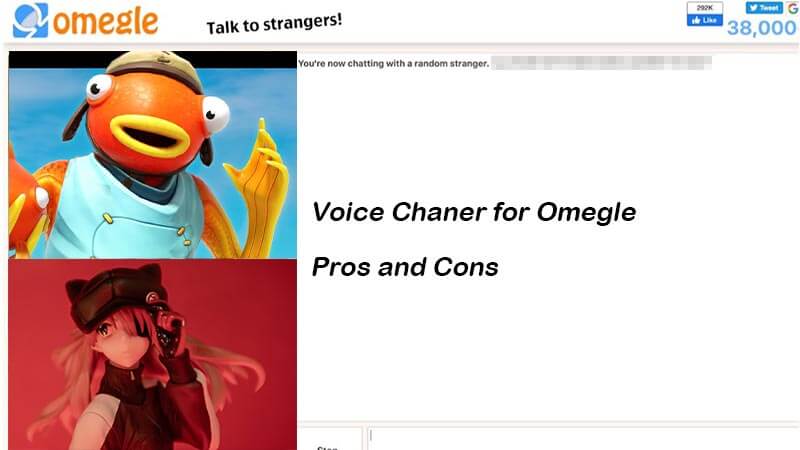 Part1. Best Voice Changer for Omegle Trolling
Here is our pick for the top four voice changer apps for Omegle.
To change your voice using an app is an excellent approach to interacting with people. However, what if you get to choose from one two hundredvoice changing filters? That will make you have double the fun!
UnicTool MagicVox for windows is an app that does the job perfectly within seconds. It is also very user friendly, and you can use it easily on Omegle.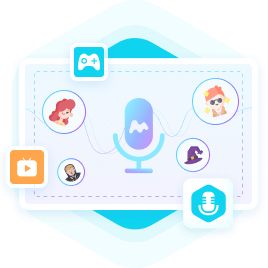 A Real-Time Voice Changer
Features A Great Variety: UnicTool MagicVox allows you to alter your voice according to your liking. With over two hundred filters available, there is hardly anything that you won't find here!
Can Be Used On a Number of Apps: There are many famous apps that don't work well on other sites. However, UnicTool MagicVox shows no problem in that area.
Easy to Use: Voice changing apps can be tricky, but not this one. It is one of the very few apps that feature an interactive and user friendly interface!
How to Use Fake E-girl Voice Changer on Omegle:
1. First, download the UnicTool MagicVox app on the device you wish to use the app on.
2. Next, set the app on by following the instructions displayed. Select your input device as microphone and output device as headphones.

3. After that set up its voice settings. Make sure to allow MagicVox to have access to Omegle to change your voice on the app easily. This can be done by setting the Voice Changer Virtual Audio Device(WDM) as the default input setting.

4.Click VoiceBox, then select the fake girl voice filter you want to use on Omegle, adjust the voice effect to better fit your voice as a girl, then you are ready to start trolling on Omegle.
It has not been that long since the launch of Voicemod. This app has made its way to be one of the best voice changers for Omegle in a short time! Voice changing apps are the epitome of fun. Voicemod ensures that you have a variety of voice filters to choose from. However, the app also features an incredible and innovative interface with eye catching color palettes!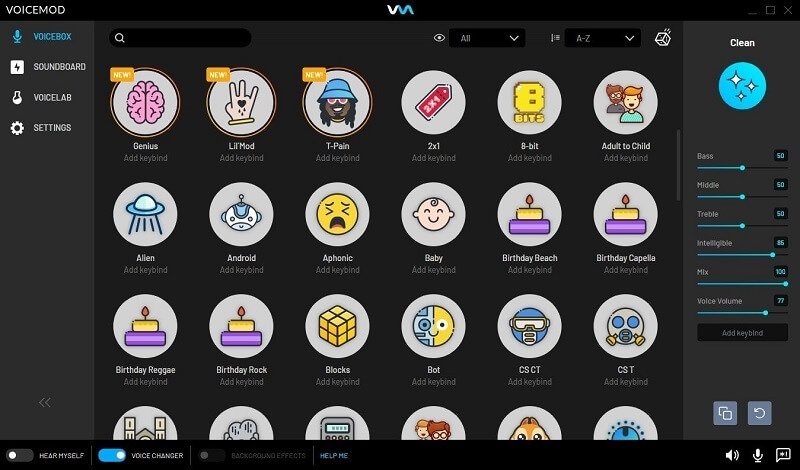 Key Features
Great features of VoiceMod are as under:
Fantastic Design: At VoiceMod, you will see different voice filters distinguished by their own avatar. The app's color theme is enough to make it one of a kind in its niche. And the cute avatars just make it ten times better.
Easily Usable On Other Platforms: What is better than a voice changing app that also works well with other streaming platforms? VoiceMod is compatible with every app that makes use of a microphone and headphones.
One of A Kind: The interactive user interface of VoiceMod and its way of working is unique than the rest of the voice changing apps.
How to Get a girl voice on Omegle with Voicemod?
Don't fret yourself about how to use VoiceMod on Omegle. Simply follow the steps ahead and use the voice changer for Omegle pc and phone!
1. Download the VoiceMod app and open it.
2. Set up the app and go to Settings. Enable your microphone as the input device and your headphones as the output device.
3. After that, select the Girl voice filter of your choice.
4. Next, make sure to set the WDM as your default settings on Omegle's Audio Setting.
5. Interact with people by using all kinds of fun voice filters!
MorphVOX is a voice changing app that not only changes your voice but also allows you to tune it as per your liking. It enables you to add sound effects to your voice, so you can use it any way you like on other platforms!
What sets MorphVOX from different voice changing apps is the excellent sound quality it generates of your voice. If you are looking for a high quality girl voice changer for Omegle, you can add MorphVOX to your list.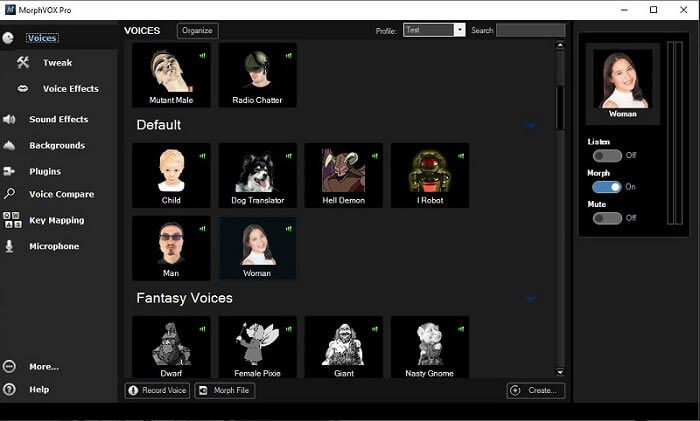 Key Features
Features MorphVOX can offer:
Great Options to Choose From: What makes a voice changing app one of the best, is its range of filters! MorphVOX features a unique variety and allows you to have the best time while using the app.
Available for Free: Most of the voice changing apps allow its users to get access to the voice filters for a fee. Majority of the voice filters on MorphVOX are free from any subscriptions! And the pro version of the app is also less pricey compared to its competitors.
Compatible On Windows and Mac: MorphVOX works exceptionally well on windows and mac.
How to Use the App on Omegle?
Here are the steps you have to follow in order to use MorphVOX on your windows or mac:
1. Install the app on your computer and set your microphone as the input device and headphones as the output device.
2. Select the filter you want to use from the app and adjust your voice according to your preferences.
3. Open Omegle and set the voice changer virtual device.
4. Use the app in a fun and innovative ways like you've never before!
Clownfish voice changing extension is the best one you can use on Omegle for Chrome or Chromebook. It is easy to install, and it comes with fourteen different voices to choose from. The range of voice filters must be short, but Clownfish also features VST technology. The best part is that with this extension, your voice will be altered in every website that uses your voice.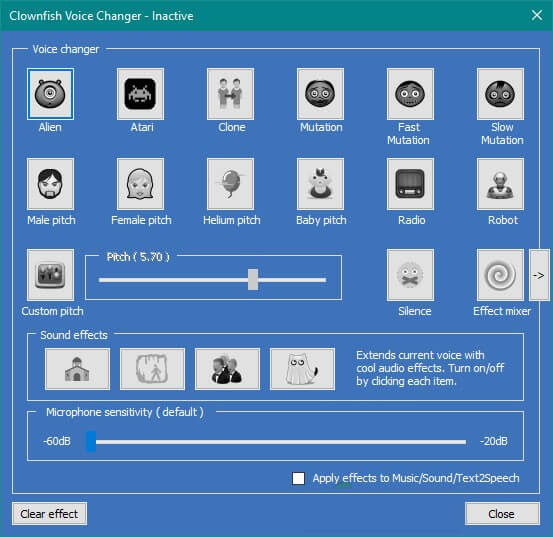 The fourteen voice filters are available in great sound quality, and with the VST technology, their caliber is unmatched. The current voice effects list on Clownfish includes Atari, Mutation, Male pitch, Baby, Helium, and so much more!
Key Features
Here we are mentioning some of the great features of Clownfish:
Doesn't Put a Load On Your System: Most voice-changing apps take too much battery and load on your system. However, Clownfish is not like that and the voice changer won't cause you hindrance of any kind!
High Quality Voice Filters: Clownfish doesn't feature many voice filters. However, the sound quality of the current fourteen is enough to get the job done on Omegle.
Features VST Technology: The VST technology enables you to adjust your voice as per your taste.
Available for Free: Clownfish is free for all Chrome and Chromebook users!
How to Use the Chrome Extention on Omegle?
Follow the steps ahead to gain access to Clownfish voice changer for Omegle on your Chrome easily:
1. Search for Clownfish extension and open it.
2. Click on 'Add to Chrome'. This will install the extension.
3. Next, click on 'Bookmark Bar' and set Clownfish as per the instructions displayed in front.
4. Set the voice changer virtual device (WDM) as your default input settings on Omegle.
5. Have fun interacting with people from different areas of the world by changing your voice with effects!
Part2. FAQs About Omegle Voice Changer
You must have some questions popping in your head about using a voice changing app on Omegle. Well, we've got you covered! Here are the answers to some of the most asked queries related to using a voice changer on Omegle.
1. Do I get banned for using a voice changer on Omegle?
Not at all, Omegle allows its users to use different voice effects while video chatting with other users. You get banned from the website only if you go against its policies. These policies include using impolite language, playing music while conversing, nudity, reporting other users continuously, or dropping yourself out mid conversations.
2. Which is the best voice changer for Omegle?
According to users, the best voice changer for Omegle till now is MagicVox. It has many advantages and great reviews as compared to its competitors. It is also very easy to use and features unique traits.
3. Is it illegal to use a voice changer?
It is absolutely legal to use voice changers only as long as they don't cause trouble or harm to anyone else. Using voice changers to alter our voice by using its filters and effects is allowed everywhere. However, ensure to use them within boundaries.
Conclusion
Voice changing apps are not only for pranking anymore. Whether it is to try new stuff out or modify your voice as per your liking, voice changers are changing the narrative on interacting, and we are here for it! The above voice changers for Omegle are easy and fun to use.
However,
UnicTool MagicVox
deserves a special mention. What sets it out more than the rest is the wide variety of voice filters it offers its users.Come and free download MagicVox down below!