Second Life is an online multimedia platform that assists people in creating an avatar for themselves and interacting with other users. Do you want to interact with people anonymously, but people recognize your voice? Try Second Life voice changer.
These voice changers, as powerful tools, make you sound like a celebrity, cartoon, or any favorite character. It is the best way to prank your friends. It helps users to get an enhanced voice by applying special FX to the mic signals.
In this article, we will discuss some most popular and amazing voice changers for a second life.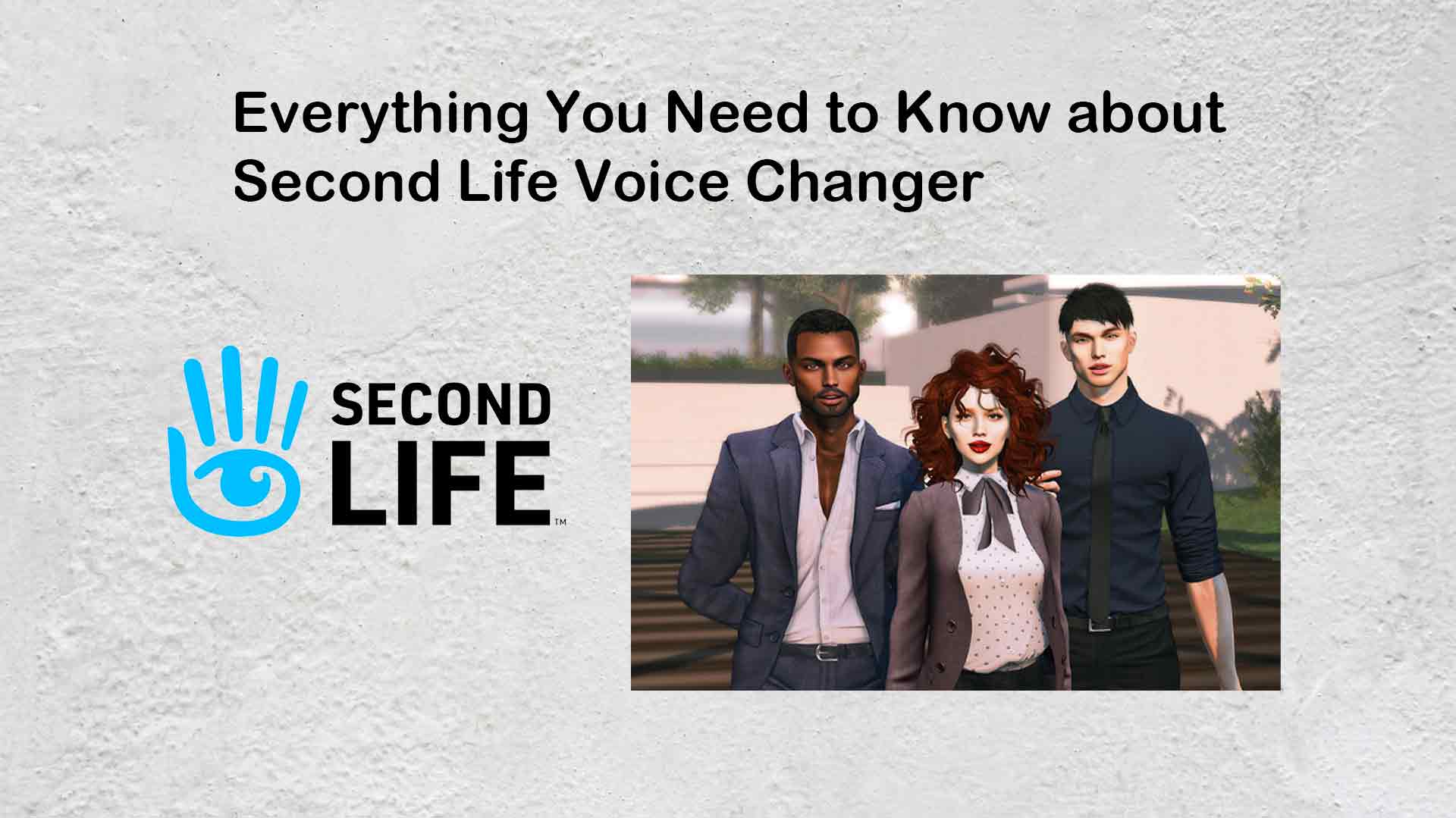 Part 1.

Best Second Life Voice Changer to Improve the Characters

If you want to get a flawless, distortion-free, and exceptional experience, it is important to select the best Second Life voice changer. Here we have listed some worthy voice changers that you can consider.

MagicVox is one of the best real-time Apex Legends voice changers. It occupies minimal space in the computer while featuring multiple valuable features to render voice. It is ideal for content creators, podcasters, professional campaigns and above all, gamers. The user-friendly interface makes it ideal for beginners and valuable features for professionals.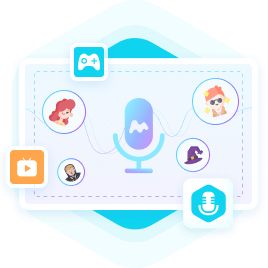 A Real-Time Voice Changer
It features a live voice emulator to offer you a customized voice during live video chats and game streaming.
The app has over 150 emoticons to induce fun and laughter.
The addition of a voice studio lets you adjust the parameter of your voice according to your liking.
Pros
Easy to use interface.
Outstanding customer support.
A wide variety of voice filters to choose from.
Cons
Limited features available in the free version
How to Use Voice Changer for Second Life Male to Female
Step 1: Download MagicVox voice change on your PC and complete the installation process.
Step 2: Open the setting to configure audio tools. Set microphone as input device and headphones as the output device.

Step 3: Open the Audio Settings of your system and set MagicVox Virtual Audio Device (WDM) as Default Microphone.
Step 4: Launch the Second Life game and Click "Preferences / Voice Chat." Then navigate the "Input Device" list and select "Voice Changer Virtual Audio Device."
Step 5: Choose the male to the female, alien, robot, or other voice filters, and enjoy the game.
MorphVox is one of the best, most simple, and most useful Second Life voice-changers. If accessibility, convenience, and interactive interface are your preference, you can find all these attributes In the MorphVox voice changer.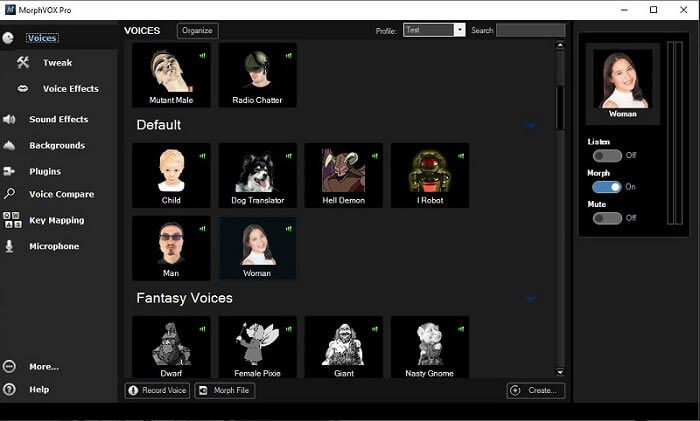 Its high compatibility with many operating systems makes it the number one choice of users. Moreover, it allows voice tempering in real-time to make live streams fun and build an organic fan base.
Key Features
MorpVox is compatible with Vista and Windows.
It offers a huge voice filter library to make voice modulation instant.
It is equipped with a good collection of background music to create a perfect atmosphere.
If you are fed up with outside voices, do not worry! MorphVox can potentially cancel all interrupting voices with noise-canceling features.
Pros
Easy to use interface.
Highly accessible.
Seamlessly integrates with a wide range of platforms.
Cons
A bit expensive as compared to other voice changers.
Clownfish is one of the useful voice changers among Second Life gamers due to its versatility. This voice changer is simple and effective that gives a phenomenal performance with Second Life games and other platforms to produce unique voices. Surprisingly, the Clownfish voice changer comes with a sound player, which offers the liberty to enjoy music during long games and streams.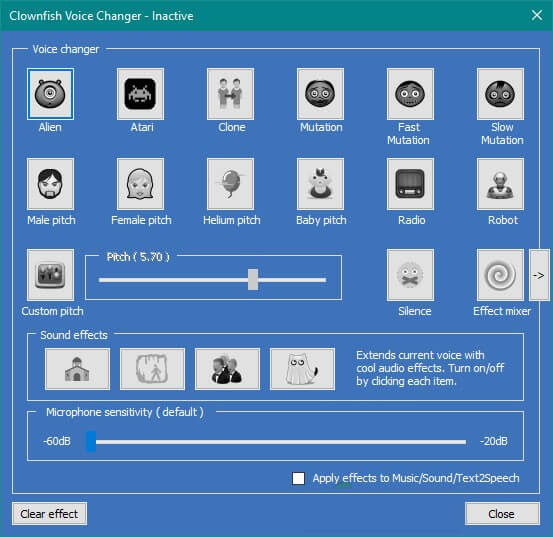 Key Features
The clownfish voice change is highly compatible. It integrates seamlessly with windows to change the voice effects instantly.
Clownfish automatically connects to all applications having access to the microphone.
The practical and powerful voice changer features a sound player that can play and produce different sounds.
Clownfish voice changer offers present filters to change the voice within minutes.
Layer the favorite voice filter with background music to uplift the mood.
Pros
Easy to use and interactive interface.
It features a soundboard to customize and adjust voice parameters.
High-quality tools to help you get the best experience.
Cons
Sometimes glitches while editing may be due to low space and other technical issues.
Part 2.

Funny Soundboard& VoiceMeme for Second Life

Soundboard is a platform containing various buttons carrying different voice memes. If you want to induce the fun and element of laughter in the live stream, try the MagicVox Second Life voice changer. It contains multiple 150+ voice filters and 300+ sound effects on the soundboard to build the perfect environment.

Here you will find the most famous and iconic Bruh and Fart memes and many others to make the gaming time fun and worthy. No problem if you find it difficult to pause a game and play voice memes! You can assign keybinds to keep your favorite meme under your fingertips. To assign keybinds, all you need to do is:
1

Open the MagicVox voice changer.

2

Click on Soundboard and enable key binding by clicking the slider appearing on the top of the screen.

3

Now click on your favorite voice meme. A bar will appear on the right side of the screen with other alteration options.

4

Click on Add keybind and type the key you want to assign, such as "Ctrl+W."
Conclusion
Second Life is an ideal platform to unleash creativity, make desired avatars, and interact anonymously with friends and other players. However, there are chances of being caught due to similar voices. To avoid this scenario, you need to select the best Second Life voice changer.
There are many voice-modulating tools available in the market, but MagicVox is one of the best tools. It is a powerhouse of useful voice tempering tools that allows you to use a preset filter to sound like any avatar or customize the sound to imitate a celebrity.