TikTok has been exploding as a short-form video platform for years now. You can find all kinds of entertaining as well as educational content up there. Maybe you even want to make some videos of your own, too. But what if you are too shy to speak because you don't think your voice is good enough? That's okay, because TikTok text-to-speech videos are actually quite popular as a way for TikTok content creator to get their ideas across. In this article, we will show you how to achieve that using simple software.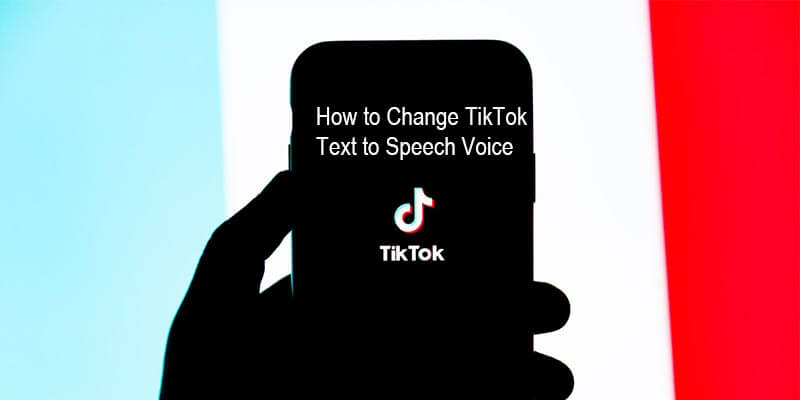 Part 1.

How to Change Tiktok Text-to-speech Voice 2022

First things first, update your TikTok to the latest version that comes with TikTok's text-to-speech functionality. This feature is still relatively new and, as humans, many of us have a natural human tendency to push updates as far as possible technologically. In this case, go to App Store or Google Play and make sure there isn't anything new for TikTok that you need to download as updates.

Creating TikTok text-to-speech videos is not as complicated as it sounds. You will only need to tinker around for a few minutes of your time. In this method, you only need to have the TikTok mobile app. There's no need to download anything else because we will be using its built-in text-to-speech feature.
Tutorial to Change Text to Speech Voice on Tiktok
Step 1:

Open the TikTok mobile app and select the Plus icon at the bottom of your screen.

Step 2:

On the next screen, you will be given the option to record a video using the TikTok app or upload an existing video. Choose either option and head over to Step 3.

Step 3:

At this point, the video's editing screen will pop up and you can begin adding things to your masterpiece. This screen has a lot of editing options to choose from (these are the white icons at the bottom of your screen). From these options, select the Text icon (Aa).

Step 4:

On the next screen, enter the text that you want to add to your TikTok video and choose your text formatting option.

Step 5:

Select the lines of text you want to apply TTS to. Then, select the text-to-speech icon, which looks like the outline of a person's head with sound waves coming out of it.

Step 6:

On the Text-to-speech window, select the type of voice you want to have your text read aloud by selecting the voice and then selecting the circle next to the phrase Apply [name of voice option] to text. the following audio version. Afterward, select Done in the upper right corner.

Now you can simply return to the text input screen and select Done again in the upper right corner. Lastly, select Next to finish publishing your TikTok text-to-speech video. Tada!
Part 2.

How to Use TikTok Voice Changer- Voice Effects
Adding voice effects is one of the ways to make your TikTok video go viral, there are some built-in voice effects you can use when you are editing your TikTok video, like Cat, Flute and Chipmunk, etc.

Step 1:

Open the TikTok mobile app and select the Plus icon at the bottom of your screen.

Step 2:

On the next screen, you will be given the option to record a video using the TikTok app or upload an existing video. Choose either option and head over to Step 3.

Step 3:

Select the Voice Effects button on the right.

Step 4:

Choose the voice effects you want to add on your recording voice or original voice track.

Step 5:

You can preview the voice effects until you find the loved one like Megaphone, Chipmunk or Robot, click "Done" and then post or share to your friends.
Part 3.

How to Change Text-to-speech Voice using Voice Changer for your TikTok Videos

It's nice and all that TikTok text-to-speech is already implemented in the app itself. However, what if you want your voice to sound even more unique? What if you want to sound like Darth Vader, Alvin the Chipmunk, or Batman? That's when you can use voice changer software to modify your voice even further. A prime example of these apps is UnicTool's MagicVox, a premium voice changer that works in real-time for many applications such as OBS, Discord, and, yes, even TikTok.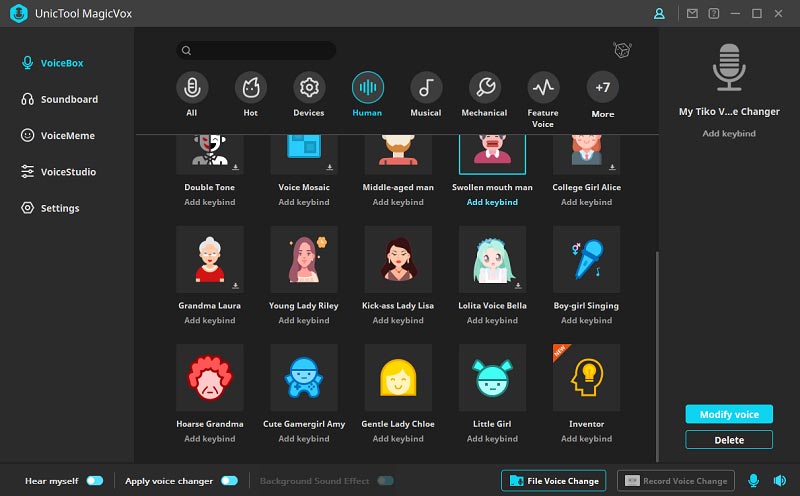 MagicVox features more than 200 sound effects, 300 voice effects, and 150 voice emoticons that can spice up your audio workflow by adding quirky and cool touches to your TikTok videos. The app is user-friendly and quick to use, where you can pick from a variety of daily free voice presets. There are more available for you to work with if you upgrade to one of UnicTool's premium plans, gaining access to MagicVox's VoiceStudio and customize your own voice packs.
Here's a step-by-step tutorial on how to change your TikTok text-to-speech voice using MagicVox.
Step 1:

Download, install and launch the UnicTool MagicVox.

Download the app from the official site and follow the installation wizard's instructions. Launch the app once you are done.

Step 2:

Let the app know which is your input and output device.

You will be asked to do this the first time you launch MagicVox.

Step 3:

Browse the app for available voice presets.

To use this voice modulator, you are supposed to change the settings. Navigate within the "Input Device" option and select the "Microphone Voicemod Virtual Audio" option.

Step 4:

Apply MagicVox's voice effect while you are using TikTok text-to-speech feature

Now go back to the previous section where we show you how to use TikTok text-to-speech feature and follow all the steps until Step 5. Now you can use the "File Voice Change" on MagicVox, then you can alter the voice easily and export the voice effect you want. Another method, go to your MagicVox app and hit the "Record Voice Change" button so that the app will now alter your voice in real-time. All you have to do now is run TikTok's text-to-speech and let it read out loud. MagicVox will now modify that audio and you will get a unique narrating voice for your video.

Step 5:

Upload the voice file to editor software

When you export the voice file in "MP3" or "WAV" from MagicVox, then upload it to your favorite editor software like Adobe PR, then put this voice on the original audio track, now you have changed the voice successfully.
Now that you have your new, modified TikTok video, you can publish that video and awe everyone with your cool new voice-altering trick. As you can see, MagicVox can do a bit more work for you than TikTok's default options.
Conclusion
TikTok Text-to-speech feature is a neat little way for anyone too shy to use their own voice. However, it has its limitations, such as having too few options to pick from. Those may not sound like your voice, or may not sound cool enough. And with so many TikTok users, they can become boring after a while.
Therefore, apps such as MagicVox can help your TikTok text-to-speech videos stand out by using unique voice presets that will surprise every viewer coming across your content.