Are you tired of sweet, cute and calming voices? It is the time to try something daring. With a demon voice changer, transform your voice into a goblin, ghost, or any scary avatar's voice to enhance the level of terror.
The voice changer can also change your voice in unnatural and unusual ways. These evil voice changers will be a valuable tool if you want to play a negative role or are just willing to sound terrifying. This article aims to enlighten you with scary voice changers that sound demonic from different devices.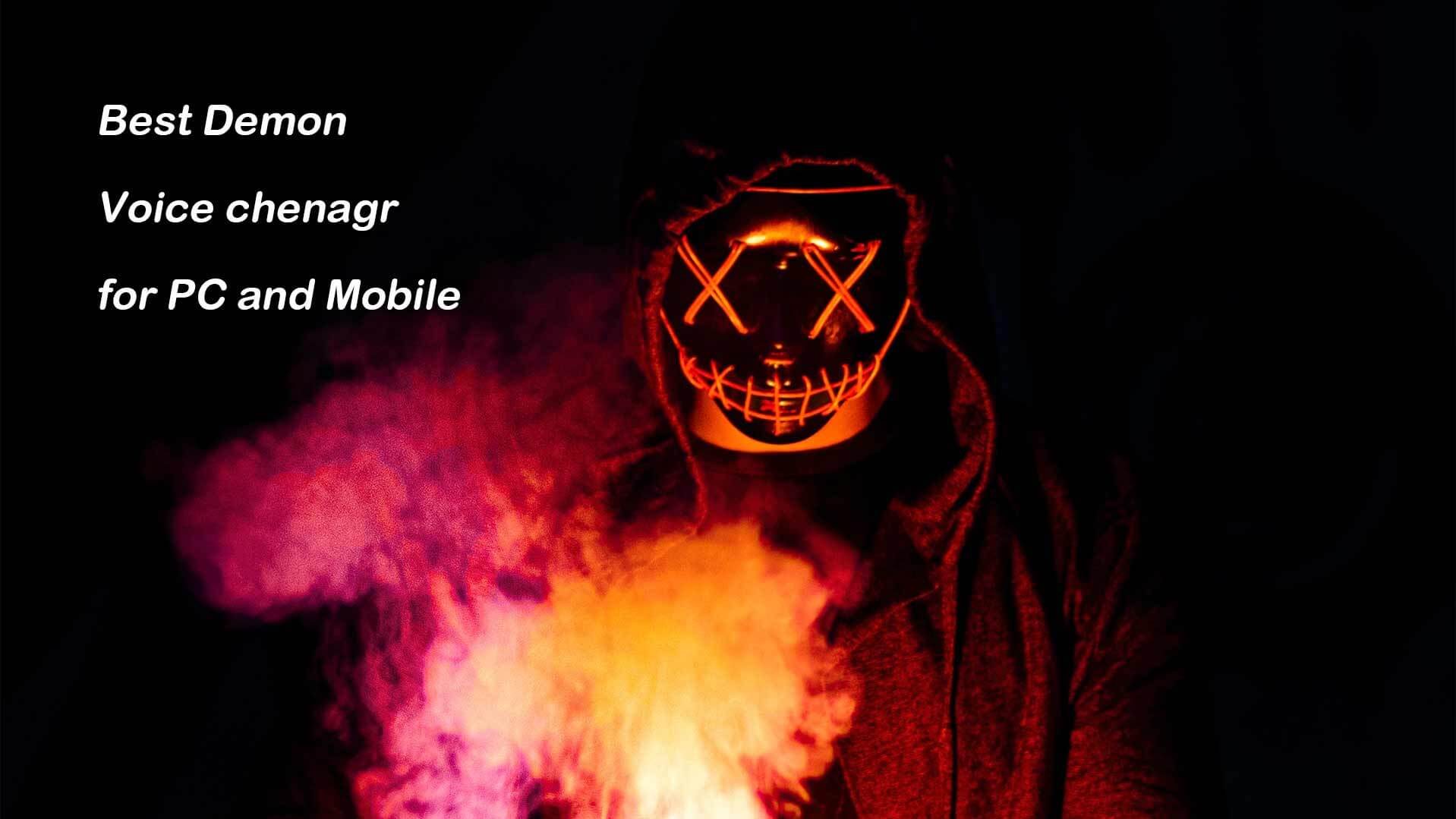 Part 1.

Best Demon Voice Changer for PC

Every platform and source has a different demand. Some software works seamlessly with PCs, while others are designed for mobile. We have mentioned the best demon voice changer to bring the terror game to the next level.

What lies beneath the facade of application is much more enjoyable. UnicTool MagicVox is a real-time voice effect that helps modify the recorded or real-time voice. The free version has much to offer but with limited voice modification options. You must buy a paid version to make it to all advanced features. This is the best demon voice changer that permits you to transform your voice into a ghost, robot, scream ,animal or any scary cartoon.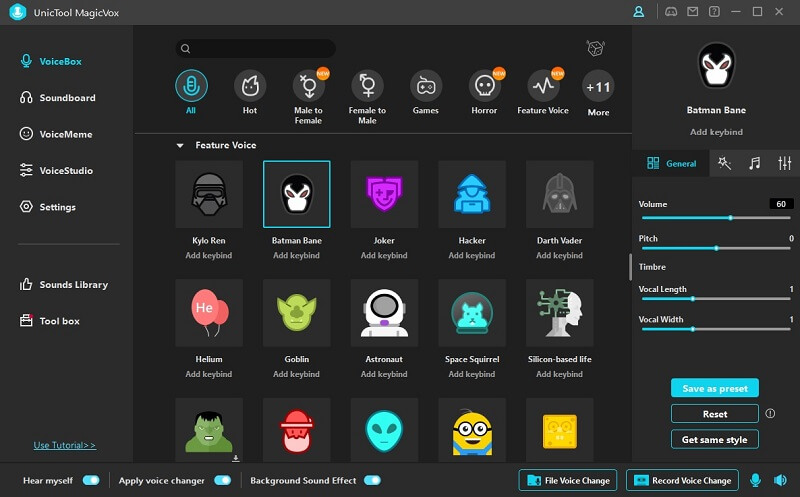 Rating: 4.6/5
User Experience: Users have found MagicVox a long-term top-tier due to the features, interface, and modest pricing. The accommodation of multiple valuable features quickly transforms the voice into a demon.
How to Enable UnicTool MagicVox to Personal Computer
Step 1: Download UnicTool MagicVox

Open the official website of UnicTool MagicVox. Click the "Download" button. The software will start downloading in .exe file format. Once it is downloaded, complete the installation by clicking the file and run the application on the computer.

Step 2: Configure Audio Devices

Navigate to the control panel to modify audio settings. Select microphone as input device and headphones as output by default.

Step 3: Set Voice Changer on Platform

Open game or any other platform where you want to change the voice. Navigate to 'Setting'—select input as Voice Changer Virtual audio Mode by default.

Step 4: Select Voice Effects

Select the desired voice effect from a vast library of preset sounds and be ready to prank the friend.

Step 5: Integrate it with online games like fortnight, PUBG etc. to prank your friends.
To prank and scare the friend with a demonic voice, you should try Voicemod. It is a real-time voice changer app that has the capability to convert a user's voice into a monster in live calls and gaming. This evil voice changer allows customization of the voice to create your monster with a sinister background sound.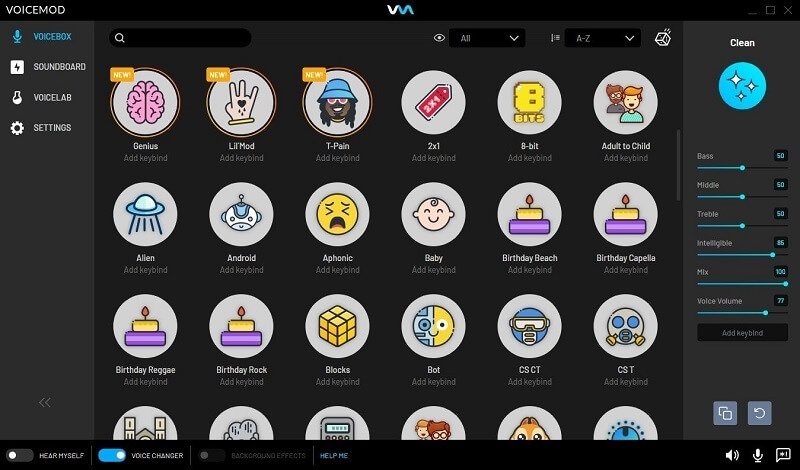 Key Features
Compatibility: The Voicemod is an excellent demon voice changer highly compatible with Android and Windows 7, 8, 8.1, 10, and 11. Download it anywhere and turn monsters anytime.
Voice Effects: Voicemod features a huge collection of 90 different voice filters to elevate the level of the pranking.
Modification: The user can make some adjustments in pitch, frequency and other variables to add flavor to the evil voice.
User-friendly interface: This demon voice changer is friendly to its customers. Instead of scaring, it adds to the ease of changing the voice.
Rating: 4.6/5
User Experience: Customers like this software due to multiple sinister voices and real-time features. It gives high performance with high-quality and distortion-free output.
Clownfish voice changer is a highly compatible demon voice changer that works well across various media platforms, including skype, discord, Viber, and different streaming applications.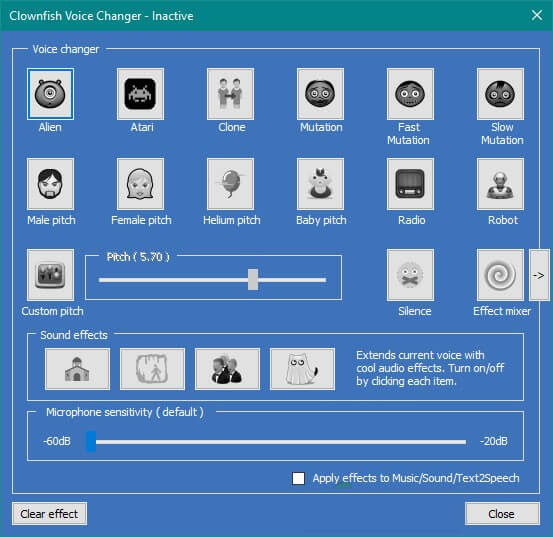 Key Features
Voice Assistant: The addition of a voice assistant feature in clownfish demon evil voice changer is outstanding to convert the text into speech, even in the demon voice.
Voice filters: Clownfish offers a wide range of demonic filters to make voice transformation convenient and a few clicks away.
Background music: If you want to enhance your sinister mood, Clownfish will help to do it. You can layer background music with the voice to make the scene gothic.
Rating: 4.5/5
User Experience: If some want to use the voice changer for pranking friends, try Clownfish. It offers good demonic filters.
Part 2.

Best Demonic Voice Changer Online

If you are looking for a free source to edit the recorded file and come up with demonic touch, VoiceChanger.io is the best practical choice. After changing the voice, you cannot share the file directly on the social media platform.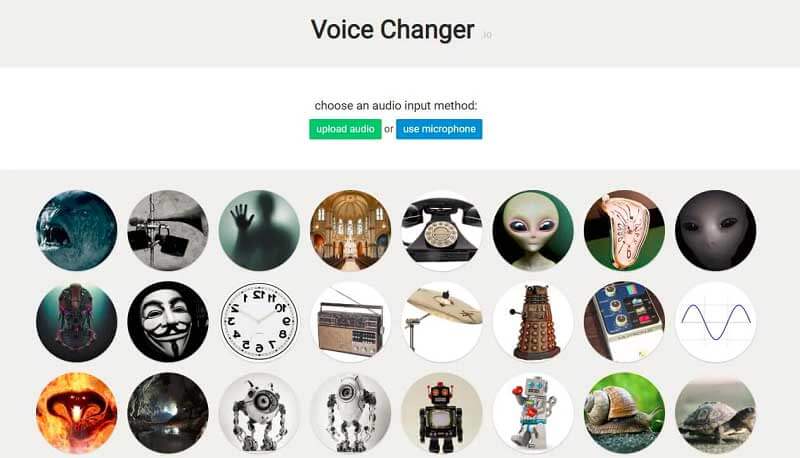 Key Features
Simple interface: This demon voice changer has a simple yet interactive interface. It helps perform the task efficiently and makes the process short and convenient for users.
Preset voice filters:io supports dozens of voices that allow you to transform the voice into a superhero and especially a villain or ghost.
Support all formats of audio: This application allows the user to record and upload the audio file of any format.
Rating: It has got 4.4 rating worldwide.
User Experience: Users find voice changer.io the best demon voice changer that works without downloading. It allows pulling the prank with the prerecorded voice instead of living calls. So, the users need to stick to voice chatting instead of live.
LingoJam is a strong demon voice changer. It is a free application that helps convert your human voice into evil voices. It is not a real-time voice changer. The user must upload the audio clip and set the voice according to need.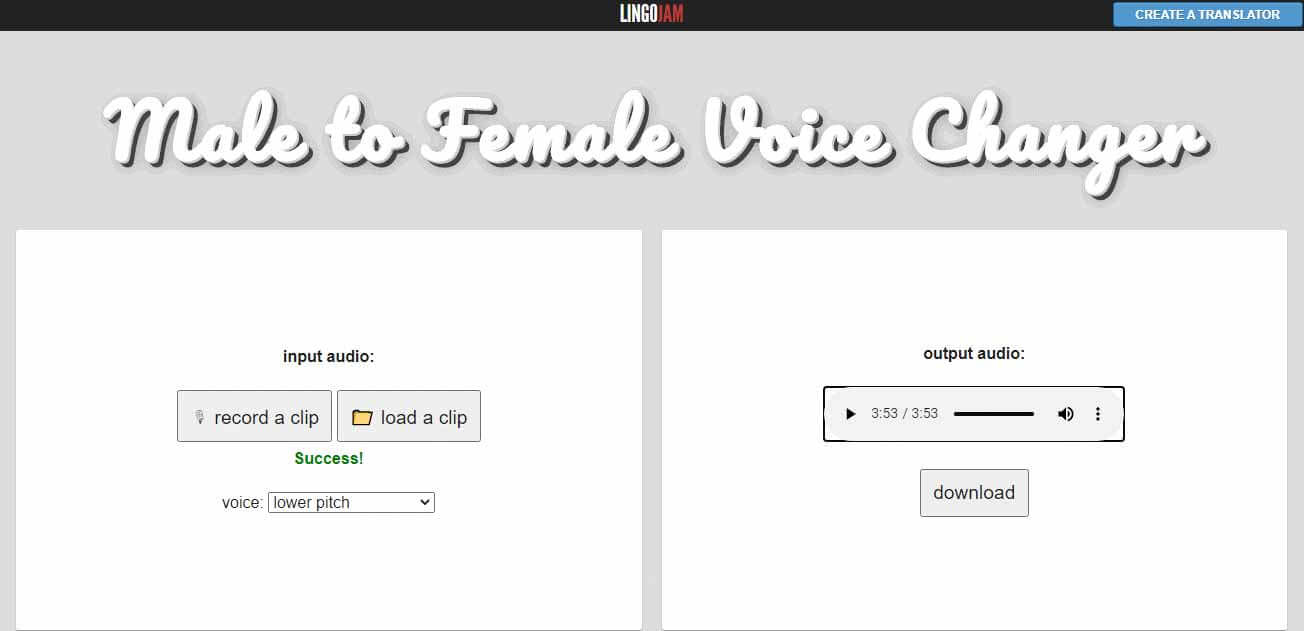 Key Features
User-friendly interface: The interface seems dull but fascinating. Two sections are available to upload and download. This Lingojam is easy and simple for beginners.
Support all format files: This voice-changing online application allows you to upload audio files of any format but does not have the choice of format for output.
Customization: Although Lingojam does not support complicated features, it modifies the pitch and frequency according to taste.
Rating: It has secured the rating of 4.5/5
User Experience: The addition of many features apart from demonic voice has impressed the users. In online voice-changing software, it is users' favorite choice.
Part 3.

Best Demon Voice Changer App

It is the best iPhone demon voice changer application that commits to helping the user create the high-quality and the finest sound recordings. With remarkable features, you can customize to create the scariest voices. It also modifies pre-existing filters to give desired effects; you can design a voice from scratch.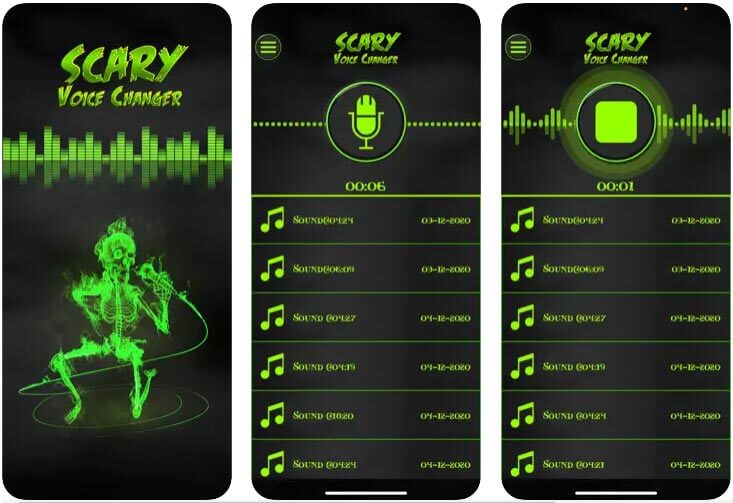 Layer the voice with wuthering breeze, pouring noises and other sinister effects to ideally make an environment.
Key Features
Huge library: It includes a wide range of built-in scary voice filters.
Customization: This scary voice changer allows you to edit and create scary content with a few taps.
Easy-to-use: The application is easy to use and simple. Add the voice of the scariest clown with a few taps.
Real-time voice Change: Change the voice in real-time to add a gothic touch to the game.
Rating: It has a little low rating due to ad problems. This application has received a 2.9 rating.
User Experience: Due to the versatility of the application and abundant features, users find this application so cool. However, excessive ads distort audio which is quite irritating.
Do be scared while playing with the freakiest voices. It is the best demon voice changer specially designed for android. Scary Voice Changer offers anyone a powerful sound that will frighten everyone to the soul.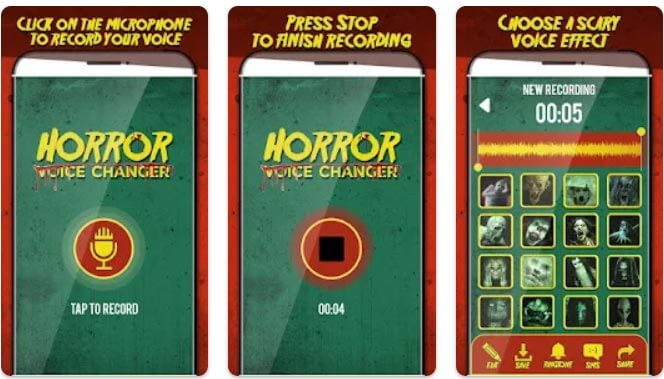 Key Features
Customization: A wonderful voice disguiser containing terrifying voices.
Audio facility: The application offers the best microphone sound converter.
Library of preset filters: You can keep the game on with existing filters with a few clicks.
Versatile audio generator: Not only for the game and pranking, but you can also generate the sounds for alarm and ringtones.
Rating: Overall, it is a fantastic voice converter, but it has received a 2.9 rating due to the lack of a recorded audio editing feature.
User Experience: Users find this app fantastic as it gives high-quality output with unique features, but different pop-ups become irritating after some time.
Conclusion
Selecting the voice changer depends on your needs. If you want to prank your friends through voice chat, the online application will be beneficial for you, but if you want to pull a prank live by demon voice changer, then you need full-fledged software.
UnicTool MagicVox is the best tool as it transforms the voice on the live call and changes the preexisting audio. With multiple remarkable features, the MagicVox will not disappoint you.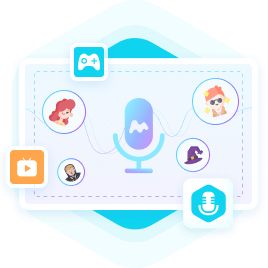 A Real-Time Voice Changer
Filter library: This voice changer offers more than 500 voice effects to make voice changing easy, wide and a few clicks away.
Modification: With your creativity, you can create your own demon. This evil voice changer allows you to try your own creativity by modifying and creating your voice.
Compatibility: UnicTool MagicVox is a highly compatible demon voice changer to serve almost all window software. It works without distortion and has high-quality output with Windows 7, 8, 8.1, and 10.