CS: GO provides an easy way for players to communicate with their friends over text or voice. But what if you could change your voice and prank your friends to make this team-based action play more enjoyable? Sounds amusing. Right? CS:GO Voice Changer helps you do exactly just that!
Want to play a trick on your friends? These fascinating voice changers will help you get a quirky effect on your voice. You can also get a girl voice changer for CS:GO and fool your friends with an attractive feminine voice. Dive in to explore more!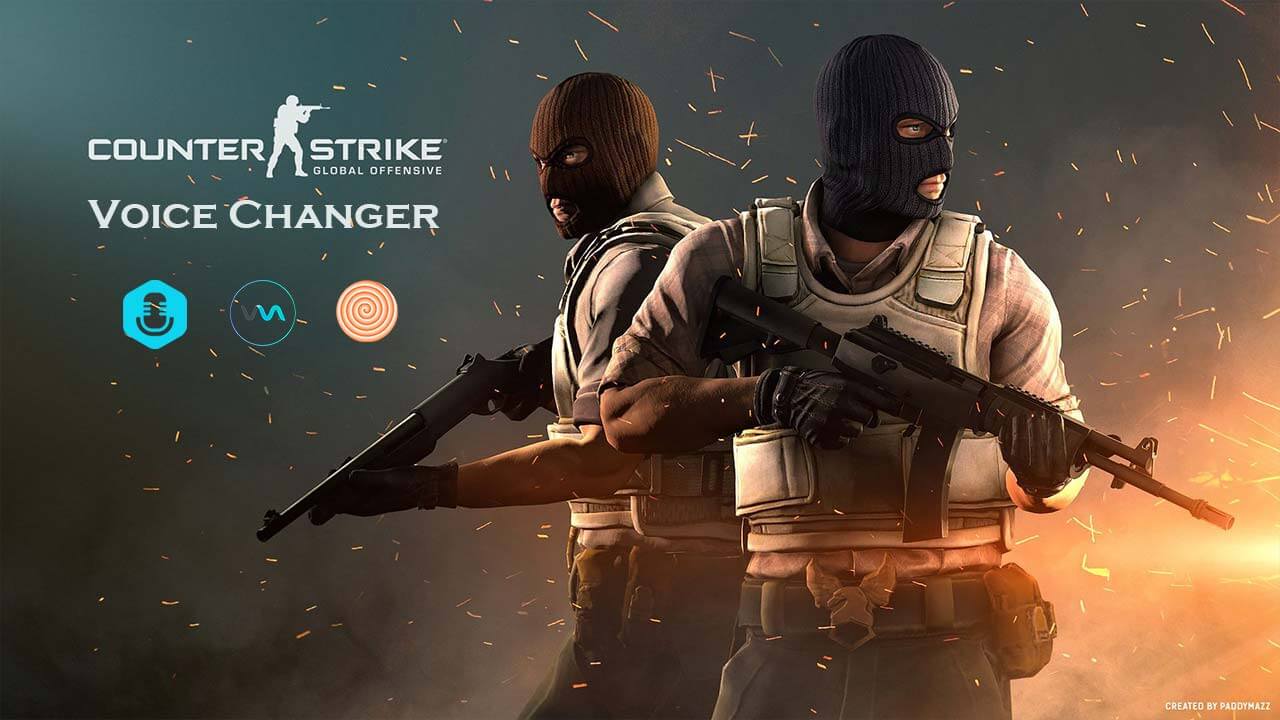 3 Best Voice Changer for CS: GO
MagicVox, VoiceMod, and Clownfish have made it to the top spots as the best CS:GO Voice Changers.
MagicVox is the top-tier CS:GO Voice Changer to add an interesting and unique dimension to your voice. Whether you want to sound like a robot, alien, chipmunk, or even a monster, this amusing voice-changer has got it all.
MagicVox lets you apply more than 120 filters to your voice in real time. Prank your friends with a custom voice as you defuse the bomb and give them a good fit of laughter. Not just that, you can even change your voice to sound like your favorite celebrity.
You can record your customized voice or add an effect to a saved audio file on your computer. With a premium version, you even get your personalized soundboard and voice studio.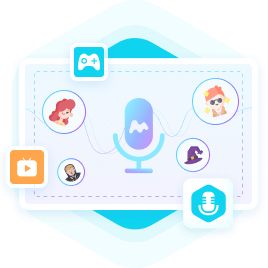 A Real-Time Voice Changer
You can record your customized voice or add an effect to an already recorded voice.
The voice filters have several background sounds, too, to make your voice sound more exciting.
You can adjust the voice filter to match your pitch, loudness, and timbre so that you can retain the originality of your voice.
This CS:GO Voice Changer has more than 300 sound effects in its library to make your voice more amusing.
You can customize your voice with the sound effects using the hotkeys without interrupting the game.
It also works as a girl voice changer for CS:GO and has several voice memes for Discord to prank your friends.
Pros
You can customize your own voice filter with your desired voice effects.
It works on multiple platforms, including Skype, Fortnite, Zoom, Grand Theft Auto, Stream Labs, etc.
Sound effects get updated weekly.
The software works on both Windows and Mac.
You don't have to prerecord, as MagicVox allows you to change your voice in real-time.
Cons
The free version has limited sound effects.
How to Use Voice Chaner on CS:GO
Step 1: Download the voice changer.
Step 2: Configure input and output device. From the setting, assign a microphone as input and headphones as an output.

Step 3: Launch CS:GO and go to the Audio Setting, set Voice Changer Virtual Audio Device (WDM) as default input device.

Step 4: Select the Baby voice effect. Or you can use the voice maker to custom a voice to fit your voice better.

Step 5: Record your audio or import the audio file to apply the voice effects and filters.
Voicemod is a versatile AI voice changer that lets you create the voice you desire. With Voicemod, you can turn your voice into your favorite character or modify your voice to sound like a cute chipmunk or a vile demon. It's a complete fun package for you and your friends. You can prank your friends on Halloween by getting a spooky effect on your voice.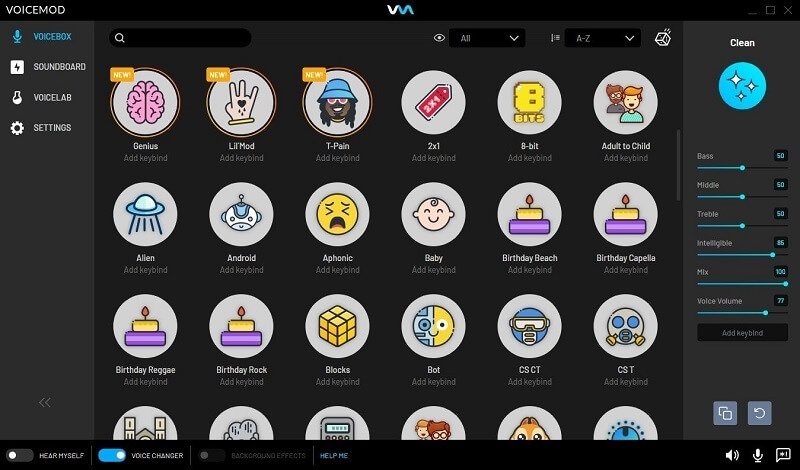 The Voicemod is a fun CS:GO voice changer that integrates seamlessly with every game you play. Gamecaster, TikTok Live Studio. Omegle, and Stream Deck, are some of the software with which you can use this amazing software. You can modify your voice during a live stream and create your own voice avatar.
Feature
Voicemod introduces new sounds every month that blend with the game seamlessly, making fascinating action play more interesting.
You can modify your voice to your liking while making TikTok videos and during Roblox voice chat.
It allows you to add an auto-tune effect to your voice so you can feel like a musical superstar.
The soundboard option enables you to play the sound at the perfect moment as you play your favorite game.
You can upload your own audio file to this software and edit it with your desired sound effect.
You can create your soundboard on Xbox, PS4, and PS5.
Pros
You can add sound effects and customize a voice according to your liking.
You get to create a new vocal identity and expand your creative boundaries.
You can edit your voice in real time and share it on various platforms.
The VoiceMod setup is seamless and takes no more than 5 minutes.
Cons
The voice effects are less as compared to other CS:GO Voice Changer.
Clownfish is a CS:GO Voice Changer that takes your gaming experience to the next level. This amazing tool can alter your voice on multiple platforms, including Skype, Viber, Hangouts, TeamSpeak, Discord, and many more.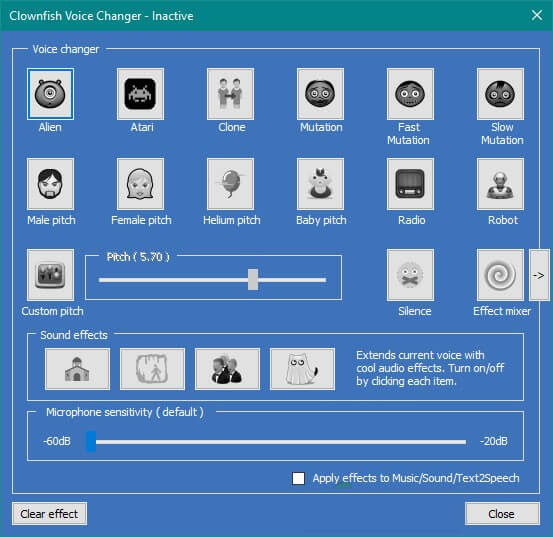 The software offers a range of voice effects, including clone, male pitch, robot, baby pitch, custom pitch, and funny helium pitch. It also works as a girl voice changer for CS:GO helping you create an impressive female voice.
Clownfish comes with a music player where you can control the audio and your playlist. The music player supports several media formats, so you won't have to deal with compatibility issues.
The sound player has lots of built-in sounds and management that help you adjust your sound according to your desire. It even comes with Virtual Studio Technology which lets you integrate effect plug-ins into the digital audio.
Feature
This CS:GO Voice Changer helps you customize your voice while playing your favorite game.
It has an intuitive interface to help you add the desired effect to your voice easily.
The installation of this voice changer is on the system level, which means your voice will be affected on every app that uses a microphone.
The tool is equipped with a Voice Assistant that can convert your text into speech.
Pros
It is compatible with Windows Vista.
It offers premium features without charging a fee.
Cons
The sound effects are limited as compared to other voice changers.
The user interface is not advanced.
Conclusion
You may have a single voice box physically, but virtually, you can have thousands of voices with the help of voice changers. A Voice changer helps you create the voice you are fond of. Want to sound like your favorite character or add a spooky effect to your voice? Magic Vox, the best CS:GO Voice Changer, has got you covered. Try this tool and prank your friends when gaming.