Hatsune has been a remarkable icon for anime and gaming for many years. People love to use her voice in real-time gaming or personal projects with a Hatsune Miku Voice Chnager, so why wouldn't they love her?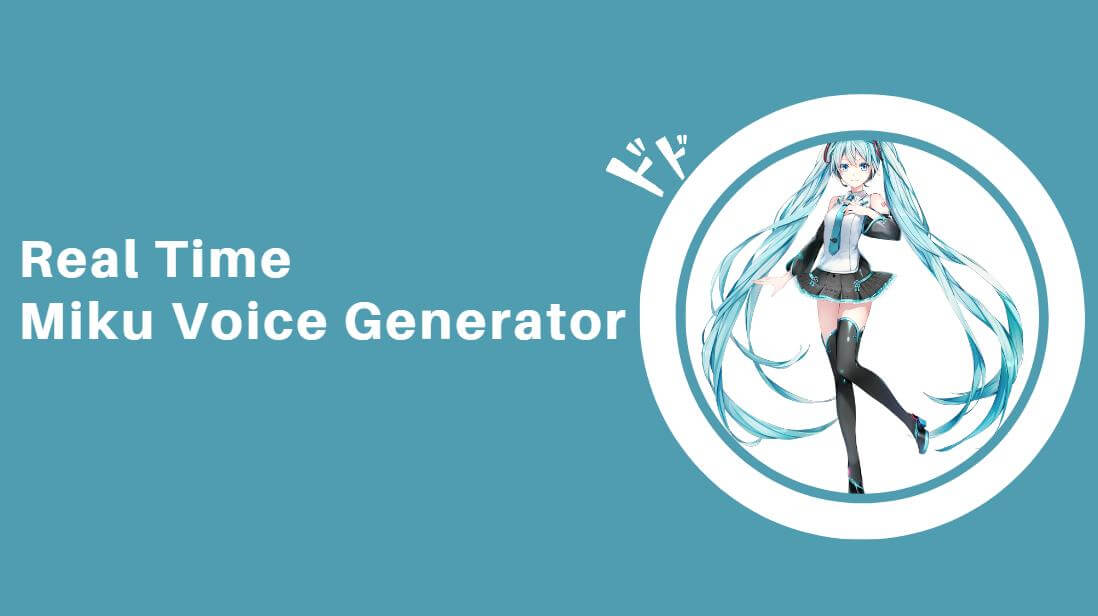 If you would love to play the Hatsune Miku voice in real-time gaming, you can generate her voice in a few minutes. You heard it right, as all you need to do is keep reading this insightful post to get your best miku voice generator.
Part 1.

Who is Miku Hatsune and Her Voice Actor

Hatsune Miku is a software bank known as Vocaloid generated by Cryogin Future Media. She is easily one of the best anime characters going around.

Her name contains the 3 Japanese words with hatsu meaning first, Miku meaning future, and ne meaning sound. If you combine all these words, it becomes "the first sound of the future." She is pretty soothing and attractive; many people love to use her voice in online gaming, chatting, platforms, and various videos.
Part 2.

Best 5 Miku Voice Generator for Real-Time Voice Change

New extraordinary voice changers offer you the ability to make your voice sound like Hatsune Miku, a famous Vocaloid. With 400+ voice filters and tons of immaculate sound effects, MagicVox has been a remarkable Miku AI Voice Changer.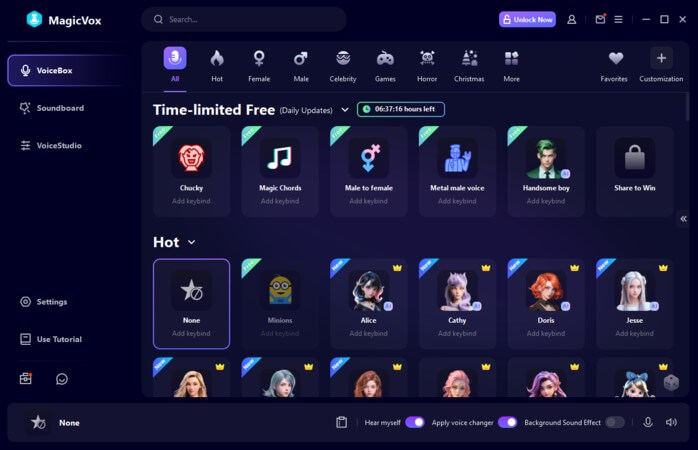 Secure Download

Secure Download
Key features:

Real-Time Transformation: Instantly change your voice into Hatsune Miku's in real time.

Customizable Keybinds:
Easily switch between different voices with just a single click using customizable keybindings.

Wide Range of Anime Girl Voices: Choose from a diverse collection of anime girl voices, including gentle, cold, and loli voices.

600+ Sound Effects: Enhance your experience with an extensive library of sound effects imitating anime character memes, environments, animals, and more.

Compatibility: Use the voice changer on popular platforms like Discord, Skype, Zoom, gaming platforms, and streaming channels.

Voice Studio Function: Customize and fine-tune your voice with the Voice Studio function for a truly personalized experience.

Voice Changing for Records and Audio Files: Apply voice modulation not only for real-time interactions but also for recorded voice and audio files.
Pros
Authentic Miku Voice: Capture the true essence of Miku's iconic voice, adding a touch of anime charm to your interactions and content.
Live and Recorded Usage: Whether for live streaming or recording content, MagicVox Miku Voice Changer adapts seamlessly, enhancing various creative endeavors.
Personalized Adjustment: Fine-tune the pitch, speed, and other parameters of Miku's voice to match your unique preferences and needs, allowing for a personalized touch.
Wide Range of Effects: Enjoy a diverse selection of voice filters and effects to create custom variations of Miku's voice, adding versatility to your content.
Cons
Not supported on mobile devices.
Using this excellent voice changer, you can effortlessly convert your voice into Hatsune Miku's voice, and no one will notice it.
OS: Windows and Mac
User Rate: 4.9
Price: monthly 8.95$, quartly: 12.95$
Clownfish could be a brilliant Miku voice changer that offers versatile voice filters and sound effects. You can use it with Hangouts, Steam, Viber, Discord, and other gaming and chatting apps.
In real-time, you can integrate Clownfish voice changer with all the online platforms to apply the voice effects, including Robot or Alien. Moreover, Clownfish Voice Changer also comes up with sound players and music players, allowing you to organize the audio and add any sound effects you'd like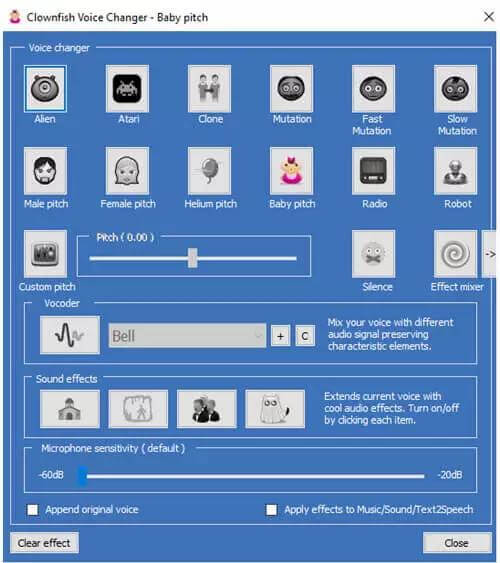 OS: Windows
Features
Allows you to make your voice sound like Hatsune Miku Voice
It helps you sync with the console of online platforms in real time.
Comes up with the simple user interface
From the baby pitch, robot, gender, mutation, etc.., it offers various sound parameters.
Pros
Supports the Vst plugin
Easy to use
Serves you as a background music player
Audio control and sound player features
Cons
Limited functions
Only 14 voices
Price:Free
When generating a voice like Vocaloid, you need to consider whether the audio is flawless, as some voice changers come up with pretty poor sound. However, you won't find such inconvenience and disturbance when using the iMyFone MagicMic.
It is a superbly talented voice changer that will customize your voice in real-time unbelievably, making it sound like Vocaloid voicebanks. From helping you to explore professional features to coming up with an effortless user interface, MagicMic has genuinely been a significant Vocaloid voice changer.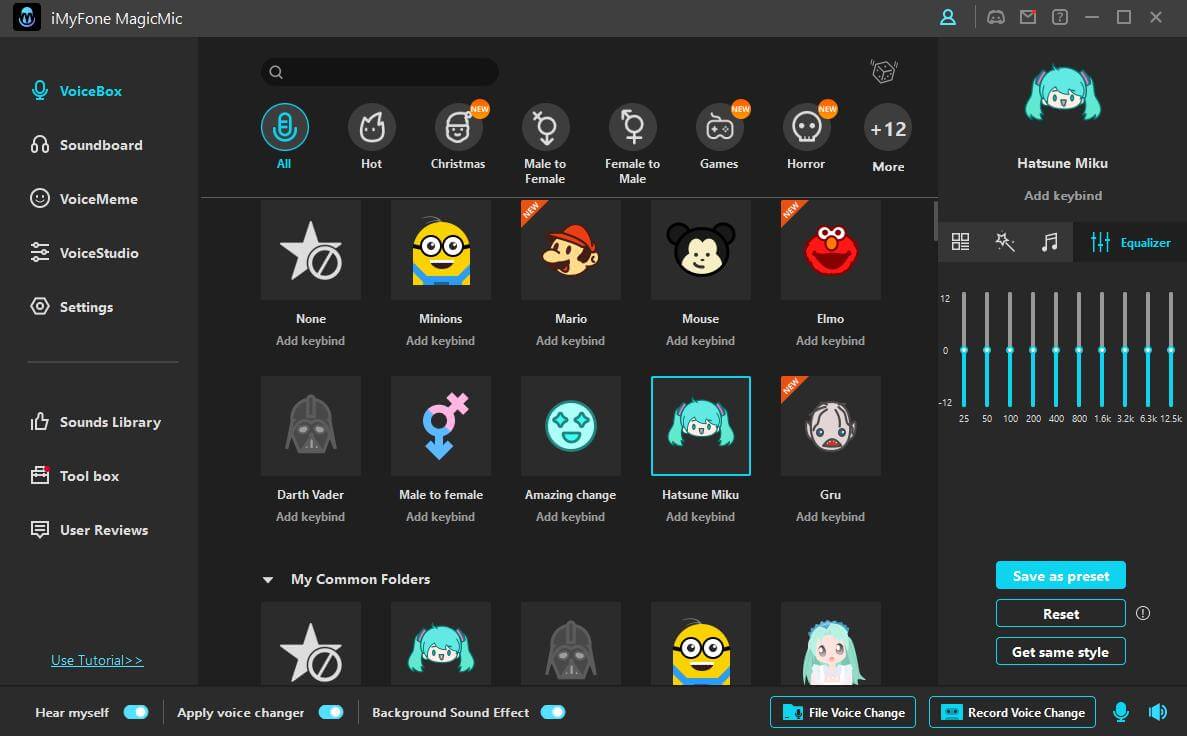 OS:Mac, Windows, iPhone, and Android
Features
Allows you to customize the voice via the Voice Studio feature
Increase or decrease the pitch of your voice.
Adjust the voice parameters.
Control the sound effects' playback via Hotkeys.
Noise reduction helps you enhance the echo and noise
Change your voice in real-time on various online platforms
Pros
Comes up with the simple user interface
Allows you to explore the 150+ voice memes and 400+ voice effects
Use it as a sound emulator directly in games and other applications
Supports the audio file voice change and voice recording
User rate:4.9
Price:$39.99
When producing a voice like Hatsune Miku's voice actor, the Miku voice generator should be good enough to customize the voice filters accurately. Voicemod has all the credentials you must have been looking for in a voice changer.
Using this terrific tool, you can change your voice in real time, and it also empowers you to record the audio and apply any sound effects.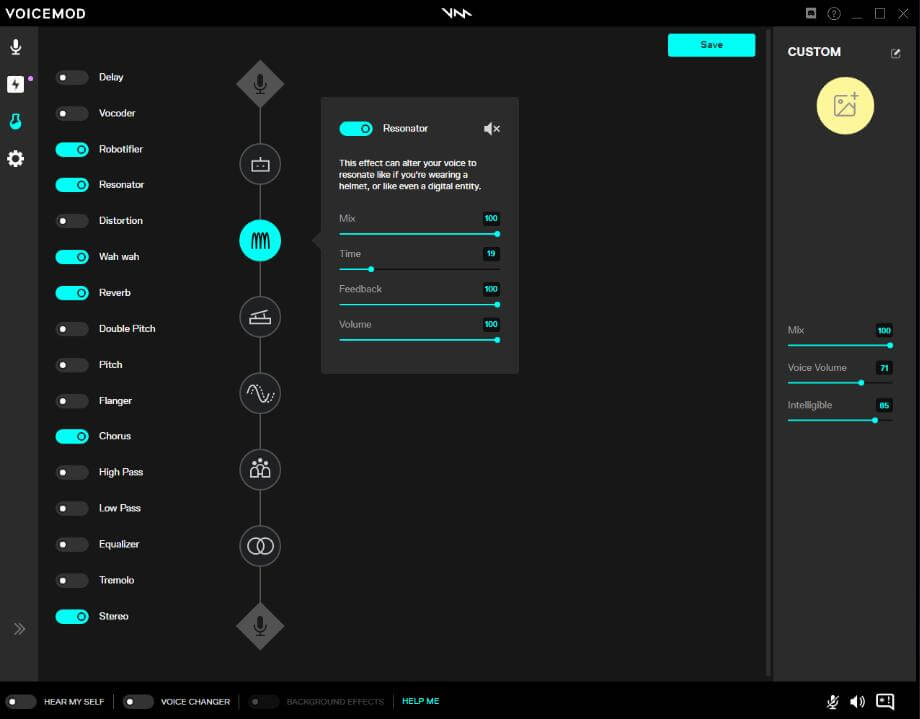 OS:Windows
Features
It makes your voice sound like a robot, a woman's voice, etc.
It also works wonderfully for online chatting and games and syncs brilliantly with third-party streaming devices
Allows you to import funny and exciting sounds in WAV or MP3 format
You can edit the audio in a terrific manner courtesy of the customization feature
Pros
Easy to use
Allows you to add your favorite sound effect
Cons
It might force you to install some apps and games when using it
User Rate:4
Price:$59
You can try out various options to generate the Hatsune Miku voice, but checking out the VoxMaker will make your job more accessible than you think. VoxMaker is a text-to-speech tool that easily converts written text into Hatsune Miku AI voice. It allows you to generate announcements, messages, or audio clips in the voice of Hatsune Miku.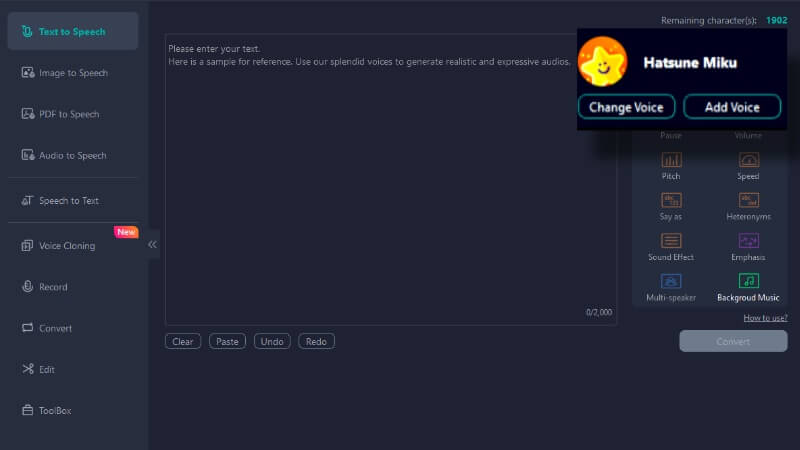 OS:Windows
Features
It comes up with 3200 voices to select from
Offers the simple user interface
Use the 46 different languages for text to speech
Allows you to use the output and input formats, including WAV and MP3
Pros
Allows you to generate exceptional voiceovers and audios with minimal effort
Easy to use
Allows you to edit the audio
Cons
It doesn't come up with mobile versions
Mac version coming soon
User rate: 4.9
Price:$79.95 Life Time

VoxMaker Miku Voice Generator
Any Voice You Desire is Right Here.
Part 3.

Funny Ideas with Miku Voice Generator

You must be looking to make your audience in Twitch live streaming engaged all the time. Playing the Hatsune Miku voice frequently during the Twitch live stream can help you serve your purpose.

If you're having an exciting conversation with your friend on Discord and intend to take the fun to the next level, using the Miku Voice generator to change your voice will be icing on the cake.

We all love pranking our classmates and teachers in online calls. Thus, if it is your teacher's birthday and she loves listening to Hatsune Miku's voice, making her listen to Miku's will be a great birthday gift.

You'd have wanted to create engaging and creative video content for social media platforms. Adding the Hatsune Miku in the background will surely enhance the reputation of your video.
Part 4.

FAQs about Hatsune Miku AI Voice
What is Hatsune Miku AI Voice?
Hatsune Miku AI Voice is an artificial intelligence-driven technology that allows users to generate and replicate the iconic vocal style of Hatsune Miku, a virtual singing sensation and vocaloid character.
How does Hatsune Miku AI Voice work?
Hatsune Miku AI Voice utilizes advanced machine learning algorithms to analyze and emulate Miku's unique singing patterns, tone, and expression. It generates synthesized singing that closely resembles her distinct vocal characteristics.
Can I create my own songs using Hatsune Miku AI Voice?
Absolutely! With Hatsune Miku AI Voice, you can compose and create your own original songs in Miku's signature voice. This technology empowers musicians and creators to produce music with a Miku-esque twist.
Is Hatsune Miku AI Voice customizable?
Yes, many Hatsune Miku AI Voice platforms offer customization options. Users can adjust parameters like pitch, speed, and expression to tailor the AI-generated singing to their preferences, adding a personal touch to their creations.
Where can I use Hatsune Miku AI Voice?
Hatsune Miku AI Voice can be used in various creative projects, including music production, content creation, fan covers, animations, and more. It opens up exciting possibilities for Miku enthusiasts and artists to incorporate her iconic voice into their work.
Conclusion
Miku Hatsune is a brilliant voice actor that has won the hearts of millions of people around the globe. You can look at the Miku voice generators we've mentioned to replicate the voice of Miku.
For some genuine reasons, we recommend the MagicVox as the best AI Miku voice changer as it customizes your voice better than all other tools despite coming up with a simple user interface.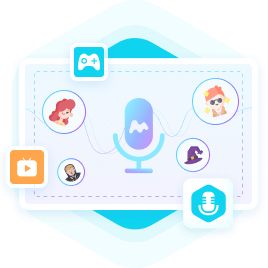 The Best Miku AI Voice Changer
Instantly change your voice: you can easily change your voice into different characters using pre-set voice filters with one click.
Real-Time voice changer: you can instantly change the voice during live calls, gaming, or streaming with ease.
Excellent soundboard: More than 400 sound effects make the chat and live stream euphoric. Use the hotkeys to control playback, stop, cycle, and replay sound effects without interruption while chatting.