Voice rendering and imitating technology have been around for a while and have undergone several astonishing and valuable changes.
AI voice changer tools can help you to generate text-to-speech or change voice real time. If you are looking for the best AI voice generator, this article will definitely help you.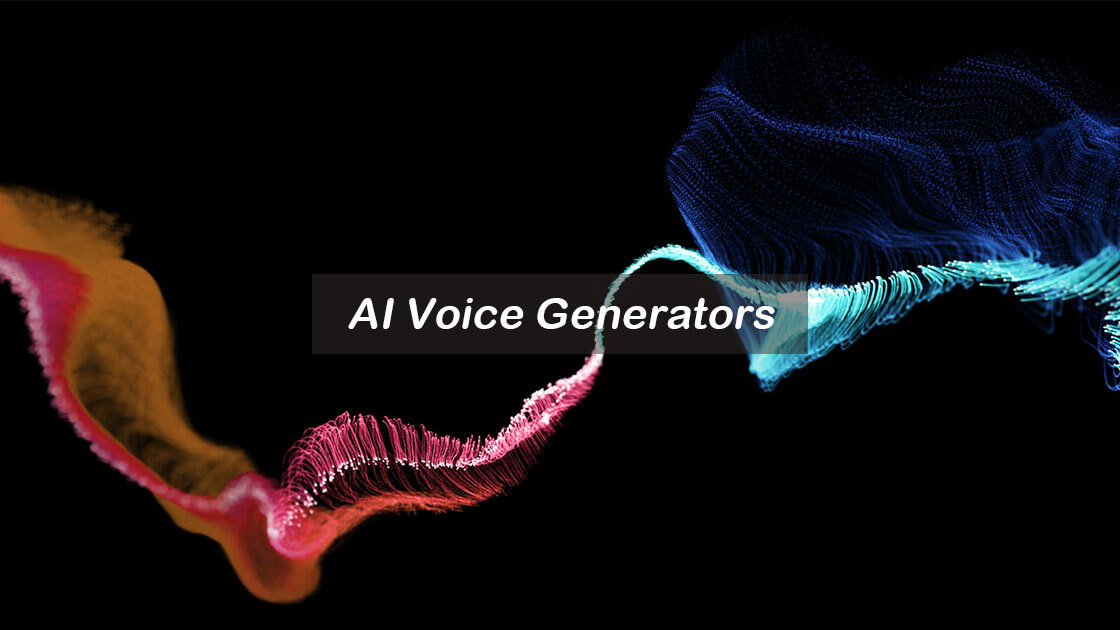 Part 1.

Best AI Voice Changer for PC

AI voice generator tools are not limited to websites and the internet. You can download these voice changers to your PC for offline use.

MagicVox is one of the best real-time AI voice generators. It occupies minimal space in the computer while featuring multiple valuable features to render voice. It is ideal for content creators, podcasters, and professional campaigns.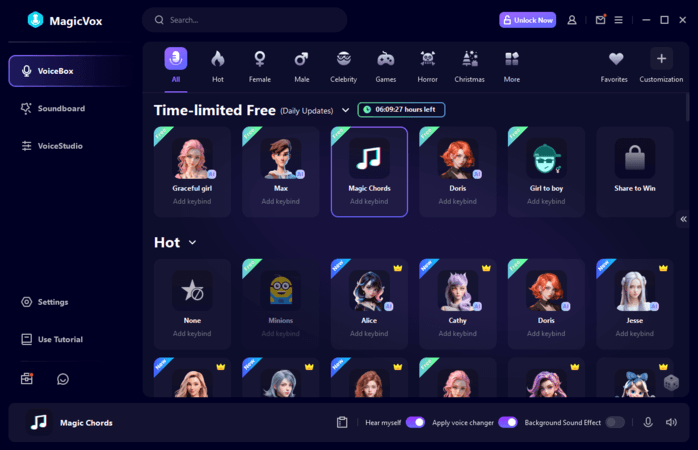 Pros
Easy-to-use and fashion interface.
Allows customization to generate unique voice.
It offers you 100+ voice changing effects and 500+ sound effects and voice memes.
It works on both Mac and Windows systems.
Cons
Limited features in the free version.
How to Use AI Voice Changer on PC
Step 1: Go to the web and download UnicTool MagicVox from UnicTool's official website. When downloaded, install it on your PC.
Step 2: Configure your microphone and headphone as the default input and output device.

Step 3: Go to the platform you want to play- Click Audio settings and select MagicVox as your default audio device.
Step 4: Now the MagicVox app on your PC separately and select any voice to sound like AI. Select the same voice from keybinds, your voice will be changed.

Step 5: You can also get a custom voice by navigating to VoiceStudio. Here, you will have to adjust the custom setting to sound like a deep Robot, like Pitch Shifter, Reverb, Tremolo, Distortion, etc., to get the voice like Stormtrooper.
Voildol2 is an exclusive addition to the popular AI real-time voice generator. This powerful software constantly updates and adds more features such as synth mode. Voildol2 is ideal for business professionals and content creators who need to auto-tune voice.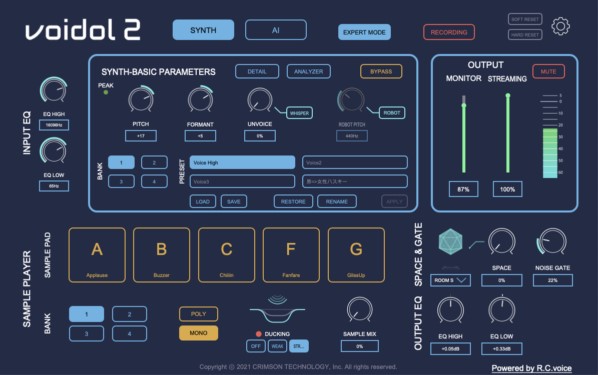 Key Features
Voildol2 is offered to convert text to speech with a few clicks, and the characters that convert your voice of specified characters are present in the collection.
Synth is the vocoder-based voice changer system facilitating you to change your voice as you wish with low latency.
It opens the door to customization. You can freely set the pitch and make other changes to generate distinct voices by adjusting multiple parameters.
Highly compatible software conveniently contacts other software due to high compatibility.
It supports many different input and output formats of the audio files. It allows sending edited files directly to other streaming software.
Pros
Innovative interface with distinct features.
High-compatibility improves accessibility.
Sample player to test editing.
Affordable tool.
Cons
It still requires improvement in library and efficiency.
If you have been a part of the voice alteration industry, it is impossible not to come across Voicemod. It is a popular real-time AI voice generator that transforms the voice into Morgan Freeman and other famous characters. It is ideal for content creators and pranksters because it unleashes a new world of creativity in voice modulation.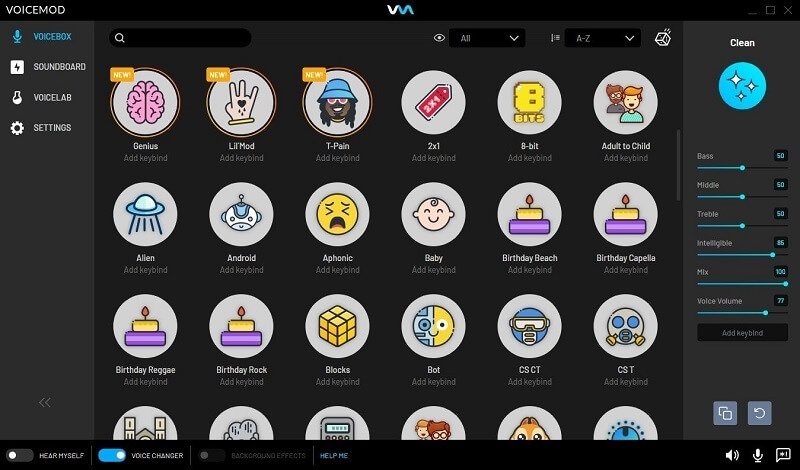 Key Features
Voicemod is highly compatible software, primarily available in Windows 7, 8, 8.1, 10, and 11.
It is an advanced voice changer with 200+ voice filters and a wide range of background voice effects for instant voice change.
The addition of a soundboard allows the user to add their touch of creativity and customize to generate a unique voice.
This voice cloning tool receives audio and written input and generates speech in desired voice.
Pros
Highly compatible and works on different platforms.
Alters the voice in real-time.
The intuitive interface makes it eligible for beginners
You can upload your own sound effects.
Cons
It takes time to install since it is a huge piece of software.
Part 2.

Best AI Voice Generator Text to Speech Online

In this era of artificial intelligence, you can imitate any imaginable voice, which has become a simple process. Consider this text-to-speech online voice changer to render voice in seconds.

Uberduck is a synthetic speech generator that produces voiceovers for e-learning, podcast, and audiobooks. It best suits digital marketing, product managers, content creators, etc. This tool allows you to create and edit voiceover in minimal time.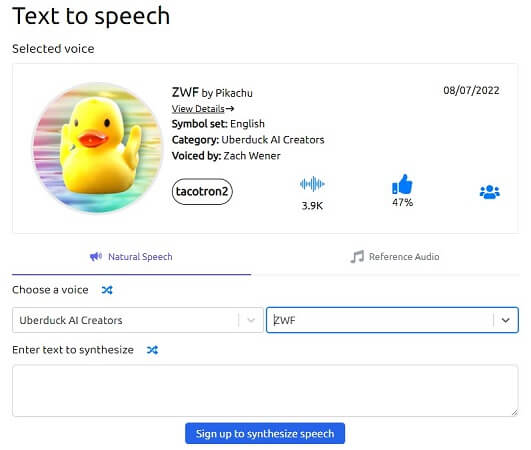 Key Features
It allows you to curate digital voices without voiceover experiences, certification, or experience.
Content creators should be happy as it is designed to edit and generate voiceovers easily.
Uberduck supports text and audio-based input to make editing easy and accessible for everyone.
This powerful tool offers a huge library of voices in different languages.
Pros
Intuitive interface.
Allows multi-language support.
Fast processing.
Innovative editing.
Cons
May cause occasional technical issues.
Play.ht is an online AI voice generator offering the essential tools to produce outstanding and natural voice content. This text-to-speech voice changer is well-known due to the constant updates.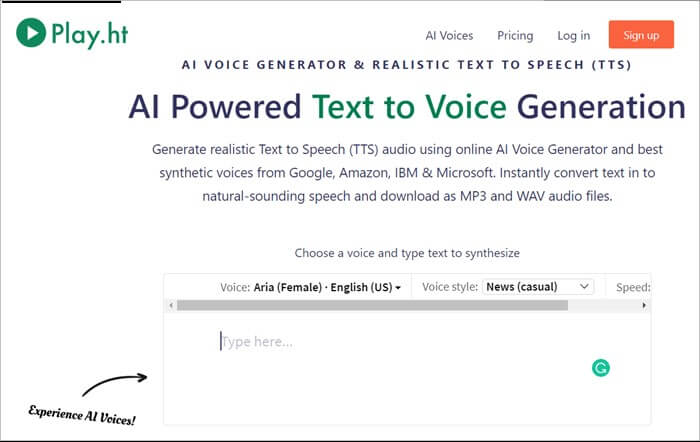 Key Features
Play.ht contains 600 unique AI voices and supports up to 60 languages which you can employ for personal, professional, or commercial purposes.
The interface features a text box wherein you can type or paste any text and select the language, voice, and tone to complete the job.
The preview feature allows rechecking small chunks of text before converting them into the audio file.
It is powered by a state-of-the-art AT algorithm for high accuracy by IBM and Microsoft.
Pros
Easy to use and attractive interface.
It offers a whole bunch of great voices.
Voice customization is allowed.
Easy drag and drop timeline.
Cons
No video and image pairing option with the voiceovers.
Murf.AI is a multifunctional AI voice generator that offers you studio-quality voiceovers. It enables anyone to convert text to speech, dictation, and voiceovers for professional podcasts. Murf is especially useful for educators and product developers. Podcasters, educators, and those who belong to the business world.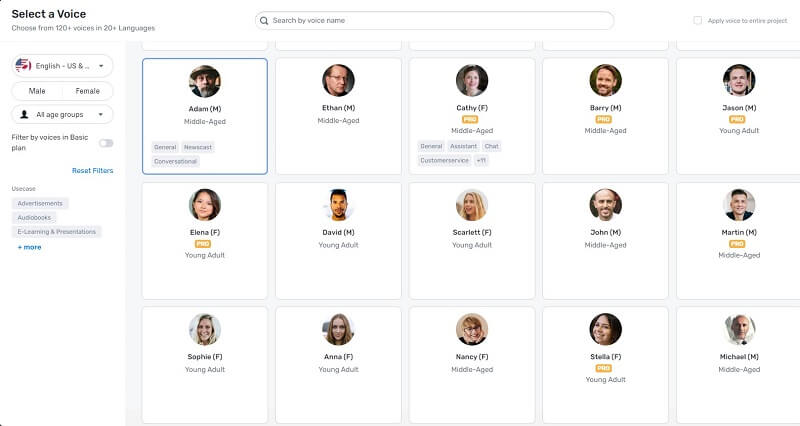 Key Features
Murf features 100+ unique voices and supports around 20 languages. It provides you with a prepared range of voice to get the job done in seconds.
This versatile AI voice changer is based on a state-of-the-art AI algorithm that allows speech regeneration in the right tone and picks up on every exclamation and punctuation you need.
The tool facilitates you to upload audio, video, and images for seamless synchronization with your customized voice. In Murf, you get amazing collaboration features with its enterprise plan.
Above all, Murf features grammar assistance allowing you to produce a grammatical-error-free script. It leads to improved voiceover for the audience.
Pros
A huge library of voices.
Full customization on the voices.
Strong data protection system.
Additional effects.
Features google-slides add-on.
Cons
Limited option for background music.
Part 3.

Best AI Voice Changer App

Now with these astonishing AI voice text-to-speech modulators, you can also download the application on a mobile phone for offline use.

In case you want to sound like your favorite movie star, then AI voice changer funny voices are the best choice you can make. Apart from the standard set of options, the application allows you to add new voices as the addition of machine learning technology can imitate anyone's voice.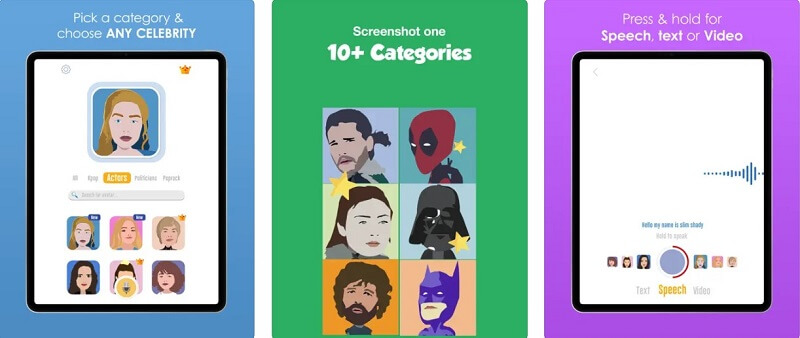 Key Features
It offers a huge voice filter library to sound like your favorite celebrity or character and prank your friends.
Voice changer supports multiple inputs such as text and audio. Upload the file and generate an acceptable speech in your favorite character's sound.
This powerful voice changer application lets you record your voice and make others sound like you. Now no need to record speech. Hire a person and get your work done.
Pros
Enjoy easy use and intuitive interface.
It offers a huge selection of filters.
Excellent impression of celebrities.
The application generates video files adjusted to the audience on social media.
Cons
The application algorithm has huge space for improvement.
Impersonating your favorite celebrity can be a fun way to fool your friend. Voicer features a broad selection of celebrity voices, and the addition of machine learning technology helps generate different famous and experimented characters.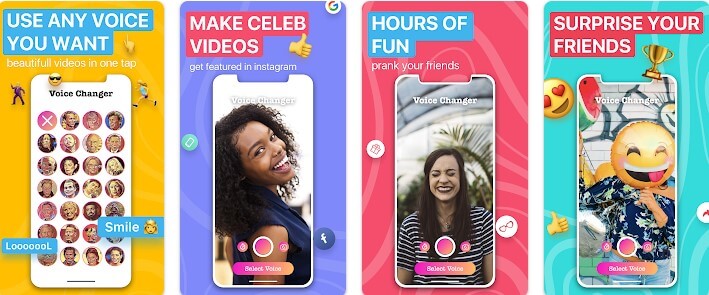 Key Features
This versatile application is equipped with machine learning technology to identify and generate speech accurately.
Voicer offers a huge preset library of celebrity and character voices to turn your voice into a famous person's voice with a few taps. Get ready to prank your friends.
It allows some customization to add your touch of creativity.
The versatile and multifunctional ai voice changer allows multiple free features for easy voice modulation.
It supports audio and text input to produce error-free fine speech.
Pros
Equipped with functional machine learning technology.
It offers a wide range of celebrities and avatar's voice.
It has a quick voice alteration process.
Beginner friendly interface.
Cons
Some people find it exceptionally expensive.
The Bottom Line
The days of AI voice generators only being used for entertainment are long gone. With the evolution of technology, the role of generators has also changed and has stepped into commercial purpose. The integration of AI and other helpful software has made these useful tools accessible to everyone.
You need the best AI voice generator if you are willing to prank your friend by impersonating a celebrity or producing a campaign with different videos. For this purpose, we consider MagicVox AI voice changer the best voice changer. It is an amalgamation of useful features to turn text into speech and sound like celebrities or other funny characters.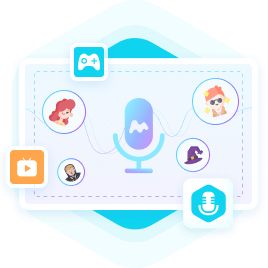 A Real-Time Voice Changer
It supports 100+ distinct voice filters and different languages to generate realistic people from different parts of the world.
The addition of around 200 voice effects optimizes the speech and enhances the feel by adding background voices.
MagicVox supports multiple formats such as MP3 or WAV audio files to import and enhance the library.
Allows customization of voice by altering various sound parameters. It provides a chance to generate beautiful and unique voices.