Content creators have become very creative nowadays, looking for new ways to entertain their audiences. From mimicking the politicians to celebrities, it can be very entertaining to sound like a celebrity and create relatable content.
However, only a few people are gifted to closely mimic the accent and voice of a person. Therefore, whether you are a content creator or someone looking to have fun by sounding like a celebrity, you will need an authentic celebrity voice changer.
Celebrity Voice Changer App is something that we are going to review. We will also guide you on how to change your voice to a famous celebrity, whether it's Donald Trump or Grim Reaper.
Part 1.

Celebrity Voice Changer App Full Review

Celebrity Voice Changer is a free online voice changer powered by AI technology. It uses deep learning technology to mimic different celebrities' accents, pitch, and depth of voice. It takes no time for the celebrity voice changer to change your voice tone and replace it with a celebrity's voice tone. The application is available for both Apple Phone users and Android users.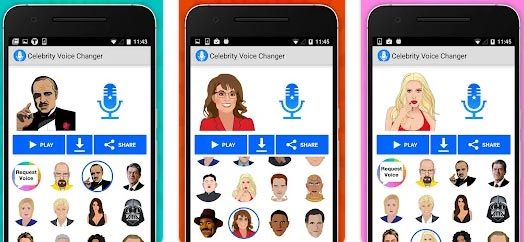 Key Features
Choose from the voices of 100+ Celebrities(they're always updating and adding more celebrities)
High voice quality without making it sound like fake or robotic
Powered by AI and Deep Technology
Real-time voice changing
You can share your recorded content directly on social media networks
App User Interface
If we talk about the Celebrity Voice Changer app's user interface, it's not very complicated. The design has been kept simple and clean for users to enjoy voice changing experience without any assistance. You don't have to worry about how to change your voice.
Why?
As soon as you land in the application, you're guided at every step with a popup guide.
Usability
When you start using the Celebrity Voice Changer, the first impression is that it is a clean and straightforward app for all types of user groups. However, after experiencing the voice changing and accuracy, the app's usability is mostly for the content creators.
Without struggling to replicate the accent of celebrities, politicians, and public figures, content creators can quickly install the app and create content on the go. The scope of Celebrity Voice Changer has increased due to short content creation apps like TikTok, Likee, etc.
User Experience
The overall experience of using the app was great. With 100+ celebrities at the moment, you don't feel like anything is missing. However, the best thing about the app is that if you're not able to find a celebrity's voice, you can ask for it. Whether you want Chris Hemsworth or Joe Biden, if it's already not there, you can ask, and it will be added to the list of celebrities, later or sooner.
The overall experience of voice changing was also very smooth, and the voice was generated within seconds of recording. Once you're satisfied with the mimicked voice, you can apply it wherever you want.
Part 2.

How to Use Celebrity Voice Changer Step by Step

Let's get into the step-by-step guide to using Celebrity Voice Changer.
Step 1: Installation
Install the application from Apple Play Store or Google Play Store according to your device.
Step 2: Choose A Celebrity
Launch the application, and you will see a user interface with avatars and names of different celebrities made available for voice changing. You can choose any of the given celebrities.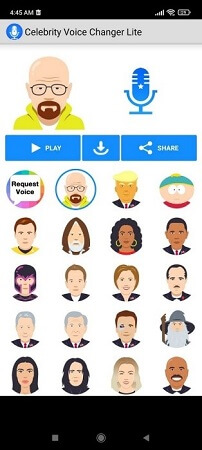 Step 3: Record Your Voice
Once selected a celebrity, use your rear or back camera to record the voice before converting it. Press and hold the button with the microphone button and start speaking.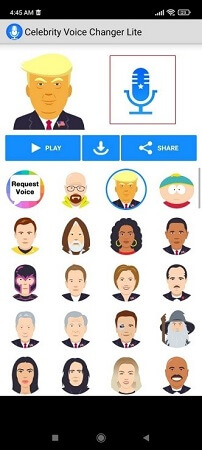 Step 4: Convert & Save
Once recorded, release the recording button. Hit the play button, and it will take a few seconds to process. After processed, the modified celebrity voice can be heard. You can save the voice for later use or directly share it with your friends if satisfied.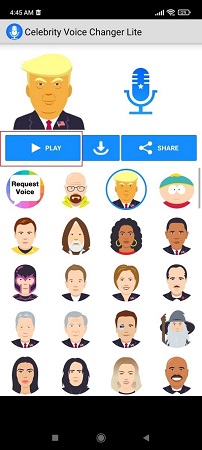 Part 3.

More Celebrity Voice Changer App
1.

Voicer Celebrity Voice Changer

Calling it an entertainment bag won't be wrong, as Voicer Celebrity Voice Changer is also an AI-based voice changer for entertainment purposes. The app is perfect whether you want to add mimicked audios to videos or create new voices with celebrities' voices.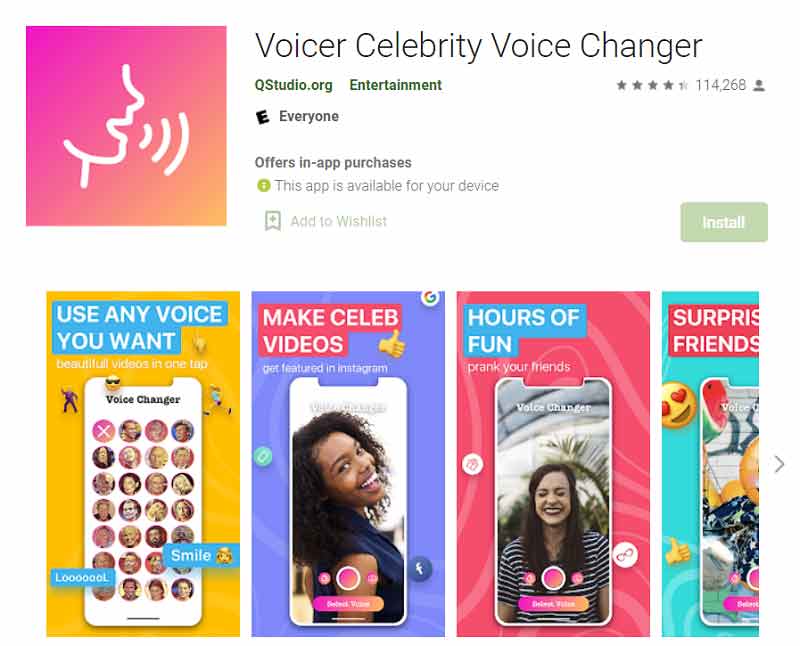 The most enticing features of Voicer are as follows:
AI technology for voice changing
Convert audio into video clips with the voice changer
Apply different voice effects to your recorded voices
Directly share the recorded and converted voices with friends
Supported OS: It's available for iOS and Android users
User Experience
The overall user experience of Voicer Celebrity Voice changer is smooth and okay. However, there is a lack of several options in the app's free version. You must pay a monthly cost if you want more celebrity voices. We hope they will enhance the app's usability by adding more celebrities in the future.
2.

Famous voice changer & sound effects

Famous Voice Changer and Sound Effects is also a celebrity voice changer app having several voice filters featuring different celebrities. The entertaining app has all features of any voice changer that includes different voice effects from Robot voice to gain a voice, monster to helium, and so on.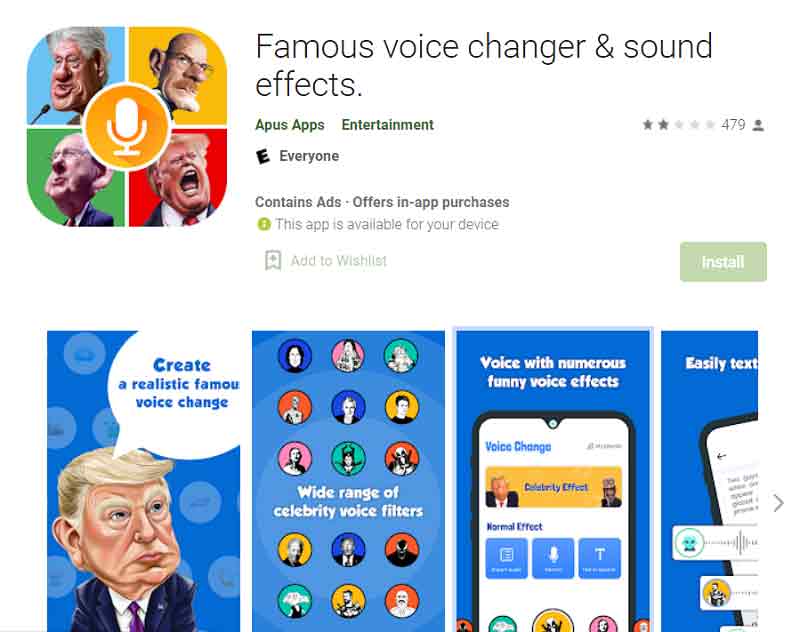 The main features of Famous Voice Changer & Sound Effects are:
Pitch changer lets you record the voice of your own choice.
You can also change the speed of the recording.
Direct import audio option for applying sound effects
Text-to-speech recording
Record voices of different celebrities
Supported OS: It is available for Android users
User Experience
The user experience is great whether you want to apply voice effects or record in a celebrity's voice. However, it would be great if the app was also available for iOS users. Besides, there is a catch that all the features are free for the first three days of the trial. You must pay the monthly subscription if you wish to continue using the voice changer features.
Part 4.

Celebrity Voice Changer for Desktop | UnicTool MagicVox

UnicTool MagicVox is one of the best real-time voice changers for online gaming, chatting, and voice acting. It's a powerful and easy-to-use voice changer software that can change your voice in real-time. It can change your voice to celebrity, so you can have fun with friends on social media, while chatting or even while playing games.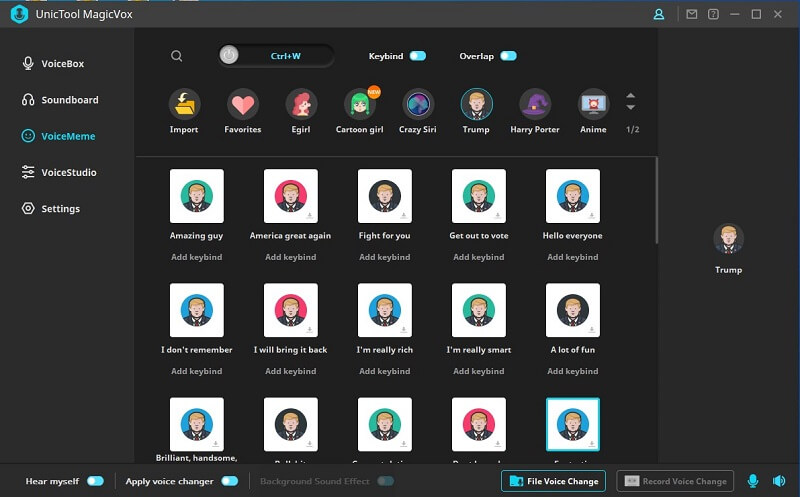 Features:
You can easily change your voice into different voice filters with one click.
With more than 100 voice filters, you can get the voice you want.
150+ the most popular voice emoticons to meet your various needs.
Voice memes for Discord, gaming, or live streaming double up the fun.
And many more; the app promises that new voice filters are constantly being developed and presented for their audience.
Conclusion
We have reviewed the Celebrity Voice Changer app and shown you how to use the app step-by-step. There are other alternatives to the Celebrity voice changer app, but they might not be as practical as both of them require you to pay a monthly subscription for advanced features. Therefore, we suggest you another free voice changer that is free to use and offer tons of feature.
We have reviewed the Celebrity Voice Changer app and shown you how to use the app step-by-step. There are other alternatives to the Celebrity voice changer app, but they might not be as practical as both of them require you to pay a monthly subscription for advanced features. Therefore, we suggest you another free voice changer that is free to use and offer tons of feature. UnicTool MagicVox is a free voice changer available for Windows It's not only a Windows alternative of Celebrity Voice Changer but also offers all features of a complete voice changer. You must try MagicVox by downloading it on your Windows from the following links: