Apple Pencil 1st Gen and 2nd Gen are absolutely the best stylus you can get to work on iPad. However, the real problem starts when you observe an Apple pencil cannot connecting to an iPad or Apple pencil connected but not working. We have listed the possible reasons behind the problem and fixes you can try to fix the problem. So let's get into it.
Part 1.

Why Apple Pencil Connected But Not Working

Before we jump to the quick fixes for Apple Pencil connected but not working, let's have a look at the possible reasons behind the problem. So here are the possible culprits why your 1st or 2nd Gen Apple pencil is not working:
1

The most common cause of why a paired Apple Pencil is not working is low battery. If your pencil's charging has dropped to 1-2%, it will stop working, and you need to charge it immediately.

2

If the tip is not tightly screwed to the pencil, the iPad might fail to detect the Pencil touch. It can also be the reason why a connected Apple Pencil is not working properly.

3

Sometimes the hardware problems like irreplaceable battery damage or damaged fragile metal transducer of your pencil can also leave you helpless.

4

In some cases, the problem might be as minute as a pairing problem. The Apple Pencil has not paired properly with the iPad, or a glitch might appear after recent iOS updates.
Part 2.

How To Fix Apple Pencil Not Connecting To iPad

We have discussed the possible reasons for the Apple Pencil not working or connecting to the iPad. Let's talk about the solutions.
Way 1. Charge and Reset Apple Pencil
The first fix when your apple pencil not connecting to iPad is to charge your Apple Pencil, as it can be the most common probability why your Apple Pencil is not working. Depending on the Pencil version, you can charge it by docking into the iPad or attaching it to the edge of the iPad. You can also charge your Apple Pencil 1 via a lightning cable and USB connector.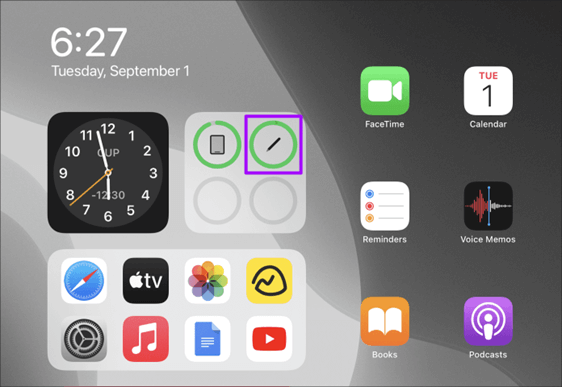 Way 2. Forget Apple Pencil As A Bluetooth Device
Pairing issues can also result in Apple Pencil not connecting to your iPad. You might have noticed sometimes that your Apple Pencil has sufficient charge, but it will not just work.
As soon as you dock it to the iPad or attach it to the edge and try to use it again, it will start working normally. This often happens due to pairing problems. Therefore, you will need to forget your Apple Pencil as a Bluetooth device and connect it again.
Follow the simple steps:
Go to iPad Settings > Bluetooth > My Devices > Apple Pencil > Tap on i icon > Forget this Device. Apple Pencil will start showing in Available Devices. Tap on it and reconnect to your iPad.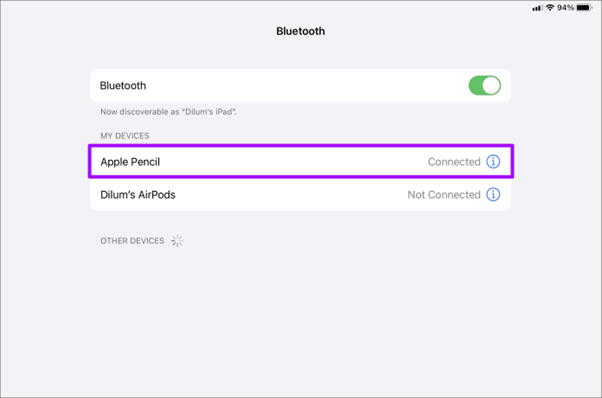 Way 3. Reboot iPad To Fix Apple Pencil 2 Not Connecting
When your Apple Pencil 2 is not connecting to your iPad, irrespective of charging status and Bluetooth pairing, you can try restarting your iPad to fix the problem. Why does this fix help?
Sometimes, there might be a glitch or error in the iOS system that is preventing Apple Pencil 2 from connecting to your iPad. It might get fixed by rebooting your device. So here is how to reboot your iPad or iPad pro.
Hold the sleep/wake button and one of the volume buttons until you see "Slide To Power Off." Slide to power off and your iPad will power off completely, press the Power Button and hold until the phone restarts.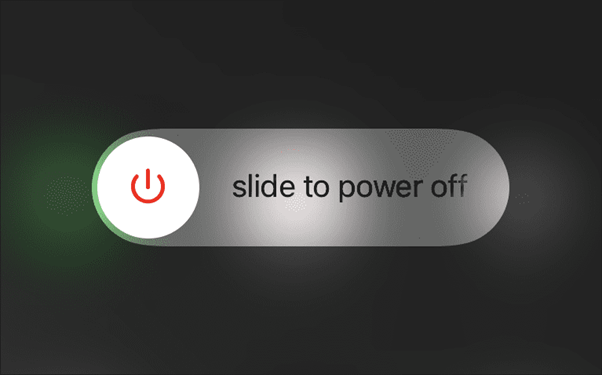 Way 4. Fix iPad OS With Third-Party Tool: Unictool Umendit
Did you know you can also fix iPad OS with third-party tools like Unictool Umendit?
If your Apple Pencil connectivity problem is due to an unknown reason and errors in iPadOS, you can rely on Unictool Umendit for automatic fixation. It is an affordable tool that studies the root cause of the problem and tries to fix it in no time.
Key Features
Fix your iOS and iPad devices without deleting or removing any data
A go-to tool for several iOS and iPadOS-related problems.
You can downgrade your iPhone/iPad/iPod with Umendit and do it without jailbreaking
You can reset your iPad without a password
Capable of entering the recovery mode or exiting it with a single click
You can bypass iTunes errors with Unictool Umendit.
60-Day refund policy with exceptional after-sales service
How To Fix Apple Pencil Not Connecting To iPad?
Follow these simple steps to fix the problem of Apple Pencil not working on iPad:
Step 1: Install the Umendit tool on your PC or laptop from the official website. Launch the app with standard mode.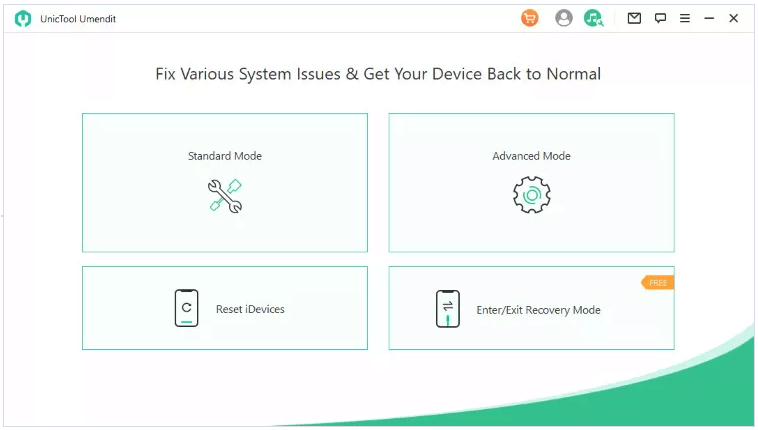 Step 2: Connect your iPad to the PC with the lightning cable.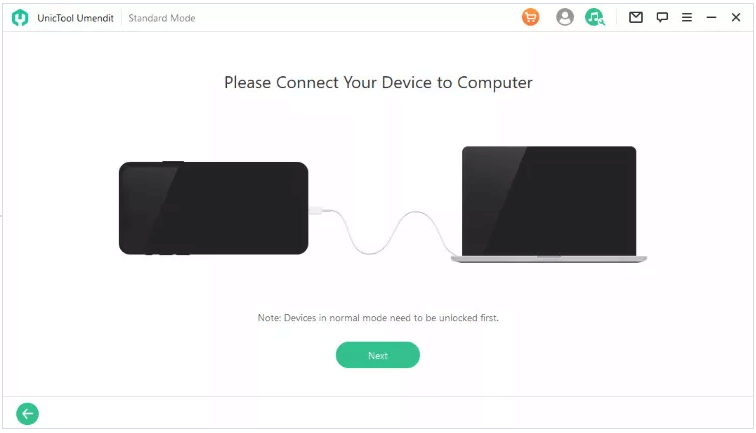 Step 3: Enter the DFU mode on your iPad to recover the stable firmware with no problems. You will need to follow the on-screen prompts to enter the recovery mode.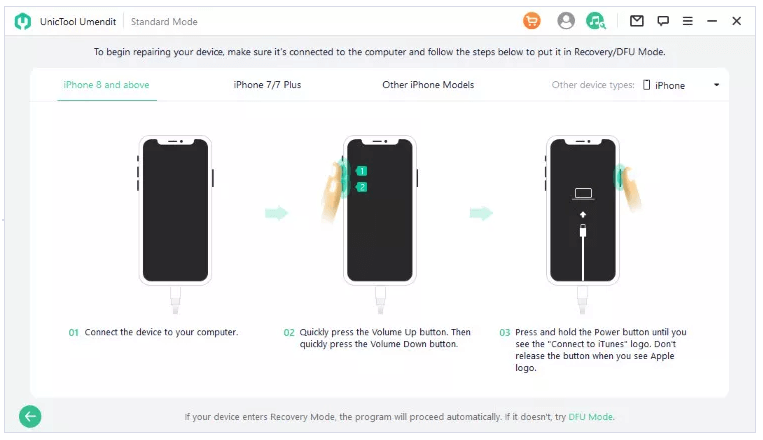 Step 4: The app will automatically find suitable firmware for fixing your iPad. Once the firmware is found, tap on Confirm to start the download.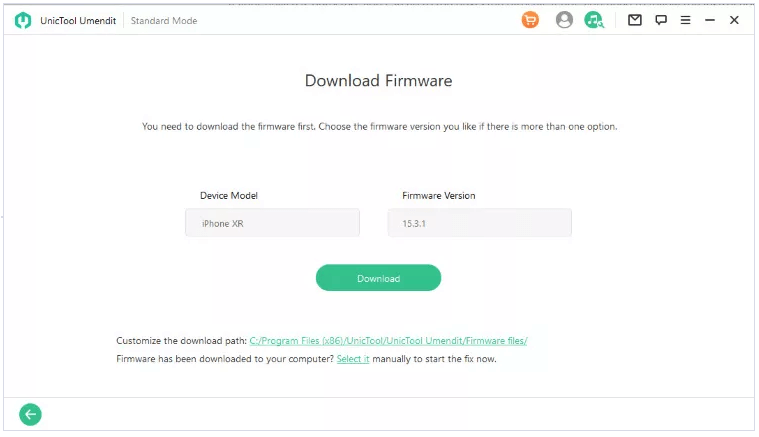 Step 5: After downloading the firmware, hit Start to initiate the re-pair process. Once the re-pair is complete, reboot your iPad, and that's it.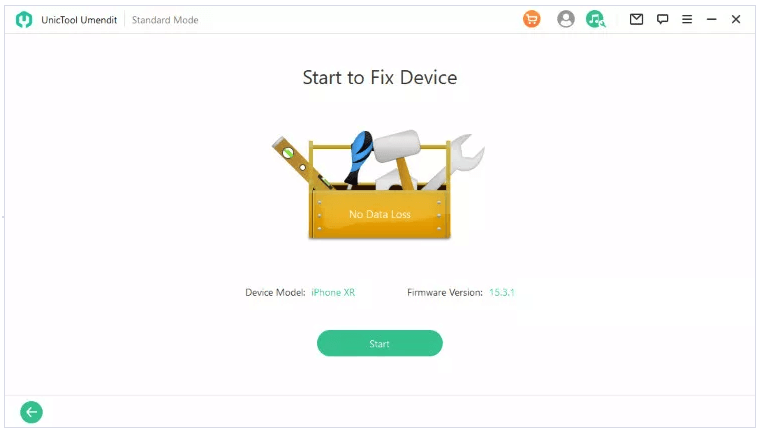 Way 5. Enable Scribble
Scribble is a functionality of Apple Pencil that allows you to write within any app or text field. You can find the scribble settings under the Apple Pencil on your iPad. The scribble feature is available on all iPads with iPadOS 14 or higher.
If your Apple Pencil is not working when you are trying to write in any app other than dedicated writing apps, the Scribble setting might be disabled. You need to enable it by following the simple steps as follows: Settings > Apple Pencil > Scribble > Toggle On.
Part 3.

How To Pair Apple Pencil To iPad
Apple Pencil 1st Gen

To pair your 1st Gen Apple Pencil, follow these steps: Remove the cap > Dock the pencil into your iPad > Pair option will appear on the screen > follow the instructions to complete pairing.

You can use the tool without any prior experience or expertise. It is beginner-friendly and a perfect tool for those who want to solve various issues with iPhones and iPads.

Apple Pencil 2nd Gen

If you want your 2nd Gen to be paired to your iPad, here is the guide: Attach your pencil to the magnetic connector on the iPad, and it will pair automatically.
FAQs About Apple Pencil Connecting
1. How do I fix my Apple Pencil not charging?
If your Apple Pencil is not charging, try unpairing it and re-pairing it to check the charging. You should also ensure that the Apple Pencil's an internal battery. Because in that case, the only solution is a replacement of the pencil.
2. Which is the proper Apple pencil for your iPad?
Every iPad doesn't work with every Apple Pencil. For instance, the iPad 9th Generation supports Apple Pencil 1st Gen. whereas iPad Pro, iPad mini(6th Gen and beyond), and iPad Air(4th Gen and newer) work with Apple Pencil 2.
Conclusion
We have discussed the quick fixes for Apple Pencil not connecting to the iPad or connected but not working properly. These fixes don't need any expert knowledge or experience. However, if the problem is related to the firmware of the iPadOS, you will need third-party tools like UnicTool Umendit. It will resolve the issue automatically if the problem relates to the firmware. Therefore, if none of the fixes is working, you should consider trying Umendit to see if there is a firmware-related issue.