We can all agree that iPod touch is still relevant in our daily life. Apple users may use it as an iPhone-Lite version to listen to music, play little games or chat with friends in Message via Wi-Fi. However, like all electronic devices, some small issues may present themselves from time to time and you may need to factory reset your iPod touch to fix it.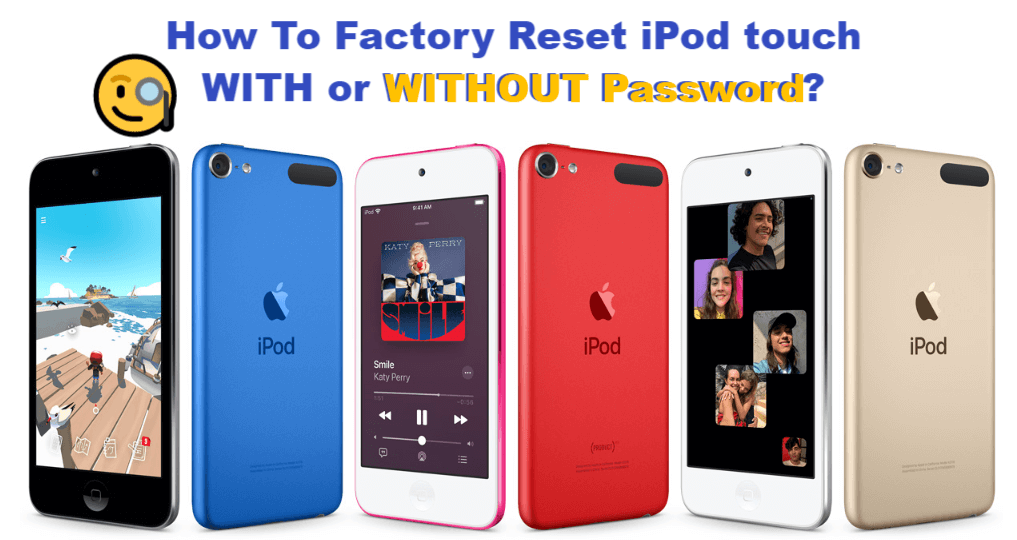 In this updated guide, we will take you through some cases when you'd need to factory reset your iPod touch, and all the possible solutions to how to factory reset iPod touch with or without the password.
Part 1.

When You May Need to Reset Your iPod touch?
1.If you forgot the passcode on your iPod touch
If you can't remember your iPod touch passcode, you could factory reset iPod touch to erase all content and settings, including the passcode on the device so you can set it up like a new device.
2.Your iPod touch is disabled
If you enter the incorrect password on your iPod touch too many times, your iPod will be disabled and it'll lock you out of the device.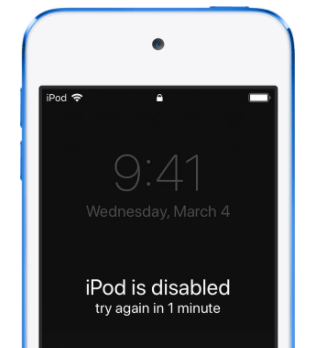 3.iPod touch is running apps very slow
Sometimes the iPod touch simply gets overloaded with too many app data and cache. This can happen when too many apps are running at the same time. Even if all the apps are closed, the redundant app cache could still be stored in the background. It may be time to factory reset your iPod touch for full functionality to be restored.
Part 2.

How to Factory Reset iPod touch Without Computer?

Remember, to factory reset any device will wipe off all the data and settings on it. So be sure to back up your iPod touch first if you have important data stored on it.

The most common way to reset your iPod touch will to do it yourself by going to the General Settings option. This method can be used if the user still has access to the iPod touch. So, if the iPod touch is locked and you can't access the device, the solutions in Part 3 will be more helpful.

Note

Remember to sign out of iCloud account in Settings first, otherwise the iCloud Activation lock will be automatically turned on. If unfortunately the Activation lock is enabled, go to Method 3 in Part 3 now for a quick fix.

To factory reset the device through its settings, please follow these steps:
1

Tap Settings > General > Transfer or Reset iPod.

2

Select "Erase All Content and Settings".

3

A message may prompt saying the the data are being uploaded to iCloud. Tap on "Finish Uploading Then Erase".

4

Wait for the device to be erased. The amount of time this action takes depends on the information on the device and can vary widely from person to person.
If for some reason, you are not able to perform this action, there are other methods to achieve the reset. We will cover these next.
Part 3.

How to Factory Reset iPod touch Without Password?

If for whatever reason you cannot perform the first solution above, don't worry too much. These 2 solutions are viable if you forgot your password.
Method 1: Apple Official Solutions
Apple has a recommended method of getting around the password to perform a factory reset.
Step 1. Remove the password
We must note that there is a difference in this method depending on what generation iPod you may have. Everything up to the 6th generation will different to the 7th generation. We will discuss both options so that you can all the info you need.
iPod touch 7th Generation Method:
Press and hold the sleep (top) button until the red power slider comes up and turn off your iPod touch 7.
Now connect your device to the computer while keeping the volume down button as well. Keep holding the button down until the recovery mode screen pops up.
iPod touch 6th Generation Method
Turn off the iPod touch 6 first: keep pressing the Top button and swipe the slider to turn off the device.
Now keep pressing the Home button while connecting the iPod touch 6 to a computer. And keep pressing the Home button until the recovery mode screen appears.
Step 2. Restore iPod touch to Factory Settings
1: Restore iPod touch to Factory Settings in iTunes (For Windows PC and Mac)
Open iTunes on your device.
Connect your iPod Touch to the computer with the cable and enter a passcode (if necessary/possible).
On the upper left-hand side, you will see a small icon that indicates your device is connected. Click on it.
Choose the iPod Restore button to begin the process.
Confirm your choice by clicking the Restore button again.

The computer you are using will then wipe the device and begin to install the newest software update.
The update will present your device as "new" meaning you can set it up from scratch or restore a previous version.
2: Restore iPod touch to Factory Settings in Finder (For Mac)
Depending on what version of macOS your device has, there are various ways of doing this step. Since we are using Finder, we know that we have Catalina or later.
Open Finder on your Mac.
Connect your device via cable to the computer.
Enter the passcode if necessary and follow the on-screen instructions.
Select the device when it appears on the screen.
Click on the Restore button and do so again to confirm your choice.
If you follow these steps correctly, the computer will then erase the device and you can decide if you want to restore the data from a backup or set up your iPod touch from scratch.
Method 2: Go to iCloud.com to Erase iPod touch
If for some unfortunate reason you need to erase your iPod Touch without having the device near you, you could use iCloud to erase your iPod touch.
1

Log in with your Apple account in iCloud official website.

2

On the home page, click on "Find My iPhone".

3

At the top of the page, click on "All Devices" and a list of Apple products associated with your Apple ID will show up.

4

Locate and click on your iPod touch, and then choose "Erase iPod".
This would be to log in to your iCloud on a computer and then choose to remove all your data from the device remotely. So, when the device turns on and gets connected to an internet source, it will wipe itself. It is especially useful if your device has been stolen.
Method 3: Use the Professional Software UnicTool Upassit
There are times however, as mentioned in Part 2, the Activation Lock on your iPod touch is accidentally turned on. And now you may want to factory reset iPod touch to bypass the iCloud Activation Lock.
If this is one of those times, look no further - we have the easiest solution to help you do so. We present the UnicTool Upassit software. With it, you will easily factory reset your iPod touch and bypass iCloud Activation Lock without password. You don't need extensive technical skills to do so, and we have taken care of that for you and created an extremely user -friendly program.
Simply follow these steps to factory reset your iPod touch and bypass the iCloud Activation Lock:
1

Download and launch Upassit on your computer. Select the "Bypass iCloud Activation Lock Screen" mode and connect your iPod touch to the computer.

2

For the software to perform its duties, you need to jailbreak iPod touch. No need to worry though as the process is easy to follow! Our software takes care of that for you.

3

Once the jailbreak is done, click "Start Bypass".
Now you just successfully bypassed the iCloud Activation Lock. Your iPod touch has been factory reset properly.
Conclusion
There are various ways of factory resetting the iPod Touch. Some methods are easier than others and is dependant on what situation you find yourself in, but using a professional iCloud Activation Lock removal software like UnicTool Upassit will serves to be the most efficient method to help you out. Do you have any other methods to factory reset your iPod touch? Comment below and share with us!