As more and more people choose to buy a used iPhone rather than a new one, they are often bothered by the activation lock after purchasing the device. This usually happens when the previous owner not logs out of the Apple ID and the Find My iPhone function is still enabled andworking on the device. That will cause inconvenience to users, the activation lock needs to be removed if they want to use the device.
To remove the activation lock, the buyer must enter the correct Apple ID and password to unlock the device. But unlocking the device without the previous owner's help would be extremely hard. Now you don't have to worry. We now provide you the solutions. This guide gives you several ways in order to help you bypass activation lock easily and efficiently.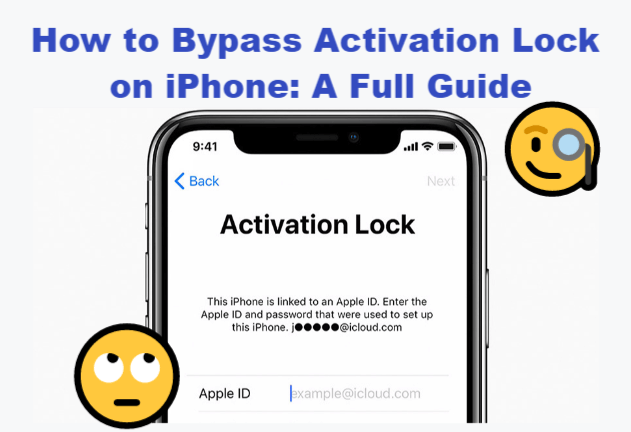 Part 1.

What Is iPhone Activation Lock?

Apple designed the activation lock feature to prevent someone else from making use of your iPhone peradventure it gets missing or stolen.Activation lock turns on automatically when you set up Find My. After it's turned on, Apple securely stores your Apple ID on its activation servers and links it to your device. Your Apple ID password or device passcode is required before anyone can turn off Find My, erase your device, or reactivate and use your device.

Every time an iPhone, iPad, iPod Touch, Apple Watch or Mac with an Apple T2 security chip or Apple chip is activated or restored, the device contacts Apple to check that the activation lock is open.The userneedto bypass the iCloud activation lock for using the device. Otherwise, he (her) will be stuck on the activation lock page.If this is happening to you, you don't have to worry. The methods are provided below.
Part 2.

How to Bypass Activation Lock on iPhone without Apple ID

There's no doubting that iCloud activation lock is a useful security feature that prevents unauthorized users from signing in with another account on your iOS device. That is an excellent tool for safeguarding your personal information if your iPhone is lost or stolen. Typically, theway to remove an activation lock is to enter the correct Apple ID and password. Is there any way to remove the activation lock without using an Apple ID? The answer is yes and there are more ways than one. The following will introduce them to you.
1.Use UnicTool Upassit
UnicTool Upassit is a professional iCloud activation lock bypass tool that allows you to remove the activation lock on iPhone/iPad/iPod touch without Apple ID or password. It is an easy way to reactivate Apple devices if you cannot use a second-hand iPhone. It's also a well-known tool that springs to mind when it comes to bypass activation lock.
If you don't know how UnicTool Upassit bypasses activation lock on iPhone, you've come to the right place. Read on to know more about this tool and how it bypasses the activation lock.
Remove the Activation Lock screen without Apple ID and password
iDevice won't be tracked by the previous Apple ID.
No technical skills are needed to operate this tool.
1 register code offer unlimited access to all 3 modes.
1

Open UnicTool Upassit

On your computer, install and run UnicTool Upassit, choose "Bypass iCloud Activation Lock Screen" mode and then click "Start". Use a USB cord to connect your iOS device to your computer.

2

Jailbreak Your iOS Device

For bypassing the iCloud activation lock on iOS devices, UnicTool Upassit requires a jailbreak. The jailbreaking solutions for Mac and Windows versions are not the same, but they're easy to perform. Just follow the on-screen instructions and let Upassit run the jailbreaking program.

3

Bypass Activation Lock on iPhone

Check your device's information on the page and click "Start Bypass" to proceed. UnicTool Upassit will begin bypassing the Apple activation lock on iPhone screen right away.
Without using your Apple ID or passwords, the excellent software—UnicTool Upassitwill effortlessly enable you to bypass activation lock on iPhone, which makes it the best and most effective solution.
Note
Bypassing activation lock on iPhone doesn't mean that the device is logged out of the previously associated Apple ID for good. So if the iPhone is jailbroken again or erased afterwards, the lock screen will appear again. But you don't need to worry about it since you can access Upassit for Unlimited times during the subscription.
2. Bypass iCloud DNS
Whenever an Apple device is connected to WiFi, it will first connect to a DNS server and then try to reach the Apple server. Bypassing the DNS server instead of the Apple server allows you to remove the activation lock without any password or previous owner's login credentials.
If you've forgotten your Apple ID or password ,or purchased an iCloud-locked iPhone, you can utilize iCloud DNS Bypass to skip this stage by altering the activation path from Apple to another DNS server.
Step 1. Open your device and navigate to the Choose a WiFi Network page.
Step 2. Nowgo to the WiFi settings and tap the i icon right behind your WiFi network. It will show the properties of the WiFi.
Step 3. Select Configure DNS and set it according to your region (different regions have different IPs).

Here's a list of the IP Addresses of DNS Servers:

USA: 104.154.51.7

South America: 35.199.88.219

Europe: 104.155.28.90

Asia: 104.155.220.58

Australia and Oceania: 35.189.47.23

Other: 78.100.17.60

Step 4. After that, go back to the WiFi page.
Step 5. Now, click repeatedly on Next and Back and wait until the device connects to the iCloud DNS bypass server of your region.
Pros
Simple to accomplish in the iOS device's Wi-Fi settings.
No need to install any software.
A 100% free service
Cons
Itis merely a temporary unlocking solution for your iOS device.
You will not be able to use all of the capabilities on your iPhone.
It is only suitable for iOS 8 to iOS 10 devices.
3. Use an Online Program
If you're having trouble activating your iCloud account, you can use the iCloud activation lock removal online program to bypass activation lock on iPhone.
When you don't have access to your iCloud account's login data but still want to utilize the account for iCloud benefits, the activation lock unlocking program comes in help. Some of the activation lock removal programs look good because they provide compelling features, but they also have some drawbacks that you should be aware of before using them.
Here are two of the relatively safe and reliable iCloud activation lock removal programs you can try:
Pros

Completely free, you can do it any time.
The steps are fairly simple to follow,you don't need any special skills.
All iPhone models and iOS versions are supported.

Cons

It mightcome with viruses and spyware attached.
Usingonline iCloud unlock service may put your privacy at risk.
It often fails to bypass the activation lock.
Part 3.

How to Bypass Activation Lock on iPhone with Apple ID?

If the previous owner is with you at all times while you're setting up the device, you can ask him or her to enter Apple ID and passwordwhen you encounter the activation lock page. If the device isrunning iOS11 system or later and the original owner has enabled two-factor authentication with iCloud, you can use their device passcode instead of Apple ID to remove the activation lock.
1. Enter the device's Passcode
Tap on Unlock with Passcode in the Activation screen.
Enter the Two-factor authentication code that Apple sends to the previous owner.
Enter the device's passcode, and then the activation lock has been removed.
2. Log in the iCloud Website
Go to iCloud official page and sign in with the Apple ID.
Go to FindiPhone > All Devices. Locate and click on the relevant iPhone.
Click on Erase iPhone and confirm.
Then click Remove from Account, and then this iPhone should not be locked bythe Apple account.
FAQs About Activation Lock
Q1: Can I bypass activation lock on iPad/iPod/Apple Watch/Mac?
Yes, you certainly can. If you can meet the original owner of the device, ask him (her) to remove the activation lock directly from the device. But if you can't see him (her), you can ask him (her) log on to the iCloud website. If neither of these conditions fits your current situation, you can use Upassit to remove the activation lock.
Q2: Can jailbreaking iPhone bypass activation lock?
No. Jailbreaking is a method for bypassing the limitations set in place by the Apple manufacturer in iPhone.After jailbreaking your device successfully, you can remove the software restrictionson your device. You can install software not provided by the App Store and download third-party applications directly. It can not make your devicebypass the activation lock directly, but it is a necessary prerequisite to successfully bypass the activation lock.
Q3: What triggers activation lock?
Activation lock is automatically enabled when you open Find My iPhone feature. When your device is lost or stolen, activation lock automatically triggers when the Find My iPhone is turned on, making your device unusable. Even if you remotely erase your device, activation lock can continue to prevent anyone from reactivating your device without your permission. All you need to do is keep Find My iPhone open and remember your Apple ID and password.
Conclusion
There you have it, a full guide to help you bypass activation lock on iPhone. It's clear that if you want the most efficient way to bypass your iPhone Activation Lock, UnicTool Upassit is the best choice to go for. We hope you find this guide helpful. If you have other possible solutions that we didn't mention in the article, we sincerely hope you can share with us!