Is your iPhone Activation Lock enabled but you forgot the login credentials? Are you searching for a service provider to help you disable the lock? The iCloud unlock services seem convenient and can save you from despair, but are they really free and useful in this case? Is there any safer and better alternative to remove iCloud Activation Lock from your iPhone?
Read on as this case study will showcase 4 most popular iCloud unlock services and provide you with a better option to remove the iCloud Activation Lock.
Part 1.

Is iCloud Lock Removal Possible?

Yes, of course. Removing iCloud lock is possible with the help of some tools or online services.

However, you have to make sure that the tool or service you choose is reliable as some free tools may leak your personal data. Therefore, be careful when you are looking for such kind of tools.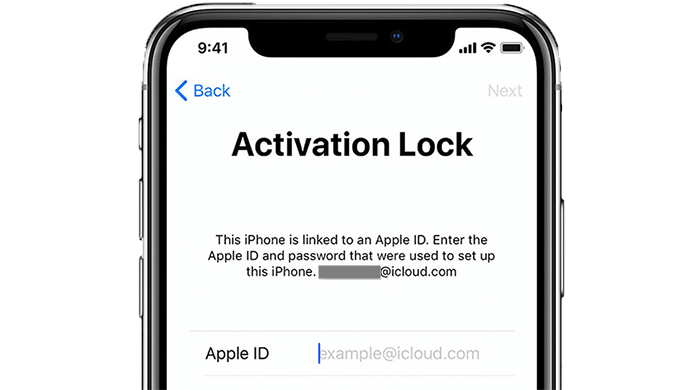 Part 2.

Case Study: 4 Online Services for iCloud Unlock
1. DirectUnlocks
DirectUnlocks is a well-known online service for iCloud Activation Lock removal. You can take help from this online service as it removes the Apple Activation Lock within 24 hours. So if you don't mind spending a few bucks, then this method can help you. For this you pay in advance, share your IMEI and wait for the company's response to unlock your device. The success rate of DirectUnlocks is 70% based on the customer's review.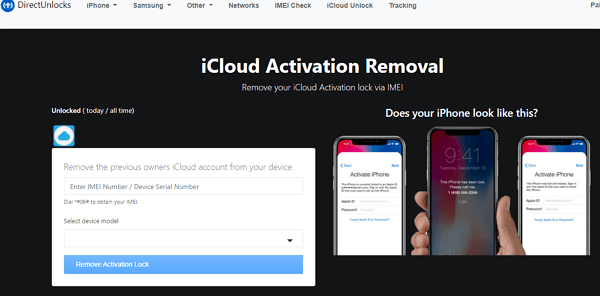 Step 1: Search for the IMEI number of your iPhone/iPad by dialing *#06# on your device.
Step 2: Open the DirectUnlocks site in your browser.
Step 3: Enter the IMEI number on the page and select the model of your device. Click on the "Remove Activation Lock" button.
2. iCloud Bypass Online
iCloud Bypass online is another effective iCloud Activation Lock removal online services. Its unlocking process is effortless to use if you are using it for the first time. This tool also needs the IMEI number of the device to unlock your iCloud Activation Lock in no time.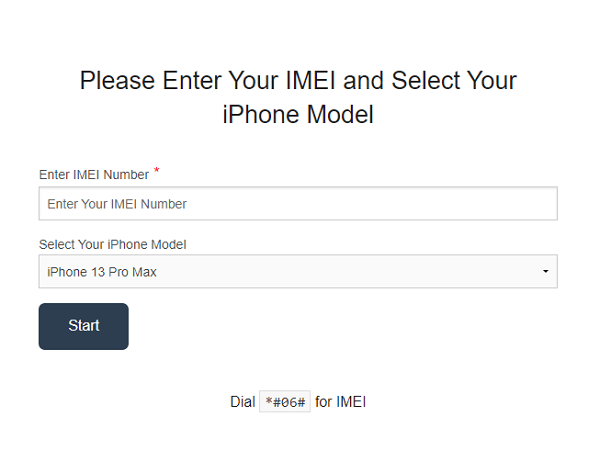 Step 1: Open the website and go to the "Unlock Now" option.
Step 2: In the box, enter the IMEI number of the device.
Step 3: Enter the device model and click on the Start.
Step 4: It will first verify the IMEI to identify the phone. After verification, it will provide you access to your iCloud account.
3. UnlockMaker
Unlock maker is a rather time-consuming iCloud unlock service online. You don't need to scroll for different iCloud activation removal services because this service works anywhere globally, including all the 50 states of the United States. This online iCloud unlock service creates a dummy ID compatible with your device using IMEI or serial number, and it permanently removes the iCloud Activation Lock on your iOS device.
Note
To view the login details, you need to sign up for a membership.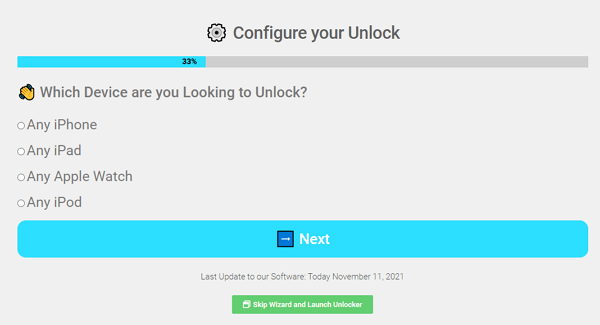 Step 1: Choose to "Unlock an iPhone" and tap "Next".
Step 2: Enter the status of your device; if you own this, click on the "Clean and Proceed Further" (Unlocking stolen device is not allowed).
Step 3: Next, select the option of yes if you can connect your device to Wi-Fi. Tap on "Update and Start Unlocker".
Step 4: Next, enter the Device information.
Step 5: Enter your Name and Email to ensure the assistance from unlocker.
Step 6: Now again, confirm the device model and select IMEI. Tap on "Next".
Step 7: Enter IMEI and continue by tapping "Next".
Step 8: Now, your Dummy ID will be created (Download the login details), which you can use to remove the iCloud account permanently.
4. IMEIDoctor
Another popular option to remove the iCloud Activation Lock online is using IMEIdoctor, which supports all iPhone models. However, it's not free, you need to pay its fee first then you can easily bypass iCloud activation using IMEI. It also permanently unlocks your device. It provides a 100% money-back guarantee in case if this service can't unlock the device. However, it's not fast as it may take 2-3 days to complete the process of unlocking.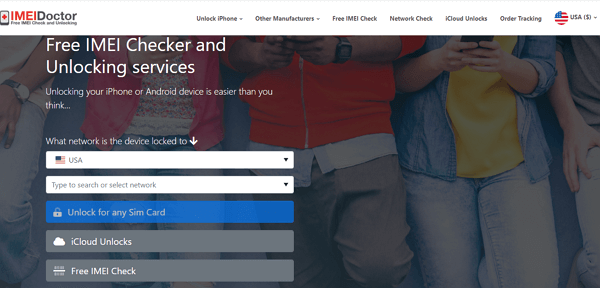 Step 1: Enter the IMEI number of your device.
Step 2: Choose the iPhone Model and tap on "Remove Activation Lock".
Step 3: You will receive a confirmation email when you pay for the service. You also receive an email when this service completes the process of unlocking.
Using online services is no doubt a convenient and simple option and you don't need to download any additional programs or hardware. These online websites mostly need your IMEI and permanently remove the iCloud Activation Lock.
However, the other side of using this iCloud unlock service is very concerning. Firstly, you should beware of putting personal information on such websites (such as IMEI etc) because you will risk your privacy.
No warranty is included in the Terms and service page for the damage or loss of hardware or data. If apparently no cost is involved, there are always hidden charges of using such services and above all you are exposing your device to many threats.
Part 3.

A Better Alternative for iCloud Activation Lock Removal

Undoubtedly an iCloud unlock online service seems very useful to solve the issue. However, you can't deny that these online services come with a few drawbacks like privacy threats, virus attacks, and some limitations, including compatibility with only a few Apple devices.

Therefore, you should consider an alternative that is efficient and safe to use to remove iCloud Activation Lock — for example, a professional software UnicTool Upassit. It is a desktop-based software that provides an effective solution to remove iCloud Activation Lock without password or associated Apple ID. So, if you don't know the login credentials of your second-hand iPhone or forgot the login credentials of the iCloud Activation Lock, then you must try your hands on this powerful tool.
Upassit Key Features:
Remove iCloud Activation Lock without password or Apple ID.
Safe to use, no breach of personal data or privacy.
Register once with unlimited access to the iCloud unlock functions.
You can set a new Apple ID, and your device won't be blocked by the previous Apple ID user.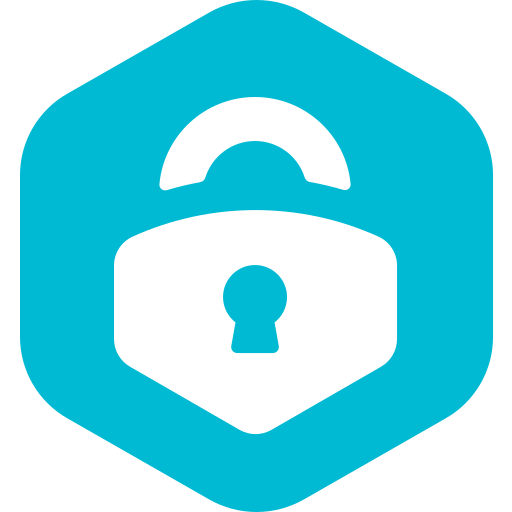 Here is a chart comparing online services and professional software like UnicTool Upassit to unlock iCloud Activation Lock.
| | Other Online iCloud Unlock Services | UnicTool Upassit |
| --- | --- | --- |
| Make an order in advance | | |
| Time-consuming | | |
| Low price | | |
| Secure and no data leakage | | |
Here is how to remove iCloud Activation Lock without password using Upassit:
Step 1: Launch UnicTool Upassit
To start with the process, install and launch UnicTool Upassit software on your computer. Connect your iOS device via USB to the computer, and choose "Bypass Activation Lock Screen" mode.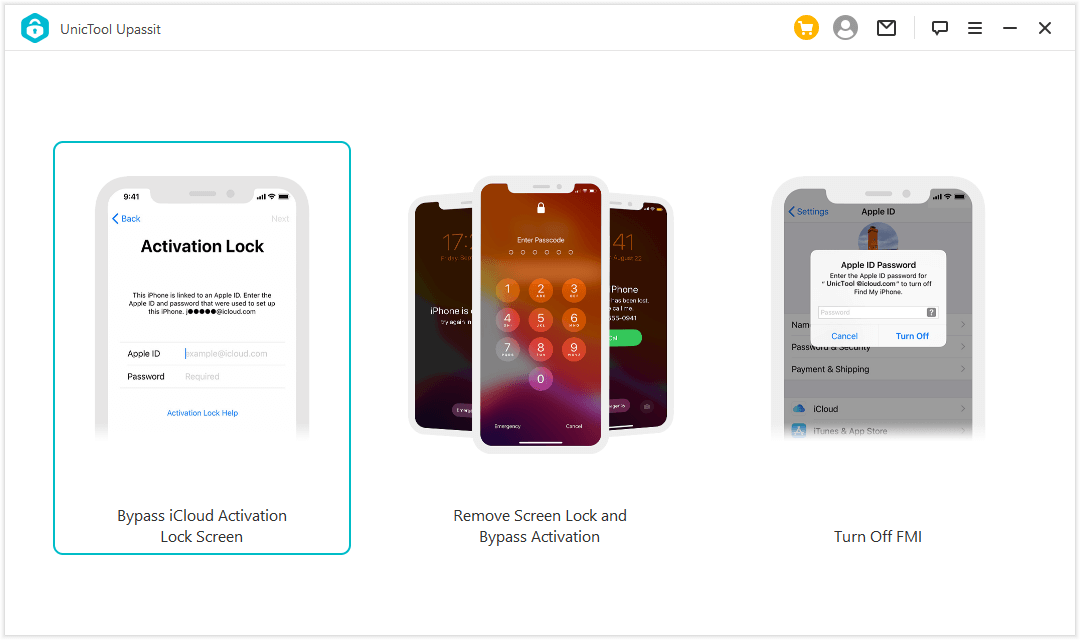 Step 2: Jailbreak your iOS device
UnicTool Upassit requires a jailbreak to bypass the iCloud Activation Lock on all apple devices. Download the right jailbreak package compatible with your iOS device, and then Click "Start Jailbreak".
Now follow the instruction you see on the screen to put your device into DFU mode; wait for a while until the program completes jailbreaking your iOS device. Click on "Next" to proceed.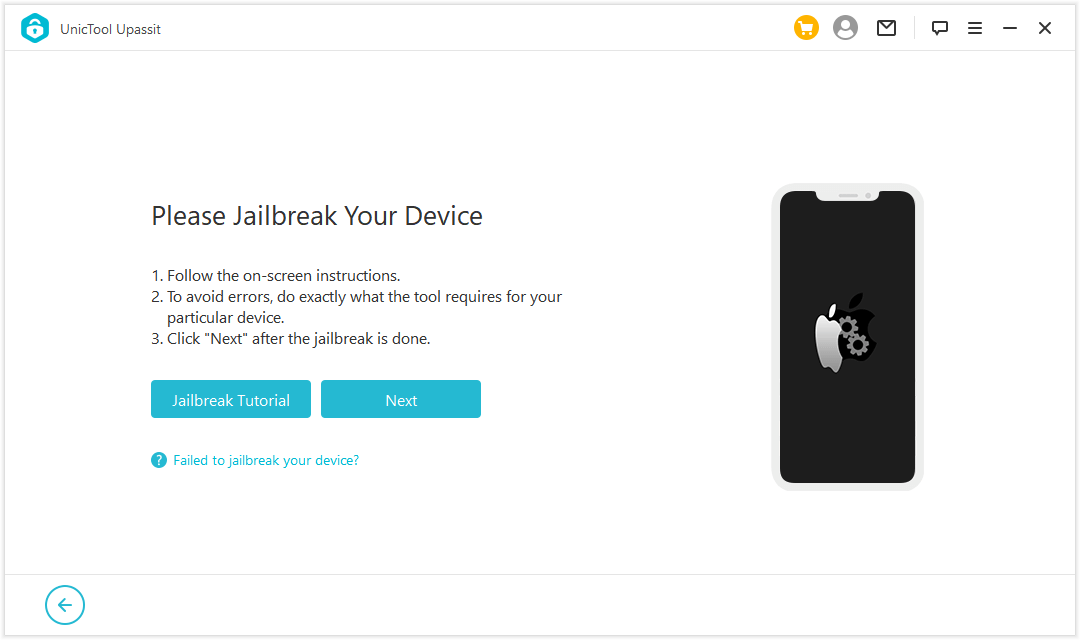 Step 3: Bypass Activation Lock Screen
Firstly, confirm the device information, including your iPhone model, IMEI number, iOS version, etc. Then start the process of bypassing the Activation Lock by clicking on "Start Bypass".
UnicTool Upassit will instantly perform bypassing the Activation Lock screen. This process completes in a few seconds.
After this process finishes, the Activation Lock screen will be bypassed successfully, and you can set a new Apple ID and customize settings for your iPhone.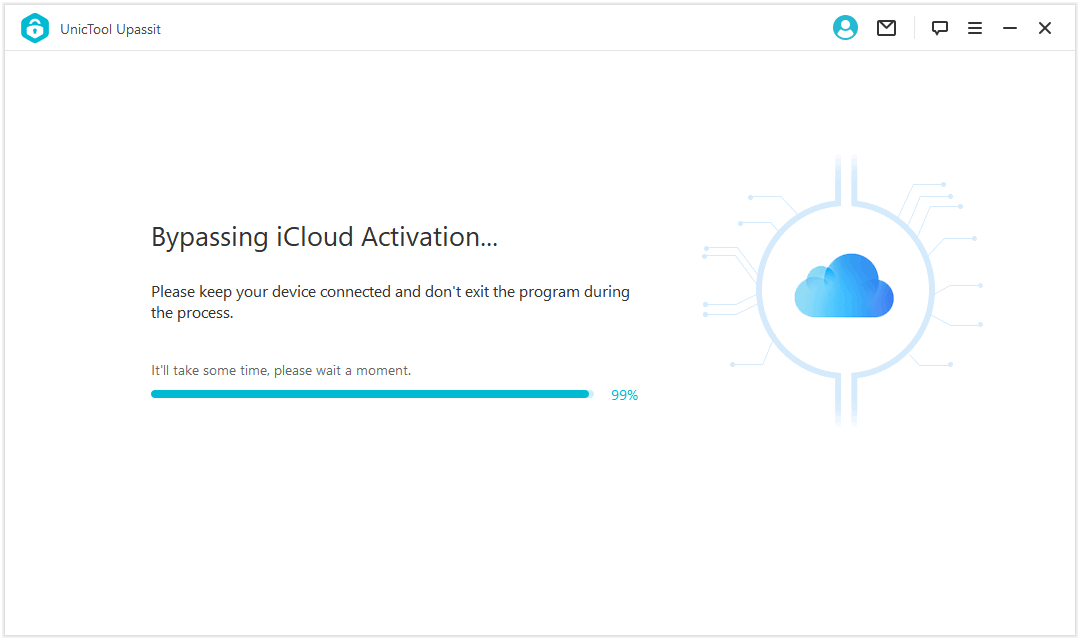 Conclusion
Whether you prefer using iCloud unlock online services or professional software to remove iCloud Activation Lock on your iOS device, it's entirely your choice. But if you ask us, we will surely recommend you to go for professional software like UnicTool Upassit as it's an effective and yet safer option to serve the unlocking purpose excellently.