It's safe to assume that if you're reading this, you're a jailbreak fanatic who wants to jailbreak iPhone 11/12/13. But you need to note that jailbreaking for iPhone 11/12/13 does not support the most recent iOS versions, including iOS 14.5 and iOS 14.5.1. This is because Apple has since patched the exploit that was utilized to create jailbreak. Only iOS 14.3 and upgrades issued prior to it are supported.
Recently a popular jailbreak app named unc0ver has been widely talked and used. And here we'll introduce more details about this tool as well as show you how to jailbreak iPhone 11/12/13 using unc0ver.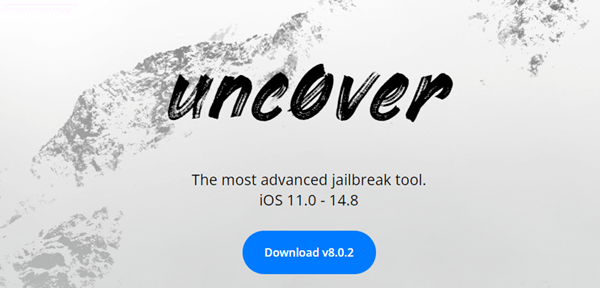 Part 1.

Why You May Want to Jailbreak iPhone 11/12/13?

Jailbreaking is the process of altering the iPhone (or iPad) software to circumvent Apple's constraints and limitations. The main restriction is that software can only be downloaded through the App Store. You can install software from a rival to the App Store, as well as manually using files downloaded from the internet, on a jailbroken phone.

People who desire to be free of the constraints they claim Apple has imposed on us all – from the default apps that come with iOS to the fact that the operating system's core structure cannot be customized by individual programmers, third-party developers, or even consumers themselves. These unsatisfied individuals are the jailbreakers.

The following are five compelling reasons to jailbreak your iPhone:
It's your phone, first and foremost! You ought to be able to do whatever you want with it.
Your apps can be downloaded from anywhere, not only from the App Store.
You can use alternatives to iOS's default apps, many of which offer more features.
Rather than being restricted to the significantly fewer options available in iOS, you may customize the look and feel of your phone to fit your personality.
You can tether your Mac to your iPhone to avoid using your network's Mobile Hotspot, which is sometimes restricted and/or pricey.
Although it is reasonably easy to accomplish and legal (in most countries), jailbreaking your iPhone is frowned upon by Apple and is likely to void your warranty.
Part 2.

Jailbreak iPhone 11/12/13 to Bypass Activation Lock? Check Here!

If you're looking for a jailbreak solution to bypass iCloud Activation Lock on your iPhone 11/12/13, you should know by now that jailbreaking along will not suffice. However, using a professional software will definitely by your first choice if you want to unlock iCloud activation efficiently.

UnicTool Upassit is such a professional tool that can help you remove Activation Lock screen nice and easy. You can see in the following user guide, Upassit will help you jailbreak your iPhone 11/12/13 and bypass the Activation Lock in just a few minutes.
Bypass Activation Lock in iPhone/iPad/iPod touch.
Turn off Find My / Lost Mode without password.
Remove iPhone screen lock and bypass iCloud activation.
1 register with unlimited access to all 3 modes.
1

Open UnicTool Upassit

Install and launch UnicTool Upassit on your Mac, then choose "Bypass Activation Lock Screen" mode. Connect your iOS device to your Mac with a USB cable.

2

Jailbreak Your iOS Device

Upassit will guide you through the simple jailbreak method to proceed to the bypassing step. You'll just need to move your mouse and click on a few buttons and the jailbreak is done!

3

Bypass Activation Lock on iPhone

Check the information on your iPhone device, such as the model, iOS version, and IMEI. To continue, select "Start Bypass", and UnicTool Upassit will immediately start bypassing the Apple activation lock on the iPhone screen.
The bypassing procedure is completed in a matter of seconds. Congrates! Now you've just successfully jailbroken your iPhone 11/12/13. You can now set up a new Apple ID and change your preferences on the iPhone.
Part 3.

An Overview of unc0ver

unc0ver is a jailbreaking tool, which will help you jailbreak your iPhone so that you can do whatever you want with your iOS device. unc0ver unlocks the actual power of your iDevice by allowing you to modify what you want and function within your own boundaries. unc0ver jailbreak is a semi-untethered jailbreak method, which means that if your device reboots or you switch it off and back on, your jailbreak will be lost, and you will have to jailbreak the device again.

The software creators have put a lot of time and effort into creating the jailbreak app, making sure it doesn't cause you any difficulties and is free of spyware and viruses. It works with all devices running iOS 11, iOS 12, iOS 13 or higher.
Part 4.

How to Jailbreak iPhone 11/12/13Using unc0ver Without Computer?

The good news is that you can use unc0ver to jailbreak your iPhone 11/12/13 without utilizing a computer. This works from iOS 11 to iOS 14.3, which means it won't work if you're on a version of iOS newer than 14.3 right now.

Without a computer, follow these step-by-step instructions to jailbreak iPhone 11/12/13 with unc0ver:
1

To get started, you'll need to download the TuTuBox app. Follow these steps if you don't know how to download the app:

(1) Go to tutubox.io/install.html on a browser. (There are a few pop-up adverts and redirects on the site; make sure you click the download file until you see the install option.) "Signed or No Revoke" is a file that you can download.

(2) After clicking install, TuTuBox begins downloading and installing in your app drawer. On the iPhone home screen, you can verify if the app is loading and install it.

(3) Now when you try to open the app, you'll see a message saying "Untrusted Enterprise Developer". Open iPhone Settings > General > Profiles & Device Management to fix the issue warning. Look for the Developer, and you'll notice that the app is listed as Unverified.

(4) To confirm, click the Developer and then press Trust.

(5) Once you've finished, close all open tabs and settings. Now launch the app and it should work without any issues. TuTuBox now allows you to download modified programs for free on your iOS device.

2

You can start the TuTuBox app after downloading it (notice that there are multiple advertisements in the app; simply swipe them off the left side of your iPhone 11/12/13screen). Download version 6 of unc0ver included in the app.

3

Install the unc0ver app by clicking the button below. You can now use the app when it has been installed. The word "Jailbreak" will appear on the screen, indicating that your iPhone 11/12/13 has not yet been jailbroken (remember that you can only jailbreak on iOS 14.3 down to iOS 11).

4

On some devices, the app's homepage may say "0/30 already jailbroken", while on others, it may say "9/30 already jailbroken". As a result, you'll have to keep clicking "Jailbreak" until it works.

5

When you click "Jailbreak", the screen displays "Jailbreaking" and counts down from 0/30 to 20/30. When it reaches 20/30, it displays "Ready to Jailbreak" and "Jailbreak Completed". You should press the Ok button, which will reboot your iPhone 11/12/13. When it turns on again, enter your passcode and launch the unc0ver program, then click "Jailbreak", which will restart the jailbreak process until a window appears that says "Substitute - Request for Permission". When you click "Always Allow", it will display "Jailbreak Completed", and when you click Ok, your iPhone 11/12/13 will reboot.

6

After the reboot, enter your iPhone 11/12/13 device passcode. When you open your iPhone 11/12/13, you'll notice a new app called Cydia has already been installed. This indicates that you have successfully jailbroken your iPhone 11/12/13, allowing you to use your favourite jailbreak tweaks and jailbreak themes.
Part 5.

How to Jailbreak iPhone 11/12/13 Using unc0ver With Computer?
Method 1: Jailbreak iPhone 11/12/13 on Windows
1

On your browser, go to the official website altstore.io to download AltStore.

2

Extract the download package and install and launch AltServer.

3

AltServer will prompt you to download iTunes and iCloud if you do not already have them on your PC. (If you already have the Apple-supplied versions of iTunes and iCloud, skip this step and proceed straight to step 4).

4

Use a Lightning to USB cord to connect your iOS device to your PC. Tap the Trust button that displays on your iOS device and enter your passcode. Check that iTunes recognizes your device.

5

Select Install AltStore > [name of your iPhone 11/12/13] from the AltSever icon in the system tray in the lower right-hand corner.

6

Enter your Apple ID and password on the screen that opens, then click Install. The AltStore app should appear on your iOS device.

7

On your iPhone 11/12/13, go to Settings > General > Device Management > Apple ID > Trust.

8

Open AltStore app > Settings > sign in with Apple ID.

To authorize an additional side load, enter your Apple ID and password to authenticate with Apple's servers, this time for the unc0ver utility. (If you see an error message claiming that AltServer could not be found, detach your iPhone from your PC and reconnect. Check to see whether iTunes recognizes your iPhone, then try signing in again).

9

Close the AltStore app and go to unc0ver official website via a browser.

10

Open unc0ver in AltStore. unc0ver will then be installed on your iPhone 11/12/13 Home screen after you tap the 7 Days icon on screen.

11

Launch unc0ver and select Jailbreak. Press the OK button to let your iPhone 11/12/13 restart.

12

After your iPhone restarts, repeat Step 11. Now you've successfully jailbroken your iPhone 11/12/13 using unc0ver!
Method 2: Jailbreak iPhone 11/12/13 on Mac
1

Visit AltStore and install AltStore on your Mac.

2

Launch AltStore application. In the Menu Bar, click on Install Mail Plugin.

3

After the plug-in has been installed, go to Mail app > Preferences > General > Manage Plug-ins. Tick the box AltPlugin.mailbundle and click on Apply and Restart Mail.

4

Connect your iPhone 11/12/13 to your Mac.

5

On your Mac, click the AltStore icon in the Menu Bar and select Install AltStore > your iPhone 11/12/13. Sign in with your Apple ID, then click Install.

6

AltStore should now show on your iPhone 11/12/13home screen, but do not open it just yet. Instead, go to Settings > General > Device Management > Apple ID > Trust AltStore.

7

On your iPhone 11/12/13, open the browser and go to unc0ver official website to download the newest version of unc0ver.

8

Install unc0ver on your iPhone 11/12/13 by following these steps: Launch AltStore > My Apps > Refresh All > Sign in with Apple ID password. Then in the upper right corner of the screen, tap the "+" icon and choose the unc0ver file. Lastly, tap the 7 Days button to finish installing unc0ver.

9

Launch unc0ver > Jailbreak, and when the Jailbreak Completed message shows, click "OK".Your iPhone will reboot itself.

10

After the reboot, repeat Step 9 again. Then you're iPhone 11/12/13 is successfully jailbroken!
Conclusion
Jailbreaking your iPhone 11/12/13 with unc0ver unlocks a slew of extra capabilities that you can utilize to boost iPhone speed and productivity. If you want to use jailbreak to bypass the Activation Lock on your newly-purchased second-hand iPhone 11/12/13, then you should definitely use UnicTool Upassit since it'll help you go through the process much more efficiently. Let us know in the comment below if this jailbreaking guide helps!