Most people are aware of two popular app stores, and they use them to download and install apps on their mobile phones. These two common app stores are the Google Play Store for Android phones and the Apple Store for iOS phones. But there are other platforms that one can use to download and install apps like Cydia. Here we'll introduce how to use Cydia fake location apps to change location.
Part 1.

An Overview of Cydia

Cydia is the most popular app alternative to Apple Store to download and install apps. It is a third-party store for apps, but the downside of Cydia is that it is only available for jailbroken iPhones. To jailbreak your iPhones is to liberate your device from the restriction imposed by the manufacturer and carriers. After jailbreak, you can download and install apps that were previously unavailable.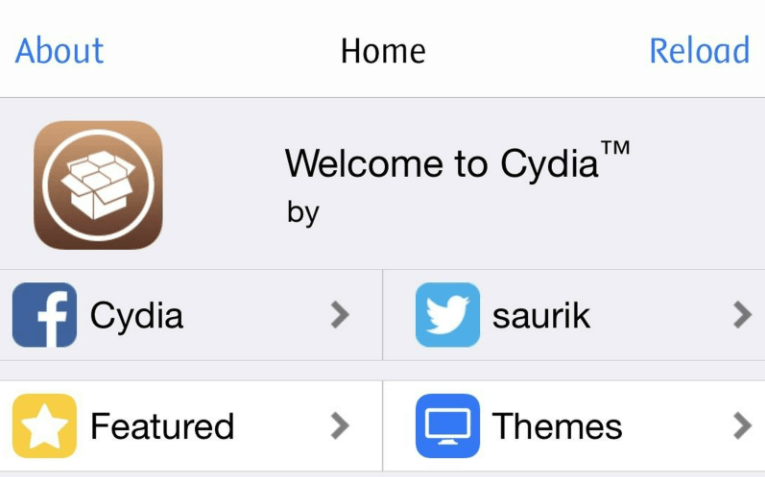 Most of the apps available on the Cydia are those that could not pass the approval process imposed by the Apple store. Some examples are Cydia fake location apps which allows location spoofing and 3D Touch, which is an app used to convert an iPhone into a kitchen scale. A risk with using Cydia is that there is a greater possibility of the developer adding a malicious app to the platform. Therefore those unrestricted apps could cause privacy and data breaches. That's exactly why it is important to make sure your phone is fully protected before using Cydia.
Part 2.

How to Fake Location Using Cydia? [With Jailbreak]

Currently, most smartphones have GPS that tells about the precise location of the phone in the world. While smartphone GPS can be beneficial, some people want to hide their location for different reasons.

For example, they may want to hide their location when they are visiting someplace temporarily so that different apps that send updates based on location may not send targeted ads to them. Some apps of this kind include Tinder and Pokémon GO. Some people may also want to hide their location or fake their location to access zone-based apps and services. Besides, people tend to fake location when using dating apps to meet and socialize with people worldwide.

To meet the needs, several apps designed to hide your location or fake your location emerged in the market. Here we'll introduce two location fakers on Cydia – Location Faker and Location Handle.
App 1: Location Faker
Location Faker is a free Cydia tweak powerful enough to enable you to spoof your location in a perfectly precise way, i.e. not only can you search and change to the places you choose, but also you can enter the specific coordinates and move there.
Let's take a look at how to use Location Faker step by step:
1

Launch Cydia and search for Location Faker.

2

Tap to install and launch this app afterwards.

3

To fake your location, drag and drop the green pin showing your current location to any desired place in the map. Confirm it by tapping the left bottom corner button ON.

4

Once your location is moved successfully, this change will be updated to the location-based apps on your phone.
App 2: Location Handle
This is another interesting and user-friendly app to spoof your location on iPhones. It is a free app available on Cydia. But remember, this app is not available on the Apple store, which means that you need to jailbreak your iPhone to download this app.
Once your iPhone is jailbroken, you can simply follow the steps below to spoof your location using this wonderful app:
1

Go to Cydia, download and install the app.

2

Open this app, select the location by just moving the pointer on the map. You can also search for the place you want to move to using the name or exact coordinates.

3

Once you select your fake location, click on the "OK" button. Now, you have have changed your location to the place you want to show yourself.
So, these were two of the wonderful apps available on the Cydia store, which you can use to spoof your location. But the biggest and most obvious drawback is that you have to jailbreak your phone to download apps from Cydia. Is there any alternative solution where one doesn't need to jailbreak their phone to spoof their location? The answer is TailorGo.
Part 3.

How to Fake Location on iPhone Without Jailbreak?

The best way to fake location without jailbreaking your phone is to use TailorGo. Jailbreaking your phone is a tedious process that comes with security risks, but with TailorGo, there are none!

TailorGo is a fantastic app designed to spoof your location. It is compatible with both iOS and Android phones. Equipped with powerful functions, this tool is surprisingly user-friendly and very simple to use. Every user, whether with or without technical knowledge, can easily grasp the method of using it. Some of the key features of this wonderful app are listed below.
Change your location to any corner in the globe with just one click.
Help you move virtually the way you customized: routes, speed, direction, etc.
Provide useful functions: spoof Pokémon GO, fake live loaction on WhatsApp, change Grindr location, etc.
Save the locations and history of your visits for future use.
Run on your PC in a smooth way; no lag or crash.
Support both iOS 7-15 and Android 5-12.
Provide free trial to encourage initial experience.

3 Easy Steps to Change Your GPS Location Without Jailbreaking Your Phone:
1

Download, install and launch TailorGo on your computer. Then click the "Get Started" button and get your device connected.

2

To simply change location, choose the Teleport Mode and select the destination. To simulate GPS movement, choose either the Two-Spot Mode or Multi-Spot Mode, then plan a route to move along.

3

Your current location has now been changed to a fake one, and it didn't even require you to jailbreak your iPhone!
Conclusion
Like the Apple store and Google Play store, Cydia is also a platform with several apps to download on the phone. Most of the apps available on this platform are those apps that could not pass the approval process of the Apple store and Play store, which means these apps can contain higher security risks. Besides, as Cydia is also an open platform, there is a likelihood that criminals may add malicious apps to this app store, which can cause great trouble.
Location Faker and Location Handle are two apps available on this platform that can be used for location spoofing; however, you need to jailbreak the phone to use these apps. If you do not want to jailbreak your phone and protect yourself from any possible security risks, then TailorGo is an excellent alternative. As a simple and easy-to-use spoofing app capable of changing GPS location and simulating GPS movement on iOS and Androids devices, it is worth a shot for all your location spoofing needs.