Do you want to pull a prank or a surprise on your loved ones, friends, or family? One thing that can hinder the success of your plan is your WhatsApp location. However, you can achieve this aim by sharing a fake location on WhatsApp. This way, you can catch them unaware and manage a successful prank or surprise. But how can you share fake live location on WhatsApp? If you don't know about it then this article is here for you.
Part 1.

How to Send Location on WhatsApp

Sending your location to friends or just anybody in your contacts via WhatsApp is pretty easy. With a few steps, you can effortlessly send your location on WhatsApp to target chats.

Remember WhatsApp chats are end to end encrypted and thus anything you share in a chat is entirely between the two of you. WhatsApp doesn't automatically share your location details and hence sending your location on WhatsApp is fully your decision. The following steps illustrate how you can pin your location on WhatsApp.
1

Run WhatsApp on your phone and open the chat with the person you want to send your location to on WhatsApp.

2

For iOS devices, tap on the plus icon on the left side of the chatbox. For Android devices, click the paperclip icon at the far end of the text field. Choose "Location" from the options displayed.

3

On the subsequent page, you can show exactly the place you are by choosing "Send Your Current Location" or send another location by selecting among the places displayed or directly searching for the place you want.

4

Of course, you can also click on the "Share live location" tab to show your movement. For that, choose the period you want to share the live location for. You can also add caption then send it. If you want to terminate location sharing, just click "Stop Sharing".
Part 2.

How to Send/Share Fake Live Location on WhatsApp
1. Send Fake Location Within WhatsApp
Actually, users have the freedom to send fake location to people on WhatsApp, whatever the reason is. However, unlike static location, dynamic live location cannot be manually faked on WhatsApp. The following steps illustrate how you can manually send/share fake locations on WhatsApp.
1

Launch WhatsApp on your phone and open a chat with the person you want to share a fake location with.

2

For iOS devices, tap on the plus icon on the left side of the chatbox. For Android devices, click the paperclip icon at the far end of the text field. Choose "Location" from the options displayed.

3

On the subsequent page, go to the top of the map and hit the search bar. Here, enter the name of the location you want the other side to see (the fake location).

4

Again proceed to manually select this location on the map as shown below.

5

The fake location will now be shared with this target person.
Note
Although this method still works it is important to note that is not entirely safe. We could only use it when we are not so concerned about being noticed because it leaves some flaws for suspicion.
Specifically speaking, a real location comes with only a dropped red pin and no text attached, while a fake one comes with the address text and red pin at the same time. To avoid the risk of being seen through, a third-party mock location app is what we need exactly.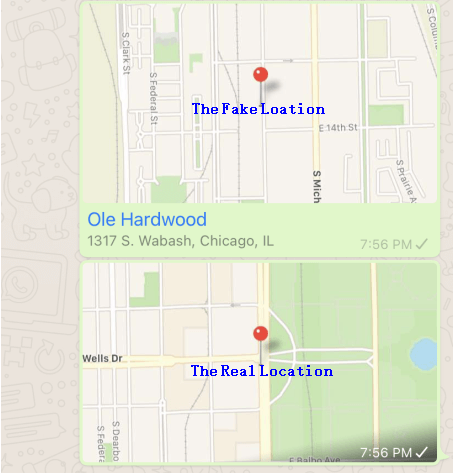 2. Send Fake Live Location on iOS & Android Devices - TailorGo
As what has been discussed above, faking location within WhatsApp can be easily discovered and faking live location is not supported. Therefore, we need the help of some professional apps. Honestly though, finding an excellent tool to send fake live locations can prove tough. Fortunately, professional location changer TailorGo is that tool you have been looking for.
TailorGo is highly-rated owing to its excellent combination of features that makes fake location sharing not only effortless but also safe. With TailorGo, everyone can share fake location on both iOS and Android devices without being noticed at all. Besides, thanks to the simulation GPS movement ability, TailorGo makes faking live location on WhatsApp possible.
Helps user teleport to any part of the world in just a few clicks without any difficulty.
Simulates GPS movement along with customized routes and speed, making the movements natural and sparing users from the trouble of moving physically.
Works excellently on common location-based apps such as Pokemon Go, WhatsApp, Tinder and Facebook.
Supports both iOS and Android devices, offering a comprehensive solution to location changing issue.
Takes only simple steps and suits everyone, including newbies.
Free trial is provided for every user for initial experience.

1

Download, install and launch TailorGo on your computer. Then click the "Get Started" button and get your device connected.

2

There are 3 different modes: Teleport Mode, Two-Spot Mode and Multi-Spot Mode. To simply change location, choose the 1st one and select the destination. To simulate GPS movement, choose either the 2nd or 3rd one, then plan a route to move along.

3

Your location will be changed easily; or the movement will be completed in a smooth and natural way.
3. Share Fake Live Location Using Android Spoofing App
If you are looking an Android spoofing app used on your phone, there are plenty of Android spoofing apps available on Google Play. However, not every one of them is up to par and you need to be cautious while selecting one. Some of the factors worth considering include location accuracy and ease of navigation. The following steps illustrate how you can share fake location using Android spoofer app, taking Fake GPS Location as an example.
1

Open your Android device and navigate to Settings > Privacy > Location Services. Now, enable the location sharing services. Once you have enabled the location-sharing services, proceed to the Play Store and install the Fake GPS Location app.

2

Now go back to your Android phone's "Setting" tab then choose the "About Phone" option. Locate the "Build Number" option and click it 7 times to enable the developer options. Again head back to the "Developer Options" and check the "Allow mock locations" checkbox.

3

With Android mock location now allowed, proceed to the "Mock location app" option and select the Fake GPS Location app you just installed on your Android phone.

4

Now launch the Fake GPS Location app then click the "Search" icon at the top. Enter the desired fake location you would like to share and click the "Set Location" option below it.

5

Open WhatsApp then share your location. The location displayed will be the fake location you just set on the Fake GPS Location app.
Bonus:

The Best Tool to Transfer/Back up/Restore/Export WhatsApp

Now that you have solved the location issue on WhatsApp, perhaps you need another tool to backup, export, or transfer WhatsApp across devices, since there is not yet an official way to transfer WhatsApp from one device to another. If you have spent the whole day looking for hacks and tricks but still in vain, remember that we're here for you. Here we highly recommend ChatMover.

As a versatile app, this tool can transfer WhatsApp between Android and iPhone, back up WhatsApp on Android and iPhone to a computer, restore WhatsApp backup to iPhone and Android devices and export WhatsApp backup to HTML and CSV/XLS.  

Download iTransor for WhatsApp today and make your WhatsApp using experience full and perfect.
Conclusion
As you have seen above, how to send a fake location on WhatsApp isn't a hard nut to crack. However, the crux of the matter is what kind of method to choose, for the purpose of avoiding risks or other disappointments.
Luckily, we have given you the right tool in the name of TailorGo. Just pull a trigger and download TailorGo to transform how you send/share fake location on WhatsApp. Ranging from the ease of use, speed, compatibility, and an array of features, TailorGo easily slots into an indispensable tool for sending fake location on WhatsApp.