In some cases, we may need to sell our old iPhone or gift it to a friend or family member, which will necessitate removing the iPhone's screen lock so that the other person can use it normally.
But what if it's been too long since we used the iPhone and now we have forgotten the passcode for the screen lock? In this case, even ourselves are stuck on the screen lock desperately. Are there any methods to remove iPhone screen lock? Read on as this article will teach you 4 best ways to remove iPhone screen lock with or withoutpassword.
Part 1.

Why You May Need to Remove Your iPhone Screen Lock?

The screen lock on an iPhone is a necessary feature that is used to protect the device against unauthorized access. However, there may be times when the lock becomes bothersome and aggravating to the user, and you may want to removeiPhone lock screen for an easier access.

In addition, before you give away your old iPhone, you may want to disable the screen lock so that the device won't lock the new owner out. There are also chances that it's been such a long time since you last used your iPhone, and you have forgotten about the passcode to the screen lock.

Whatever the reason is, it's completely possible to remove iPhone screen lock. In the next part, 4 different methods will be introduced.
Part 2.

How to Remove iPhone Screen Lock?
Method 1: Turn Passcode Off in Settings
If you still remember the screen passcode and simply want to disable the lock screen, whether temporarily or permanently, then you can directly go to Settings on your iPhone.
1

Go to Settings > Touch ID & Passcode (or Face ID & Passcode for newer iOS versions).

2

Tap Turn Passcode Off and you'll be able to remove iPhone screen lock easily.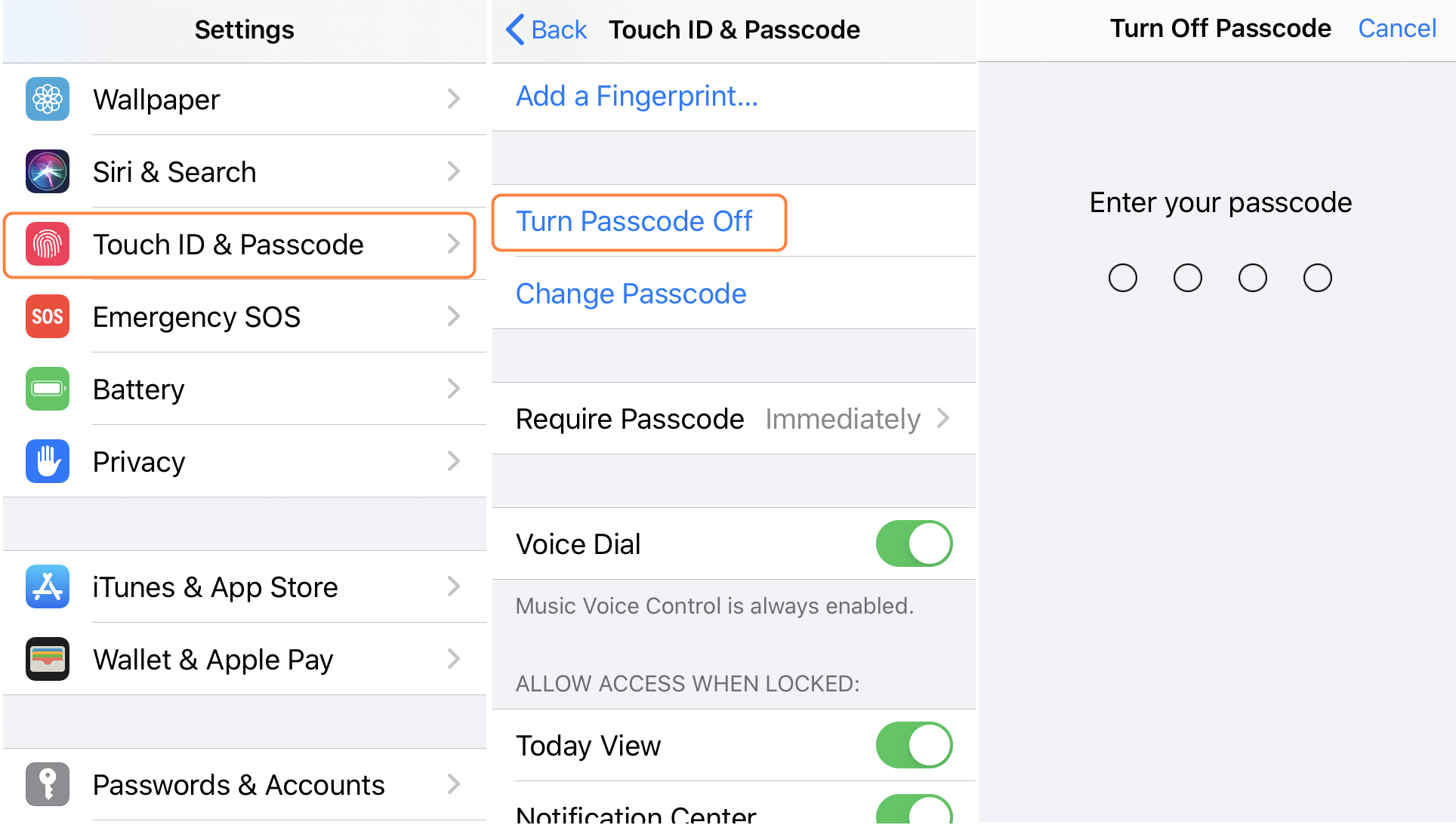 Method 2: Remove Screen Lock in Seconds
We've created a unique desktop-based program called UnicTool Upassit to perfectlyremove iPhone screen lock. It works on all iOS devices, including iPhone, iPad, and iPod touch running iOS 12.3 and later versions. In addition to removing iPhone screen lock, it can also bypass iCloud Activation Lock without password.
Remove iPhone screen lock without passcode easily.
Remove screen lock without activation restrictions.
After the unlocking, most iOS functions are available: call, SMS, Siri, etc.
Bypass iCloud activation lock and turn off Find My [device] effectively.
Compatible with both Windows and Mac computer.
If you don't know or have forgotten your iPhone lock screen passcode, you can use Upassit to remove iPhone screen lock via the "Remove Screen Lock and Bypass Activation" mode:
1

Launch UnicTool Upassit

Open UnicTool Upassit after it has been successfully installed and choose the "Remove Screen Lock and Bypass Activation" mode. Use a lightning/USB cable to connect your iPhone to your computer.

Follow the on-screen instructions to put your iPhone into recovery mode. Then the program will ask you to confirm your device details and the Find My iPhone state.

2

Jailbreak your iOS device

UnicTool Upassit will need to jailbreak to remove iPhone screen lock without iCloud activation constraints. Just follow the easy guide on the screen and let Upassit do the heavy lifting!

3

Finish bypassing process

For iOS 12 iPhone, Upassit will erase the content on your iPhone, jailbreak it again and bypass iCloud Activation subsequently.

For iOS 13 and newer iPhone, Upassit will turn off the Find My iPhone feature on your device and erase the content on it to set it up as a brand new phone.
Upassit will automatically proceed with the related process, and all you'll need to do is sit and click "Next" for each step and then the iPhone lock screen will be removed nicely!
Method 3: Restore iPhone via iTunes
If you have recently synced iPhone with iTunes, then iTunes is probably a feasible way. Using iTunes to restore the iPhone to default settings will wipe out the content and settings previously stored on the device, therefore remove the iPhone screen lock.
1

Launch iTunes / Finder on your computer, and connect it with your iPhone.

2

Select your iPhone on the left-side menu when it prompts in iTunes.

3

On the screen on the left, click on Restore iPhone. And iTunes will begin to restore and factory reset your iPhone.
Your device will restart when it has been restored to factory settings. And you'll see the iPhone screen lock has been removed.
Method 4: Boot into iPhone Recovery Mode
If your iPhone cannot be recognized by iTunes or using iTunes to reset your iPhone is not working, then try putting your iPhone into recovery mode in iTunes to reset the device and remove screen lock:
1

Open iTunes on a computer.

2

Make sure your iPhone stays connected to the computer and boot it into recovery mode:

iPhone 8 or later, including the second-generation iPhone SE: The volume up button should be pressed and rapidly released. The volume down button should be pressed and swiftly released. Then, hold down the side button until the recovery mode screen appears.

For iPhone 7 and iPhone 7 Plus (7th generation): simultaneously press and hold the top (or side) and volume down buttons. Hold them in place until the recovery mode screen appears.

iPhone 6s or earlier, including the first-generation iPhone SE: At the same instant, press and hold the Home and top (or side) buttons. Hold them in place until the recovery mode screen appears.
3

On iTunes, when the option to restore or update appears, select Restore.
iTunes will download software for your iPhone and begins the restore process. Wait patiently and when it's done, you'll be able to set up your iPhone as a new.
Conclusion
Removing iPhone screen lock is necessary for a variety of reasons, and UnicTool Upassit proves to be the easiest way. It is dependable, assuring users of a guaranteed solution through online tech support and a comprehensive user manual. Besides, Upassit is capable of bypassing iCloud activation lock and turning off Find My [device] effectively.