Apple is always at the forefront of making your iPhone data secure. Although security is paramount, it has become increasingly difficult to get into your iPhone in case you forget your Apple ID password or buy a second-hand iPhone with the previous Apple ID still logged in.
So, what can be done to remove Apple ID from iPhone and reset it as a new one? In this article, we'll discuss 5 methods on how to remove Apple ID from iPhone with or without passwords.
FAQ
Does Removing Apple ID from iPhone Affect iCloud Account?
No, removing Apple ID has no impact on the iCloud Account. Both the Apple Account and iCloud account are two different accounts, though they can be accessed with the same email ID.
Part 1

Why You May Need to Remove Apple ID from iPhone

The presence of someone else's Apple ID on your iPhone can be a major nuisance. This issue might arise due to two major reasons. Firstly, you might have bought a used iPhone and the previous owner's Apple ID is logged into the device. Secondly, it could be an acquaintance that used your iPhone and use their Apple ID to access to Apple App Store but forgot to sign out.

In both cases, it can become an impediment to use your iPhone with other people's Apple ID. For example, the inability to download a new app from the App Store or restore app purchases made from your ID. Another problem is that all the photos taken will be backed up to the iCloud of the logged-in individual rather than your account.

Due to these reasons, it might become necessary to remove Apple ID from an iPhone.
Part 2

Remove Apple ID from iPhone With Password

Let us now discuss 4 methods to remove Apple ID from iPhone if you have the password with you:
Method 1: Remove Apple ID in Settings
The simplest method to remove Apple ID from your iPhone if you know the password is to simply remove it from the settings application. Simply go to  iTunes & App Store > Apple ID > Sign Out.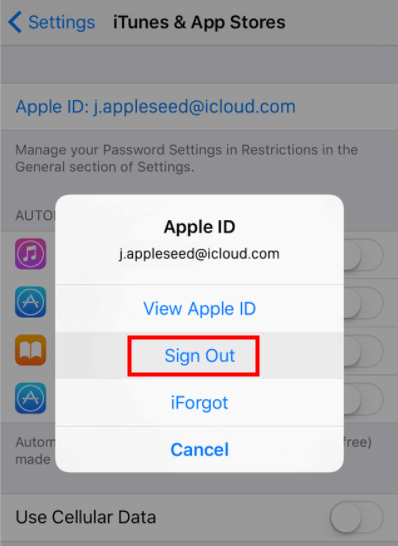 Method 2: Remove Apple ID on App Store
In case a friend or an acquaintance downloads apps onto your iPhone via their Apple ID on the App Store and forget to sign out, you can ask them to go to App Store and enter their account credentials to remove their Apple ID.
1

Go to App Store.

2

At the top right corner of the screen, tap on your name. You will now be on the Account page.

3

Scroll down and tap Sign Out. You will not be required to enter a password for this purpose.
Method 3: Remove Apple ID via iCloud
You can also ask the person who signed his/her Apple ID onto your iPhone to remotely disconnect the iPhone with his/her iCloud account.
1

Go to iCloud.com and sign in with their associated account.

2

Go to Find My iPhone > All Devices, and locate your iPhone model.

3

Select "Remove from Account".
Part 3

Remove Apple ID from iPhone Without Password
Method 1: Restore iPhone to Factory Settings With iTunes
Use iTunes to restore the iPhone to factory settings will erase all content and settings on the device, which will allow you to remove Apple ID from iPhone without password. Back up your iPhone with iTunes first and follow these steps:
Note
If your Find My iPhone feature was enabled when you restore iPhone via iTunes, the iCloud Activation Lock will be turned on after the restore process finished. But don't panic, there are ways to remove or bypass Activation Lock on your iPhone.
1

Connect the iPhone to the computer and launch iTunes.

2

Select the iPhone icon on the left-side menu.

3

On the right section, click on "Restore iPhone" > "Restore".
iTunes will start restoring your iPhone to default settings. When the device restarts, the previous Apple ID will be removed.
Method 2: Use UnicTool Upassit to Bypass Activation Lock on iPhone
If you accidentally triggered the Activation Lock on your iPhone when restoring it via iTunes, you can remove the lock by entering the associated Apple ID and password that werre used to activate the iPhone.
But if you can't get the device unlocked or just forgot the password, then the most effective solution is to use UnicTool Upassit to help you bypass the iCloud Activation Lock without password.
Bypass Activation Lock on iPhone/iPad/iPod touch
Turn off Find My iPhone / Lost Mode without password
Remove iPhone screen lock and bypass iCloud activation
1 register with unlimited access to all modes
To use this tool and bypass the Activation Lock on your iPhone, follow these steps:
1

Launch UnicTool Upassit on your computer and choose "Bypass Activation Lock Screen" mode.

Connect your iOS device to Mac/Windows computer via a USB cable.

2

Follow the on-screen guide to let Upassit jailbreak your iPhone.

3

Once done, confirm your device information as displayed on the screen and click Start Bypass to let Upassit bypass Actiation Lock on your iPhone
It only takes a few seconds for Upassit to complete the bypassing process. After that Upassit will remove Apple ID from the iPhone without password successfully.
Conclusion
We hope by reading this article, you've learned how to remove Apple ID from iPhone with/without password. Don't forget to give UnicTool Upassit a go to help you solve the Activation Lock problems if it ever comes out!