Every iPhone user knows the pain of forgetting their Apple ID and suddenly being unable to unlock their device. In fact, it might not even be that you forgot your Apple ID, maybe you bought a second-hand iPhone and you need to activate it in order to change the settings.
Luckily, with UnicTool Upassit, you'll be able to turn on iPhones without the Apple ID, so you don't have to stress about being unable to use your new phone. In this article, you'll learn everything you need to know about locked Apple products and how to activate iPhone without Apple ID.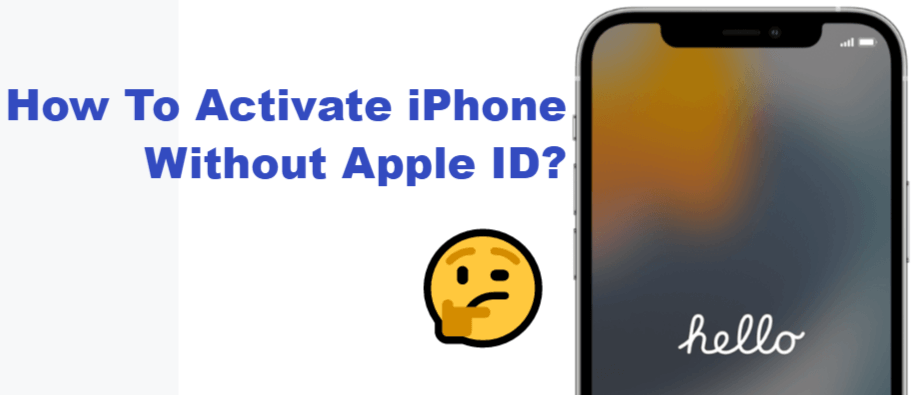 FAQ
Can You Use an iPhone That's iCloud Locked?
Unfortunately, the short answer is no. This means that if you're in the market for a used iPhone, it's absolutely vital to double-check the activation settings before handing over your money. This is because if you receive the iPhone and the iCloud is locked, you'd have to unlock it in order to use the device normally.
That's why it's not recommended to buy used iPhones off of eBay since you aren't able to check before buying. So it's certainly a better idea to buy a used phone in person and make sure you are able to unlock it.
Part 1.

How to Activate a New iPhone Without Apple ID

If you just bought a brand new iPhone, you may decide that you don't want to use an Apple ID with your new iPhone. Then during the setup of this new iPhone, simply choose "Forgot Password or Don't Have an Apple ID" > "Set Up Later in Settings". Click on that, and you're good to go!
Of course, Apple will occasionally suggest setting up the Apple ID, but once you have your iPhone set up, you're not at all required to do so. You can avoid the Apple ID altogether if you so choose.
Part 2.

How to Activate a Locked / Second-Hand iPhone Without Apple ID

Sometimes, however, you may find that your new-to-you iPhone is locked with the Apple ID and you don't know how to activate it. Or perhaps you factory reset your phone without signing out first. Or maybe even if you simply forgot your password and can't enter either your iPhone or account.

In these cases, you have two possible options, although it's much more convenient to use a professional software to bypass activation lock to activate an iPhone without Apple ID. Here are the two methods you can follow:
Method 1: Use UnicTool Upassit to Activate iPhone Without Apple ID
The quickest and easiest method is to simply use UnicTool Upassit software to effortlessly handle the situation. It's always best to just let a professional tool do all the heavy lifting for you. This bypass activation lock software is simple to use and get your new iPhone ready for use in no time. Here's how to activate iPhone without Apple ID using Upassit:
1

Install Upassit on your computer, choose "Bypass iCloud Activation Lock Screen" mode and click Start.

2

Connect your iPhone to your computer via USB.

3

Follow the on-screen instructions to carry out jailbreak process.

4

Confirm all of your device information (such as device model and iOS version), then click on "Start Bypass".
After a few seconds, the previous Apple ID settings will be removed and you'll be able to change the settings again.
And that's it! By using Upassit, you'll be able to activate iPhone without Apple ID in just a few minutes.
Method 2: Bypass iCloud DNS
Rather than using a software to activate an iPhone without Apple ID, many people prefer to use a more manual method by bypassing the iCloud DNS. This process has some advantages and disadvantages when compared to an automated software, so you'll want to be aware of which procedure works best for you:
Pros
Bypassing the iCloud DNS is free
You don't need a computer
All you need is your phone and an internet connection
Cons
There's no guarantee Bypass iCloud DNS will work
It only restores limited functionality of your device
Might not be viable for all iOS versions
Now that you're aware of the pros and cons, here are the instructions to follow in case you choose to activate your iPhone without Apple ID using the bypass iCloud DNS process.
1

On the iCloud activation lock screen, choose your country / region, then click on proceed.

2

Within the WiFi settings, click on the "i" icon next to the WiFi network. If you have already used this network before, make sure to click on "forget this network" prior to proceeding to step 3. You should not be connected to WiFi at this point.

3

Click on "configure DNS" and choose the manual option.

4

Add in a DNS* server based on your country.

5

After adding in the DNS, click back and turn on the WiFi.

6

Select the network you just edited and enter the password.

7

When you see "Next Page", don't click on it. You'll want to click on "back" and you should see the iCloud Bypass screen.

8

Swipe down to go to the menu and access your apps. All done!
*Here is a short list of IP addresses you can use for your server:
USA: 104.154.51.7
South America: 35.199.88.219
Europe: 104.155.28.90
Asia: 104.155.220.58
Australia and Oceania: 35.189.47.23
Final Thoughts
Getting locked out of your iPhone is always frustrating, but it doesn't need to be a nightmare. If you want to activate your iPhone without Apple ID to bypass the Activation Lock, make sure to use UnicTool Upassit to get out of this pesky scenario and get your iPhone back in your hands.