WhatsApp has become an essential tool for almost everyone. Billions of people use it for their daily formal/informal conversations. Hence, the conversations we do on WhatsApp becomes very important to save. There can be numerous reasons why you want to save your WhatsApp chats or make a Whatsapp book.
You want to fight a legal battle against somebody you had a conversation with on WhatsApp, hence that WhatsApp chats convert into legal evidence, and it is crucial to have a hard copy of it. Or to talk on the positive side, WhatsApp chats are also crucial to small business owners who operate through WhatsApp to keep track of their orders and naturally, it would be easier for them to have WhatsApp Chats printed.
Whatever your use case be, we are here to provide a solution to it. Today we will tell you how to print WhatsApp chats.
Part 1.

How to Print WhatsApp Chats Book for Free (Complex)

In our first method, we will discuss how you can save your WhatsApp chats through your e-mail. To give a disclaimer, this method is lengthy and require a lot of patience to perform; hence if you can't go through the hassle using this method or you don't have the time to do so, you can refer to the next method. If you're still here, let's see what it takes to save a WhatsApp chat through e-mail.
1

First, head over to your WhatsApp and select the conversation you want to save and get printed.

2

After opening the conversation, look for a three dots icon on the top right corner of your screen. Click on it and chose the option named Export Chat.

3

Next, you will be prompted with a message asking if you want to export the media involved in the chat in the backup or not. Select either of the options and proceed to the next step. Remember that attaching your media with the chat will increase the zip file size sent to you.

4

After selecting an option, you will see a screen with multiple sharing options in it. Select the Mail Option and continue to the next step.

5

Post the Mail option, open your e-mail and download the ZIP file sent to you by WhatsApp.

Note

Remember that you have to unzip the ZIP file to save your messages and print them. You can use any software, but keep in mind that you have to search for the software on the internet and then download and install it on your computer to operate it.

6

After successfully extracting your WhatsApp chats, you can easily print them the way you want or transfer them to portable storage to get them printed from the market.
Pros
This method is free to use for everyone.
This method works on iOS and Android devices both.
Cons
It's clear that this process is lengthy and require an ample amount of time and energy to perform.
To unzip the files, you require additional software; hence you have to go through the hassle of searching, downloading and installing that software on your PC before you can even see your chats.
Gmail only allows a maximum of 4 MB for attachment size. Hence if you have a decent-sized conversation, the process will become even longer for you because you have to repeat the process repeatedly until you get your complete chat saved.
Part 2.

How to Print WhatsApp Chats to Book PDF without Extra Apps (Incomplete)

In this second method, we will tell you how you can save your WhatsApp chats with the help of a smartphone feature. Let's find out which feature we are talking about.

(Keep in mind that this is also a lengthy process, so if you don't want the hassle, don't worry as we have got something even interesting for you at the end, so stick around.)
1

Open the conversation you want to save and print.

2

Go to the start of the conversation or the point of the conversation you want to save.

3

After reaching the desired point, you have to take a conversation screenshot. You have to keep taking screenshots to the point where you want to or till the end of the conversation if you require.

4

After completing the screenshot process, copy all these pictures into your computer and organize them in the correct sequence.

5

Arrange these pictures on individual pages and print them out; else, transfer these to portable storage to get them printed from the market.
This process is simple. All you have to do is take the screenshots of your entire conversation one by one, page by page and then fill up your storage with a mine of pictures, and to add the cherry on top, organize the lot in the correct sequence. Simple, eh?
Pros
This method is also free to use for everyone.
This method works on iOS and Android devices both.
No extra apps required.
Cons
In reality, you will be taking a print of a bunch of screenshots which will indeed look messy.
You have to go through a lot of pages to find a particular point because the size of the screenshot will take up a significant area of the page.
Your chats will require a lot of pages to print than a regular text file.
Part 3.

How to Make a Print WhatsApp Chats Book (Easy)

Here is the part where I can finally say that this method is easy to follow and require the least amount of time to complete. To save and print your WhatsApp chats easily and quickly, you can use UnicTool ChatMover. UnicTool ChatMover is an excellent software designed to help you export your WhatsApp chats with ease.
It supports exporting your chats to various formats like PDF, Excel, etc.
You can print the chats as the way they look on your phone.
It is effortless to use, and its interface is highly user friendly.
UnicTool ChatMover requires the least amount of time to export your chats.
With ChatMover, you can also backup your media for free, including your videos, photos, documents etc., with your chats.

To export and print your WhatsApp chats through UnicTool ChatMover, you can follow the steps mentioned below:
1

Connect your device with the computer, and follow the on-screen instructions to successfully backup your chats. (Believe me, it's easier than you think)

2

After taking the backup, go to the option named Export and select the backup you just made, and click on Export.

3

Select the conversation or the part of the conversation that you would like to export. After selecting click on Export, please select the location where you want to save the backup and select the format in which you want to save it and click on Export again.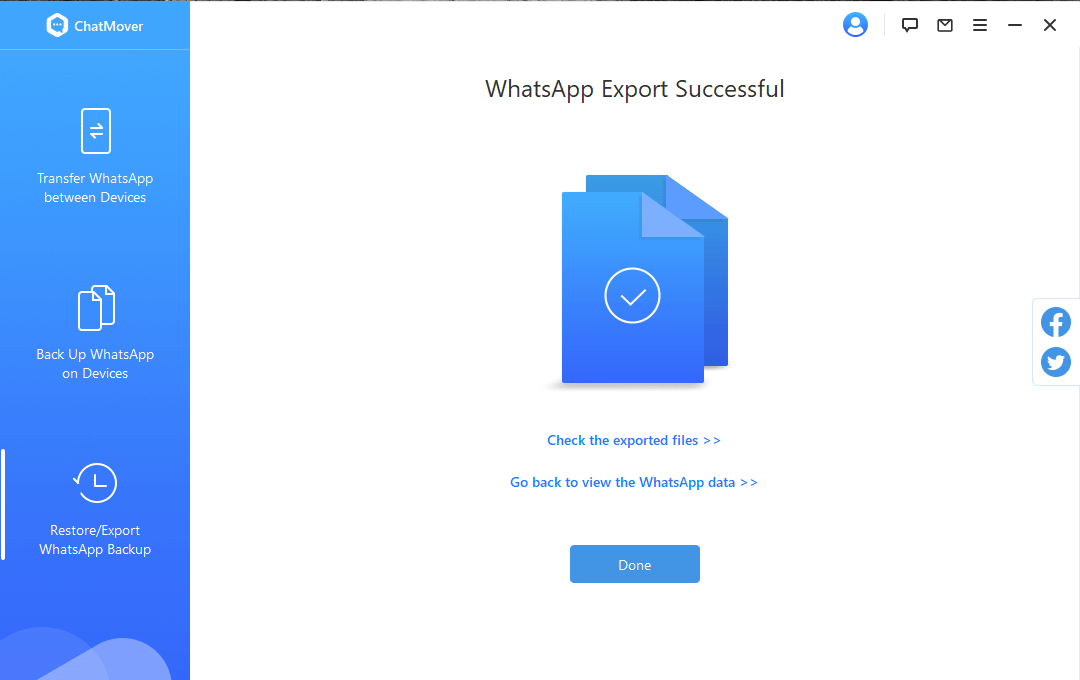 That's all you have to do to save/export your WhatsApp chats using UnicTool ChatMover.
Part 4.

Review of the Above Methods
| | E-mail method | Screenshot Method | UnicTool ChatMover |
| --- | --- | --- | --- |
| Time Required | 1 to 2 Hours | 1.5 to 2.5 Hours | 15 to 30 Minutes (depending on the size of WhatsaApp database) |
| Hassle-Free | No | No | Yes |
| Ease of use | No | No | Yes |
| Limitations | Can't export greater than 4 MB | It takes a lot of time | No Limitations! |
Conclusion
We have told you everything you need to know about how to print WhatsApp chats as a book/PDF/text file. We have given you three methods to do the same thing, and each has its pros and cons.
We will recommend that you should use UnicTool ChatMover to do this as it will complete the task quickly and easily.