A lot of our lives are stored in WhatsApp chats. From photos and videos sent by friends and loved ones to instructions from the boss. But what if you lose your phone? Do you know where your messages are? Once delivered WhatsApp don't keep any of your messages, so like any important data, it's vital that you backup WhatsApp from iPhone to PC to make sure your data is safe.
Part 1.

How to Backup WhatsApp from iPhone to PC

The iPhone, by design, keeps most of its working out of the way, Apple's 'it just works' ethos is great when it comes to just being able to install and use an app. But it means that it's not always clear where WhatsApp data is stored on the phone or how, or even if, it's backed up.
Method 1. Backup WhatsApp iPhone to PC with WhatsApp Transfer
The easiest way to back up your WhatsApp data from iPhone to PC is to use ChatMover. ChatMover is an easy-to-use app that gives you total control over your WhatsApp data. Whether it's creating backups, transferring to a new device or saving the data in different formats, so you can review it on your computer.
Using ChatMover is totally safe, it will transfer all your data, including pictures, videos, attachments and, of course, the chats themselves. It has a guaranteed 100% success rate from its one-click operation.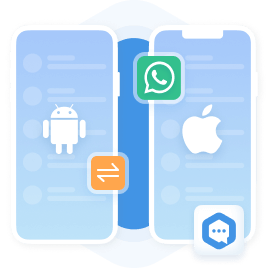 All-in-one WhatsApp Transfer
It is completely safe. And all messages are transferred locally, so there's no risk of them being leaked or lost.
It's incredibly easy to use. All you need to do is connect your phones to your computer and click one button.
It transfers everything. ChatMover can handle everything in your WhatsApp database, it doesn't just transfer the chats or ignore some file types.
ChatMover does more than just transfer. You can use it to keep multiple backups of your database, or as a WhatsApp viewer.
1

Connect your device to your computer. If it's the first time you have connected, you might have to confirm that they are trusted devices. ChatMover will see the connected device.

2

Click 'Backup'. If you have both WhatsApp and WhatsApp Business installed you can choose which one you want to back up.

3

You have to just wait until it completes the backup. ChatMover will let you know it's successfully created a backup.
ChatMover doesn't delete or overwrite your previous WhatsApp backups, so your data is safe until you decide you don't need it. And once backed up you can use ChatMover to review the context, access attachments or even export individual chats. What's more, it works with all the popular Android & iOS versions, including iOS 16.
Method 2. Backup WhatsApp from iPhone to PC via Email
If you want to back up WhatsApp from your iPhone to PC or Mac free, you can back up WhatsApp chats from within the app itself. This will create an archive that you can email or share. There is also a workable solution to back up WhatsApp from Android to PC for free.
1

Open WhatsApp on your phone and find the chat you want to back up. In that chat tap the contact name or group subject at the top.

2

Scroll down to the bottom of the options and tap 'Export chat'. You will then be asked if you want to attach media from the chat.

3

Use the share sheet to export the chat. The options available to you will depend on what apps you have, but you can usually email the chat or save it to iCloud.
This method has a lot of disadvantages.
The most obvious is that each chat has to be exported individually. If you only have a few chats this might not be a problem, but the typical use has tens, even hundreds of individual chats, making this method too unwieldy to be practical.
You also cannot use the WhatsApp archive format for anything other than viewing the chats. The text file can be viewed in many applications, but you cannot easily reformat it or import it back into WhatsApp.
Finally, if you include attachments the archives can be too big to email, and might even start taking up too much room in your iCloud account.
Method 3. Backup WhatsApp iPhone to PC with iTunes
Another way to get a WhatsApp backup from iPhone to PC is use iTunes. This will back up your whole iPhone, including WhatsApp data, to your PC.
1

Connect your phone to your computer. The iTunes app will probably open automatically, but open it if not.

2

Select your phone in the app, then click on 'Summary' in the navigation menu.

3

In the 'Backups' section click 'Back Up Now'. The iPhone will back up to the computer.
Although free, this method is only really useful in situations where your phone is lost or damaged, and then only when you get a replacement iPhone. The backup contains all the data from your phone, and you cannot selectively restore it. If you have one chat you accidentally deleted, the only way to get it from an iTunes backup is to restore the whole phone.
Bonus Tip.

Backup Your WhatsApp to iCloud

The above methods present workable ways to back up WhatsApp on iPhone without iCloud, but you can also back up your WhatsApp data to iCloud. If you have iCloud backup set up, this will happen constantly as long as your phone has a connection to the internet.

To do this open the 'Settings' app on your phone, then tap your Apple ID at the top of the screen, then 'iCloud'. Scroll down to make sure the WhatsApp option is selected.

This will save all your WhatsApp data on iCloud. This has the benefit of being automatic, so your data is always being saved in the cloud. However, like an iTunes backup, all you can do is restore the whole archive back to a new phone.
Conclusion
You should always ensure you have a backup of your important data, and your WhatsApp data can hold lots of valuable information.
If you want to back up WhatsApp from iPhone to PC for free, you can use iTunes or iCloud to capture your whole archive. Or your keep important individual chats by manually exporting them from the app.
But a far better solution for getting you WhatsApp backup from an iPhone to a PC is ChatMover. The app is quick and simple and, once complete, you can use the archive to restore back to your phone or export chats in several formats. It offers ease-of-use, flexibility and peace of mind in a single, simple application.