If you are planning to shift from iPhone to Android, you will find that there are many tools available which can help cross-platform data transfer. But to transfer WhatsApp from iPhone to Android, you will not find any default method. However, it's still possible to achieve the goal with other solutions. In this article, we are exploring the possible approaches to transfer WhatsApp chat from iPhone to Android.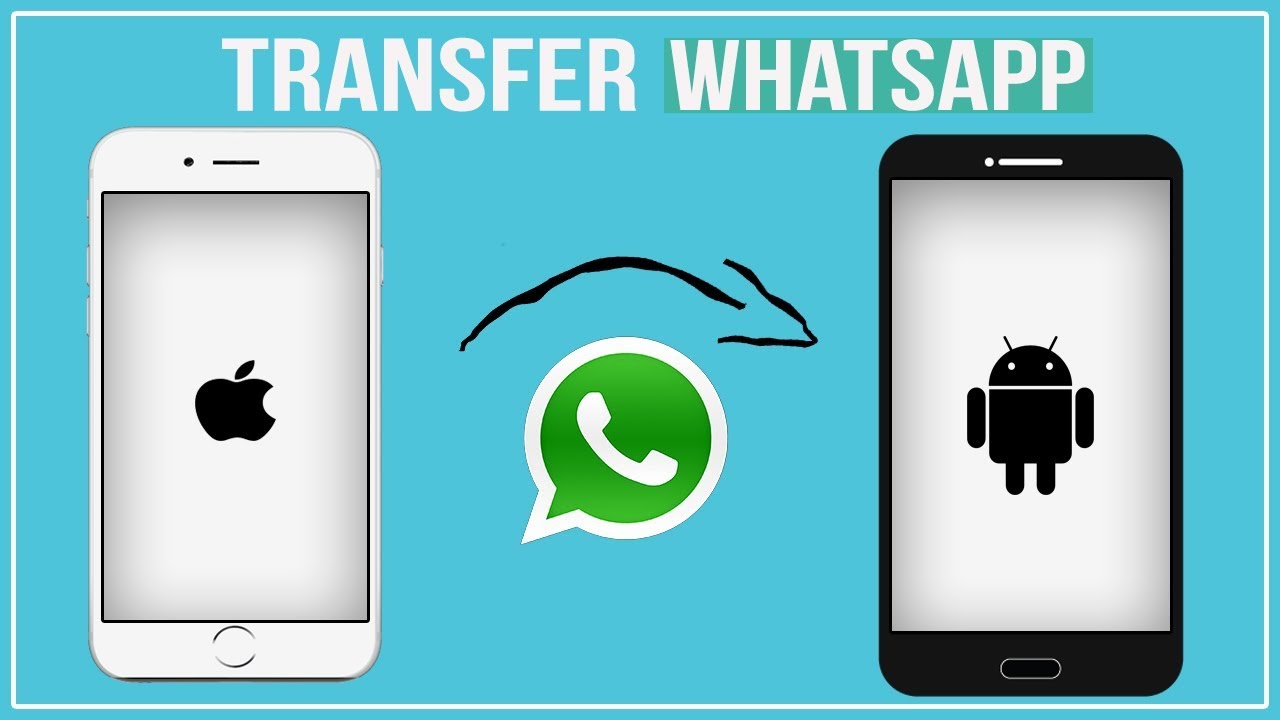 Part 1.

Transfer WhatsApp from iPhone to Android Directly

WhatsApp introduces a way to transfer your data from iPhone to Android devices, which indicates that you need a Type-C to Lightning cable(If you are using a new iPhone like iPhone 15, you already have it), and your Android devices are in factory reset or set as a new phone.

Fellow the steps to transfer your WhatsApp with a cable easily.
1

Connect your Android device and iPhone device with the cable, make sure both of your phones are in unlocked.

2

Open WhatsApp, the Copy Apps and Data Notice will Pop up on your Android device.

3

Use iPhone Camera to scan the QR code and open WhatsApp to transfer data.

4

Finish and disconnect the cable.
Part 2.

How to Transfer WhatsApp from Android to iPhone
Way 1. Transfer WhatsApp from iPhone to Android Directly with WhatsApp Transfer
If you want a quick and effortless way for this, then ChatMover is an ideal tool for you. It is a comprehensive utility software that supports iOS 16 or iOS 17 and helps to manage WhatsApp in a number of ways, including directly transferring WhatsApp from iPhone to Android in a minimal time.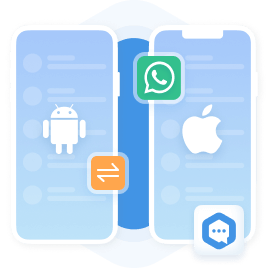 All-in-one WhatsApp Transfer
100% Success Efficiency: ChatMover ensures seamless WhatsApp transfer from iPhone to Android.
Direct Transfer: Move WhatsApp data to any device without OS restrictions.
Cover All Chats and Attachments: Transfer all WhatsApp data, including messages, photos, videos, and more.
User-Friendly: Easy-to-use interface, complete the task in just a few clicks.
Fully compatible: Works with all popular Android & iOS versions, including iOS 17.
The above features presents ChatMover to be an ideal iPhone WhatsApp to Android migrator. Following are the 3 simple steps to use ChatMover for transferring WhatsApp:
Step 1. Install ChatMover on your Computer and launch the tool.
Step 2. Click "Transfer" and connect both your iPhone and Android devices. The tool will detect them as soon as they are connected. Afterward, click the "Start" button.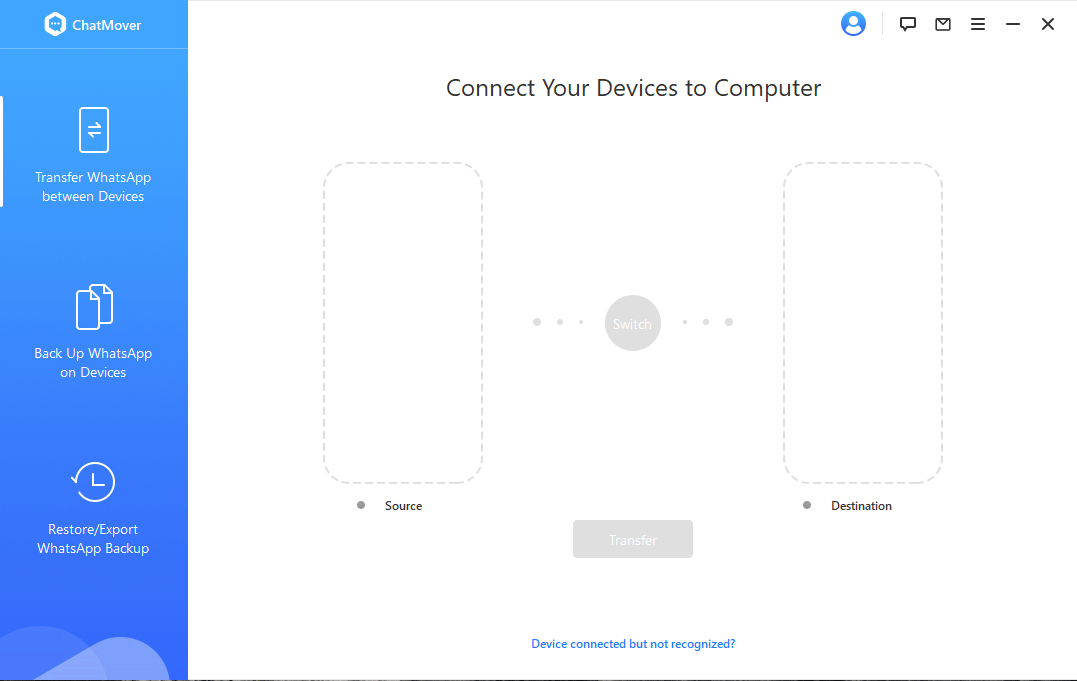 Step 3. The transfer process will start. It may take a few minutes to few hours for the process to complete depending on the volume of WhatsApp data. Make sure the two devices remain connected with the computer during the whole process. Once the transfer process is finished, you can log in to your WhatsApp in Android phone to check.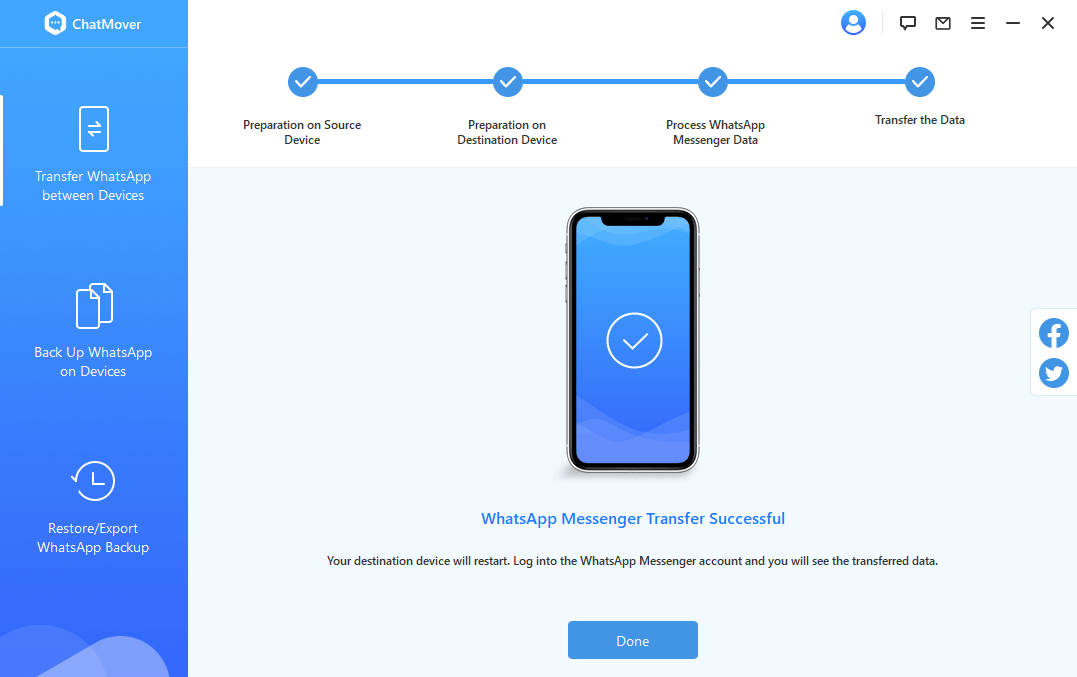 Way 2. Free Method: Move WhatsApp Messages from iPhone to Android via Email
There is a free method available inside the WhatsApp application that helps to send chat via email. But it sends the chats to log files, which means you can only read those chats, and they will not be integrated into your Android WhatsApp application. Following are the detailed steps:
1

Launch WhatsApp on your iPhone and go to the chat that you like to transfer. Click on the profile picture on the top left corner, and then click "Export Chat".

2

It will ask you whether you want to attach media or not. So, either click "Attach Media" or "Without Media" based on your desire. Afterward, click on the Mail icon.

3

Now input the email address where you want to send the chat and click "Send".

4

Log in to that email account from your Android phone and see the email you received. It will contain the chat you just emailed from your iPhone.
Note
1. You can only export 40000 text messages or 10000 messages with media files.
2. It won't allow you to restore the exported WhatsApp to your Android phone.
3. You have to manually transfer WhatsApp messages one by one.
Using ChatMover, effortlessly transfer WhatsApp data across OS systems and backup with unlimited storage.
Way 3. For Tech-Savvy: Transfer WhatsApp from iPhone to Android
1

Make a backup of your iPhone with iTunes while keeping the iTunes backup encryption turned off.

2

Download and open WazzapMigrator Extractor on your computer. Load iTunes backup of iPhone using this tool.

3

Search the folder named "net.whatsapp.WhatsApp" from the extractor menu. Find the "ChatStorage.sqlite" and the "media" files in that folder.

4

Now connect the Android device to the computer and transfer the "media" and "ChatStorage.sqlite" files to the "Download" folder of the device.

5

Install WazzapMigrator from Play Store on your Android device.

6

Launch the WazzapMigrator app, wait till it finds the files, and click "Select iPhone Archive". Then select the iOS backup you are targeting to restore.

7

Continue following the screen prompts till the point you see "Conversion Successful". Now when you will open the WhatsApp application on your Android device, you will see the exact replicate of WhatsApp chats as you were seeing on your iPhone.
Part 3.

Comparison Table of the 3 Methods
| | Difficulty | Direct Transfer | Fast or Not |
| --- | --- | --- | --- |
| ChatMover | Easy | | |
| Email Chat | Medium | | |
| WazzapMigrator | Complicated | | |
Wrapping Up
While shifting from iPhone to Android, WhatsApp is one of the most important applications you want to transfer to Android with all of its chats, images, videos, etc. Since WhatsApp has not introduced any official way to transfer the app data from iPhone to Samsung or other Android devices, the above three methods would be of help.Try it out today!(use ChatMover)
Time-saving and guaranteed 100% secure and success.
Resolve various WhatsApp data issues with just a few clicks.
Keep unlimited backup files on PC and it doesn't overwrite previous backups.
It works with all the popular Android & iOS versions, including the newest iOS 17.
Support cross-platform WhatsApp restoration, such as from Android to iPhone, from iPhone to Android.