Have you checked ways to transfer data from Android to iPhone phone and suddenly land on Move to iOS as among the top options? And does move to iOS app transfer WhatsApp? This iOS feature is suddenly gaining popularity among Android users who wish to switch to iPhone and transfer their data as well. Many reasons begot changing from Android to iPhone. These include major security that comes with iPhone, updating it whenever you want, the fact that you can use Apple Pay for mobile payments, the sleek look, and endless accessibility features, among others. Let's first check what this feature is all about and if it can withstand the test of transferring your WhatsApp messages.
Part 1.

What Is Move to iOS?

Android users who wish to transfer their WhatsApp messages to their new iPhone continue to peruse ways to do it quickly. The Apple company introduced the "Move to iOS" app feature on iPhone devices, allowing you to shift your data from Android to iOS for free. Since it's an application developed by Apple, it's compatible with all iOS versions, including the latest iOS 15.

Move to iOS can transfer several data types including camera photos, videos, contacts, message history, bookmarks, and many more.

When migrating such data, your new iPhone automatically creates a private Wi-Fi network and will immediately find any Android that's nearby. Just enter the security code and the app will commence the transfer of your data.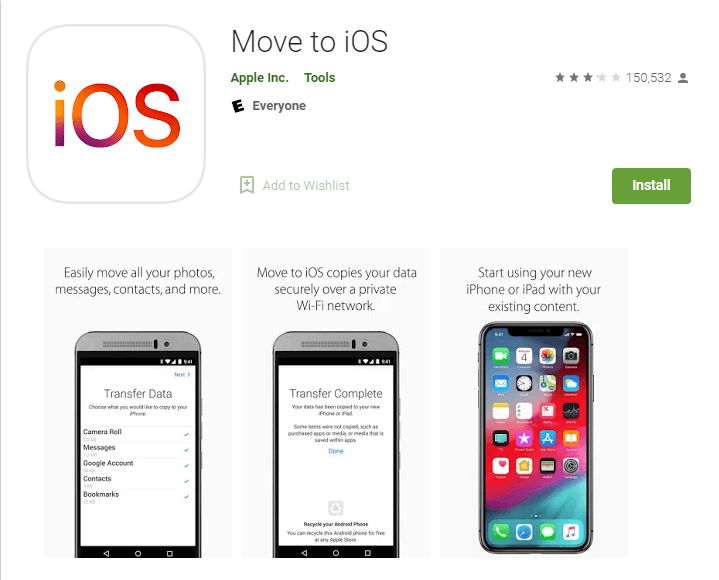 Part 2.

Does Move to iOS Transfer WhatsApp Messages?

Sadly, Move to iOS can't transfer WhatsApp messages and other data such as files, ringtones, and apps. WhatsApp chats are end-to-end encrypted and no third-party app can make any moves once it leaves the sender to the receiver. Only the two can see the chats. And if you try to send WhatsApp messages, you will be met by several issues including "iOS stuck on transferring", "Move to iOS is stuck on preparing", and many other scenarios. To evade such trouble, it is advisable to settle for a reliable tool to swiftly transfer your WhatsApp messages from Android to iPhone.
Part 3.

Move to iOS Alternative for WhatsApp Transfer (iOS 15 Supportede)

Are you now acquainted that the question does move to iOS transfer WhatsApp gives you no for an answer? We have just seen that it is not possible to transfer your WhatsApp messages from Android to iPhone despite being able to transfer other forms of data. Well, you don't have to freak out! The best tool, ChatMover works with just one click to transfer, restore, and export any kind of WhatsApp data across your iPhone and Android phones. You don't need any uninstalling and reinstalling of the WhatsApp app on your new device. ChatMover will easily move your entire WhatsApp chats and other data from Android to iPhone (iOS 15 supported).

Steps to Move WhatsApp from Android to iPhone with Unictool ChatMover

Follow these steps to easily move your WhatsApp messages from Android to iPhone without restrictions.

Step 1. Choose a Mode to Begin

After downloading and installing ChatMover on PC, launch it on your computer. Next, choose the "Transfer" mode as the mode to use. Then connect your phones to your computer using USB cables. Just wait patiently as the app recognizes your phones. Then hit the "Start" button. Choose which WhatsApp message type to transfer to continue the transfer.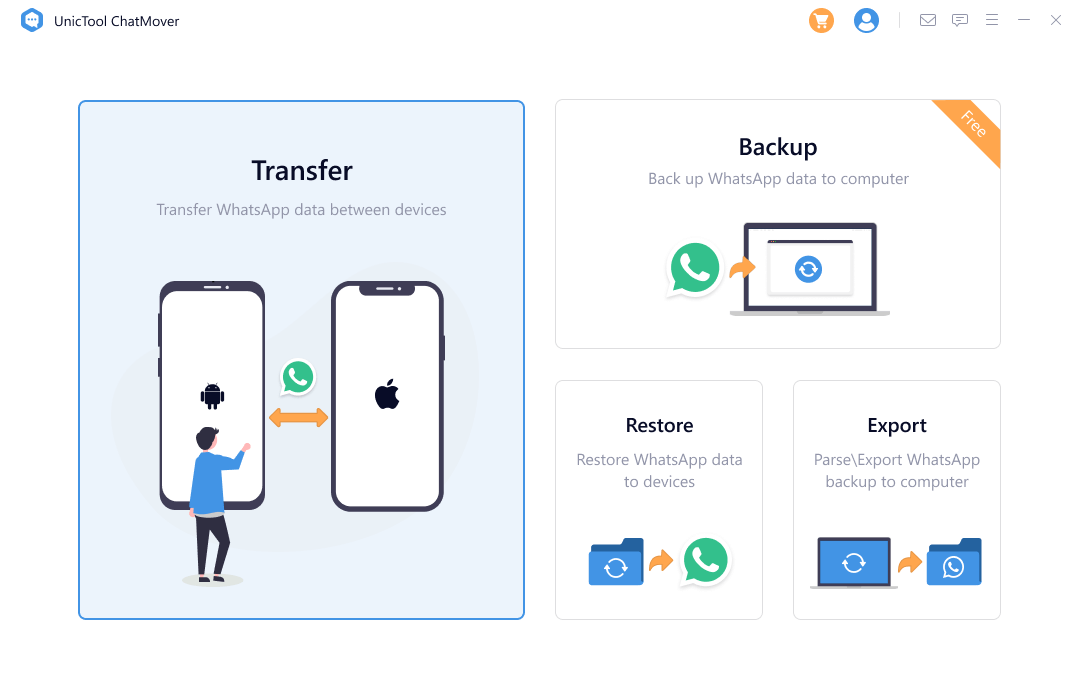 Step 2. Transfer WhatsApp Chat
The process will start immediately after choosing the WhatsApp type to transfer. Remember, the app will install customized WhatsApp on your Android phone as this is the phone you are transferring messages from to your iPhone. You will, therefore, get WhatsApp messages in the personalized edition. Just follow the on-screen instructions.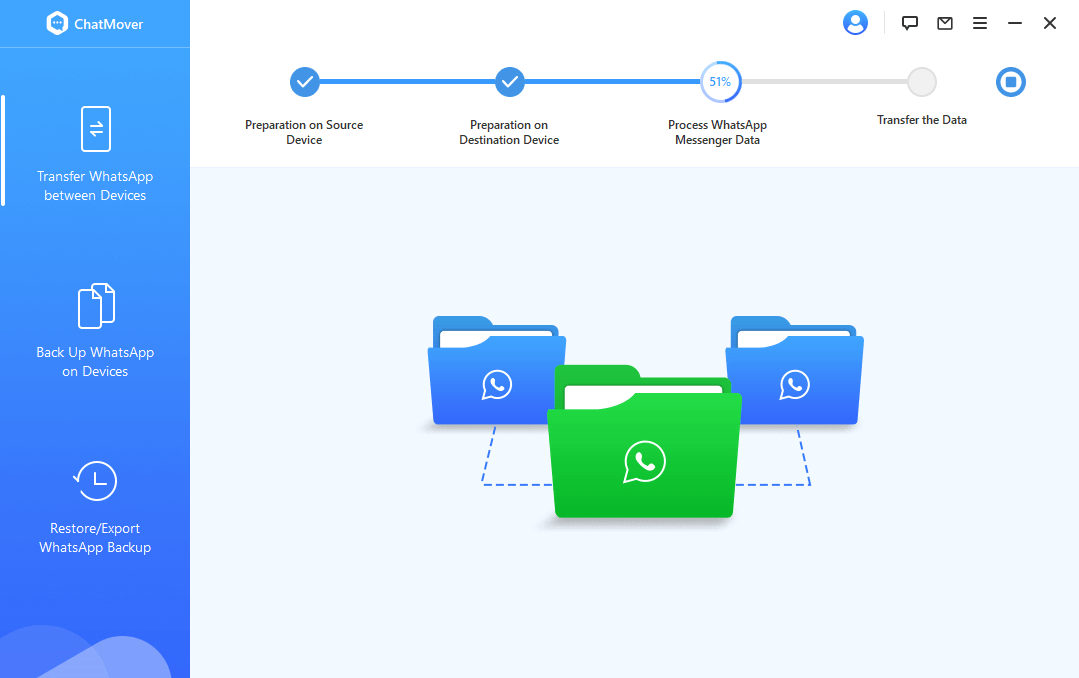 Step 3. Complete WhatsApp transfer
Finally, your WhatsApp messages will be transferred from your Android phone to your iPhone. You can now log in to your WhatsApp account on your iPhone device to locate the messages.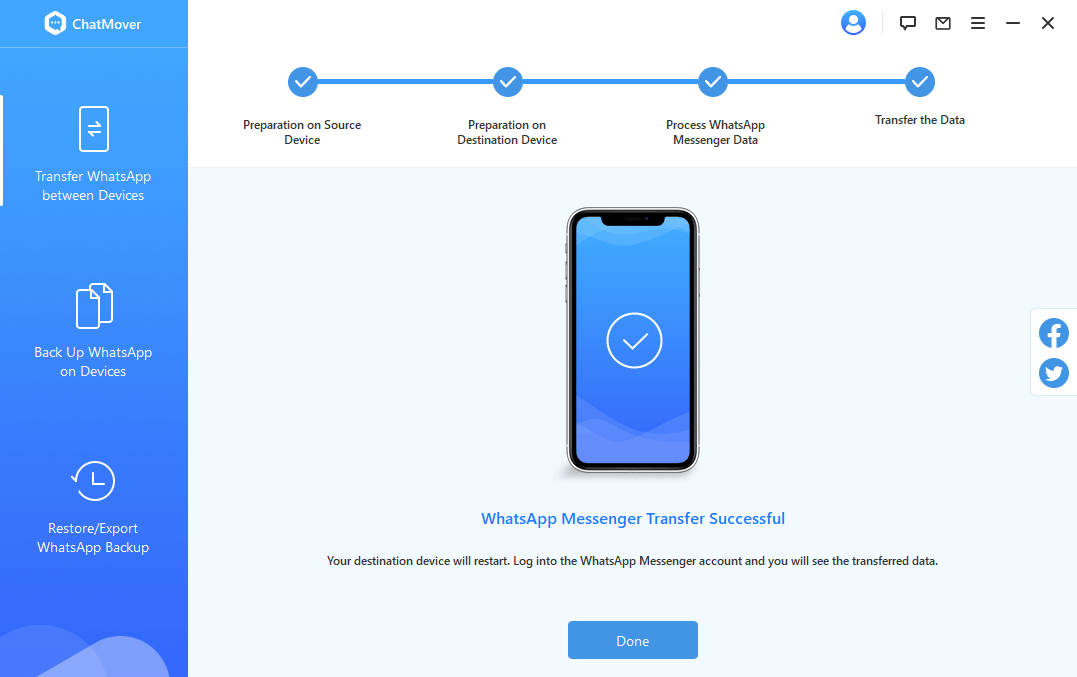 Part 4.

FAQs About Move to iOS App
Q1. What kind of data does Move to iOS support to transfer?
Move to iOS will automatically transfer your content from Android to iOS securely. However, it can't transfer some app data like WhatsApp messages. It will easily transfer message history, mail accounts, calendars, contacts, web bookmarks, camera photos, and videos.
Q2. How can I fix "Move to iOS transfer interrupted"?
The "Move to iOS" feature is a great choice when it comes to transferring its acceptable data types.  It is easy to operate and does not deteriorate your data quality. However, some users have reported certain annoying issues during the transfer process. The major one being "Move to iOS transfer interrupted". Check out the available options to fix it.
1

Restart your phone as the first remedy. This will refresh your phone's apps and other programs.

2

It could be that your internet connection is interrupted. So, check your Wi-Fi connection to ensure it is stable.

3

If the two options don't work out, try to turn off the "Smart Switch" feature on your Android phone to refresh your phone's system.

4

The transfer process could be interrupted by incoming calls. So, just stop using your phone for the entire transfer period.
Conclusion
Are you satisfied with the concern of does move to iOS app transfer WhatsApp? This article has enlightened you on the kinds of data that Move to iOS app can transfer and WhatsApp messages are not among them. Alternatively, you can use the best tool, ChatMover, to transfer any WhatsApp data in just 1 click.