There are a few things to consider while switching mobile phones. You must know how to transfer WhatsApp from iPhone to Android and vice versa, including contacts, images, and others.
It's also crucial to ensure that transfer of WhatsApp from Android to iPhone is seamless while switching devices.
Now, there can be various reasons to transfer WhatsApp data from one phone to another.
You may have bought a new device and want to move to a new OS.
You might need some critical data from your old phone.
You are giving away your phone and want to move all WhatsApp documents to factory reset.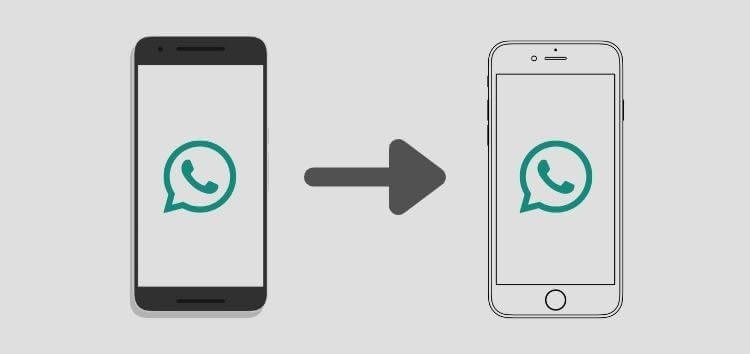 Let us see how to transfer WhatsApp data between Android and iPhone.
Part 1.

A Professional Way to Transfer WhatsApp Data with One Click

Here is the best professional tool to carry out WhatsApp transfer chat. ChatMover is the number one practical solutionto transfer WhatsApp data from Android devices to iOS devices and between the same devices. It is safe, simple, and enables direct WhatsApp transfer between operating systems, for example, from Android to iOS 15.
Move everything between your devices safely, smoothly, and with no loss with a single click.
It'll work on any device, including the new iPhone 12 with iOS 15.
Once you install the software, you can export one at a time, or all together WhatsApp chats to your PC in HTML, CSV, XLS, or PDF formats.
no risks involved, ease of use, compatible with all formats and media files.

Let us now see how to transfer data WhatsApp data with ChatMover.
Step 1. After installing the ChatMover app, open it and select the "Transfer WhatsApp Between Devices" feature.

Step 2. Connect your devices to the PC using an original USB cable. Once paired, click Transfer.

Step 3. Choose either WhatsApp messenger or Business type, and it will start moving.

Step 4.Deactivate Find My iPhone on the target device and install WhatsApp.ChatMover will now transfer your WhatsApp to your Android or iPhone automatically.
Note
Since the original WhatsApp contents on the target iPhone would switch post-transfer, it's better to start by backing up WhatsApp.
The movement typically takes less than 30 minutes to finish, and after that, you can access the target device's communications and files, including photos, movies, and voicemail messages, among other things.
Part 2.

How to Transfer WhatsApp Data from Old iPhone to New Android Phone

To discover how to convert WhatsApp from iPhone to Android directly, follow these steps.
Step 1. To begin, connect the device.Use a Type-C to the lightning connector to connect your iPhone to your Android device.
Step 2. Open WhatsApp and a QR code will come on your Android when you open WhatsApp.
Step 3. Go to Settings > Chats > Move Chats to Android and scan the QR code on your iPhone. Keep your phone unlocked during this procedure. Once the software has finished preparing a backup, tap Start Transfer.

Step 4.Your conversations, images, and other information will migrate to your new Android device. During the transmission, make sure you don't use both devices.
Part 3.

How to Transfer WhatsApp Data from Old to New iPhone

How to transfer WhatsApp to a new iPhone using Chat Backup? Here is the complete guide that you can follow.
Step 1. On the old iPhone, open WhatsApp and navigate to "Settings" > "Chat."
Step 2. Go to "Chat Backup" and tap "Back Up Now " to perform a manual backup."

Step 3.Once the backup is over, go to your new iPhone and download WhatsApp on New iPhone from the App Store.
Step 4.Sign up for WhatsApp with the same phone number and iCloud account as the source iPhone.
Step 5. Your iPhone will then display the "Restore from iCloud" screen. To begin restoring WhatsApp messages and files to your new iPhone, select "Restore Chat History."
Part 4.

How to Move WhatsApp Data from an Old Android to a New iPhone

Transfer WhatsApp from Android to iPhone using Export Chat option with the following steps.
Step 1. On your Android device, open WhatsApp.
Step 2. Select "Chats" from the "Settings" menu. To access the conversation history panel, select "Chat History."
Step 3. To export WhatsApp chats, tap "Export chat." You'll be asked to select a contact whose conversation history you want to export on the next screen.

Step 4. To send the whole conversation history to an email address, choose a contact and then Email (or Gmail, if you use it). Open the email account inbox to which you sent your conversation history. Your WhatsApp data will be viewable on your iPhone.

Part 5.

How to Transfer WhatsApp Data from Old to New Android

You can use the same WhatsApp built-in backup feature to migrate WhatsApp from Android to Android, just as you can with the iPhone. Instead of iCloud, you'll get help from Google Drive.

Know how to transfer WhatsApp data from an old Android phone to a new one with the instructions below.

Step 1. Open WhatsApp on your previous Android phone and sign in to your Google account.
Step 2. Click "Settings" and then "Chats."
Step 3. Click "Back Up" and then "Chat Backup" to backup your old Android WhatsApp on Google Drive.

Step 4. Open WhatsApp on your new phone using the same Google account.
Step 5. In WhatsApp, type the same phone number. WhatsApp will then ask if you wish to continue restoring the chat history from Google Drive. So, click "Restore."

Conclusion

So, those were some ways to transfer WhatsApp from Android to iPhone and vice versa. Of all the tools, the best method to move between Android to iPhone, Android to Android, iPhone to iPhone, or iPhone to Android is Unictool's ChatMover. Thus, download this great backup and restoration app and give it a go-to to resolve how to transfer WhatsApp data between any device.