Did you get the new iPhone 13 and wish to get your WhatsApp chat history transferred from your old Android phone? Transferring your WhatsApp chat to your new iPhone is one of the essential things when switching from an Android to an iPhone. However, because Android and iPhone use different operating systems, transferring WhatsApp chat history from an Android to an iPhone can be tricky.
Since WhatsApp for Android isn't compatible with the iPhone, you should know how to transfer WhatsApp from Android to iPhone. There are various options available, and we will be looking into some of the ways we can achieve this, including free ones. Now let's get started!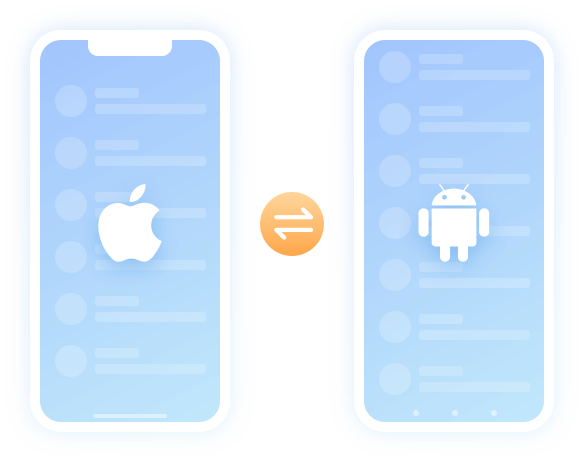 Part 1:

Transfer WhatsApp from Android to iPhone Easily [Editor's Choice]

To carry out WhatsApp transfer chat from your Android to your new iPhone, we recommend ChatMover since it is safe, simple, and puts you in charge. It allows for direct WhatsApp transfer across operating systems, such as Android to iOS 15.

ChatMover is the simplest way to transfer all your WhatsApp messages and attachments from one device to another. The software allows you to safely move anything between your devices with a single click, ensuring that you don't lose anything and smooth your WhatsApp experience. It will operate on any device, including the new iPhone 12 running iOS 15.

ChatMover embodies a lot of unique features over other methods of message transfer.
It's risk-free.
It's pretty simple to use.
It doesn't exclude anything when transferring. It includes files, photos, videos, conversations, and everything.
It also helps backup your old messages in several formats.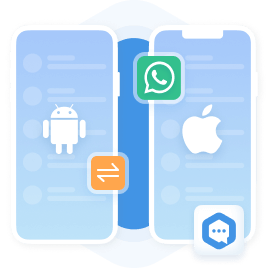 All-in-one WhatsApp Transfer
It is completely safe. And all messages are transferred locally, so there's no risk of them being leaked or lost.
It's incredibly easy to use. All you need to do is connect your phones to your computer and click one button.
It transfers everything. ChatMover can handle everything in your WhatsApp database, it doesn't just transfer the chats or ignore some file types.
ChatMover does more than just transfer. You can use it to keep multiple backups of your database, or as a WhatsApp viewer.
You can easily use this fantastic program following these simple steps:
1

Connect your Computer to your iPhone.

Open the app and select the "Transfer WhatsApp Between Devices" feature.

2

Connect the Device to PC.

Then connect your devices to the PC using original USB cables. When both devices are paired, click on the Transfer option.

3

Choose WhatsApp Type.

Now, you'll have to choose the type of WhatsApp you want to transfer. Choose the one you like, and it will start moving.

4

Transfer WhatsApp Messages.

Turn off Find My iPhone and install WhatsApp on the destination device. The original WhatsApp contents on the target iPhone would then get replaced after the Transfer. As a result, it's best to back up WhatsApp first. ChatMover will now automatically transfer your WhatsApp to the destination device.

5

Complete the WhatsApp Transfer.

Please, note that the size of your WhatsApp data determines the transfer duration. So, do not get impatient.
It usually takes less than half an hour to complete. Following that, you'll be able to access all messages and files on the target apparatus, including photographs, videos, and voicemail messages, among other things. With ChatMover from Unictool, you can ensure that your data won't get lost during the transfer process and will be 100% safe and secure.
Part 2:

Transfer WhatsApp from Android to iPhone by E-mail

This is an excellent free way to carry out WhatsApp data transfer. Follow the simple steps transfer to efficiently carry out a WhatsApp transfer chat from Android to iPhone.
1

Open WhatsApp

On your Android phone, open WhatsApp. In the upper-right corner, tap the options icon. Now, tap More to view options, then select Email Conversation from the drop-down menu.

2

Provide an Email Address

Select without media or attach media if you want to transfer the attachments. To receive WhatsApp messages, provide your email address.

3

Open Mailbox on the Device

Finally, open your iPhone 13's mailbox and review your WhatsApp chat history.
Important Note: However, please beware as online free methods may not be that secure, your data may stay in their server, plus, you may lose data during the transfer. Also, unlike Google Drive, which has a storage limit, this free method has unlimited storage.
Part 3:

Transfer WhatsApp from Android to iPhone without PC

With this method, you do not require a computer or PC. However, If you're not familiar with the process, we've put together a step-by-step guide to help you transfer your WhatsApp chats and account to a new phone number.

Note: Make a backup of your account before continuing.
1

Open WhatsApp on Your Device

The first thing you should begin with is open WhatsApp. Next, hit the three-dot menu button in the upper right corner of the screen to access More Options, then click on 'Account.'

2

Change to a New Phone Number

Select Settings > Account > Change Phone Number from the drop-down menu. Select Next, and enter the old phone number in the field provided.

3

Transfer WhatsApp Conversations to a New Phone Number

In the new phone number field, type the new phone number. (This is the phone number you will send your WhatsApp messages and account information.) and then press Next to enter the code supplied to your new phone number. That's all there is to it.

4

Create a Backup

A very important step. Create a backup of your WhatsApp conversations and account before transferring it to a new phone number. You can do the above by going to Settings > Chats > Chat Backup > Backup and tapping the three-dot button. Ensure that Google Drive backup is active or on.

Note: Also, make sure the phone number you're switching to can receive messages for a code that will be issued to you.

Part 4:

Transfer WhatsApp from Android to iOS with Backup & Restore

ChatMover can restore both Android and iOS WhatsApp backups to iPhone or Android smartphones without regard to the operating system. All you should do now is follow the instructions.

We have listed step-by-step details to move and restore WhatsApp from your Android device to the new iOS.

1

Backup WhatsApp

First, backup your WhatsApp data on your Android device using Google drive.

2

Select a Backup Option and Connect your Device to it.

Import using Restore WhatsApp Backup on the left side, select a backup, and push the "Restore to device" button. You can decide whether to preview the WhatsApp backup or not. Connect your iPhone or Android phone/tablet to begin the restoration process.

3

Restore WhatsApp to the Device

When the software restores a backup to an Android device, you'll need to install a special WhatsApp to get the backup data onto your device. Please do not be concerned; it is 100% secure, and after the restoration, you can upgrade to the official version.

Note: You will need to execute some manual computer activities. Before restoring your iPhone, make sure you've installed WhatsApp and turned off "Find My iPhone."

4

Complete the WhatsApp Restoration.

It mostly takes more or less than 30 mins to complete. Following that, you'll be able to access all messages and files on the target apparatus, including photographs, videos, and voicemail messages, among other things.

That's it. With this unique ChatMover software, you can restore your WhatsApp chat between two different OS devices in just fout steps.

Conclusion:

Now that you have learned how to transfer WhatsApp chats from Android to iPhone, you do not need to worry about missing WhatsApp backup data when moving from Google Drive to iPhone. Download the superb backup and restore App Unictool ChatMover to restore an easy way to carry out WhatsApp transfer chat from Android to iPhone. So, no need to panic about losing your memorable chats in WhatsApp if you are changing devices because ChatMover, the professional WhatsApp transfer tool, has covered you.