WhatsApp is a messaging service for everyone. Whether you use it to chat with your friends and family or use it for your work, it serves all your needs effectively. Over years, WhatsApp has also added many new features like WhatsApp Avatar Stickers to enhance the overall experience. One such enhancement is seen in the shape of "WhatsApp stickers". WhatsApp stickers allow you to be more expressive and even create your custom stickers. If you have tons of custom stickers, you might never want to lose them. In this guide, we will first discuss how to back up WhatsApp stickers and then present the best ways to quickly make WhatsApp stickers backup. Let's get started!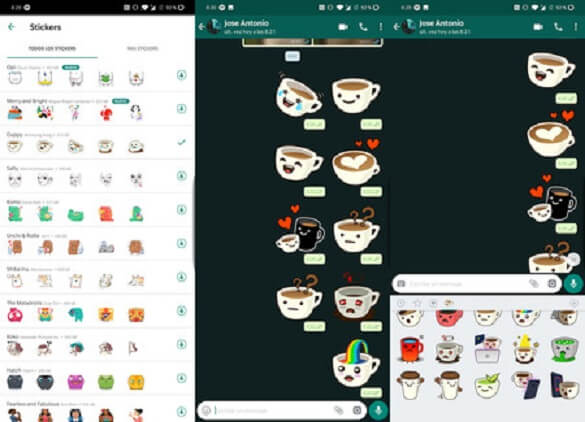 Part 1.

Can I Backup WhatsApp Stickers?

Yes, but it depends on how you are trying to back up WhatsApp stickers. WhatsApp does not offer a dedicated built-in way to just back up and restore WhatsApp stickers only. Similarly, you cannot access the WhatsApp stickers folder from iPhone and Android 11 devices.

But there are other ways available to back up stickers from WhatsApp. For example, you can copy the WhatsApp stickers folder if you are using an Android 10 or lower device or you can send all stickers to yourself and then back them up to the cloud. In addition, you can also use the WhatsApp backup tool to back up stickers from WhatsApp for both iPhone and Android devices with just one click. The next part explains all the possible ways to back up WhatsApp stickers.
Part 2.

How to Backup WhatsApp Stickers
Way 1. Access WhatsApp Stickers Folder and Back It Up
In your phone storage, WhatsApp creates a dedicated folder named "WhatsApp Stickers" that contains all the WhatsApp stickers. So, you can go to that folder location from your Android device, copy the folder, and paste it elsewhere. Follow the steps below to access the WhatsApp stickers folder and back it up:
1

Go to "File Explorer" and click "Internal Storage" or "SD card" whatever storage you are using to store WhatsApp data.

2

Click Android > media > com.whatsapp > WhatsApp > Media. There you will see the "WhatsApp Stickers" folder.

3

Select the WhatsApp Stickers folder, copy it, and paste it to any other location on your phone.
Note
The above method is only applicable if your phone is running on Android 10 or a lower version. Android devices running 11 don't have access to the "WhatsApp" folder, as the system is trying to restrict apps from accessing other apps' private directories. Similarly, iPhone users also don't have access to the WhatsApp folder.
Way 2. Send All Stickers to Yourself and Back Up to Cloud
You can also back up stickers from WhatsApp on Android or iPhone by first sending all the stickers to yourself in WhatsApp and then back up the chat to the cloud (Google Drive or iCloud). Follow the steps below to use this WhatsApp sticker backup method:
1

Create a new contact of yourself on your phone with your name.

2

Open WhatsApp, search your name, and open the chat window.

3

Send all the stickers one by one to yourself.

4

Go to WhatsApp "Settings", navigate to Chats > Chat backup, and then click "BACK UP". Make sure your Google Drive or iCloud account is linked with WhatsApp.

5

WhatsApp backup will be created in the cloud. Afterward, restore the backup to any other phone, go to the chat window of yourself, make the stickers displayed there as favorites. You can do this by long-pressing the sticker and then clicking the "Star" icon from the top.
This way, whether you are using an Android device or iPhone, you can back up and restore your WhatsApp stickers.
Way 3. Back Up All Stickers in One Click (for Android & iPhone)
The above two methods can back up WhatsApp stickers for you, but they both involve multiple steps and are a bit time-consuming. This is where the WhatsApp backup software takes advantage. ChatMover is a WhatsApp managing tool that offers a one-click solution to back up, restore, transfer, or export WhatsApp stickers and all file types in the chat history. In addition, its simple graphical UI makes it convenient for anyone to back up and export WhatsApp chats and stickers.
Key Features of ChatMover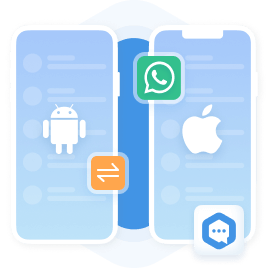 All-in-one WhatsApp Transfer
It provides a simple click-based interface to quickly back up WhatsApp stickers to your PC.
You can have multiple versions of the backup, as the tool never overwrites previous backup files.
With PC-based backups, you get unlimited storage space.
It is an offline tool, so there is no risk of data leakage or loss.
Follow the below steps to back up WhatsApp stickers via ChatMover, but first, make sure that you have sent all the stickers to yourself:
1

Connect your Android/iPhone device with your computer via USB cable and launch the ChatMover app on your computer, choose Backup. Click "Start" once the app detects your phone. Wait until it completes the backup process.

2

Once the backup is completed, go back to the main screen of ChatMover and click "Export". Select the recent backup file you created and then click the "Export" button.

3

Tick the checkbox next to the chat with your own number and click the "Export" button.

4

Assign the location in your PC where you want to store the chat and the format in which you want to store it (CSV, HTML, PDF, or XLS). Lastly, click the "Export" button.
This way, you have successfully made a WhatsApp sticker backup in no time.
Conclusion
WhatsApp stickers are a great resource to add more fun while chatting with your friends, family, or colleagues. However, losing those customized stickers can be very painful. Therefore, you should back up WhatsApp stickers after a couple of months. The above three methods can assist you in making the backup quickly, but if you are looking for an instant and convenient way to back up WhatsApp stickers, then ChatMover is the perfect choice for you.