Perhaps you just bought a new iPhone and wish to give out your old phone. It is wise to back up your data to iCloud and then erase the content from the old iPhone. However, sometimes the backup doesn't show up when you finally decide to restore your data.
As the norm, WhatsApp is commonly used for both personal and business communication. You wouldn't want to lose such important data even after changing your phone.
But what happens when you decide to restore WhatsApp from iCloud but you are met with "WhatsApp iCloud backup not found" error message? You certainly need a quick fix. However, you must do a check before resolving the issue.
Part 1.

Quick Check Before Resolving WhatsApp Restoring "No Backup Found" Issue

Here are the possible causes of "WhatsApp no backup found" issues.

When there's no WhatsApp backup found in iCloud, check the following scenarios to see the possibilities of the issue:
A network problem is the most common cause of "no backup found" issue. Cloudservice requires an active internet connection. Ensure it's not corrupted orslow. Otherwise, you need to reset your router and the network settings on youriPhone.
Storage space needs to be adequate. iCloud service offers only 5GB of free space. If your data exceeds that capacity, chances are you had an unsuccessful backup dueto less storage space.
Server issues may also cause havoc. Confirm whether the Apple server is undermaintenance, hindering the connection to the server.
Anincompatible or corrupt iCloud backup may also result in "WhatsApp iCloud backup not found" as the backup can't be traced for a restore.
If you're restoring WhatsApp from Android and there's WhatsApp no backup found on Google Drive, check the following concerns:
Anunstable network connection may result in your WhatsApp not backing upautomatically or halting midway.
Checkif Google Drive is updated. A pending update can cause Google backup issues.
Ensurethat your Android hasn't accumulated Cache. If it accumulates, then it maycause the WhatsApp unable to backup to Google Drive problem.
Anobsolete WhatsApp is another cause for WhatsApp no backup found on Android. Updateyour WhatsApp on Android to clear any pending updates.
Checkthat you don't exceed the available storage space. WhatsApp may not back up your Google Drive if your backup is too big.
Part 2.

How to Fix WhatsApp Backup Not Found When Restoring WhatsApp from iCloud

WhatsApp iCloud backup not found issue can be very draining, especially if you want to restore important data. These solutions can help you fix the issue.

Case 1. "I want to restore WhatsApp backup on my iPhone X. And since I want to clean my phone, I decided to backup directly from WhatsApp. My files were then successfully stored on my iCloud Drive. Then I restored my phone and chose the"Configure as a new phone" option. Surprisingly, I can't find any WhatsApp backup on the iCloud settings or iCloud Drive. Is there any viable solution to WhatsApp iCloud backup not found issue"?
1. Start the Previous Troubleshoot
The first action to take is to wait for your phone's data to sync and download. Once the syncing or download is complete, start the previous troubleshooting in part 1.
2. Uninstall and Reinstall WhatsApp
Keep on deleting and reinstalling your WhatsApp application until it finds your backup. Swipingup will also refresh your phone and give it a revamp.
3. Delete Existing iCloud Backup
WhatsApp may not restore if there is an existing iCloud backup. You can delete it by going to 'iCloud Settings' > 'Storage' > 'Backup' and then delete the existing backup. Then open WhatsApp again and try to restore your backup.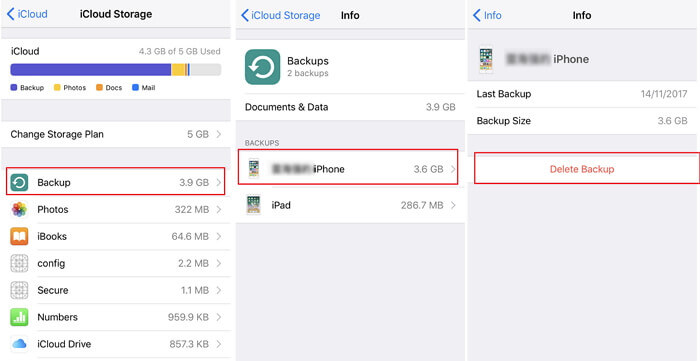 Ensure the iCloud Drive is turned on. On your phone, go to the 'Settings' > 'iCloud' >'iCloud Drive'. This will help you to restore iCloud backup on your device.
5. Use the Same Phone Number and Apple ID
Ensure that the phone number you are using to restore is the same one you used during the backup process.
Case 2. "I got a new iPhone and decided to give my friend the old phone. However, I backed up mydata and uninstalled WhatsApp on my old phone. But when I reinstalled WhatsApp with my old number, I was surprised Ican't restore from iCloud as no backup is found".
1. Change Your Phone Name
Since it's someone else using your old phone, you need to change your phone name. Go to'Settings' > 'General' > 'About' > 'Name'. Then restart your WhatsApp and you should now find the backup to restore.
2. Update to the Latest iOS and WhatsApp Version
Check that your iOS software is updated. Tap the 'Settings' > 'General' > 'Software Update' options. If you find pending updates, download the latest WhatsApp version from the App Store. Choose the version that is compatible with thebackup.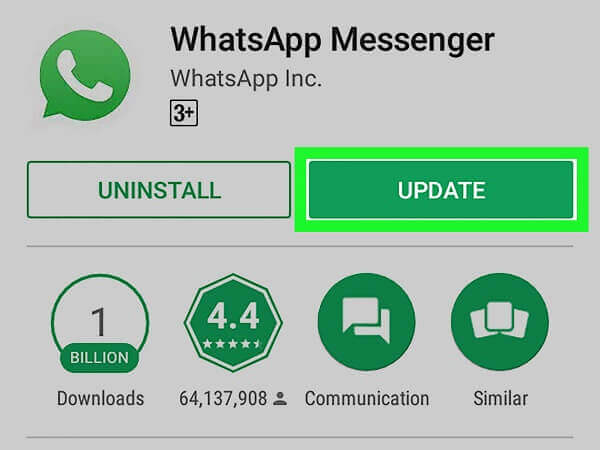 3. Ensure There Is Enough Free Space on Your Device
Your iPhone should have enough storage space to restore WhatsApp iCloud backup. On iOS 10and lower versions, you have to check storage by tapping the 'Settings' > 'General' >'Storage & iCloud Usage' > 'Manage Storage'. For iOS 14, tap 'Settings'> 'General' > 'iPhone Storage'. You can free up some space if it's not enough to store the restored data.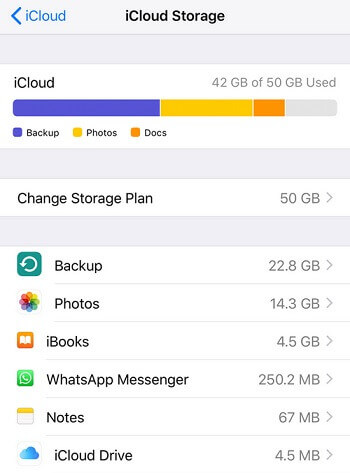 4. Reset All Settings
If nothing is working for you, then this is the final choice. Sometimes, reset all settings can solve many issues. Please note that this will restore the customized settings to its default status, and your Apple Pay Card will be deleted. Then follow these steps:
Go to 'Settings'> 'General' > 'Reset' and tap on the 'Reset All Settings' option.
Enter your passcode if it asks you.
Confirm that you want to reset all settings by tapping the "Reset All Settings" option.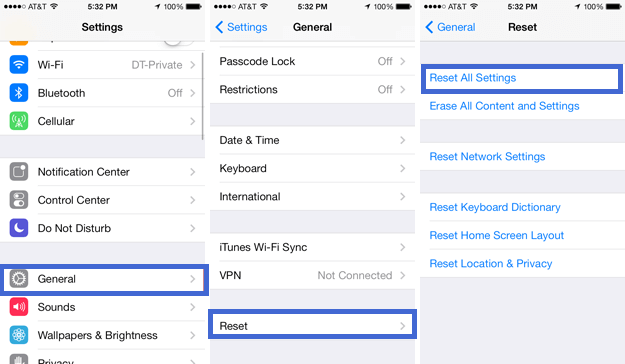 Extra Tip.
Backup and Restore WhatsApp in A Better Way[100% Success]
You may encounter issues when restoring WhatsApp from iCloud, such as "no backup found" issue. To avoid such cases, you might need a better backup alternative, and ChatMover comes in hand. ChatMover is outstanding because it can:
Back up WhatsApp data with 1 click.
Keep unlimited backup files on PC and it doesn't overwrite previous backups.
Support cross-platform WhatsApp restoration, such as from Android to iPhone, from iPhone to Android.
Also work as a WhatsApp transfer tool without OS limitation.

Below is a tutorial video that teaches you how to restore WhatsApp backups.
How to Use ChatMover to Restore Backup
Use these steps to restore your WhatsApp backup.
1

The first step is to back up WhatsApp with ChatMover. Wait for the system to create and store a WhatsApp backup on the computer. This function is free.

2

Then restore the backup to your Android or iPhone device.
ChatMover is also a better backup solution for WhatsApp when you're encountering "WhatsApp not backing up" issue.
Conclusion
The solutions we have provided will solve WhatsApp iCloud backup not found issues. However, you may not get the original quality of your data. Therefore, the best solution to back upand restore WhatsApp is via ChatMover. It is easy to use and works across Android and iPhone. Free to get it now!