Let's assume you are performing regular WhatsApp backup to iCloud and suddenly the process gets stuck. Even if you reconnect with your Wi-Fi or restart the app, still the issue remains there. Usually, there are multiple reasons that might have caused this issue. In this article, we will present the possible reasons for getting a WhatsApp backup stuck and the methods to resolve the issue in minimal time.
Part 1.

The Possible Reasons for Getting A WhatsApp Backup Stuck While Uploading to iCloud

There is no single reason behind the "WhatsApp backup to iCloud stuck" issue because different devices can have different reasons. Following are the possible reasons you might have encountered:
1. Network Connection
The back-up execution is associated with your network connection. You might be connected to Wi-Fi but its speed is not enough to perform a backup to iCloud. If this is the case, then you can go to Solution 1 directly.
2. iCloud Syncing Issue
All of your WhatsApp backups are stored in iCloud. Occasionally, iCloud does not sync properly with WhatsApp which causes the backup to get stuck. You can go to Solution 2 directly in such a scenario.
3. The Backup File is More Than the Leftover iCloud Storage
iCloud provides 5GB of free storage and you can easily upgrade the plan as per your needs. But maybe there's no enough storage on your iCloud and that's why your new WhatsApp backup is not getting uploaded to iCloud. You can go to Solution 3.
4. Network Settings Error
Occasionally, users can overwrite network settings by mistake. You have to reset network settings.
5. Malfunction of iCloud Drive
Another reason for WhatsApp backup stuck for iPhone is the malfunction of iCloud Drive. In such a case, you can back up WhatsApp elsewhere - go to Solution 5.
6. Backup Server Outage
There is a possibility that there occurred some services outage on the backup server. As you don't know about the outage, so you are expecting the backup to work but it will not proceed a single-point further because the cloud services outage is interrupting the request. You can follow the steps in Solution 6 to solve the issue.
7. Other Reasons
The above reasons are some of the common issues reported by users when they encounter the stuck issue on iPhone. But there are chances that in your case none of the above reasons has played a role in the issue.
On the assumption that you can't find out the possible cause of the issue, then you can directly head to part 3 of this post. It presents a quick and the most efficient method to resolve your problem no matter the cause behind it.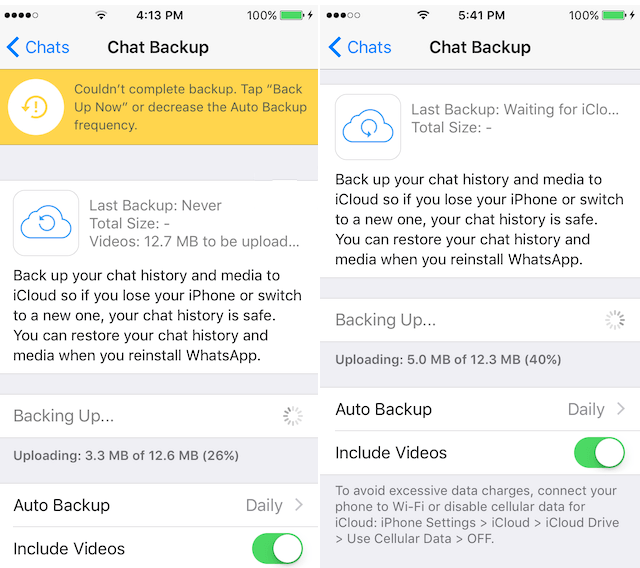 Part 2.

Quick Solutions to Troubleshoot WhatsApp Backup to iCloud Stuck Issue

The backup stuck of WhatsApp in iCloud can be due to multiple reasons as presented above, but that does not mean it cannot be resolved. Following are the different quick solutions you can try to see if things get normal.
Solution 1. Check iPhone Network Connection
A stable and fast network connection is crucial for backing up WhatsApp to iCloud on iPhone. So, ensure that you are connected to a Wi-Fi or a data connection that is stable and powerful to easily back up your data. You can also check your network connection speed by doing the internet speed test.
Solution 2. Switch iCloud Drive Off and Then On Again
If you suspect that your iCloud is experiencing with the syncing issue (it happens after updating to the latest iOS, such as to iOS 15), then you can delete the WhatsApp data stored in it, turn it off, and then turn it on. This way, you can do a fresh backup of your WhatsApp. To do that, follow the below steps:
Click on Settings > [username] > iCloud. From there, turn off iCloud Drive.
Launch WhatsApp.
Click on Settings > [username] > iCloud. From there, turn on iCloud Drive.
Start the backup again.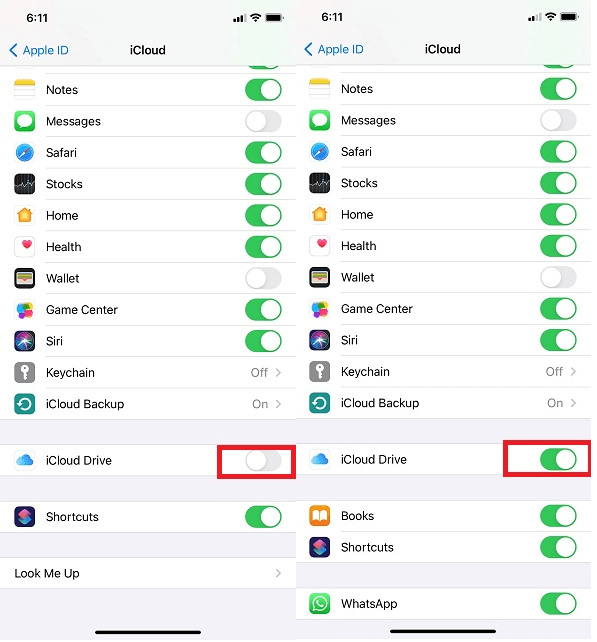 The problem with this method is that your backup data volume in iCloud becomes less than the data volume in WhatsApp. This implies that some data has not been backed up properly. You may have to go for an alternative to iCloud to back up WhatsApp.
Solution 3. Check iCloud Storage
You can check your iCloud storage to validate if you don't have reached the maximum storage limit. To do that:
Click on Settings > [username] > iCloud. There you will see the used and available storage.
If you have reached the maximum storage limit, then you can click "Manage Storage" to free up some space used by other apps and data.
Solution 4. Reset Network Settings
You can reset the network settings in order to clear the doubt whether you have accidentally overwritten the network settings. To do that, click on Settings > General > Reset > Reset Network Settings.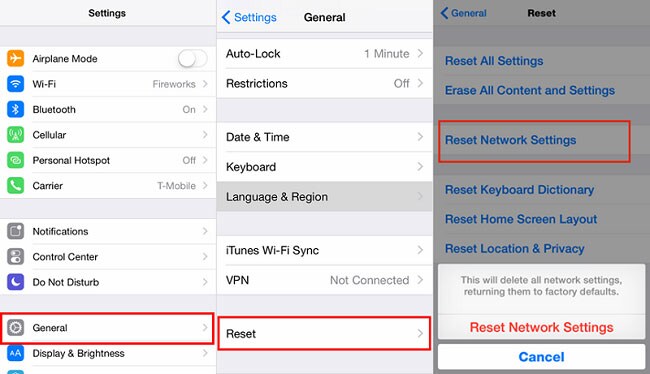 Solution 5. Use iTunes to Back Up All Your Data from iPhone
If the iCloud is malfunctioning with WhatsApp, then you can use iTunes to back up your data from your iPhone. To do that, follow the below steps:
Open the iTunes app on your computer and also connect your iPhone with the computer.
You might have to complete some verification steps to make them trusted devices.
In iTunes, click on the phone-shaped icon on the toolbar at the left-side and then scroll down and click "Backup".
You can now select different options as per your needs and complete the backup.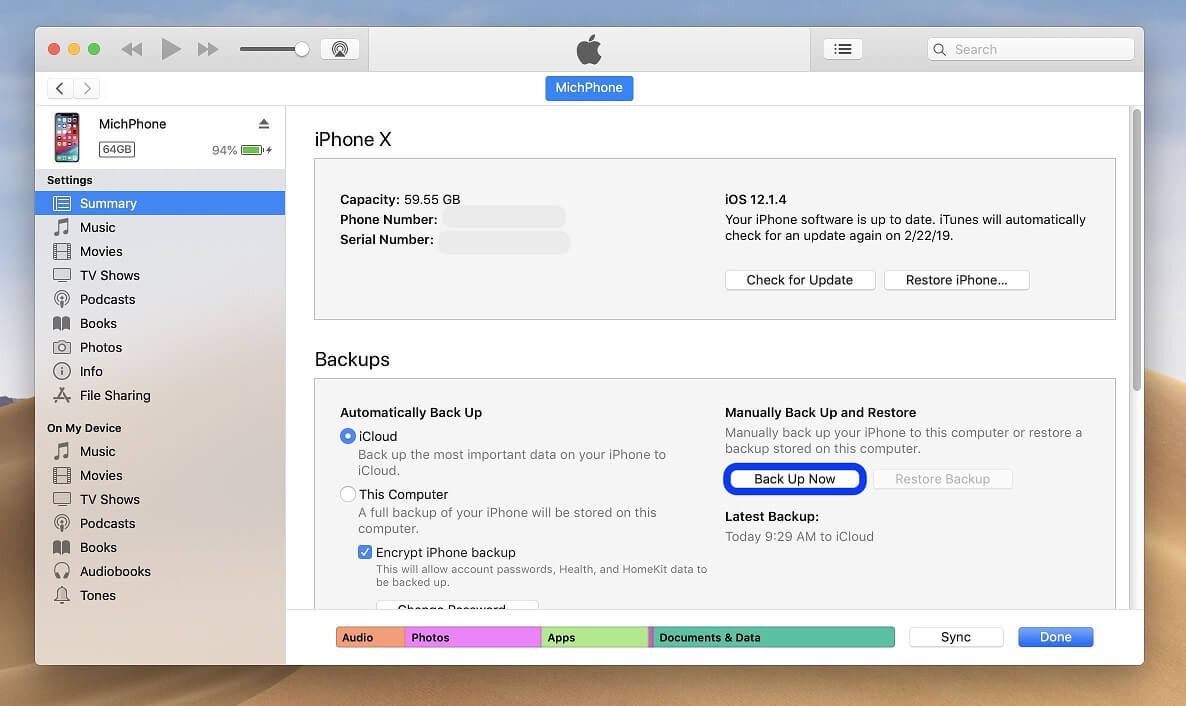 Solution 6. Look at the Status of the Apple System
Since there are chances that the outage of backup server services might have caused the backup to stuck, you can easily verify it. To do that, go to the Apple System page to check the status of the Apple system. If there is any issue in the iCloud server, then it won't be showing a green signal.
Part 3.

The Best Solution If You Don't Know What Is the Cause of Backup Stuck

The above possible reasons are some of the common causes discovered in the case of WhatsApp backup stuck with iCloud, but there are possibilities that you still could not find out the root cause of it. The better way to avoid such situations is to opt for other approaches towards WhatsApp backup. This is where ChatMover presents as a reliable and feature-rich service. ChatMover is a WhatsApp backup and transfer tool that provides an intuitive user interface to quickly perform WhatsApp backups. And the best part is that the ChatMover backup feature is totally free.

Why Choose ChatMover?
Stores Every Backup: ChatMover does not delete previous backups or overwrite them. Each time, the backup is kept as a separate file and kept forever. So, you can easily access your old and present backups.
100% Safe: Data leakage or loss are associated when you are using cloud services, such as iCloud. But ChatMover is installed in your computer and stores backup data in your computer, so there is no chance of data leakage or loss.
Further Use: The WhatsApp data backed up using ChatMover can be restored to your phone with OS restrictions.
Unlimited Storage: Unlike iCloud where you have limited storage or you have to pay for extra storage, ChatMover stores the backup in your computer. As you always have plenty of storage space in your computer, so you never have to worry about data storage limits.

ChatMover presents as a reliable and efficient alternative to iCloud if you want convenient, secure, and quick backup service. Following are the steps you have to follow to use ChatMover:
Step 1. Download ChatMover and complete the installation process. Afterward, open the program.
Step 2. Connect your iPhone with your computer. Go to the section of "Backup" in ChatMover and press "Back up". The program will start backing up your WhatsApp chats.
Step 3. After few moments, your backup will be completed. Lastly, click the "Done" button to complete the process.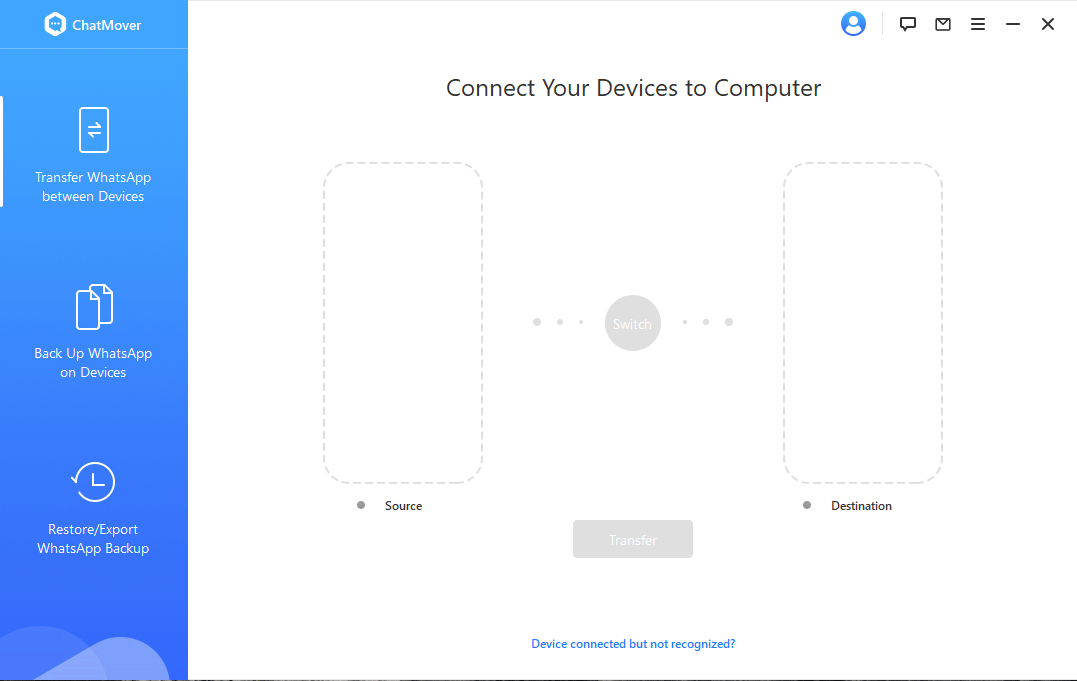 Note
The Backup function is coming soon.
Wrapping Up
WhatsApp iCloud backup stuck can be a troublesome issue if you don't find out the reason behind the stuck. In such cases, instead of spending time finding out the root cause, you can opt for ChatMover, as it presents the reliability, accuracy, and peace of mind you need. What's more, it supports WhatsApp transfer/backup/restore on any device which is running on different OS, including iOS 15.