We cannot just live without WhatsApp now. It has become an integral part of our lives. Our chats with our families or continuous sharing of pictures and videos with our friends are all done by WhatsApp today. But it is also common that we suddenly lose our chat history due to any reason. Most of us have a rescue plan for it in the shape of WhatsApp backup, but it does not allow us to either see what chats are backed up or extract a single chat from the backup. All you can do is a complete restore of WhatsApp backup. This is where WhatsApp extractor tools come into action. They allow you to go through the backed-up WhatsApp chats and even export/share them wherever you want. If you are also in search of a WhatsApp backup extractor, this article presents the top 5 picks for you.
Part 1.

What is WhatsApp Extractor and How to Choose

There are multiple WhatsApp backup extractor tools to choose from, so which one you should pick? Following are some of the key elements on which you can evaluate a WhatsApp backup extractor APK:
1

Efficiency: A WhatsApp backup extractor is meant to decrypt the WhatsApp backup and present you with all the backed-up chat history. So, it must be efficient in this process. It must provide you all the chat history with no missing conversations or attachments. It must not fail during the extraction process or cause other errors.

2

User-Friendly: A WhatsApp backup extractor must be user-friendly with a graphical interface and a simple click-based process. All kinds of users should be able to use the tool easily without requiring any kind of assistance.

3

Security: WhatsApp contains your personal and sensitive information, so a WhatsApp backup extractor must be providing a secure environment where there is a 0% chance of data leakage.

4

Preview/Export Content: A WhatsApp backup extractor should also provide a preview of the extracted chat history. In addition, it should also facilitate exporting single or all chats to your computer.

5

Price: A WhatsApp backup extractor must be cost-friendly. It is asking for some premium cost, then it should justify the cost by its service. While picking a WhatsApp backup extractor, you must see that the price it is depending justify the service it is providing.
Part 2.

Top 5 WhatsApp Extractor You Should Try
1. WhatsApp Extractor
WhatsApp Extractor is a Windows tool designed to extract iPhone WhatsApp backup created via iTunes. It provides an easy and intuitive way to restore chats and other attachments from iTunes WhatsApp backup. Once you launch the tool, you have to provide the backup point from where to extract data and the recovery data destination. It will recover chats in HTML format, contacts in CSV and VCF formats, and images, videos, and audios in their original formats. Below are the pros and cons I found when I tested this tool:
Pros
Simple and user-friendly interface.
Provides a free trial version.
Cons
No preview of the chats.
No selective chats export option.
Only can be exported to HTML format.
Only works for iPhone which is running on iOS 10 and below.
Requires a prior backup created by iTunes.

2. ChatMover (Android & iOS 16 Supported)
ChatMover is one of the easiest tools I found to back up and extract WhatsApp chat history. It is simple to use and requires just 2-3 simple clicks to complete the process. It can be used for both Android and iPhone, so you don't have to purchase separate tools for each OS. It ensures complete chat history backup and extraction, including all the messages, images, videos, audios, and other attachments. Below are the pros and cons of ChatMover from my test run of the tool: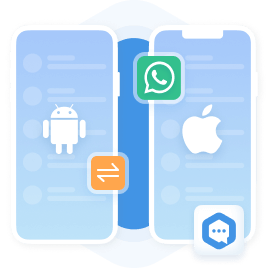 All-in-one WhatsApp Transfer
Transfer WhatsApp from Android to iPhone without Data Loss
Back up WhatsApp on Android & iPhone to computer free.
Restore WhatsApp backup from Google Drive to iPhone.
Export WhatsApp backup to HTML, PDF and CSV/XLS.
Pros
Simple to use and requires only a few clicks to backup WhatsApp and extract it whenever needed.
Fast and instant performance.
100% secure tool.
Supports to extract iPhone and Android WhatsApp backup.
It's a comprehensive WhatsApp manager. Except for WhatsApp backup and extract, it also supports cross-platform WhatsApp transfer.
Extracts all WhatsApp content.
Provides WhatsApp similar chats preview.
Free to back up WhatsApp.
You're able to keep unlimited WhatsApp backups without overwriting the previous one.
Exports all or selective chats in HTML, PDF, XLS, or CSV formats.
Cons
To extract WhatsApp backup, you should previously have made WhatsApp backup with it.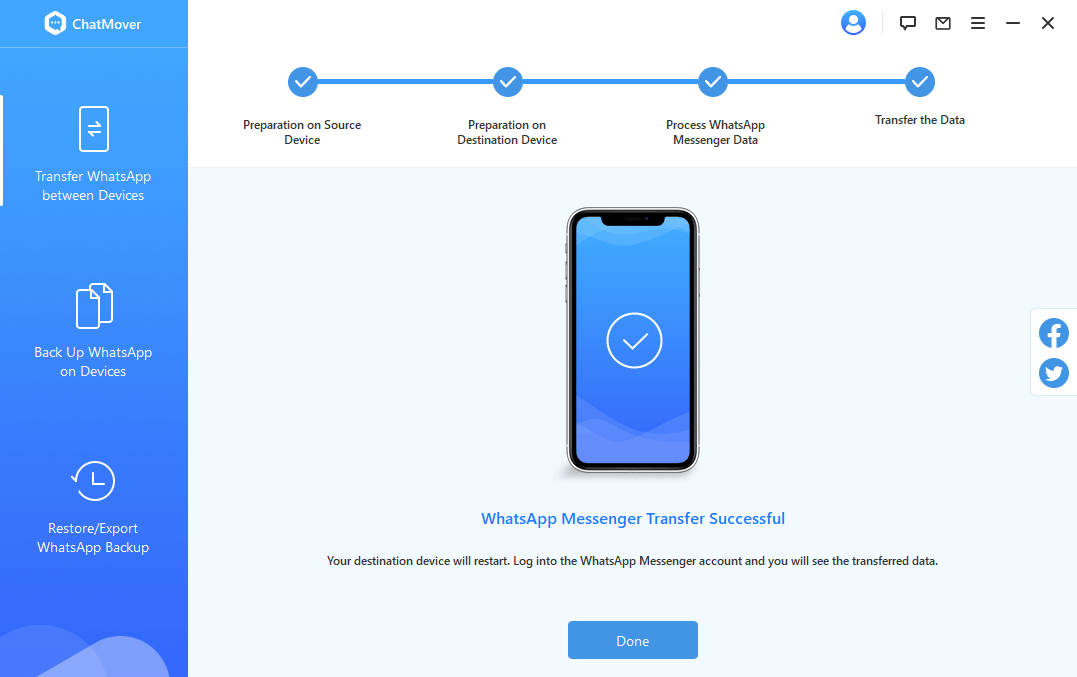 3. iMobie AnyTrans
AnyTrans is a comprehensive tool for meeting WhatsApp backup and extraction needs. It is available for both Windows and Mac. It provides an easy-to-use and graphical interface for backing up iPhone WhatsApp and viewing its content whenever you want. Below are my shortlisted pros and cons related to this tool:
Pros
Provides a safe and quick way to backup and extract WhatsApp.
Supports chats preview and export them as HTML files.
Cons
Only extract WhatsApp backup created by it.
There are two versions to buy, iPhone to iPhone or Android to iPhone (iPhone to Android supported). It means that you have to pay extra fee to get all the tools.
Expensive tool.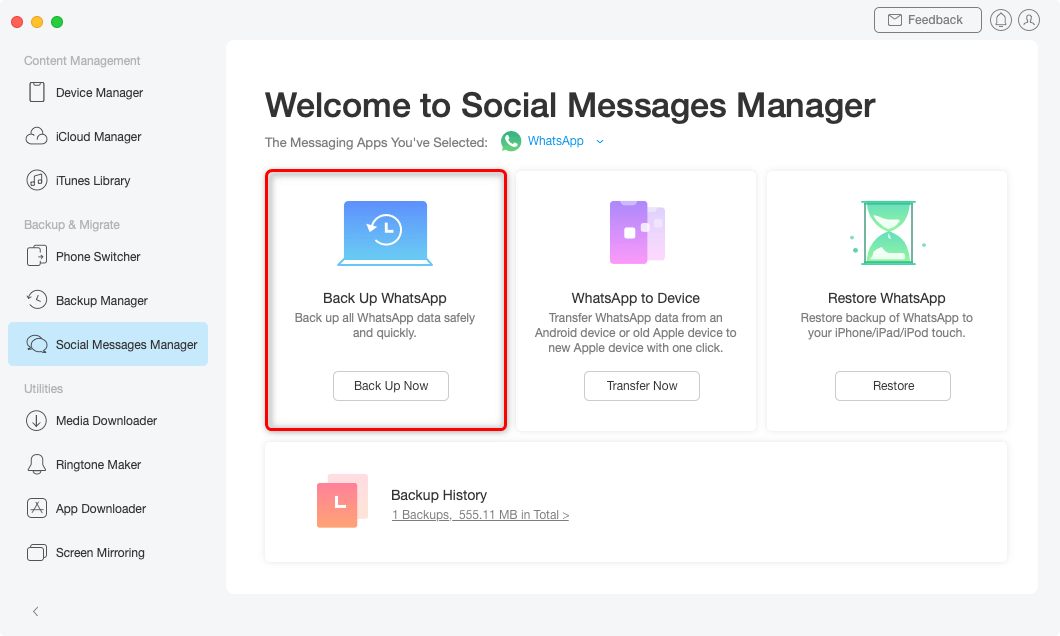 4. BackupTrans
BackupTrans is another platform for extracting WhatsApp backup, but it provides two different tools for Android and iPhone WhatsApp, i.e., BackupTrans Android WhatsApp Transfer and BackupTrans iPhone WhatsApp Transfer. For the Android WhatsApp backup, it requires access to WhatsApp backup stored in phone local storage. For the iPhone WhatsApp backup, it requires an iTunes backup copy of the iPhone. But in both cases, the WhatsApp backup reader APK manages to extract complete chat history from backups. Below are the pros and cons I found while testing BackupTrans:
Pros
Extracts all chats from WhatsApp backup.
Provides chats preview and export functionality.
Cons
Does not support transferring WhatsApp only.
Complicated and time-consuming process.
Separate tools designed for Android and iPhone.
Efficiency issues.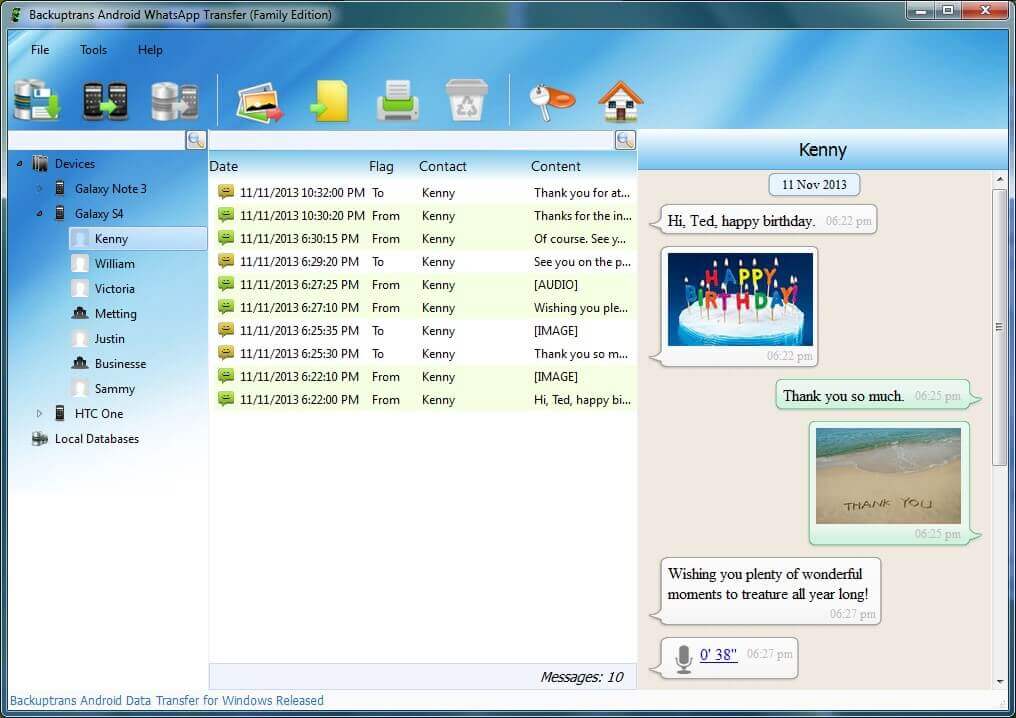 5. Aiseesoft FoneLab
FoneLab provides two types of tools, i.e., FoneLab iPhone Data Recovery and FoneLab Android Data Recovery. Both tools are capable to extract previously made WhatsApp backups. In the case of Android, the tool can extract locally stored WhatsApp backup, while in the case of iPhone, it can extract backup made on iTunes or iCloud. It also provides a simple user-friendly interface with preview functionality. But the scanning process provides all the possible data that can be recovered along with WhatsApp data. So, you have to manually look for WhatsApp data and export it wherever you want.
Pros
Provides an easy-to-use and graphical interface.
Extracts all WhatsApp chats with all the media files.
Provide preview and export functionality.
Cons
It acts more as a phone recovery tool instead of a pure WhatsApp backup extractor.
Separate tools for Android and iPhone.
According to my test, this tool failed to extract the current WhatsApp history.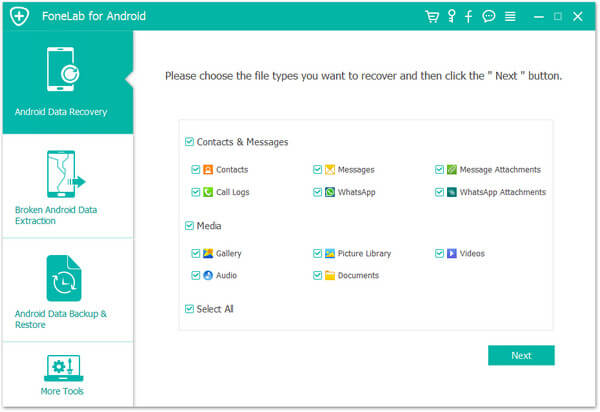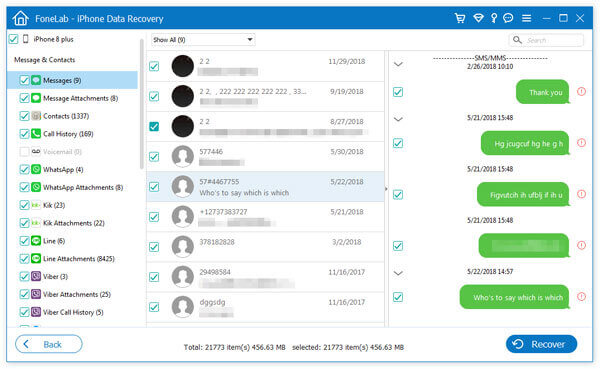 Conclusion
WhatsApp backup extractor tools are a great way to get access to backed-up chats and store them on your computer. The above 5 tools can fulfill your backup extraction needs effectively. If you have to pick one of them, then it should be based on what functionalities you are expecting from a tool. Overall, ChatMover promises a more convenient, fast, and reliable WhatsApp backup and extraction experience.