Privacy is often an essential concern in the modern era, where most communication and shopping are done online. With hackers lurking nearly everywhere online, it can be imperative sometimes to Fake GPS location on iPhone. So how to fake location on iPhone? In this article, we will explore how to spoof location on iPhone without jailbreak and computer ways. Let's Keep Reading!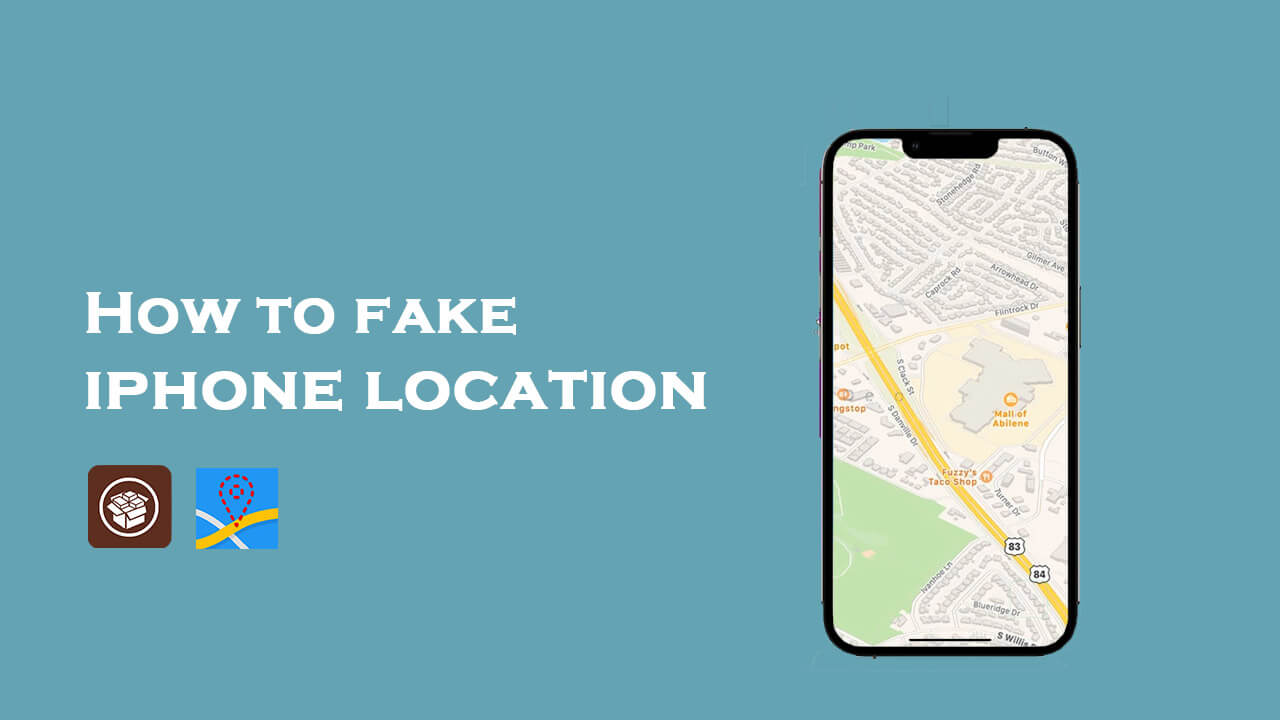 UnicTool TailorGo- Fake GPS Location iPhone Free
Part 1.

Can You Fake Your Locati0n on iPhone?

Yes , you can change your location on your iPhone. If you don't want to compromise your system by jailbreaking it, there are various methods available in the market. If your computer is not nearby, you can also choose to install certain apps directly on your phone to change your location. Some of these apps are free, and you can select the method that suits you.
Part 2.

How To Spoof Location On iPhone Without Jailbreak?
| iPhone Location Spoofer | Compatibility | Root/Jailbreak | Safety | Functions | Price |
| --- | --- | --- | --- | --- | --- |
| UnicTool TailorGo | Android&iOS | No | Yes | Diverse | Cost-effective(All-in-one Plan with Mac&Windows) |
| Dr.Fone | Android&iOS | No | Yes | Single | Paid |
| iTools | iOS | No | No | Single | Expensive Paid |
| VPN | iOS&Android | No | No | Single | Expensive Paid |
If you want to learn how to fake location on iPhone, one of the most straightforward means is through a GPS spoofer. The spoofer app allows you to fake your location on your iPhone with just one click. GPS Spoofer shows your location and the fake location that you want to go to on the app's map. You can select your desired destination on the map and click "OK" to start spoofing.
There are many valid reasons why people might want to spoof their location on iPhone, and some of them are:
Access geo-restricted content like videos or music from other countries
Avoid getting caught breaking laws
Stop being tracked by others
Privacy protection
Many people dislike jailbreaking because it can harm their system. So, is there a way to change your location on an iPhone without jailbreaking? The answer is yes!
One of the most notable applications to help you change your location on your iPhone is TailorGo.
TailorGo is a great application that instantly lets you spoof location on iPhone. The application helps ensure that you don't need jailbreaking and keep your location anonymous or safe, regardless of the applications that you're using.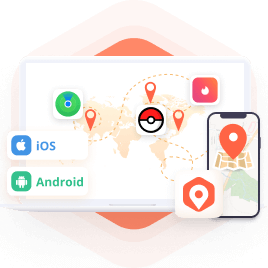 How to change locati0n on iphone?
Cutomized Setting: You can modify speed and different Modes.
Easy to use: No security risk or personal information leakage.
Powerful compatibility: It supports Android 5-14 and iOS 7-17. Diverse platforms such as Ar Games or Social Apps. Work well on various location-based apps: Life360 , Facebook and Pokémon GO , Monster Hunter Now..
10% UnicTool Product Coupon Code:SPECIAL111
If you don't know how to use UnicTool Coupon Code, you can read UnicTool Coupon Code Guide as your reference.
How to Fake your iPhone Location
1

Download, install and launch TailorGo on your computer. Then connect your device to the computer and click "Get Started" to begin.

2

For iOS devices, directly select one mode from the interface: Teleport Mode, Two-Spot Mode , Multi-Spot Mode and Joystick Mode. For Android users, enter the Gaming or Social Mode first. Then select a destination or plan a route.

3

Get your location changed or finish simulating GPS movement. Then Pokémon GO will use the updated location. The Pokémon Go will keep walking until it finds and hatches the eggs.
Pros
The most cost-effective way.
Compatible with iOS&Android and many Apps.
Bulit-in Pokemon GO relative setting.
Dr. Fone Virtual Location is a powerful fake GPS location iPhone that simplifies the way we intentionally modify our GPS position to maintain privacy or spoof, among other things. Setting up a virtual GPS location causes all location-based apps on your smartphone to tune to the new GPS location.
If you're sick of static GPS tracking, Dr. Fone's virtual location allows you to adjust speed between two spots or along a predefined path.
Step 1:Download, install and launch Dr. Fone on your iPhone and Computer.

Step 2: Open the Dr. Fone app. Now, choose the "Change Location" mode for entering the map.

Step 3:Now, launch the program, and connect your computer with the iOS device.
Step 4:The last step is to modify the location by choosing the location on the map and confirming it.
Pros
The application includes an easy-to-use interface that makes it easy for users to navigate.
The application allows for infinite GPS teleportation.
Users may imitate motions by drawing their own pathways.
Cons
No free version.
It is expensive.
No all-in-one PC.
3.Viturl Location Spoofer-iTools
iTools is much more than simply a bogus Pokemon Go GPS app. It is basically a collection of tools that you may utilize to do various activities on your iOS-powered devices. You may use this tool on your computer to simply move files between devices, restore data, and even modify the GPS location.
With this software, you may establish a virtual location for your iPhone or iPad, and all of your phone's applications will assume you're in that area. This is the software to choose if you want a broad range of functions.
Unfortunately, you must buy the whole toolkit in order to use the fake location on iPhone function. You may try out the app on your PC by first installing it for free.
Step 1:When you plug in your phone after installation, the app starts with a screen that lists all of its functions.

Step 2:Click the "Virtual Location" button and wait for the map to populate.

Step 3:This is when some people start to encounter issues. Many people report that the map will not load. To address this problem, iTools recommends switching from Google Maps to Mapbox
Pros
Many tools to perform actions on iOS devices.
Assign any virtual location to your smartphone.
An easy-to-use interface
Cons
The program takes a long time to load.
For new users, it might be a little overwhelming.
The procedure is not streamlined.
Does not work with iPhone 11/11 Pro, iOS 13, iOS 14 beta or even more.
There is no joystick for GPS. GPS movement cannot be simulated.
Not Support Android Device.
Part 3.

How To Fake Location On iPhone Without Computer?
1. VPN
If you are looking for a method to fake iPhone location without computer and without jailbreak, using VPN is worth considering. A VPN usually has multiple server locations around the world that allow users to change location to the spot as they wish. Here we'll take NordVPNfor example, which is available for download on your iPhone.
A VPN helps fake your iPhone location without computer and trick apps into thinking that you are elsewhere. This VPN changes your IP address so that it appears to be from another country or region while allowing you to access content that may not be available in your home country or region.
1. Download and install NordVPNon your iPhone.
2. Launch the app. Choose "QUICK CONNECT" to connect to the recommended server.

3. Choose and change to the location you want.
Drawbacks
Using a VPN can only help change iPhone location but cannot simulate movement, which can be perfectly done by TailorGo.
If you are an iPhone user and need to fake the GPS location iPhone device, then you can do so also by jailbreaking the iOS system.
2. FakeGPS-Jailbreak
Many apps are available for spoofing location on the iPhone, including Fake GPS, Location Spoofer, and GPS faker. All these applications are available for free, with a few exceptions. These apps allow you to change your current location to any other place worldwide as long as Google Maps or Apple Maps support it.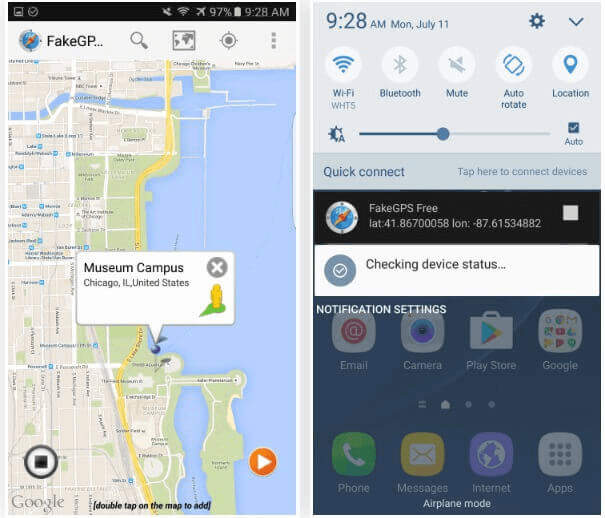 One of the most common reasons is getting access to the content they can't access in their region. For example, if you live in China and want to watch Netflix, it's unavailable in your country. You will need a VPN or Spoof Location app to trick Netflix into thinking you're from another country like the United States or Canada.
You will have to download the latest version of Cydia Impactor from the internet and then connect your iPhone to your PC to spoof location on iPhone by jailbreaking the iOS system. After that, you must create an Apple ID and sign in with it. Once it is done, you can download Cydia onto your device and then will need to follow the steps:
Step 1: Tap on the application from your home screen to start it.
Step 2: Find the location you want to pretend to be at.
Step 3: A red pin will appear on the address if you tap on it.
Step 4: Tap the blue tab on the subsequent screen.
Step 5: On iOS, you can now choose which apps to fake GPS location using the spoofer.
Step 6: You can now see the new location when you open your chosen apps.
Cons
Only support iOS
Need to Jailbreak
3. Cydia-Jailbreak
When you jailbreak a system, then you can make changes even to the native settings in the device easily. Here, you will be using a third-party tool Cydia app to root the device for location simulation.
Step 1: Install the app and launch it. On the home screen navigate to the map view and tap on the desired location. A red pin appears on the chosen address.
Step 2: Hit the blue tab and choose the apps on your device that uses the newly assigned location while accessing their service.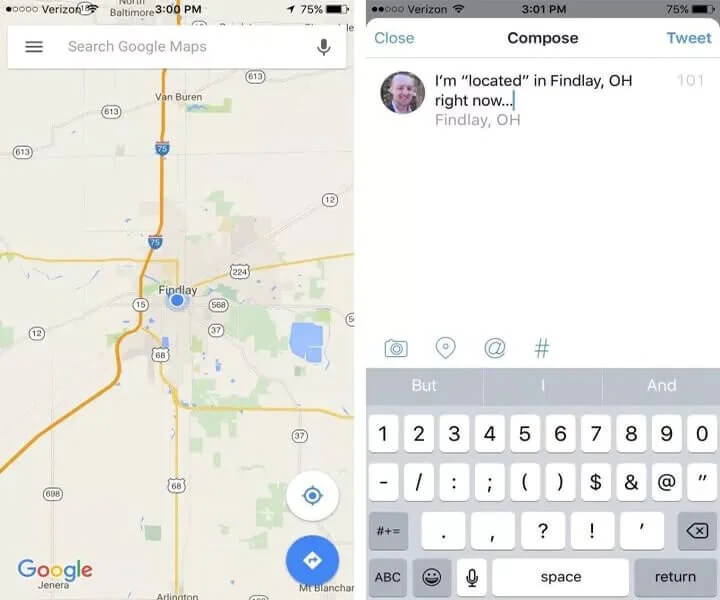 After completing all the associated steps, open the chosen apps and observe whether it shows a new device location. Next, start using the applications by spoofing the real location of the device.
Cons
Only support iOS
Need to Jailbreak
Part 4.

[Free] How To Fake Location On iPhone With Computer Program?

You can also use certain programs to change your location for free, but they can be quite complex and difficult to operate.
1. Xcode Computer Program-Jailbreak
Here, a computer program named Xcode is used to fake the location on iPhone. Follow up the below instructions to fix the device at the new address using the computer program.
Step 1: Install the Xcode program and launch it. Start with the new project by tapping the Single View Application option. Then, press the Next button.
Step 2: Name the project and process with the online instructions in responding to the Git commands.
Step 3: Set up a development team and create a connection between the iPhone and PC. The phone moves to a build option in the unlock mode. Next, press Debug -> Allow Simulation Location -> select the desired location.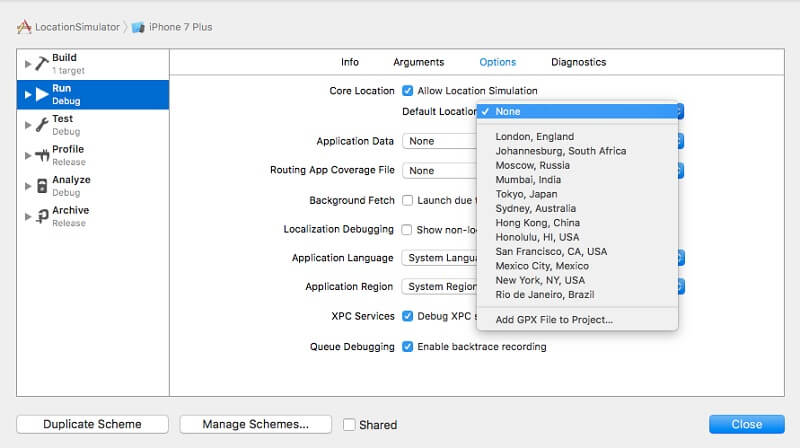 You have set a new location for your phone using an Xcode computer program. Use this app to spoof the device location successfully.
Pros
It is a fake gps location iPhone free way.
Cons
It needs to jailbreak your iPhone.
Not easy to operate.
2. 3uTools-Jailbreak
Modifying a Property List (.plist) file is another option to change iPhone location without jailbreak as this kind of file is associated with the pre-installed Maps app for iOS device. But being quite complicated to execute, this is probably the least preferred way.
To spoof your iPhone location with this method, you will need a proper program and here we choose 3uTools.
1. Download and install 3uTools in your Window PC.
2. Connect your iPhone to your PC and launch 3uTools. When this program detects your device, go to iDevice > Backup/Restore > Back up iDevice to back up your data.

3. When this completes, go to Backup/Restore > Backup Management and check the latest backup. Navigate to AppDocument > AppDomain-com.apple.Maps > Library > Preferences. In this folder, find and double-click on the "com.apple.Maps.plist" file to open it.

4. Edit the content as the picture shows below.

5. Save the edited file and go back to Backup/Restore > Restore Data. Restore the latest available backup. (For this, Find My Phone should be disabled.)
6. When the restoration completes, disconnect your iPhone. Launch the Maps app and search for the particular location you want to change to. Tap the "Simulate Location" option at the bottom of the screen to confirm the change. In this way, all apps using Location Services will be changed to the location.
Pros
It is a fake gps location iPhone free way.
Cons
It needs to jailbreak your iPhone.
Not easy to operate.
Part 5.

FAQ about iPhone Location Spoofer
Can I use a VPN to fake my location?
Yes ,A VPN is a tool that helps you hide where you are on the internet. It can make your iPhone look like it's in a different place by changing its special address called the IP address.
How do I hide my location on my iPhone without turning it off?
1

Turning Off Share My Location with Everyone

2

Turning Off Share My Location with One Person

3

Stop Sharing on Find My

4

Using Airplane Mode

5

Using Another iPhone or iPad
Conclusion
Now you know how to fake location on iPhone when needed. It's important to note that a bit of protection can go a long way, especially since your data is much more prone to exposure if you're not careful when surfing the internet.
To spoof location on iPhone, an easy way to go about it would be to use the Pokemon Go Spoofer or UnicTool TailorGo (iOS 17 support). By doing so, you'll be able to change your location in a few seconds. Moreover, the application is incredibly user-friendly and is compatible with Android and iOS systems (Including iOS 17).