Frankly speaking, tracking via Life360 has immense benefits when it comes to monitoring the old ones or kids out of security concerns. However, things may become different when those who are tracked need privacy. If you are one member of that group (say you are a teen and fed up by constant tracking from overprotective parents), then you might be seeking a way to turn off the location on Life360 without anyone knowing. If you haven't get satisfactory results, don't worry as this article will take you through a complete guide on how to turn off location on Life360 without anyone knowing.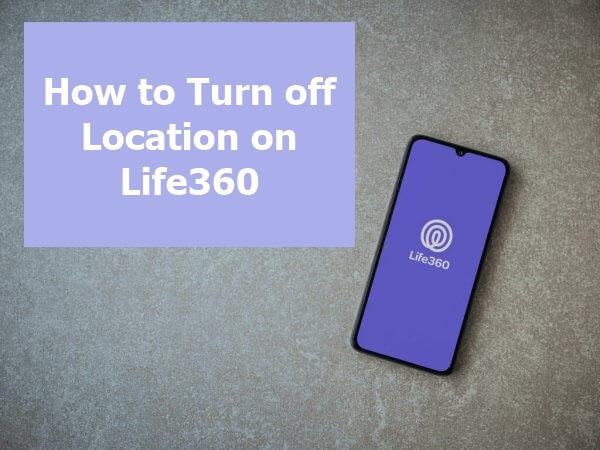 Part 1.

An Overview of Life360

There are plenty of applications designed to help family members or friends to track each other for security and other reasons. Life360 falls under this category of apps and has no doubt thrived since it came into the market. This tool makes it extremely convenient to know the current location of your family members, friends, or just anyone you want to track. All this is achieved through a circle of friends or loved ones created on a map.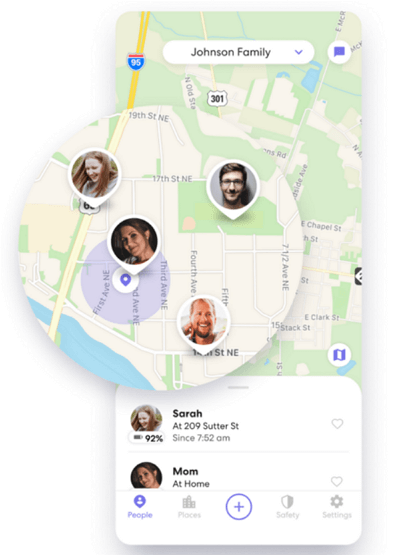 Life360 works by taking your GPS location on the phone and then displaying it on the map for the members within the same circle to see. This means as long as your GPS location is turned on, others in your circle on the other end will always get your correct location details. Besides, developers of Life360 consistently roll out more features to improve the tracking function. Now with Life360, you can also get notifications if someone of your circle moves from one point to another. Besides, you can even choose to send help alert in case of emergency, and this app will contact the emergency contacts you've added as well.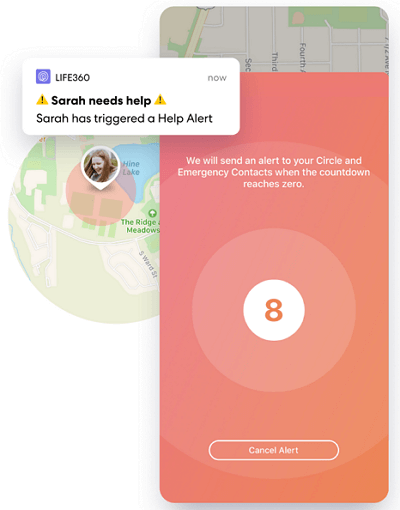 Part 2.

How to Turn off Location on Life360 Without Anyone Knowing?

While Life360 application can prove exceptional in situations of emergency or security issues of your loved ones especially the old and young, it may also prove to suck in the same magnitude. This is true especially in a case where you need privacy or security. If you manually turn off location on Life360, however, the members within your circle would definitely know and might trigger conflict.

Fortunately, there is a wiser way to turn off location on Life360 without them knowing. The trick is simple. Just fake your GPS location using a dedicated GPS location spoofer and that's all. Again you don't have to go further because TailorGo is here for you.

This amazing tool transforms the way you fake your GPS location like never before. It makes it not only seamless but also super-intelligent. TailorGo allows users to teleport from one point to another across the world while they are comfortably seated in their house somewhere. With some simple clicks, your friends on the other side will believe that you are actually in this fake location. This is also useful if you are playing location-based games like Pokémon GO.

TailorGo also helps you move virtually. You can design a route all by yourself, choose the direction and mimic various speeds to make your movements more natural and unsuspicious. As an elegant and easy-to-use tool, TailorGo endows users with full control over their locations.
Change location to anywhere in the world as you wish.
Help you move virtually without making any movements in the real world.
Historical Records, Saved Spots and Saved Routes are some useful highlights.
Solve location-related issuse within 3 simple steps.
Applicable to various location-based apps: WhatsApp, Tinder, Life360, Pokémon GO, etc.
Compatible with both iOS (including the latest iOS 15) and Android devices.
1

Download, install and launch TailorGo on your computer. Get your device connected, then click the "Get Started" button to begin.

2

There are 3 different modes: Teleport Mode, Navigation Route Mode and Straight Routes Mode. To simply change location, choose the 1st one and select the destination. To simulate GPS movement, choose either the 2nd or 3rd one, then plan a route to move along.

3

Your location will be changed easily; or the virtual movement will be completed in the way you want.
Hot FAQs About Life360
1. Does Life360 notify when location is turned off?
Yes, Life360 notifies your circle when you have turned off your location. When you manually turn off your location, the other members in your circle will see the "Location Sharing Paused" notification under the beacon. And they will only be able to see the last logged location here on the map.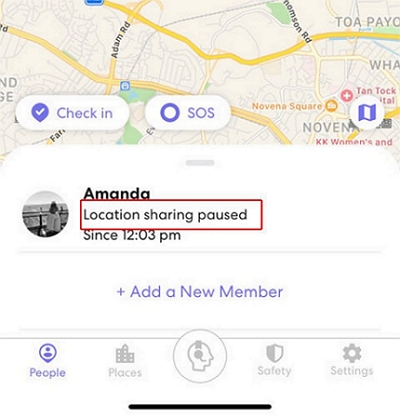 2. How to turn off location on Life360?
1

Run Life360 app and proceed to the "Settings" tab.

2

On the top of the screen, select a circle you want to stop location sharing and then choose the "Location Sharing" option.

3

Now drag the slider to disable location sharing. Once you are done, go to the map and check if the "Location Sharing Paused" notification is displayed.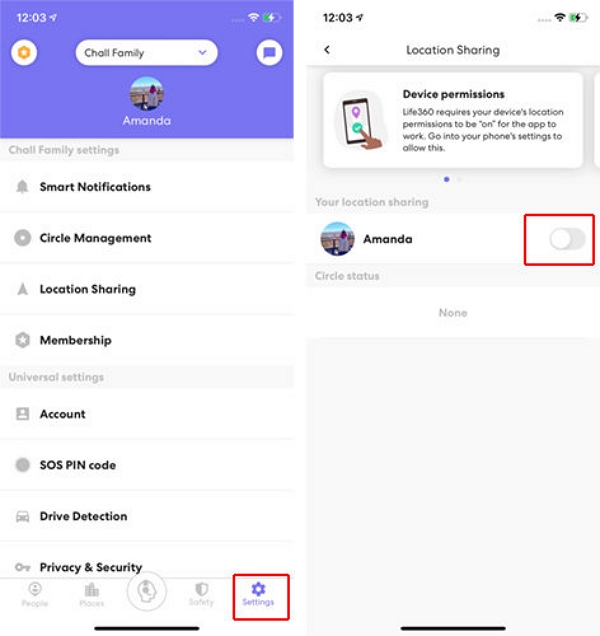 3. Does airplane mode turn off Life360?
Yes. Remember Life360 depends on network connection to send and receive location details. If you turn on the airplane mode, most networks including the internet are disabled. In this way,  Life360 cannot share or receive GPS locations to display on its map. Therefore, airplane mode does turn off Life360.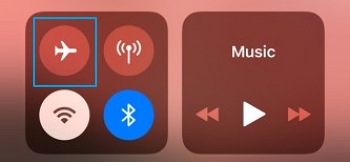 4. Does Life360 work without data?
No, Life360 requires data to fetch and share GPS location details. Without data, there is no way Life360 can get and display this information on the map. On the contrary, provided there is data, either WiFi or cellular data, Life360 works.
5. Can you track someone on Life360 without them knowing?
The short answer is No. Tracking people is becoming more intelligent especially with the pacey technological advancements. However, privacy is important for everyone and hence location-based apps usually seek permission to track someone before doing it. Therefore, if you are worried that someone can track you on Life360 without your consent, it's unnecessary because tracking is impossible without your permission. Unless you install the Life360 app and give them a green light, they can never track you at will.
Conclusion
This article has shed light on how to turn off location on Life360 without anyone knowing. It is crystal clear that this is only achievable with the right location spoofer tool. Fortunately, we have also gone ahead to make your searching easier by giving you the perfect application - TailorGo. Leverage this amazing location spoofer tool to turn off location on Life360 without anyone knowing.