Several people use Life360 to track their friends, relatives, kids, and their old ones for security or diverse reasons. The idea of tracking may look good to parents or anyone who want to track someone but the target may feel uncomfortable. If you are tired of being tracked, perhaps you want to disable Life360 but you don't want to raise eye-brows or collide with those who are tracking you. Fortunately, we have compiled for you a comprehensive guide on how to fake a location on Life360 without being noticed.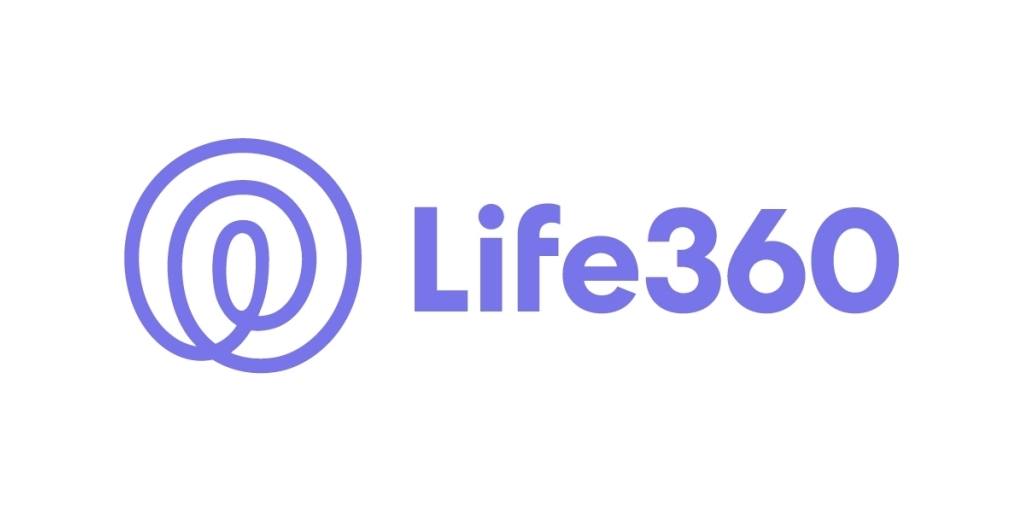 Part 1.

What is Life360?

Life360 is a location tracker app used by scores of people to track the location of their friends, relatives, or anyone within their circle. Here, the circle means the people who use Life360 and have agreed to share location details. This app is great if you want to know the whereabouts or just concerned about the security of your kids or old relatives among others. The location tracking function works by taking the GPS location of one's phone, translate it, and put it on the Life360 map for others within the circle to see.

In fact, Life360 offers more than just location tracking. In the app a useful function called "Help Alert" is designed, which users can choose when in a situation where help is needed or if there's an emergency. Besides, every user can add some emergency contacts, whom Life360 will contact in case that an accident is detected.
Part 2.

Why do People want to Fake Life360 Location?

Not everyone is comfortable while being tracked wherever they go by people in their circle. And sometimes it is not because they need some freedom to pull off some fishy stuff but simply due to privacy concerns. With Life360, your circle can see your location on the app's map, and therefore they know exactly where you are. This is not so good, especially if you don't want to be exposed so completely for some personal reasons.

Apart from privacy concerns, there is also the issue of personal security. If, unfortunately, you become a target of some malicious people, then chances are that your enemies will take advantage of people in your circle to trace and find you. Such kind of tracking can result in serious catastrophes sometimes.

These two concrete reasons highlight some of the genuine reasons why users are troubled by location sharing on Life360. With a location spoofer tool, however, everyone can fake location on Life360 without being noticed and hence reclaim privacy and security.  
Part 3.

How to Fake Location on Life360
1. Spoof Life360 Location on iOS device (iTools)
itools is no doubt one of the best iOS applications leveraged by scores of people to fake location on a plethora of location-based applications. This program offers various features as far as GPS mocking and this explains users' love towards it. Some of the major highlights include seamless and unlimited teleport, customizable speeds, customizable time cycles, virtual joystick control, autoloop mode, and favorite location list among others. The following steps illustrate how to fake location on Life360 using iTools virtual location.
Step 1: Launch iTools and connect your iOS device to the software. On the top center of the main interface, hit the "Toolbox" icon followed by the "Virtual Location" option.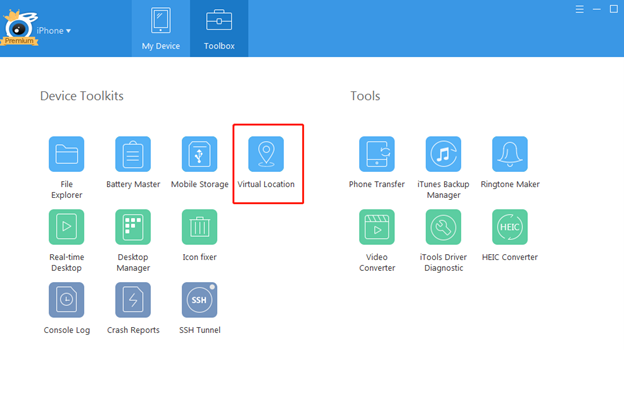 Step 2: On the subsequent page, enter the address or GPS coordinates of the place you want to appear and click "Go".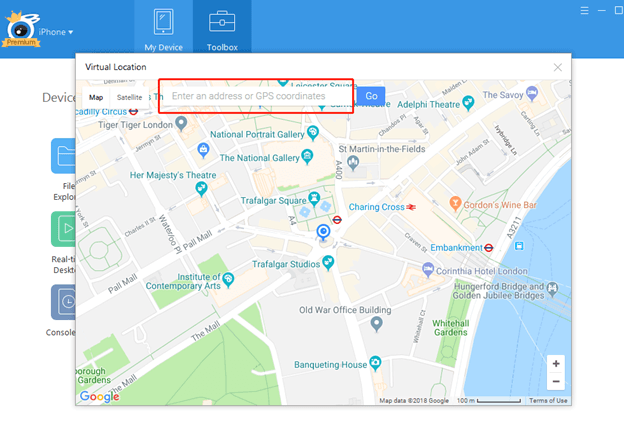 Step 3: When the program finds this location, you should see a small pop-up notification window at the center of the map. Simply click the "Move here" button to start teleporting to that location.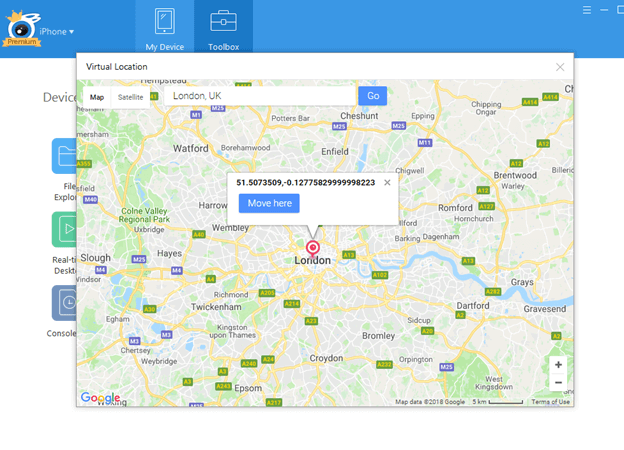 Step 4: To make your movement more natural, you can mimic human walking in your teleport. Simply click the human icon on the right top of the interface.  Now choose the desired destination and press "Go". Again, click the "Move Here" button and the walking mode is triggered. You should be able to see the distance left.   
2. Spoof Life360 Location on Android device (Fake GPS)
If you are using Life360 on an Android phone, you don't need to jailbreak/root your phone to effectively fake your location.  By tweaking a few settings on your Android device, you can fake your GPS location using an Android fake location tool. The following steps illustrate how to fake location on Android using the Fake GPS app.
Step 1: Open your Android phone and proceed to the "Settings" menu. From the options given, go to > About Phone > About Device > Software Info. Now tap the "Build Number" tab a total of 7 times to unlock the developer options.
Step 2: When the developer option is activated, again head back to the "Settings" tab and choose the "Developer Options" tab instead. You should see developer options displayed on the right. Activate the "Allow mock location" checkbox.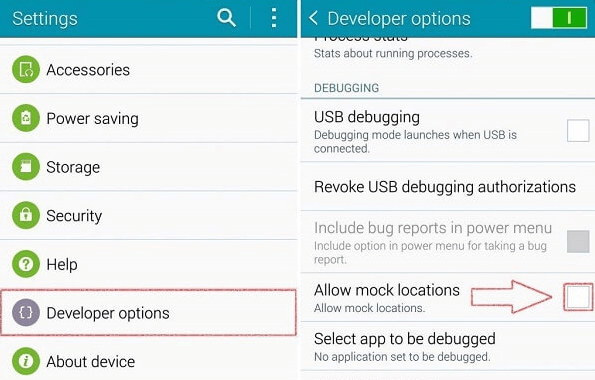 Step 3: With the mock location on Android allowed, proceed to Play Store and download the fake GPS app.
Step 4: When the download and installation are complete, go back to the "Settings" and navigate to Developer Options> Mock location app. Here, you should see a list of apps. Select the Fake GPS app you just installed.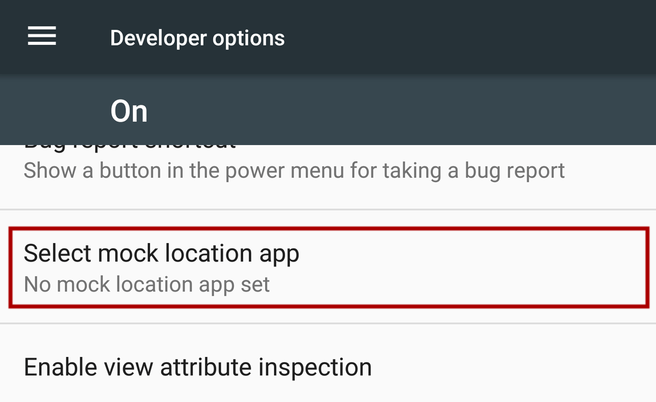 Step 5: Finally, launch the Fake GPS app on your Android device and change your location as per your need. Wait a bit then launch the Life360 app. Now, the location displayed on the Life360 map is the one you just set with the Android GPS Fake location tool.
3. A Perfect Way to Fake Location on Life360 for iOS & Android Devices (TailorGo)
While all the aforementioned methods are helpful, they are lengthy and not that straightforward. Furthermore, they are device-biased. One method only works on iOS devices while another only works on Android devices, which means that they are not flexible and reliable across different devices and systems.
If you want to fake location on Life360 on both iOS and Android devices in an easy and effective way, then TailorGo is the tool you need. TailorGo is a professional iOS & Android location change tool developed by UnicTool. Equipped with a wealth of features, this tool takes the way you fake GPS location on Life360 to another level.
Specially designed with the user in mind and therefore users find it extremely easy to use it.
Enables you to teleport to any place you want across the world intelligently.
Simulates GPS movement with customized speed such as cycling, walking, or driving, making the spoofing natural and flexible.
Works perfectly on various apps including Pokémon GO, Facebook, Twitter and Tinder.
Fully compatible with both Android and iOS system (including the latest iOS 15).
Absolutely safe; no security risks or privacy leakage.

1

Download, install and launch TailorGo on your computer. Click the "Get Started" button and connect your device to it.

2

To simply change location, choose the Teleport Mode and select a destination. To simulate GPS movement, choose either the Navigation Route Mode or Straight Routes Mode, then plan a route to move along, including the moving speed, direction, and moving times.

3

TailorGo will change your location to the selected destination, or complete the movement as planned. Life360 will use your new location automatically.
FAQs About Life360
1. How to Turn Off Location on Life360 Without Anyone Knowing?
If you are using Life360, you have the option of turning off location sharing through settings. This way, your circle will see the notification that you are not available and the only location detail they can obtain is your last location before turning it off. Your circle will therefore become suspicious. To avoid this, you need to use a dedicated location spoofer tool like TailorGo. With such a tool you can intelligently teleport to other locations you want to show to others. TailorGo can make the movements so natural that no one in your circle will doubt.
2. How to Stop Life360 From Tracking You?
A burner phone/another phone can be a good tactic to stop Life360 from tracking you. Here, you log out Life360 from on your phone then log in to Life360 on another phone using your credentials. When you successfully log in, leave the alternative phone in the location where you want to appear. Your circle will see this location instead.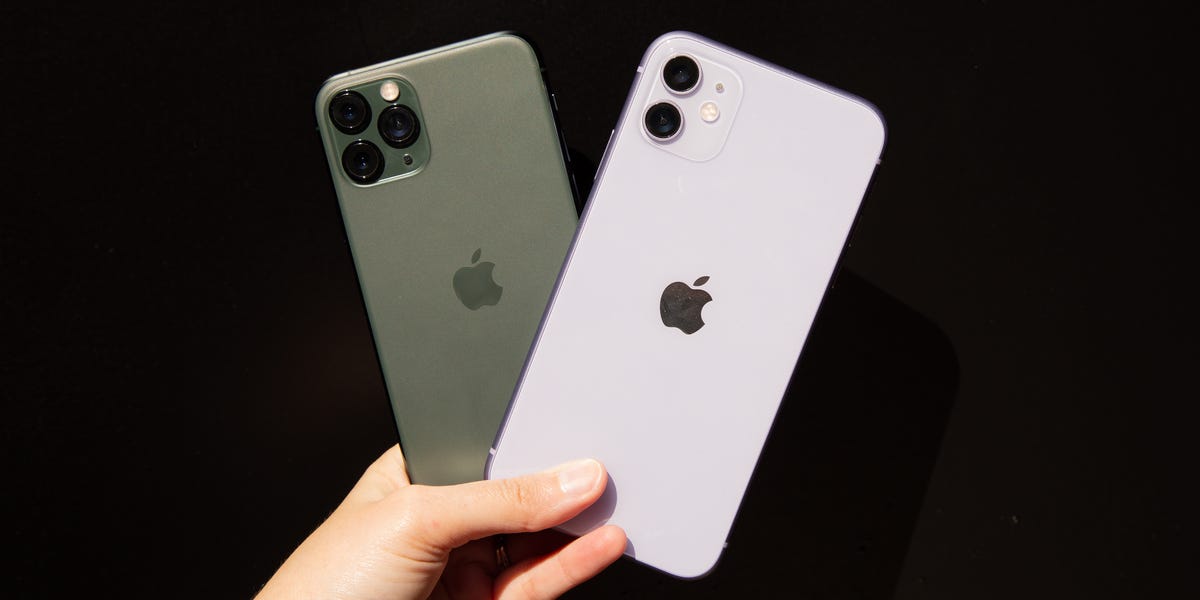 3. Can Life360 Track You When Your Phone Is Off?
Life360 depends on data to feed the Life360 map with the GPS details. When the phone is off, Life360 can't receive or send the GPS location. This means it is not possible to get tracked by Life360 if your phone is off.
4. How Can I Delete My History or Driving Events?
The only way you can delete your Life360 history or driving events is by deleting your account. When you delete your account, you cannot undo it like other accounts. To delete your account, go to Settings>Account>Delete Account.