Scores of people are familiar with iTools location spoof as it is a popular functional location spoofer tool. However, this tool is not without any shortcomings especially given that it only works on iOS devices. Therefore, if you are an Android user or use both iOS and Android devices, you are likely to be among the countless people swarming the web looking for the best iTools virtual location alternative. And if you are a newbie, perhaps you will have a rough ride curating for the best iTools virtual location alternative.
Fortunately, this article has made things painless for you. Here, we are going to take you through a complete guide on 6 iTools virtual location alternatives. Now check and try them by yourself to find the most suitable one!
Part 1.

A Review of iTools Virtual Location Spoofer

iTools is a powerful iOS GPS fake location tool suitable for location-based applications like AR-games, dating apps, or tracking apps. It works by changing the GPS location on your device to the one you desire. This way, all apps using your GPS location will receive the fake GPS location set by iTools location spoofer.
Features of iTools Location Spoof
With iTools Location Spoofer, you can spoof GPS location easily on iPhone or iPad and iOS 12 or below.
Perfectly Fake Virtual Location on iPhone and iPad.
Transfer files free from iOS to PC/Mac.
You can customize your ringtones easily with iTools.
Suitable for AR games like Pokemon GO and Harry Porter GO.
How to Change GPS Location Using iTools Virtual Location Spoofer:
1

Get iTools downloaded and installed via the official website

2

Open iTools on your PC and connect it to the iOS device. At the top of the main window, click the "Toolbox" icon then choose the "Virtual Location" option.

3

On the next page, enter the address or the GPS coordinates you want your device to display then hit "Go".

4

Or you can manually pin a location on the map and click "Move here". Then the program will set your device location there.
Limitations
It only supports iOS devices, which poses difficulty for Android device users.
Besides, not all iOS versions are well supported.
This program requires that the latest version of iTunes be preinstalled for some functionalities.
Users have complained about many issues during the process of using including its incompatibility with antivirus programs.
The free version offers limited service, but the paid version is expensive and may drain your pocket.
Rating
4.0/5.0
Users Comments
iTools location spoof worked good on my deive, it is a good iTool virtual location spoofer alternative for Gfaker. But it needs you to download some driver from Apple which leads to somee errors. And you also need to turn off your antivirus software to install this location spoofer.
Part 2.

The Best iTools Virtual Location Spoofer Alternative - UnicTool TailorGo

With the limitations clearly stated above, finding some alternatives seems to be the top priority if we want to change GPS location in an easy and effective way. And for this, UnicTool TailorGo is unarguably the best iTools virtual location alternative and Gfaker alternative tools that help users effortlessly fake their location for privacy and other reasons.

TailorGo is a powerful location changing tool for both Android and iOS devices. It is trusted and used by countless people across the globe. With this tool, we can bid farewell to those complicated spoofing location process and mock location with several simple clicks. Check the key features highlighted below to more more about this excellent location changer: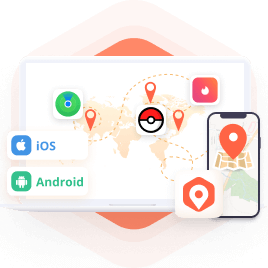 Spoof Your Location in Mobile Game Pokémon GO
Teleports you to any place in the world in seconds with the highest success rate.
Simulates GPS movement based on your actual need and works perfectly for games like Pokémon GO.
Supports a great variety of apps including Facebook, WhatsApp, Snapchat, Tinder and Find My.
Clear interface and simple operating steps makes TailorGo indeed friendly to everyone.
Fully compatible with both Android 5-12 as well as iOS 7 and later.
No jailbreak is needed for iOS devices.
Free trial is offered with the main functions.
1

Download, install and launch TailorGo on your computer. Then hit the "Get Started" button and have your device connected.

2

To simply change location, choose the Teleport Mode and select the destination. To simulate GPS movement, choose either the Two-Spot Mode or Multi-Spot Mode, then plan a route to move along.

3

TailorGo will change your location to the selected destination, or complete the movement the way you planned.
Part 3.

Some Other iTools Location Spoof Alternatives
1. iToolab AnyGo
iToolab AnyGo is a desktop GPS location simulator tool for iPhone and iPad. It allows users to simulate GPS movements and fake GPS location without jailbreaking.
1

Launch the program on your PC and connect your iPhone. Click "Start" on the main interface to enter the start mode.

2

Click the teleport icon on the top right of the screen then enter the desired location in the "search" field. Press "Search" to find the location.

3

From a pop-up that displays the coordinates and distance of the location you searched, just click the "Go" button to start teleporting.

4

Or you can manually pin a location on the map and click "Move here". Then the program will set your device location there.

5

Choose Standard Mode on the main interface.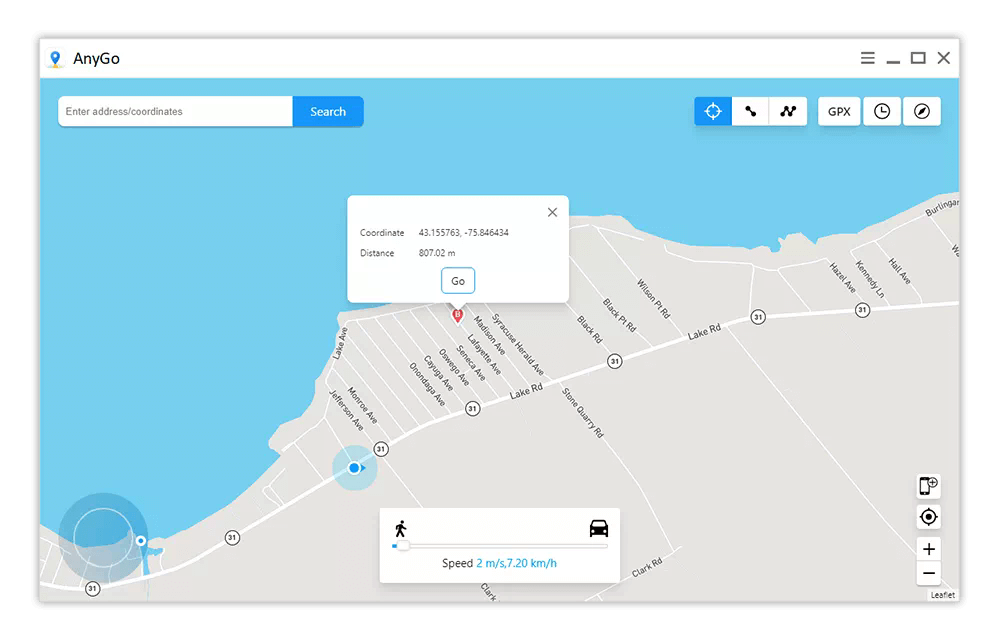 Pros
Supports the import of GPX file.
Allows the change of location without jailbreak.
Cons
Only works on iPhone and iPad. Android devices are not supported.
It is not free but a little pricy.
2. Gfaker
Gfaker is an iOS system GPS modifier that helps spoof GPS location for apps on your iPhone or iPad. But one needs to note that  the Gfaker is not an mobile app or a desktop tool; it's a plug and play solution which needs to be connected to the device.
1

Install Gfaker from the website then go back to iPhone main screen and wait for the installation to complete.

2

Navigate to Settings>Device Management and select "Trust the Enterprise App".

3

Connect the Gfaker through the lightning Dock then proceed to the map and try to change your location. Just search the location you desire on the map and then click the "Lock Position" button to successfully change your GPS location.
Pros
It allows users to connect to their iPhone via Bluetooth and change location.
It mocks movements of walking, riding, or driving along auto-generated routes.
Cons
It has a lengthy and complicated process.
While the Gfaker Phantom supports all the iOS versions to the latest iOS 14, the Gfaker Pro only works on iOS 9 - 12.
It doesn't support Android devices.
3. Fake GPS GO
Fake GPS Go Location Spoofer Free is one of the commonly-used Android location spoofer tools. With this tool, you can search and teleport to any location you want.
1

Install Fake GPS Go Location Spoofer Free on your device from Google Play Store.

2

Once downloaded, proceed to Settings> Developer options on your device then check the "Allow mock locations" checkbox.

3

Again head to the "Mock location app" option then select the "Fake GPS GO" option from the dialogue box.

4

Now launch this app, search for the place you want to teleport to and confirm the move.
Pros
It is a mobile app that can be used flexibly on mobile phones.
Users can teleport to any place in the world.
Cons
It only works on Android system.
It is not feature-rich.
Some of the setting and installing steps might confuse newbies.
4. Fake GPS
Similar to Fake GPS Go, Fake GPS is also an Android GPS mock tool used by scores of people worldwide. It allows users to teleport anywhere in the world without much difficulty.

1

On your Android phone, go to Settings > About Phone > About device > Software Info and tap the "Build Number" tab a total of 7 times to allow the developer options.

2

Now go back to Settings > Developer Options and activate the "Allow mock location" checkbox.

3

Now go to Play Store and install the Fake GPS app. Then head to Settings > Developer Options > Mock location app. Select the Fake GPS Location app from the list.

4

Launch the Fake GPS app on your Android device and select the location that you want to be in.
Pros
It is free.
It allows users to change to any location in the world.
Cons
Only works on Android.
The setting and installing process is lengthy and complicated
5. Surfshark VPN
Surfshark VPN introduced a GPS spoofing feature to help Android users fortify privacy and security not only via IP address but also through physical GPS location. 
1

Download the app and create an account.

2

Log in to the app. At the homepage, click the blue "Connect" button, then it will be connected to the fastest server available. You can also choose a location you prefer.

3

When making such a connection for the first time, Surfshark VPN will ask for the permission to set up a VPN connection. Allow it to proceed.

4

Now that your location has been changed, open the applications to get fresh new experience.
Pros
Offers unlimited connections concurrently.
Powerful function and b data encryption.
Cons
There is no way to use it for free.
The P2P servers are limited with poor speed.
Conclusion
This article has given a crystal-clear guide on a list of iTools virtual location alternatives. But in fact  not all these tools will offer satisfactory experience. If you are looking for the best tool to help fake location on both iOS and Android devices, then undoubtedly UnicTool TailorGo is your ultimate choice.