There are many legitimate reasons why people want to fake their location on WeChat, one of the most popular communication tools for people in Asia and other parts of the world. Whether it's for privacy, to meet new people, or simply to have fun with your family and friends, faking location on WeChat is something that many users want to do.
However, as there's no obvious solution to this issue within the app itself, users can't easily enjoy the benefits that a fake GPS location affords. The great news is that in this article, we're going to introduce the best method to change Location on WeChat .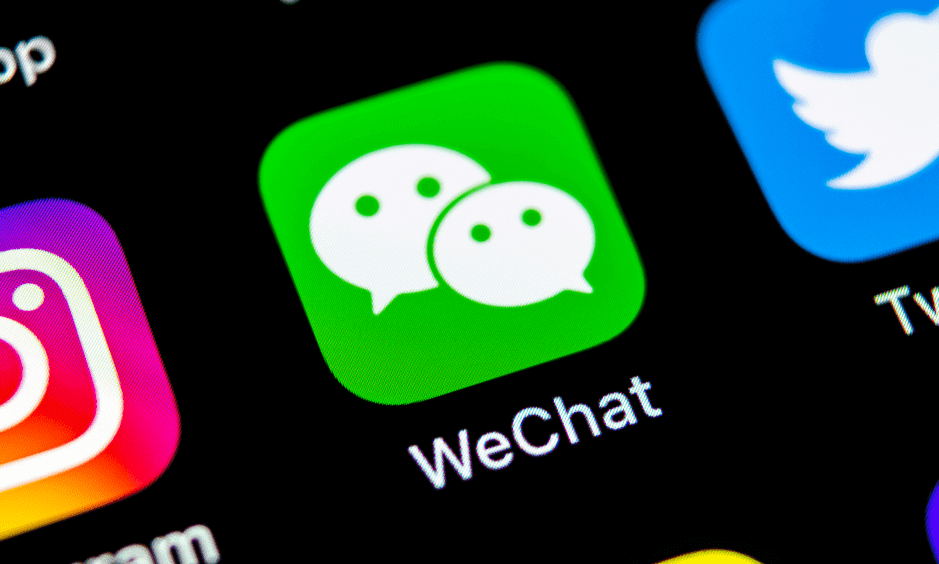 Part 1.

Why Would People Want to Fake Location on WeChat?

You might think that the only reason people want to fake their location on WeChat is for somewhat immoral purposes. In reality, however, that's simply not the case. Below we list some of the most common reasons:
1

Setting a fake location on WeChat protects your privacy. Some people don't want the apps on their phones to know where they are all the time but turning on GPS is required, so faking location is an effective way to deal with this issue.

2

The popular WeChat Shake feature connects people to one another in a similar location when they're shaking their device. Faking WeChat location enables one to connect with new people, depending on the region connected to.

3

Spoofing WeChat GPS location enables users to show fake locations in Chats, and many users want to trick other people into believing that they are somewhere else instead of the real place by doing so.
Part 2.

Can You Fake Location on WeChat Using the Inbuilt Feature?

In theory, the easiest way to fake your location on WeChat is to use the inbuilt feature on the app itself. Users are able to protect their privacy by heading into the app settings and simply changing the primary country from which they're using the app. To do this, you don't need to install any third-party tool.
1

Simply go to the Me tab, tap on your profile, and visit the region category.

2

choose your preferred country, and technically, WeChat should recognize your fake location as your current one.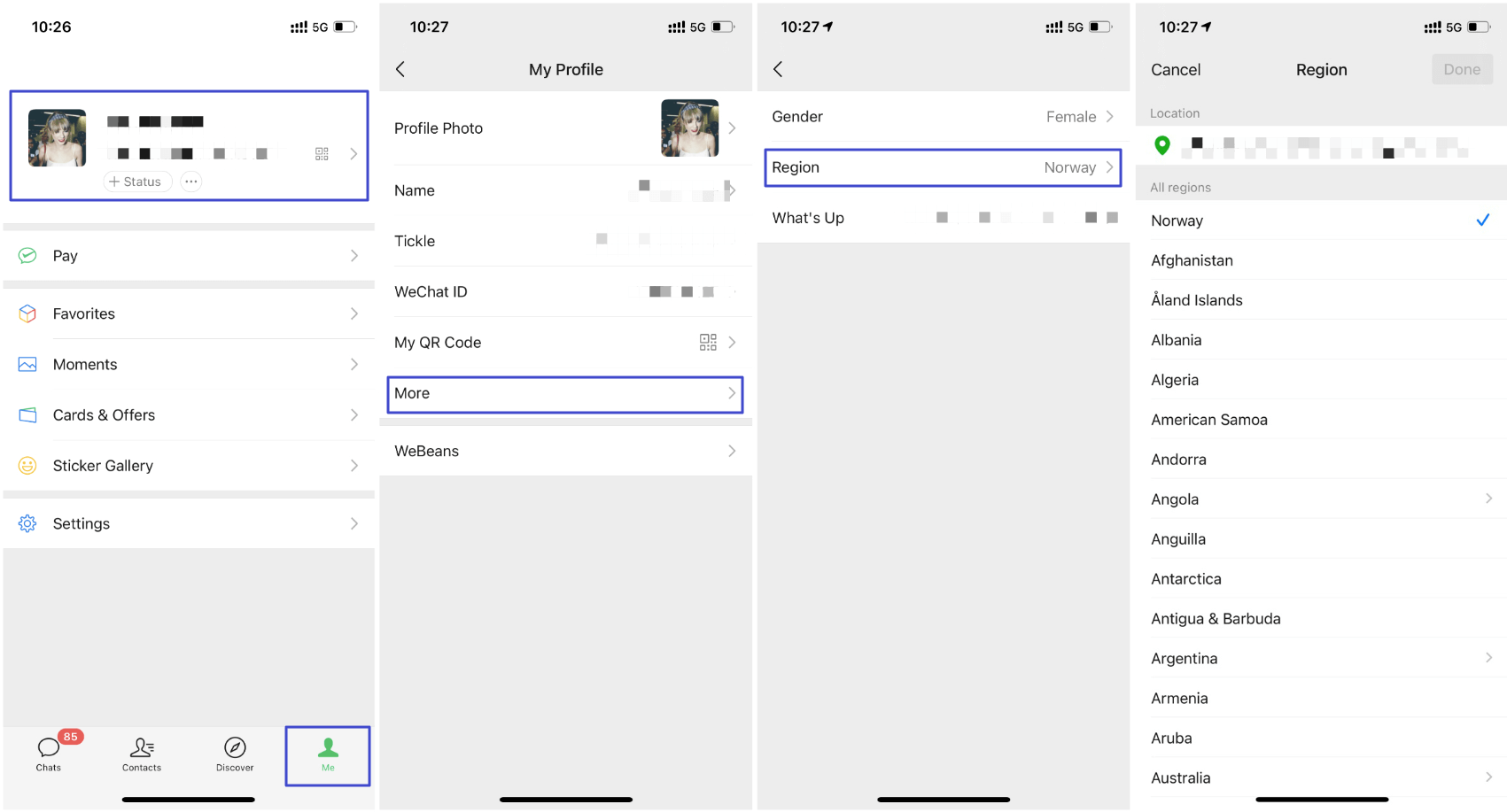 Does this really work? Yes, after all the location is successfully changed. But actually No, because such kind of change is basically meaningless. This method brings no change to other settings or functions other than the information of the user profile.
Sending fake location in chats, as we've mentioned before, is usually what people pursue when it comes to faking GPS location on WeChat. This is a popular feature for WeChat users to share location with families and friends. But only by modifying location in the settings on WeChat, this purpose cannot be reached.
So is there a real way to fake GPS location on WeChat? The answer is positive. Just check the next part.
Part 3.

How to Change WeChat Location(Android & iOS)

To successfully fake your location on WeChat, you need the help of a high-performing third-party tool like TailorGo. Compatible with both Android and iOS (including the newly-released iOS 15), TailorGo enables you to change your GPS to anywhere in the world with minimal fuss.

Besides, the tool helps you share your virtual Location on WeChat, hide your real location to protect your privacy, and access geo-restricted content that may be unavailable in your current location.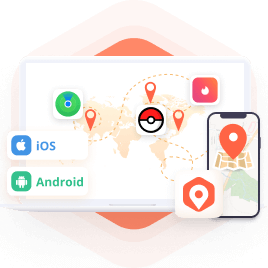 How to Change Location on WeChat
Change GPS location to anywhere instantly, which will be updated to WeChat without delay.
Simulate GPS movement along customized routes so people can play little tricks while sharing real-time location.
Work well on a full range of location-based apps, such as WeChat, Life360, WhatsApp and Pokémon GO.
Only simple steps are required. No technical knowledge is needed.
Pose no security risk to devices, apps or personal information.
Powerful enough to support both Android and iOS (including iOS 15).
Always run smoothly with no lag or crash.
1

Download, install and launch TailorGo on your computer. Click the "Get Started" button, then have your device connected.

2

There are 3 different modes: Teleport Mode, Two-Spot Mode and Multi-Spot Mode. To simply change location, choose the 1st one and select the destination. To simulate GPS movement, choose either the 2nd or 3rd one, then plan a route to move along.

3

TailorGo will change your location in an easy way, or finish simulating the movement the way you planned.
What's more, you can pause TailorGo at any time and return to your actual location easily, and you can look through your historical records with the click of a button, which makes it easy to re-select particular spots as your fake locations in the future.
FAQs About Location Service on Wechat
1. How can I share my location with friends on WeChat?
One of the most interesting features of WeChat is users' ability to share their location with friends. For some, this might seem like an invasion of privacy, but for others, it's a fun and unique part of communicating on the platform. It's very easy to share your location via WeChat: 
1. Select the plus [+] icon in the bottom right corner of your chat window in the app.
2. This will bring up the tools menu. Click on the tab that says [Location].
3. You will then be presented with two options: Send Location or Real-time Location.

4. Send Location will bring up a map of your current position that you can send to your friends directly.
5. Real-time Location works slightly differently. It sends a location sharing request to your friends, and anyone that accepts will be able to view each other's location until they end the sharing.
Whether for sending location or sharing real-time location on WeChat, TailorGo provides the best support if you want to change and fake location.
2. How can I set my location on WeChat Moments?
WeChat Moments is an excellent way of sharing life with your WeChat friends and is a very popular feature of the app. If you want to display location while posting WeChat Moments, WeChat will select your current location as default. But you can also change this to any location you like in the following way: 
1. Click on [Location] below the post that you're uploading.

2. You will be presented with several location options that you can choose from, or you can even hide your location if you wish.
3. Use the search bar to enter any location that you wish, or even create a new location if you can't find what you're looking for.
3. How can I hide my region in WeChat?
You can hide your location in WeChat by choosing a fake location in Settings as we've discussed in Part 2 and simply choose not to reveal your location in Chats or Moments. However, neither can help protect your privacy. The only realiable way of hiding your region on WeChat is to download an app like TailorGo and fake location effectively.
Conclusion
As we've introduced, there are so many reasons why users opt to fake their location on WeChat . And using a comprehensive and high-quality tool like TailorGo ensures that you can use a fake location on WeChat without worrying about the app resetting your GPS. It's a perfect solution for both Android and iOS users and is an essential app for anyone hoping to get the most out of WeChat or other location-based apps.