Are you looking for ways to fake location or live location on Facebook Messenger? We've got you covered here! In this post, first we'll go through some reasons why you might want to fake your location/live location, and then we'll discuss how you can turn motivations into a reality using the built-in feature of Messenger as well as a perfect location spoofing tool.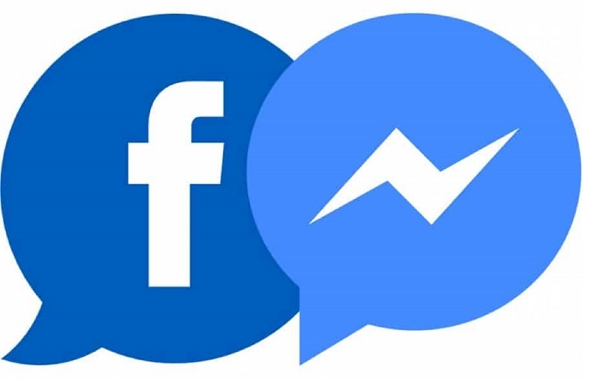 Part 1.

Why Faking Location on Facebook Messenger?

There are a ton of cool reasons why users want to fake location/live location on Messenger of Facebook. Whether it's for the aim to play a joke or there exist some important reasons why one can't or doesn't want to share real location, the good news is that we can make it. Before officially starting exploring the methods, let's look at some of the most common reasons regarding why faking location on Messenger.
1

To play a joke on your friends. If you want to trick your friends into thinking you're somewhere you're not - like a picturesque vacation spot across the country - faking your location is a great way to do it. Occasional tricks can indeed enhance the friendship sometimes.

2

To hide your real address. There are a ton of valid reasons to hide your real address, especially if it's from someone you're not close with. At those moments, faking your current location on Messenger can keep you safe and your anonymity intact.

3

To protect your safety. As scary as it sounds, it's true that anyone can track your current location on Messenger app with Facebook's location service enabled. Spoofing your location can prevent anyone who intends to harm you from tracking you down without you even realizing it.

4

To utilize the Nearby Friends feature. With Facebook's Nearby Friends feature, you can see who are nearby in geographical sense. And faking or changing your location can be a quick way to see if your friends are at a specific location before you actually go, which is great for "spontaneous" hangouts and check-ups.
Is it possible to fake Facebook location? The answer is 'Yes', keep looking, we will find out ways to fake Facebook Messenger location below.
Part 2.

How to Fake Location on Facebook Messenger

If you want to fake your location on Facebook Messenger, you can do so simply by sending a pinned location using the in-built feature of Messenger. Pinning your location allows you to choose a specific place on a map to send as "your location" to someone. This is a fixed location, not involving any updates on your movement.

Keep reading for the step-by-step guide that show you exactly how to fake location on Messenger via the location-sharing features.
Step 1. Open your conversation with the person you want to share your location with, then click the blue picture icon.
Step 2. From the two options displayed, choose the location icon. If prompted, allow Messenger to access your location.

Step 3. Then a map will show with a black pin. Tap "Send Location" to send your current location. Or you can use the search bar that reads "Find a place or address" to type in a place you want to "go", then click the "Send" button.
Part 3.

How to Fake Live Location on Facebook Messenger

Though the feature to pin your location is useful when you want to fake a static location, sharing a live location can be more convincing, especially if the person you're trying to hide your location from is aware of how the pinned feature on Messenger works. However, if you want to fake a live and dynamic location which updates as you move, there is no way to manipulate that within the Messenger app as of now.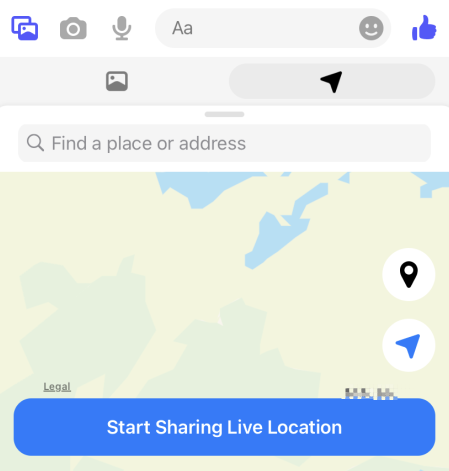 Luckily, it's possible to fake live location on Messenger - with the best location changer UnicTool TailorGo. Applicable to both iOS and Android, this tool is a powerful location spoofing app that lets you share your live location from anywhere in the world even if you're not there yourself.
Change location to any place across the world with 1 click.
Simulate GPS movement along with customized routes at designed speed.
Fake live location on Messenger in a natural way that nobody would suspect.
Offer powerful functions: cheat in Pokémon GO, fake Life360 location, etc.
Fully compatible with both Android 5-12 and iOS 7-15.
Absolutely safe. No harm to your device or other apps. No data leakage.
Free trial is available for every user.

1

Download, install and launch TailorGo on your computer. Click the "Get Started" button and connect your device to it.

2

To simulate GPS movement and fake live location, choose either the Two-Spot Mode or Multi-Spot Mode, then plan a route to move along, including the moving speed, direction, and moving times.

3

TailorGo will complete the movement as planned and the changes will be updated to Messenger timely.
Part 4.

Fake Location & Fake Live Location on Messenger

While faking location, especially live location on Messenger might seem tough or even impossible before, you now know exactly how to do it with this guide.

If you only want to send a fixed location to someone, pinning your location within Facebook Messenger will suffice to meet the demand. It's quick and easy, requiring no extra aid. But as this trick is known and open to everyone, the pinned location is not believable in some cases. Additionally, as faking location within Messenger doesn't change your device's GPS location, you cannot get any advantage to use features such as the Nearby Friends which requires a live location.

On the other hand, when you want to fake live location on Facebook Messenger or need to fake GPS location to use some location-based features of Messenger, a third-party tool is necessary. Here, UnicTool TailorGo is on the top of recommended list beyond all question.

Professionally designed to provide a comprehensive solution to a great variety of location spoofing issues on both Android and iOS devices, TailorGo never disappoints anyone. Enabling every user to change location and simulate live GPS movement in a manner that's not only easy but also effective, TailorGo is indeed worth trying.