Pokémon GO is still one of the most engaging gaming apps in 2023. It allows players to explore the world and catch Pokémon located in different areas while socializing with and competing against friends. In order to catch Pokémon, users have to leave home and go to specific locations. As such, people are limited to how many they can catch within one place, so they look for ways to spoof location and access new Pokémon. This article introduces you the most popular Pokemon Go spoofer on Android in 2023.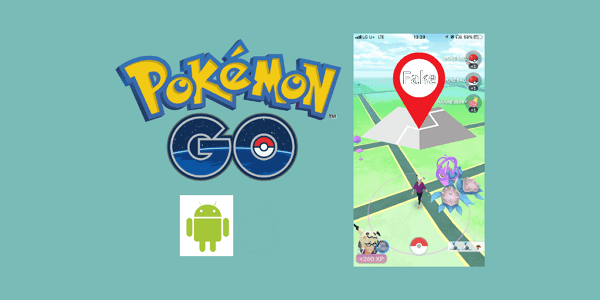 UnicTool TailorGo Pokémon GO Spoofer
It changes location in seconds
Part 1.

What Are the Benefits of Faking GPS on Pokémon GO?

As is known to every player, Pokémon GO is a cutting-edge, location-based augmented reality game, where players have to move around in the real world to locate Pokémon, so they can move up levels towards completing the game. The game uses the real-life location of players to determine if they are close enough to a PokeStop to spin it for supplies or close enough to a gym to start a battle. In short, player's GPS location is central to the functionality of the game.

Naturally, many users want to fake their GPS location to speed up the process of advancing in the game. Some of the benefits of doing so include:
1. Moving in the game without actually moving in the real world. Instead of wandering around the streets, you can play Pokémon GO from the comfort of your sofa via GPS spoofing.

2. Accessing key features from special events. Niantic, the developer of the app, schedule special events in different parts of the world. Spoofing your location allows you to access the key features from these events without being there.

3. Finding PokeStops and gyms in remote areas. As the app is designed to be played in areas with high density of population, it's difficult to find PokeStops and gyms if you live in the countryside. Spoofing your location, however, gives you more opportunities.

4. Catching more Pokémon. SomePokémon appear thematically in specific locations. Therefore, for instance, if you live in a landlocked country, you might never be able to access water-based characters unless you spoof your location.
As you can see, there are many reasons why players attempt to spoof their location on Pokémon GO, as it gives them more access to many of the features that make the game so enjoyable. Next, let's take a look at the best ways of spoofing your location in Pokémon GO on Android in 2023.
Part 2.

Popular Pokémon GO Spoofers On Android

The good news is that if you're wondering how to spoof inPokémon GO on Android, you have several options available to you. We are going to introduce three of the most effective ways here.
| Pokémon GO Spoofer | Compatibility | Root/Jailbreak | Safety | Functions | Price |
| --- | --- | --- | --- | --- | --- |
| UnicTool TailorGo | Android&iOS | No | Yes | Diverse | Cost-effective(All-in-one Plan with Mac&Windows) |
| PGSharp | Android | No | Yes | Single | Expensive Paid (2 Devices for Month plan) |
| iPogo | iOS | Yes | No | Single | Expensive Paid |
| Fake GPS for Android | Android | No | No | Single | Expensive Paid |
| VPN | Android&iOS | No | Yes | Single | Expensive Paid |
1. Through the Best Location Spoofer - TailorGo
UnicTool TailorGo is the smartest and most efficient way to spoof your location on Android when playing on Pokémon GO. This high-performing app enables you to change your GPS location to anywhere instantly without having to physically move in reality. Besides, fully compatible with the Android operating system, TailorGo seamlessly allows everyone to trick every applicationon Android phone into thinking that he is in a different location.
TailorGo allows you to pause the spoofing feature at any time with the click of a button, so you can return to your natural location without too much hassle. Also, by setting your desired coordinates in the app, it's the perfect way of looking for specific Pokémon that may not be available in your area and helps you pop up next to gyms and Pokestops.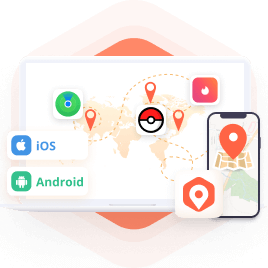 A One-Stop Location Spoofer
Teleport you to any place you want for more Pokémon.
Create routes so that you can move virtually with designed speed and direction.
Help you change directions in real-time while moving with the Joystick Mode.
Only 3 simple steps are required to solve location issues.
Work smoothly on both iOS 17 and Android 14.
It supports AR Game like Pokemon Go & Monster Hunter Now and Soical APPs like Grindr &Life360.
10% Coupon Code:SPECIAL111
If you don't know how to use UnicTool Coupon Code, you can read this article as your reference.
1

Open TailorGo on your computer. Get your device connected and click the "Get Started" button.

2

To change location, choose the Teleport Mode and select a destination. To simulate GPS movement, choose either Two-Spot Mode or Multi-Spot Mode, then plan the route, speed and direction.

3

Your location will be changed easily; or the movement will be completed according to plan. Your new locations will be updated to Pokémon GO.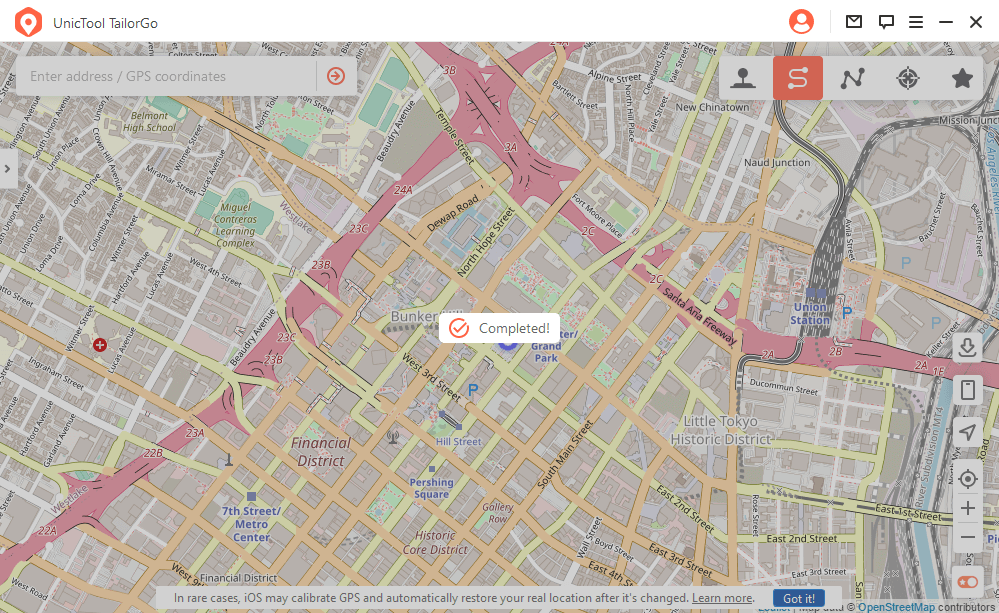 2. PGSharp
PGSharp is another old Pokemon GO Android spoofer on the market, no Root needed. If you're looking for a Pokémon GO spoofer on your Android device without PC, you must try the PGSharp. With PGSharp, you don't need to move around physically, it provides Coordinates to teleport. You can also get a Pokemon GO joystick for FREE with PGSharp, and it also provides a premium version, 5 USD per month.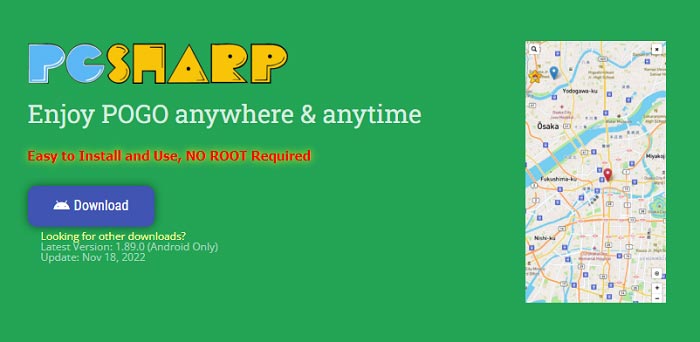 How to Spoof in Pokemon GO Android with PGSharp
1. Download PGSharp via the official website and install it.
2. Open PGSharp
3. Launch Pokemon GO, you'll notice that a PGSharp icon has appeared on your home screen. Tap on it, and you should be able to enjoy the Pokémon GO spoofing on your Android device!
Pros
Custom Shortcuts and Speed
All Coordinates Feed
Quick Catch
Cons
Higher rate of getting banned
3. iPogo
iPogo is a very popular Pokemon GO spoofer on Reddit and YouTube, you can find a lot of reviews online. Recently, they release the Android version for iPogo, users can get free trial by joining their Discord. It is an Android Pokemon GO spoofer as PGSharp, an alternative for iSpoofer, price also starts at 5 bucks per month.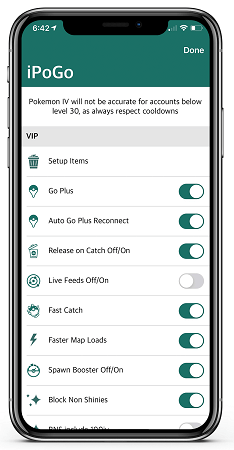 How to Use iPogo Android
1. Download and Install iPogo Android Apk from its official website, must uninstall PokemonGO first.
2. Ensure you activate your code and download PokemonGO on app.
3. Launch PokemonGO and you will see the iPogo icon.
Pros
Free to use for Android Beta now.
Teleport and Joystick Mode
No PC
Cons
Need a PC to install the app on your Android Device
Must pay more attention to the cooldown time.
4. Use Fake GPS App for Android
Are there any free spoof apps for Android? Of course. Android users can head to the Play Store and download the Fake GPS app for free. It's easy to operate but not always effective, as we will explore shortly. To use it, you need to follow these instructions:
1. Head to the Play Store and download the Fake GPS app.

2. In Settings, tap on the Build number entry 7 times to enable Developer options.

3. Go into Developer options and look for "Select mock location app". Select Fake GPS here.

4. Launch this app, find the destination that you want to spoof and move there.

5. Open Pokémon GO, and you should have successfully faked your location to the desired spot within the game.
Pros
As a free app, it doesn't cost you any money.
It works on Pokémon GO as well as other location-based apps.
Cons
On some Android phones, you will first have to uninstall Google Play Services and install an older version to get around the updates.
It's quite a long process to initiate the spoof every time you want to fake your location on your desired apps.
It is not user-friendly enough. You might need to troubleshoot problems to get the desired results.
5. Download Surfshark VPN
Surfshark is arguably the best VPN for Pokémon GO users. Capable of changing your IP address to your faked GPS location, it can greatly lower the risk of being caught cheating. Of course, you also benefit from all of the other benefits of using a VPN if you choose to install it on your device. Here's how to use Surfshark:
1. Download the Surfshark app for Android and sign in to the app.

2. Tap "Connect" to connect to the fastest VPN server available. Or you can change the default option from the Fastest to the Nearest.

3. You can also choose a location you prefer in the "Locations" section. But you'd better pick the VPN server closest to your faked GPS location.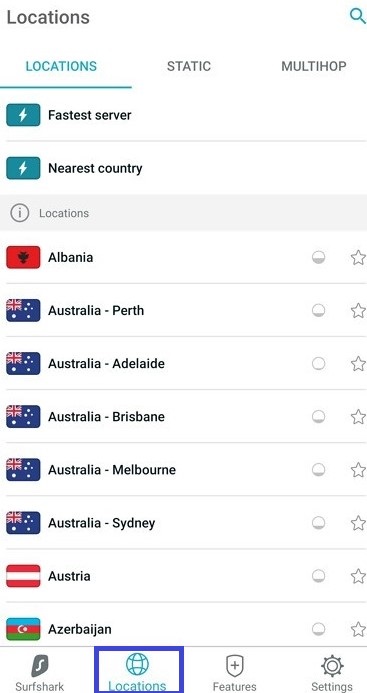 Pros
It's one of the cheapest VPNs available to download for Android.
You can benefit from all the other privacy features afforded by a premium VPN, such as data encryption.
Cons
Some users have to install the BlueStacks emulator to access Pokémon GO, as well as SurfShark, as sometimes the "System Location" must be changed to access the app.
The VPN has limited P2P servers with comparatively poor speeds, which can affect the functionality of some of your apps.
Part 3.

Useful Tips on Pokémon GO Spoofing on Android

Here are some useful tips to follow when it comes to spoofing your location on Pokémon GO, and they will help you to avoid being banned from playing the game:
1. Don't jump from one place to another too often. Your account could get banned if it detects that you move from one place to another in a matter of seconds, when in reality it would take up to a day to travel there.

2. Try not to catch too many Pokémon in a short space of time.This will also act as a red flag to the developers and could get you banned.

3. If you decide you don't want to spoof, you could always try multi-accounting, which has become popular since the developers caught onto the practice of spoofing. This enables you to have multiple accounts and play simultaneously. For example, you can take down gyms and then fill them up using family and friend accounts.
4. Pokémon GO employs a three-strike discipline policy. If you get caught spoofing, you should proceed with caution! If you get caught three times your account gets permanently blocked.
| Distance | Cooldown Time |
| --- | --- |
| 1 km | 30 seconds |
| 5 km | 2 minutes |
| 10 km | 6 minutes |
| 25 km | 11 minutes |
| 30 km | 14 minutes |
| 65 km | 22 minutes |
| 81 km | 25 minutes |
| 100 km | 35 minutes |
| 250 km | 45 minutes |
| 500 km | 1 hour |
| 750 km | 1 hour 20 minutes |
| 1000km | 1 hour 30 minutes |
| >1500 km | 2 hour |
FAQs About Pokémon GO Spoofing for Android
1. Is it possible to spoof Pokémon GO on Android?
Yes, it's absolutely possible to spoof Pokémon GO on Android. The most effective way of doing so is by downloading the TailorGo app. As the easiest and most cost-effective spoofing solution for Android, it gives you full control over your device's location.
2. Does iSpoofer work on Android?
No, iSpoofer does not work on Android devices. It only works foriPhone/iPad running iOS 12 or above. Besides, it has been shut down and is no longer available. But you can always choose an app like TailorGo, which gives you all the functionality and features of iSpoofer.
3. Will I get banned for spoofing Pokémon GO?
In 2021, Niantic announced that they had banned more than 5 million players on a number of their games for cheating. For them, spoofing is regarded as cheating, as it is not fulfilling the objectives of the game as designed. As such, if you want to spoof your location, you should be aware that you run the risk of getting banned. But to lower the risks as much as possible, you can use a professional location-changing tool such as TailorGo. In view of the features as well as the way it protects your identity, TailorGo the ideal app if you really want to get the best out of spoofing your location on Pokémon GO.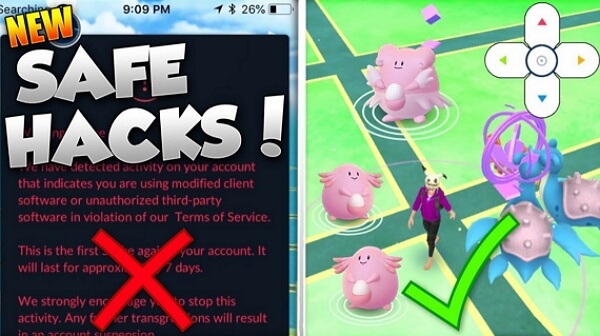 Conclusion
If you're looking for a high-performing, cost-effective Pokémon GO Spoofer while playing Pokémon GO, UnicTool TailorGo is just the app that you're looking for. It tricks your device into thinking you're in a specific location, which enables you to access gyms and PokeStops that you wouldn'to therwise be able to access.
Overall, it's the perfect solution to your Android spoofing needs and will give you more freedom to enjoy the geo-based apps and games without worrying about restrictions. Download it now and enjoy the free functions of it!