With this short guide, we'll go through how to safely transfer your WhatsApp data for free, as well as the best software for transferring WhatsApp chats between iPhone and Android. We'll also be going through the best WhatsApp transfer software and alternatives for the opposite way – from Android to iPhone. Read on to find the best free WhatsApp transfer software for both iOS and Android now.
Part 1.

Is WhatsApp Transfer Safe? Can I Do It for Free?

Transferring your WhatsApp data from one device to another is safe – as long as the transfer tool that you are using is provided by a trustworthy provider. To ensure the company is trustworthy, head to their website or check out their Google reviews to see what others are saying about them.

What makes the software below so brilliant is its ability to keep your data safe and secure – and most of them are even for free.

So, there should be no reason as to why the apps that transfer your data should ever be any different. Just to be safe, it is always best to look at what data is being stored when you download the app or software – however, typically no data is ever leaked.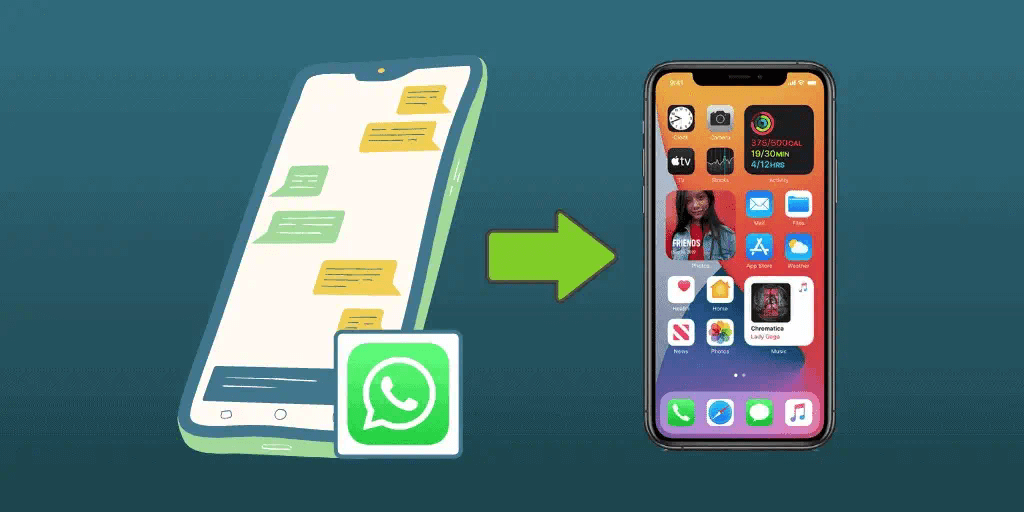 A good WhatsApp transfer software is an invaluable tool for those individuals that need to constantly switch between devices, or simply for those who get a new phone when their contract ends. It is a tool that every person should have at their disposal so that you will never have to worry about losing your messages and media again.
Customers should note that free software generally has less user support and can incur bugs. But this is to be expected with some free applications. If you're willing to pay a bit more – as a small one-time purchase - you could be set for life.
Part 2.

Top 2 WhatsApp Transfer Software - Transfer between iPhone & Android
#1 ChatMover (Supports Android & iOS 16/15/14/13/12)
ChatMover allows you to transfer your WhatsApp content between Android and iPhone. Besides, it also offers an indirect way to transfer WhatsApp from iCloud to Google Drive or from Google Drive to iCloud.
It gives you the ability to seamlessly transfer your original messages, media, and anything stored on your WhatsApp between devices. Whether it be from an Android device to an iPhone, an iPhone to an Android device or even moving content to a similar OS.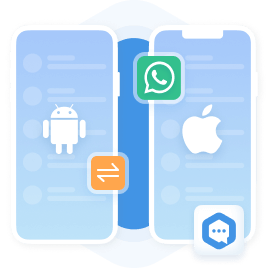 All-in-one WhatsApp Transfer
You can conveniently move messages, attachments, and entire data from iPhone to iPhone, iPhone to Android, or Android to Android.
You can keep the new backup secured separately without messing up the previous one.
With UnicTool ChatMover, you can have a safe transfer. There is no chance of leakage or data loss.
Pros
Move between any device as long as it is Android or iPhone.
Easy to operate, 3 simple clicks to complete the transfer.
Transfer WhatsApp data in minutes.
Won't keep or leak your WhatsApp data, 100% secure.
Supports transferring all WhatsApp content, including text messages, images, videos, attachments, etc.
When released, selectively export one or all WhatsApp conversations to PC in HTML, CSV, XLS or PDF formats.
Preview content before export.
Steps to Use ChatMover:
1

Open the ChatMover application and select 'Transfer'.

2

Connect both devices (source and destination) to the computer.

3

When both devices are paired, click 'Start'.

4

Choose WhatsApp Messenger or Business.

5

Your transfer will then begin automatically.

6

Open the app on your destination device to find your content.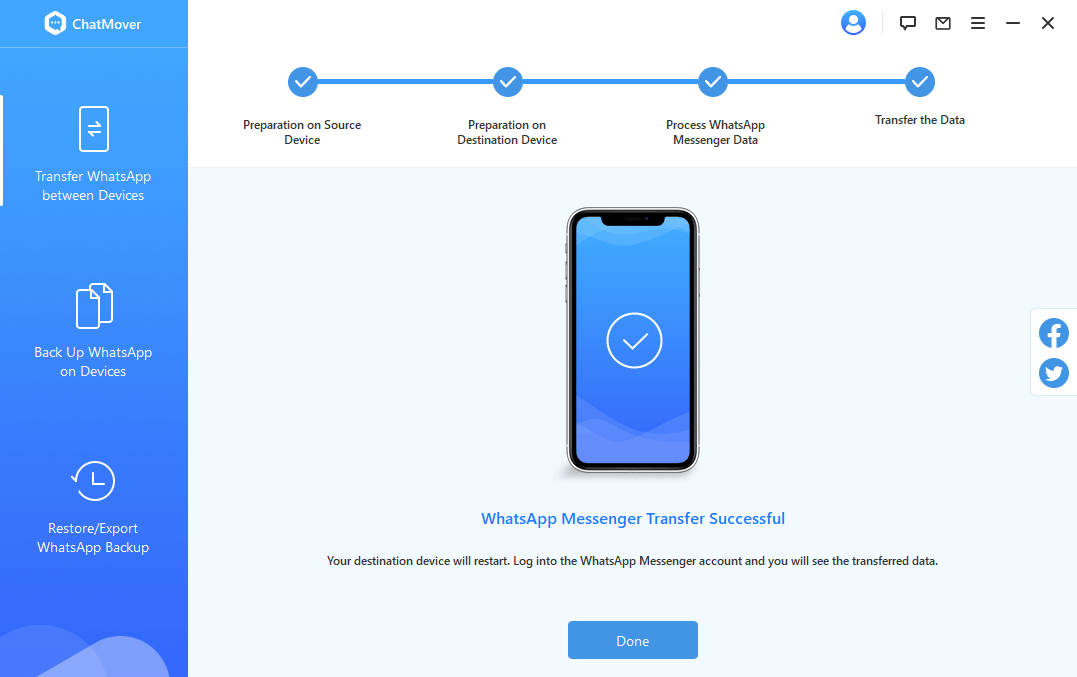 With Mobitrix WhatsApp Transfer you can instantly transfer your WhatsApp chats between Android and iPhone. Mobitrix includes all of your data including media, attachments, and links within the transfer so that you don't lose anything.
I've tested this program on my own computer. The download and installation were quite fast. Yet I think it's a bit complex to use according to my own experience. There were many steps to do before the transfer. For example, I was transferring WhatsApp from Android to iPhone, it asked me to back up WhatsApp to local storage. This way, it could get data from Android.
Pros
Fast and instant transfer.
Back up to a local PC and cloud storage service.
Restore to any type of phone.
Free.
Cons
Can become unresponsive with extremely large files.
Does not support exporting WhatsApp backup to computer.
Does not support backing up WhatsApp only (on iPhone) to PC.
Complex steps, requires to back up WhatsApp on Android locally first.
All media files not accessible on iOS.
Transferring WhatsApp data can take a long time.
Backup process requires an internet connection.
Unfriendly user interface.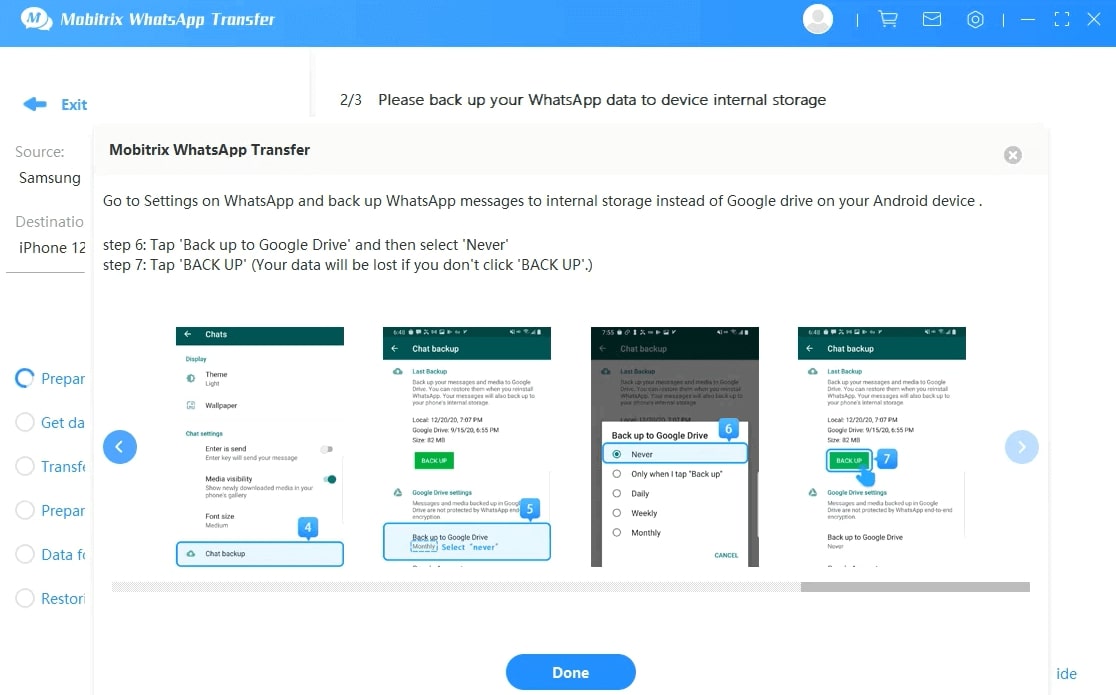 Part 3.

Best & Free WhatsApp Transfer Software - Android to iPhone

With Move to iOS, you're able to transfer all of your data from your Android device to a brand new or existing iPhone without computer, it is the best Wutsapper free alternative. As an official tool developed by Apple, it also supports all the iOS versions, including iOS 15. They suggest that iOS is designed to be easy, and so their software is designed with the exact same thinking.

However, this app does not support transferring WhatsApp data only, it transfers all the data on Android device to iPhone instead, which can be quite time-consuming.

Pros
Easily move photos, messages, contacts & more.
Data is copied over a private network.
Simple to use software to transfer WhatsApp data when you don't want to use a computer to do so.
Compatible with Android devices 4.0 and above.
Cons
Transfer of data can take some time since it transfers all data on Android.
Devices must be super close together to work efficiently.
Connection to the wrong device can occur as the app relies on an internet connection.
Requires connecting to a private Wi-Fi network with a strong signal.
All the data on the target device will be overwritten, which can cause data loss.
Receives lots of negative reviews on the Play store.

Part 4.

Best 2 WhatsApp Transfer Software - iPhone to Android
#1 Backuptrans iPhone WhatsApp to Android Transfer
Marked as one of the best transfer software that manages to get your data, chats, and media from your iPhone to Android. Compatible with any Android device or iPhone (iPhone 6 and above) Backuptrans is a great free software to help you transfer your content.
However, this app does not support transferring WhatsApp data only, it transfers all the data on Android device to iPhone instead, which can be quite time-consuming. I tried to use it to transfer my WhatsApp from Android to iPhone, only the WhatsApp pictures saved to the gallery had been transferred successfully.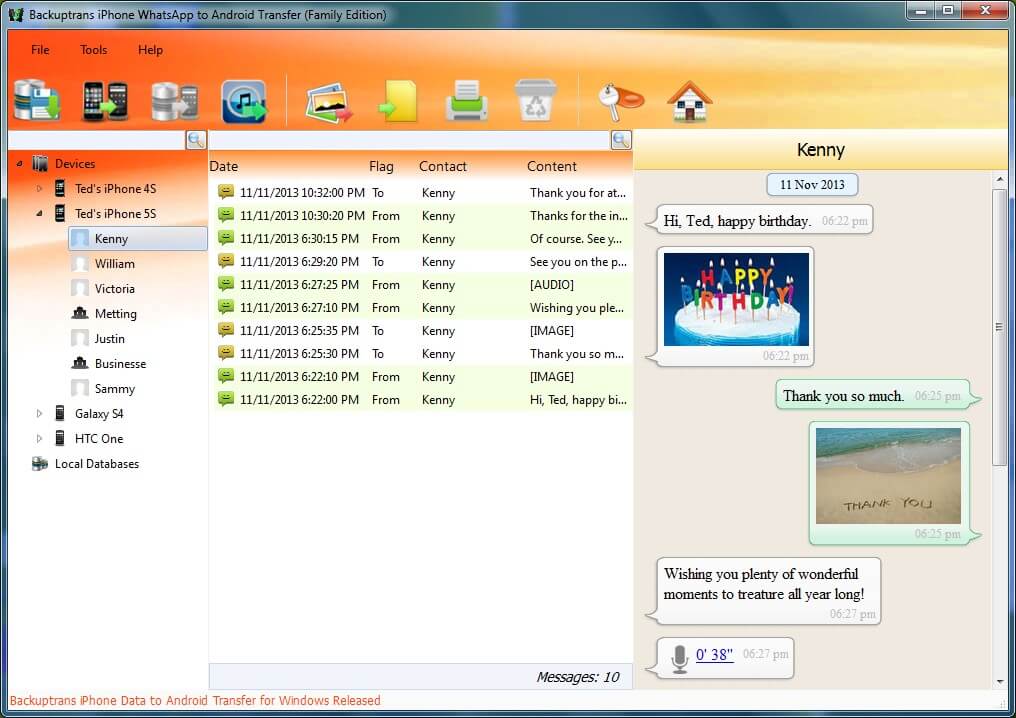 Pros
Restore WhatsApp messages from iTunes backup to Android.
Cons
Complicated software.
Limited function, only suitable for those users who want to transfer WhatsApp from iPhone to Android.
Lengthy process, takes a long time to complete the transfer.
No free trial available.
Hailed as one of the highest downloaded apps for WhatsApp Transfer, Wazzap Migrator has all the bells and whistles when it comes to transferring all of your media files, chats, and more. It's a mobile app, so you can use it to transfer WhatsApp from iPhone to Android without PC.
With a four-and-a-half star rating on the Google play store, Wazzap Migrator is a great tool for any individual to have.
However, the process seems complicated, especially for beginners. Before the transfer, it requires moving WhatsApp archive to Android device first. And during my experiment, an error popped up and said "Unable to extract Media.zip". Tried many solutions for it. Finally found that deleting it and downloading it again from Google Drive fix my problem.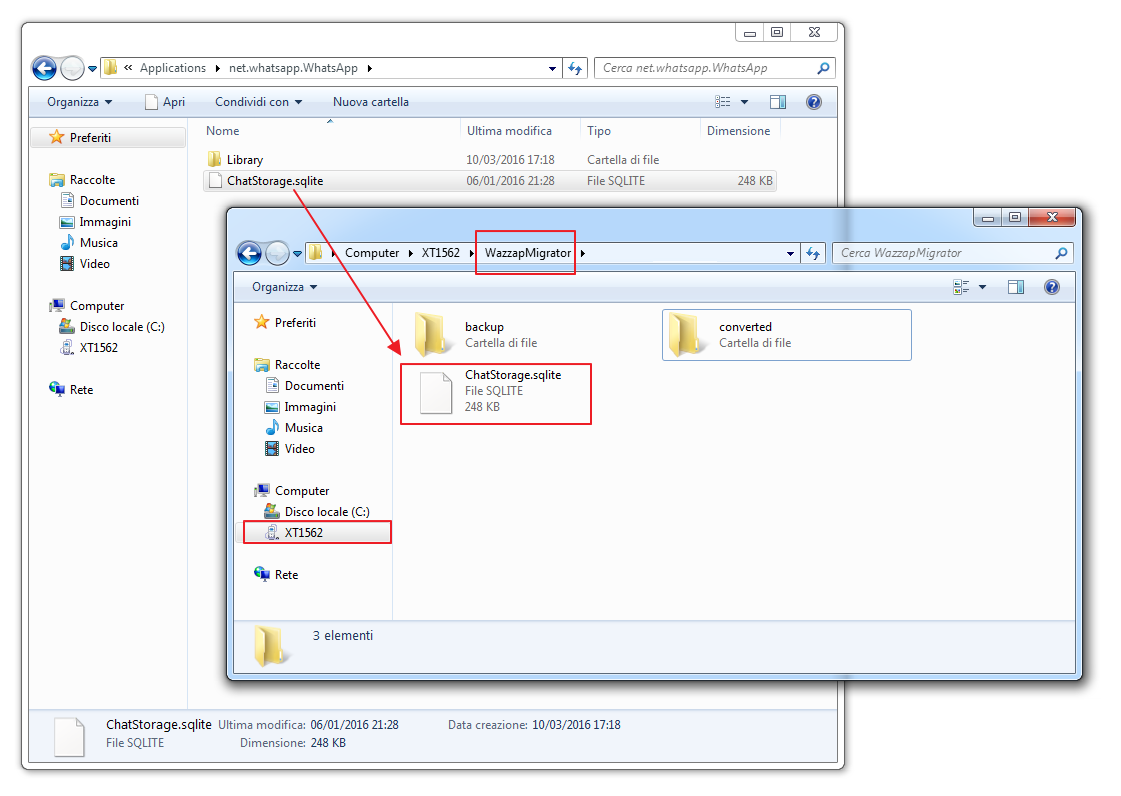 Pros
Transfer all media including, AudiOS, Documents and GPS.
Extract the WhatsApp archive from your old iPhone even if you don't have it anymore.
Cons
Some initial troubleshooting problems.
Extractor Tool is free to use – however, any additional features will require you to purchase the full version of the software.
Doesn't work for all WhatsApp versions.
No iOS companion app.
Wrapping Up
The above WhatsApp transfer software can be helpful when you need to move your WhatsApp to another phone. No matter you're planning to transfer from Android to iPhone or iPhone to Android, choose one according to your preference. All these are secure to transfer WhatsApp data.
Hope you can finally get rid of the hair-pulling stress that comes from losing your WhatsApp messages or worrying about getting a new phone and not being able to keep your WhatsApp chats.ChatMover does offer you the best solution for when you want to do it faster and more efficiently.