Exporting WhatsApp chats as Excel files is a good way to back up the important app messages. But wouldn't it be complex if you're dealing with a huge amount of WhatsApp files? Not necessarily! With the help of the right tool, WhatsApp chats can be easily exported and converted to the format you want.
In today's hassle-free guide, we'll show you how to export WhatsApp chat to Excel using 2 different tools. Read on to discover the easiest method!
Part 1.

The Easiest Way to Export WhatsApp Chat to Excel

Export WhatsApp chat and convert them to Excel files could seem a bit of a hassle at first thought. You'd think that it must require you to jump from WhatsApp to Excel or even another platform to complete the export, right?

But it doesn't have to be this way! Exporting WhatsApp messages can be fairly easy if you turn to the right help. This is where UnicTool ChatMover comes into play.

ChatMover is the most reliable professional tool that'll do the heavy-lifting for you and export WhatsApp chat to Excel in just a few clicks. You don't even need to open WhatsApp on your phone or launch the Excel on your computer!
Export WhatsApp Chat to Excel with ChatMover in just 3 steps:
1

Back up your WhatsApp chats to a computer first. Connect your iPhone or Android to the computer using a USB cable. Launch ChatMover on your computer and Choose Backup mode.

2

Select the backup you just made, and click Export. ChatMover will preview all WhatsApp chats and files for you. Select the chats you want to export.

3

Click Export button again and choose XLS from the "Save as" list. Now click Export one last time.

ChatMover will finish exporting the files to your computer in just a few minutes. There you go! You've successfully exported WhatsApp chat to Excel without the hassle of moving around different platforms.
Export WhatsApp chat to Excel in 3 easy steps.
Support over 40,000 WhatsApp messages export all at once.
Restore and export WhatsApp backup to a new phone across iOS/Android platforms.
Export WhatsApp chat to XLS, HTML, CSV or PDF files.

Part 2.

Use Email to Export WhatsApp Chats to Excel

WhatsApp is designed with a built-in function through which you can export chats on your phone for free. This method of exporting your WhatsApp chat conversations into Excel takes longer. But if you want or need a way that doesn't involve using a separate app or program, this will deliver the same results.

Cons
You can only send 10,000 latest messages when exporting with media files (or 40,000 messages without media files).
You have to export these WhatsApp chats one by one. It's quite time-consuming.
You have to manually convert the exported files to excel.
1

Open WhatsApp. Then open the chat conversation you want to export. Then select the three dots in the upper right hand corner of the screen to bring up a small dropdown menu. In the menu, select "Export chat".

2

Select the "Mail" app on your phone and then email the exported chat conversation to yourself.

3

Go to your computer and open your Email. Download the attachment.

4

Open Excel and click on the "Data" tab.

5

Select the Get Data > From File > From Text/CSV. Choose the file you downloaded from your Email

6

In the "Text Import Wizard" screen that pops up, make sure the following boxes are checked:

Delimited in Step 1
Tab in Step 2
General in Step 3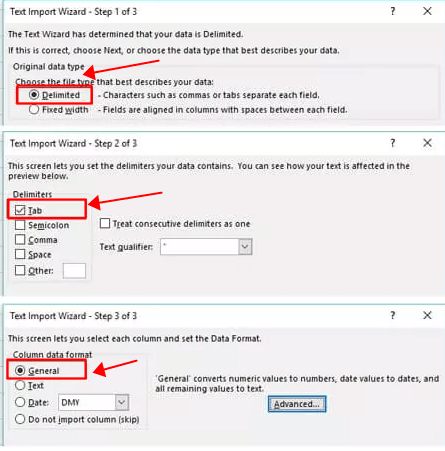 When you're finished, you will see your WhatsApp chats have been exported in an Excel worksheet.
Conclusion
You can see that using Email to export WhatsApp chat to Excel is more tedious than using UnicTool ChatMover. Besides, ChatMover also allows you to transfer, back up and restore your WhatsApp files to phones without OS restrictions. It'll come in handy for avid WhatsApp users like you. Try it now!