Dual SIM phones are increasingly common, and there are lots of good reasons why they make sense. Using a dual SIM can be useful in lots of situations. You may want to use a single phone with domestic and international SIMs, or private and work numbers, or any reason you can imagine for having two numbers!
However, if you search the WhatsApp site for how to use two WhatsApps in one phone, you'll find it's not officially supported. Indeed, WhatsApp warn that swapping between numbers on the same device might result in the device being blocked. So, how can you have two WhatsApps in one phone?
Part 1.

How to Use Dual WhatsApp Accounts on One Android Phone without Rooting
Case 1. For Some Specific Smartphone Brands
Some common Android manufacturers have features that allow the installation of copies of apps on their phone. This can be used to overcome WhatsApp's restrictions of linking an installation of the app to a single phone number, and make it easy to have two WhatsApps in one phone.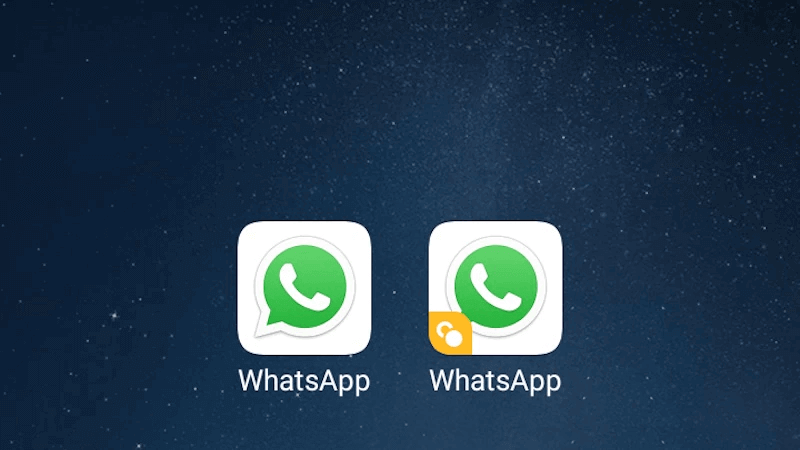 Each of these manufacturers use different terms, like dual, parallel or twin apps, but they work in the same way. When enabled, the feature allows an app to be installed more than once, and each app will retain its own preferences and settings. You could, therefore, install a work WhatsApp and a private WhatsApp. First, you need to enable the feature, and this will depend on the brand, the menu options are:
Samsung Settings > Advanced features > Dual Messenger
Huawei and Honor Settings > Apps > App twin
OnePlus Settings > Utilities > Parallel Apps
Oppo Settings > App Cloner
RealMe Settings > App management > App Cloner
Vivo Settings > Apps and notifications > App Clone
Xiaomi Settings > Apps > Dual apps
Once enabled, your settings will have a section where you can enable second apps, slide the toggle for WhatsApp and a second copy will be created. This will usually have some indicator to help identify it as the copy. When you open it, you will be prompted to set it up as if it was a new installation.
Case 2. For Other Brands of Android Devices (3 Methods)
If you have an Android device that doesn't have a dual app feature, there will still be ways, if you know how, to use dual WhatsApp. These include using multiple user profiles, a separate app to manage multiple apps, to using SwitchMe on a rooted phone.
Method 1. Using Multiple User Profiles
Setting up multiple users is available on newer devices, it requires Android Lollipop or later, and the process will vary between devices.
1

Find the user section in settings, or pull down the notification bar and tap on the user profile.

2

Tap on 'Add User'.

3

Complete the new user profile.

4

Switch to the new user, this will present you with your phone's default user interface — as if it was a new device — from here you can download and install WhatsApp.
Method 2. Install a Separate App to Manage Multiple Apps
There are several apps you can use to install a second WhatsApp instance. How these work will vary, some emulate the app cloning function, while some create second accounts. It's worth researching which approach, and app, will work best for you. Some popular apps include App Cloner, Dual Space, Multi, Multiple Accounts, Parallel Space, and Super Clone Pro.
Method 3. Using Switchme on a Rooted Android Phone
Finally, if your device is rooted, SwitchMe is a popular option. Rooting is not recommended for most users, but if you are confident this might be an option.
1

Root your device, if it isn't already.

2

Ensure you have WhatsApp already installed.

3

Install and run SwitchMe.

4

You will be prompted to create an admin account; this will make your existing account the admin.

5

Create a new account, then switch to that account, your phone will reboot.

6

You can now install, and set up a new WhatsApp account with your second number.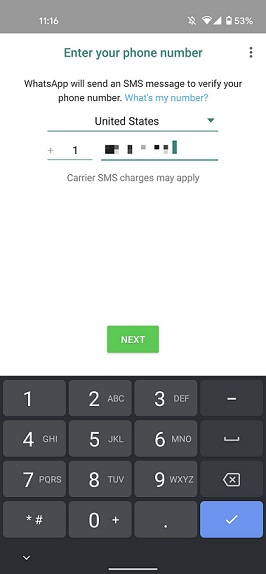 Part 2.

How to Use Two WhatsApp on iPhone

If you want to use two WhatsApp numbers on your iPhone, you are far more limited. The iPhone's security prevents developers from using many of the tricks they use on Android to create multiple app installations. However, it is possible to replicate a second WhatsApp. There are several apps on the App Store, such as Dual Messenger for WhatsApp, which you can link to a WhatsApp account.
1

Download Dual Messenger for WhatsApp from the App Store and open the application.

2

You will be presented with a QR code, you will need to scan this from the WhatsApp account you want to use (you may need to use a screenshot displayed on another device).

3

You'll now be able to use a second WhatsApp.
Beware, though, this is an unofficial method. The app creates a wrapper for WhatsApp Web, so it's safe, but WhatsApp updates may break it, or it's possible WhatsApp might take steps to stop it working at all.
Conclusion
WhatsApp has become the world's most popular messenger because it works on so many platforms and provides a free, easy way to keep in touch with friends and groups. Unfortunately, it hasn't quite caught up with the growing number of dual-SIM devices. This means that the convenience of having two numbers on one device sadly doesn't extend to WhatsApp.
However, there are several ways to work around this, especially on Android devices. Other than phones that support multiple app installations, they all have drawbacks, some requiring account switching, or relying on a WhatsApp Web connection. However, whichever method you decide is best, they are all better than having to use two separate devices. At least they will be until WhatsApp decide to support dual-SIMs!
Check more tutorials of tips & trick about WhatsApp: How to Hide Online in WhatsApp