Most smartphone users today use WhatsApp on a daily basis to get in touch with their friends and family. From one perspective, it has bought convenience in connecting with others, but from the other side, it has raised privacy concerns. Most of us probably have received messages such as "Why you are not replying to me even you are coming online frequently", "You read my message, but you didn't reply", "Your last seen show that you didn't come online the whole day", and similar other messages. Even we find WhatsApp a great chatting platform, still online, read receipts, and last seen statuses often cause inconvenience. So, if you are also in search of how to hide online in WhatsApp, this guide is meant for you.
Part 1.
Why Remain Hidden in WhatsApp?
Multiple scenarios might trigger the need of becoming a ghost while using WhatsApp. Some of the common ones are as follow:
You don't want to argue with your girlfriend/boyfriend on late replies, etc.
You didn't meet the client deadline, so want to use WhatsApp anonymously.
You want to hide your online status while using WhatsApp at late night.
You don't want any disturbance from WhatsApp while working.
You want to have the freedom to reply whenever you feel more comfortable.
These are some of the possible reasons that force you to look for how to hide online status on WhatsApp. Now let's discuss the possible ways to do it.
Part 2.

How to Hide Online in WhatsApp
1. Hide Online Status on Mobile
In order to address how to turn off online status on WhatsApp mobile app, you must first clear out whether you want to hide the last seen/read receipts status or you want to hide the online/typing status. Below two methods will fulfill your needs in any case:
Method 1. Hide Last Seen and Read Receipts Status via WhatsApp Settings
WhatsApp settings allow you to hide the last seen and read receipts status conveniently. Follow the below steps to do it:
1

Open WhatsApp, click on the 3-dots icon from the top right corner, and click "Settings". iOS users can click on "Settings" from the bottom menu bar.

2

Go to "Accounts" and then click "Privacy".

3

Toggle the "Read receipts" button to off.

4

Click "Last seen" and then select "Nobody".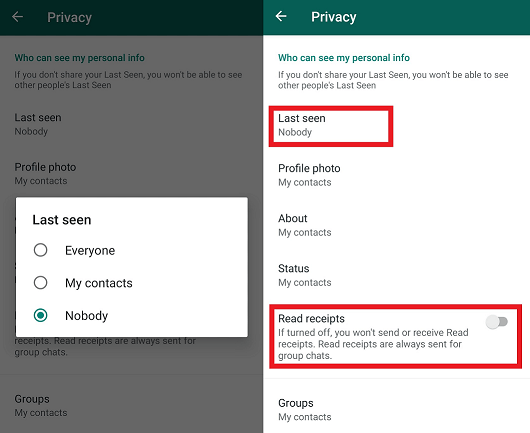 This way, nobody can now see when you came online last time and whether you have read the message.
Method 2. Hide Online/Typing Status via Airplane Mode
If you want to hide online/typing status when you are using WhatsApp, then unfortunately there is not a built-in setting for it. Although there is a simple solution to it via "Airplane Mode". You can turn off your data connection or go to airplane mode before opening WhatsApp, and this way, it will not show online status to anyone. Follow the below steps to do it:
1

Turn off your data connection from your phone settings or turn on the airplane mode.

2

Open WhatsApp, view and reply to any chat you want, and then close WhatsApp.

3

Turn on the data connection or turn off the airplane mode. The message will be sent, but it won't show you online.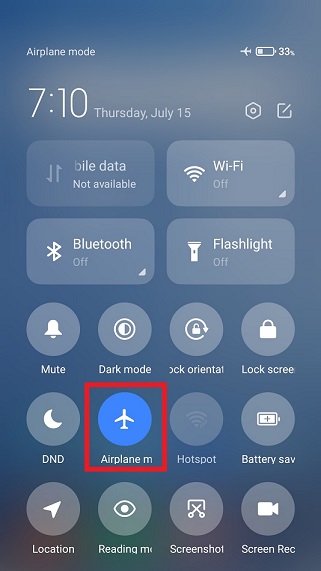 Even if you have not hidden the last seen status, the above approach will not update you last seen time.
2. Hide Online Status on Web
WhatsApp Web allows you to continue your WhatsApp chats from your computer web browser. If you haven't used WhatsApp Web before, go to this link. Now open your mobile WhatsApp, go to Menu > Linked devices > Link a Device. Then scan the QR code. This way, your mobile WhatsApp will appear on your web browser.
But the methods we discussed above on how to hide online status on WhatsApp mobile app do not work in the case of the WhatsApp Web. In order to hide read receipts and last seen on WhatsApp Web, follow the below simple steps:
1

Open Chrome Web Store, search for "WAIncognito", and install the extension.

2

Now open WhatsApp Web and there you will see the "incognito" icon next to the WhatsApp status icon. Click the icon and then tick the "Don't send read confirmations" and "Don't send Last Seen updates" checkboxes.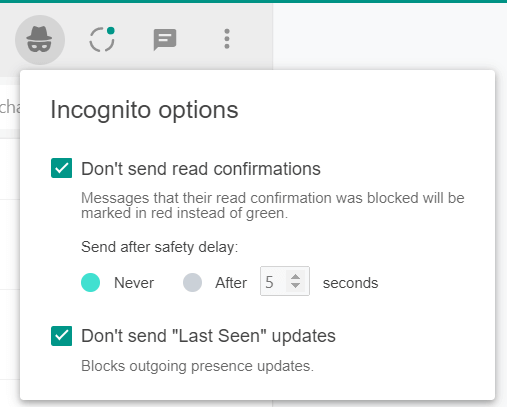 This way, your WhatsApp Web will now also hide the last seen and read receipts status.
Part 3.
How to Hide Last Seen Status on GB WhatsApp
GB WhatsApp is a more convenient option to hide last seen and online status even when you are using WhatsApp with the data connection turned on. But you can only use GB WhatsApp or original WhatsApp at a time. So, before opting for GB WhatsApp, remove the original WhatsApp from your phone. Once done, follow the below steps:
1

Download GB WhatsApp APK by clicking here. Install the app and verify your WhatsApp account.

2

Click the 3-dots icon located at the top right corner and then select "Hide Online Status".
This way, it will never show online status even when you are using WhatsApp. Along with that, it will also disable the last seen status.
Bonus Tip.
How Can I Chat on WhatsApp without Showing Online?
Since we know that whenever we chat on the WhatsApp app, it shows our status "online" no matter if we have turned off our last seen and read receipts. The flight mode option as discussed in Part 2 is one way to reply to a chat without showing online status, but it is recommended only if you have to reply once. If you want to give back-to-back replies, then the flight mode option isn't the best approach. This is where you can take advantage of the "Reply" feature given in mobile or wearable notifications.
Whenever you receive a message on WhatsApp, you will get a notification on your mobile or wearable (if you have allowed WhatsApp notifications to pop up). Once you receive a notification, it allows you to either "Reply" or "Mark as read". If you click "Reply", then write down the message and hit send, your message will be sent to the other person without showing online status. This way, you can reply back-to-back without showing online or turning on/off your internet connection.
Conclusion
It becomes even more fun to use WhatsApp when you can hide your online status and get more freedom to use WhatsApp. The above guide presents multiple ways on how to hide online in WhatsApp. The best method for you depends on the level of privacy you are targeting.