Some of you may keep theWhatsApp backup in a zip file. This is a good way to save storage. But later you may find it hard to find a way to import WhatsApp chat from zip file backup or restore WhatsApp from Txt file. If that is the case, then you' re at the right place.
In this guide, we will tell you how to import WhatsApp chats from a zip file to have all your essential conversations on your new phone.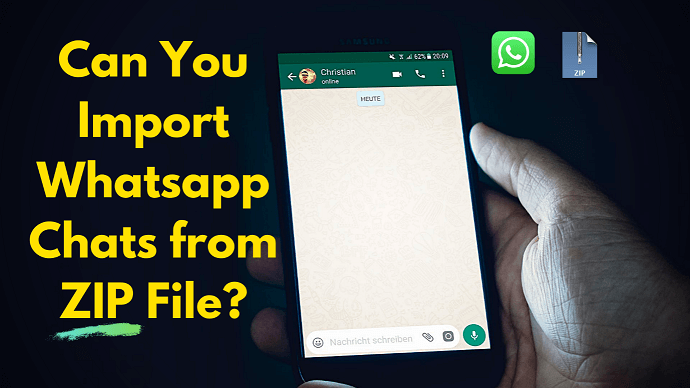 Part 1.

Can You Import WhatsApp Chats From Zip File?

The answer to this will be YES & NO...

Yes, because it is possible, and no, because it doesn't work on every device as WhatsApp doesn't allow it officially.

The reason behind this is ZIP files that are imported in WhatsApp can be easily edited and used.

You can import WhatsApp chats from a zip file by the methods mentioned in Part 2. But to do so, you need some prior technical knowledge and an Android Device.

But don't worry if you are not a techy, or if you own an iPhone, as I have explained a straightforward method in Part 3 to do it in one click.
Part 2.

How to Import the Exported WhatsApp Chat from A ZIP File
Case 1. Import WhatsApp ZIP from Android to A New Android device
This method may not work for all android devices (as per my experience), but you canalways give it a try to make things work.
Prerequisites
Both devices must be Android.
Both devices must have the same version of Whatsapp.
Both Devices must have the RAR app.
You can follow the steps mentioned below to export your WhatsApp chats from your old device in a zip file:
1

Open WhatsApp on your old device. Navigate to Settings → Chats. Tap on Backup to Google Drive and select Never. Then tap on the green backup button and let it back up all your chats on your old device.

2

Once the backup process is finished, open the RAR app and find a folder named Whatsapp in your internal storage. Tick the checkbox in front of it, and select the + icon located on the top.

3

On the next screen, select the ZIP option and click OK. Let it finish. After Completion, transfer the backup of your chats to your new device.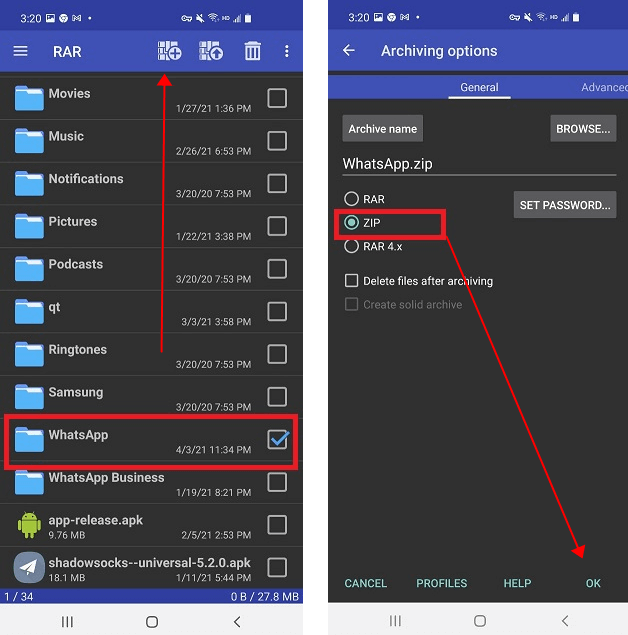 Steps mentioned below will tell you how to restore WhatsApp chat from the zipfile in your new device:
1

Open the RAR app and extract the ZIP file in the root of your internal storage.

2

Open Whatsapp and complete the signup process by entering your mobile number. After completion, you will be asked to restore chats from local backup. Click on Restore.
Let the process finish, and hopefully, all your chats will be restored from your old device to the new one.
Case 2. Import WhatsApp ZIP from Huawei to Huawei
If both your new and old device is of Huawei, then you can easily share your WhatsApp chats from your old device to the new one using Phone Clone.

Prerequisites
Both devices must be of Huawei.
Both devices must be on EMUI 8.0 or higher.
Both devices must be on EMUI 8.0 or higher.
You can follow the below-mentioned steps to restore WhatsApp chat fromyour old Huawei device to the new one:
1

Firstly, open Phone Clone App on both devices. Select the option relevant for your phone. For example, on the old phone, select "This is the old phone".

2

After selecting the relevant options on both devices, the new device will generate a QR code that you have to scan with your old device.

3

After Scanning, both of your devices will be connected. Now choose the data you wish to transfer from your old device to your new one. (In our case, we will select Whatsapp Chat History, but you can share any data that you wish.)

4

After selecting, click on Send, and the transfer process will initiate. After completion, all your data and chats will be transferred to your new device.
Part 3.

How to Open Zip File in WhatsApp Easily

If you don't want to get in the hassle of importing ZIP WhatsApp chats using the steps mentioned above, or if you own an iPhone. We have brought a fast and unbelievably easy option by which you can import your ZIP WhatsApp chats to your new device in 1 click, no matter your device is running on Android or iOS.

Introducing UnicTool ChatMover, a fast and easy solution to import all your chats in 1 click. UnicTool ChatMover is a go-to solution for all those who want to get things done quickly. By using this, your chat history on the ZIP file will be on your new device in no time.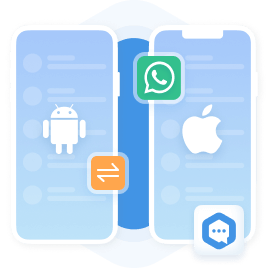 All-in-one WhatsApp Transfer
Transfer WhatsApp from Android to iPhone without Data Loss
Back up WhatsApp on Android & iPhone to computer free.
Restore WhatsApp backup from Google Drive to iPhone.
Export WhatsApp backup to HTML, PDF and CSV/XLS.
Note
By using ChatMover, you're able to preview the backup content before export. Besides, you can also choose a specific chat/message to export individually.
You can follow the below-mentioned steps:
1

Choose Backup mode in UnicTool ChatMover Windows or Mac app and make a backup on PC first. Note the backup function is free.

2

The backup process will start occurring. You can check all the backup folder on PC after it's completed.

3

After the backup, select the Export feature and follow the on-screen instructions to export your WhatsApp backup to CSV, PDF, or Excel format as you prefer. These kinds of file format can be managed conveniently than a ZIP file. You can also read the chat history within the backup via browser if you choose to export as HTML file.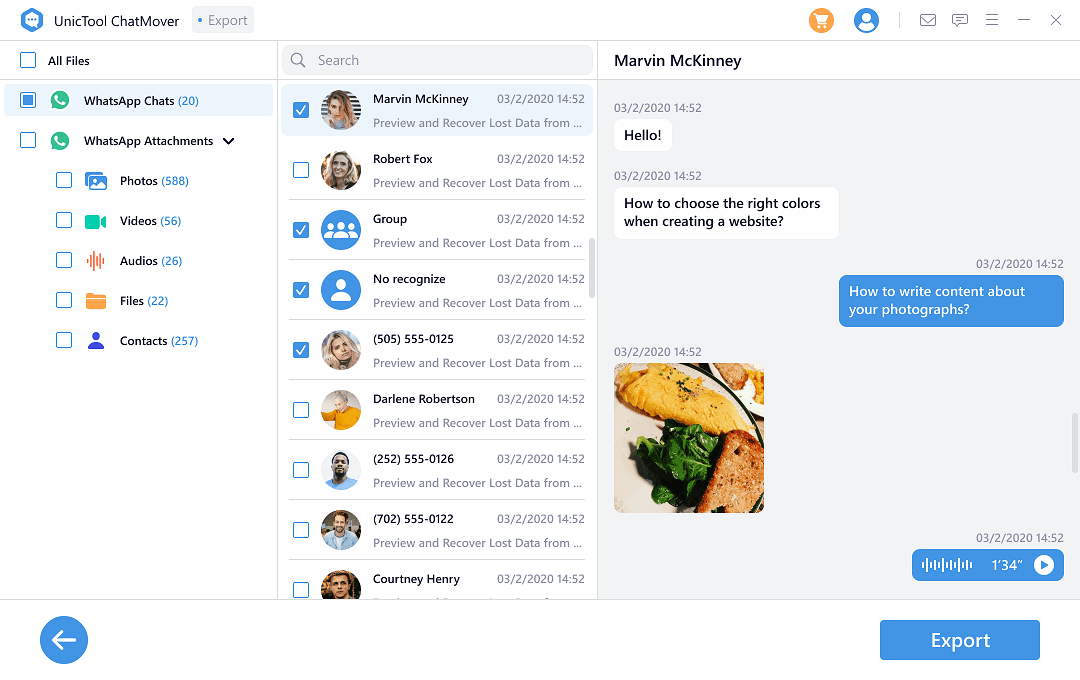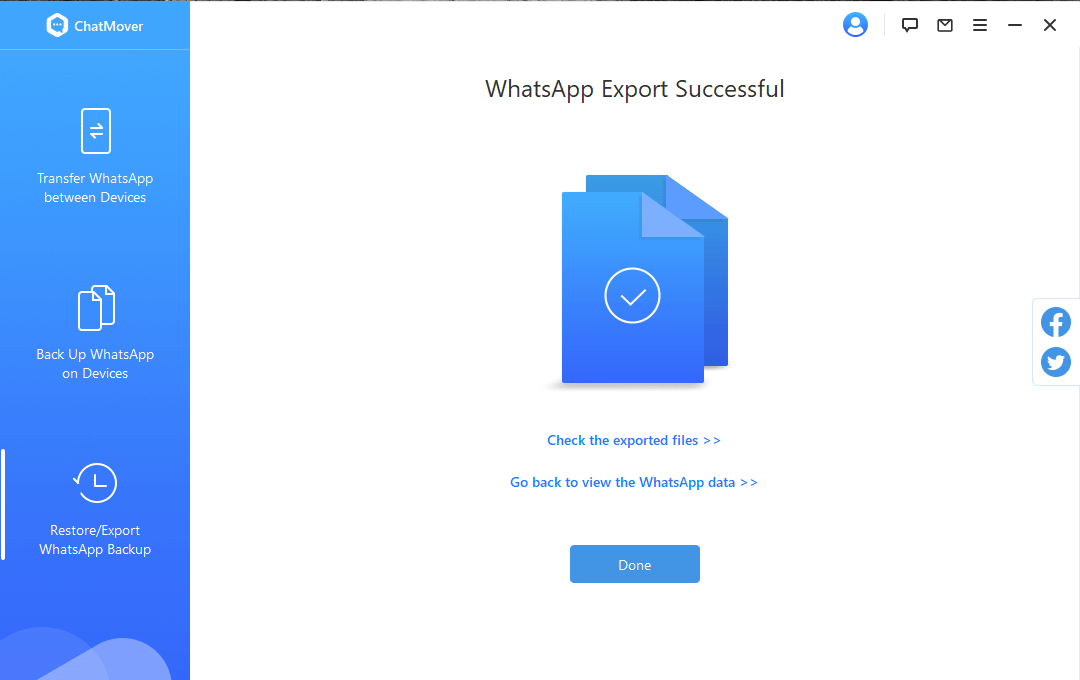 If you later want to import the exported file to your Android or iPhone, you can choose the Restore feature to do the job after the backup in step 1. ChatMover can restore a WhatsApp backup (created by itself) to a device which is running on different OS.
Conclusion
Now you know how to import whatsapp chat from zip file. The methods metioned in the guide work on some of the devices so do give it a try.
But if you don't want to take so much hassle, you can do all of it in one click with UnicTool ChatMover, the best tool available in the market to import WhatsApp backup to an old or new device (regardless of the OS version, including the latest iOS 16). It is fast, reliable, secure, and very easy to use.