Face ID is one of the simplest ways to unlock your iPhone. Since the release of button-free iPhone X and onwards iPhone models, Face ID has been widely used by iPhone users. But many have complained that Face ID is not working after update to iOS 15. There can be a small glitch or a serious software issue that might be causing malfunctions in the Face ID performance. But it's a fixable problem. Follow up with this article to know about possible causes of "Face ID not working" and then learn about some quick methods to resolve the malfunction in no time.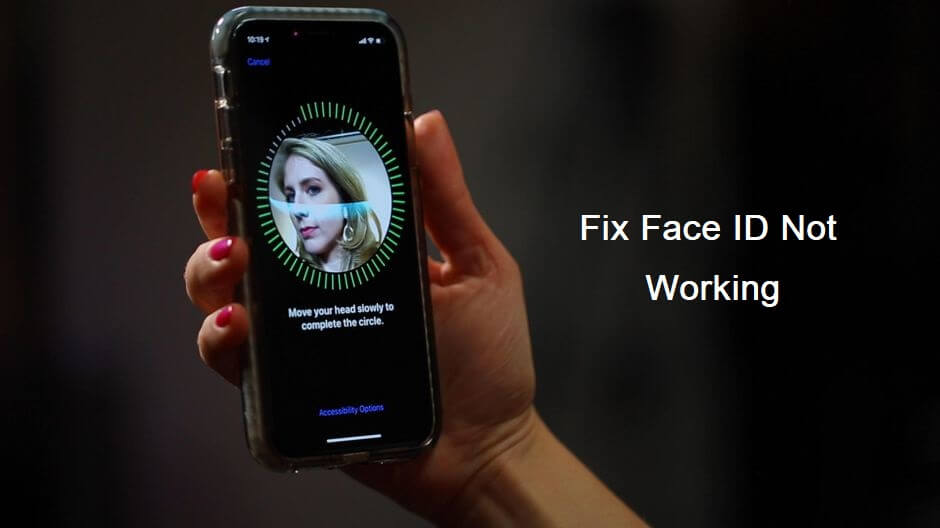 Part 1.

Possible Causes for iPhone Face ID Not Working/Not Available

Different iPhone users have found different reasons behind "iPhone 11 or iPhone X Face ID not working" after update to iOS 15. Some of the possible causes can be:
1

Since you have updated your iPhone to the newest iOS 15, there are chances that a bug in the OS might have caused Face ID to stop working.

2

Your face is covered with something such as a mask, hat, or other stuff, so Face ID is not able to identify your face.

3

You have a bad lighting condition around you.

4

Your screen protector or iPhone case is blocking the sensor from detecting your face.
Part 2.

Things You Should Know Before Resolving the Issue

Before looking for the solutions of "Face ID not working on iPhone 11 or iPhone XR", you must ensure that you are using the Face ID correctly. Some preconditions to use Face ID correctly are listed below:
1

Make sure there is nothing covering your face.

2

Make sure the lighting conditions around you are appropriate.

3

Make sure there are no other faces around you when you use Face ID.

4

Make sure that there is nothing covering the TrueDepth camera.

5

Make sure you are facing the camera.

6

Make sure your iPhone has Face ID enabled.
In short, you must ensure that you are fulfilling all the above-mentioned preconditions correctly before using Face ID. If your Face ID is still not working on iPhone XR or iPhone 11 after that, then there are definitely some system glitches you need to address. The next part has all the solutions you should know about.
Part 3.

How to Fix iPhone Face ID Not Working/Not Available

Following are 3 methods that most likely going to resolve the Face ID not working issue.
Way 1. Restart Your Device
The very first thing you should do is restart your iPhone. If there is a system glitch, then a quick restart will fix it out. Follow the steps below to restart your iPhone:
1

Press and hold the Side button or either the Volume Up button until you see the power off slider on the screen.

2

Slide the slider to the right and wait for around 30 seconds so that your iPhone is properly turned off.

3

To turn your iPhone on, press and hold the Side button until the Apple logo appears on the screen.
Once your iPhone is successfully restarted, try using the Face ID again.
Way 2. Reset Face ID
If Face ID fails to detect your face again, then you should reset the Face ID. It will delete all the previously saved scans and then you can add fresh ones. Follow the steps below to reset Face ID:
1

Go to "Settings" and then click "Face ID & Passcode". You might have to enter the passcode.

2

Click "Reset Face ID". It will delete all the existing scans.

3

Now tap "Set Up Face ID". Make sure your iPhone is in portrait position and you are facing the camera. Afterward, click "Get Started".

4

Put your face inside the circle frame and move your head gently to complete the circle. Once you complete the first scan, click "Continue".

5

Move your head gently again to complete the circle. Afterward, click "Done".
This way, your Face ID is properly reset. Now try out using Face ID to see if it works this time.
Way 3. Use Umendit to Fix It
If the above methods fail to resolve the Face ID issue, then there is a possibility that your iPhone is having a major software issue caused by the iOS 15 update. Umendit is designed to help iPhone users in these types of situations.
Umendit is an all-in-one professional iOS repair tool that can fix system issues and repair your iPhone without any data loss or complicated processes. It offers an intuitive graphical user interface with simple click-based steps to quickly fix the issue. Follow the below steps to use Umendit to repair your iPhone and make Face ID back to normal:
1

Download and launch Umendit on your computer and click "Standard Repair" from the main screen.

2

Connect your iPhone with the computer via USB cable and click "Next". If the tool detects the iPhone, you can proceed to the next step. If not, then follow the on-screen instructions to put your iPhone into Recovery/DFU Mode.

3

The tool will now show all the suited firmware related to your iPhone. So, pick the right one and click "Next".

4

Once the firmware is downloaded, click the "Start" button to initiate the repair process. Wait for a couple of minutes until the repair process is completed.
Once the tool completes the repair process and your iPhone reboots, test out your Face ID again. The tool has fixed all the internal software issues, so your Face ID will run smoothly now.
Conclusion
It is always exciting to update to the new iOS version, but sometimes this excitement turns into unexpected problems if your iPhone malfunction after the update. Face ID not working is one such common malfunction faced by the users. The issue can be due to covered face, covered camera, wrong orientation, or similar other minor mistakes. But if you think it to a software issue or bug from the iOS 15 update, then Umendit presents the one-stop tool to address all such concerns. So, try out the three methods listed above and start using Face ID normally again.